My kids like to create big art, and sometimes I just want to say NO to mess and not let them. What if there was a world where I could let my 2 year old paint to her heart's content without it getting ALL over her hands, clothes, and then the couch, walls, and every other surface in the house?
When my older daughter was two, we attended a messy art camp at our adult school and the teacher set up an activity where the kids painted with shaving cream. She really dug it to the point where I went out and bought shaving cream and did it all outside but it was SUCH A HUGE MESS. I thought never again.
Wait! The perfect solution came to me about a week later when I really needed to shower, but I also had no one to watch her. I asked her if she'd like to do shaving cream painting in the shower, and MESS FREE PAINTING was born.
We are now addicted to painting in the shower and bathtub, and when Covid-19 quarantine hit, it was actually a funny worry for me to not be able to have access to shaving cream. Of all the things!
*As an Amazon affiliate, I may get a small commission for purchases made through links in this post.
Mess Free Painting Materials:
I always love to use paint, shaving cream, or even a combination between the two. From my teaching days in the classroom, I have learned that not all "washable" tempera paints are true to their name. I basically only trust two brands of tempera paint that say washable. Have you found one you love? Is it one of these? I'd love to know!
1. Lakeshore Washable Paints or Crayola Washable Paints.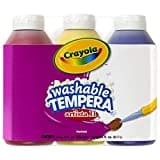 2. Shaving cream -Any shaving cream will do for this activity. I would recommend getting it from Target or the grocery store as it's cheapest there.
3. I also love to use these Melissa and Doug spill proof cups. I can feel good about being earth friendly because I'm not putting the paint on a paper plate like I used to, and it really minimizes the prep, since you can store your paint in there.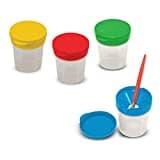 4. Paint Brushes - These are color coded, so little ones have an easier time remembering to put them back in the matching container. Also, for kids under 5 years old, I would recommend only using thicker brushes like these. They'll hold the paint better so that kids can draw something without having to go back and forth for more paint AND they're easier to manipulate when painting for little kids.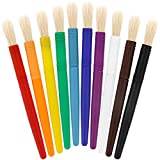 5. Any other art supplies you might want to add: spray bottles, sponges, stamps
Setting up for success:
In order for this to be a successful activity, it's important to set expectations with your child. I would recommend being explicit about the paint/shaving cream staying in the bath or the shower. Also, be very clear that though they may get paint on themselves, the paint goes on the shower/bath and this is not a face-painting or paint eating activity. Always, watch kids when they're in the bath or the shower, even without any water on, because they could turn it on.
Shaving cream/Paint goes on the shower/tub
Shaving cream/Paint never goes in your mouth
Don't turn on the water
Get ready for some BIG art fun:
Process art is all about the process and not the outcome. It's open ended and low pressure so children can be more immersed in the experience than in the product they're creating.
Kids will have fun exploring the textures and colors on their own in this novel painting environment. They know that the art will need to be washed away when it's over, and if possible, they can help you wash it down the drain when it's done. My kids' favorite part is spraying the art away with the handheld shower head.