Sorry but I'm not doing any counting worksheets for pre k in this house! Let's get moving and counting in a way that is FUN for my preschooler.
Yesterday, we were talking about spider webs and how a spider catches other bugs in her webs to eat. We imagined what it would be like to be stuck in a spider's web and so this idea was born. The part of the web would be played by Blue Painters Tape and the bugs, played by Pom Poms!
*As an Amazon affiliate, I may get a small commission for purchases made through links in this post.
Throw or place the pom poms on before counting!
What you'll need for this preschool counting activity:
I love Pom Poms: their bright colors, squishy texture, and the fact that my kids can throw them without hurting each other.
We use them for counting, sorting, learning colors, pretend cooking, art projects, and a million other ways.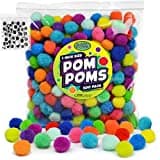 Using a door frame, I placed 6-8 strips of blue painters tape sticky side out. I made sure to tape them tightly so they didn't sag across the empty door frame.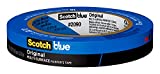 Don't forget to semi-closed the door so that pom poms wouldn't get trapped on the other side.
A preschool counting activity that is sure to delight!
Thrilling Counting Activity for Preschoolers
When I create counting activities, I want them to be meaningful and memorable. What do you find more memorable? Counting and circling pictures on a counting worksheet, or throwing pom poms at blue tape?
When kids are involved in hands-on learning they're more likely to remember new information, because they are the ones making the new knowledge, as opposed to just taking it in.
Hands-on counting activities in preschool can look like:
counting strawberries in a bowl
creating a counting collection of all your stuffed animals
playing a board game and counting steps forward (you'll love this idea to make your own)
counting houses as you walk up the street
counting beads on a necklace
There are so many ways for preschoolers to practice counting with tangible objects. Tangible objects are called manipulatives in math, and when young children are first practicing counting, it is extremely helpful to use manipulatives in order to develop one-to-one correspondence and count accurately. That's why counting worksheets for pre k are a hard no for me as a teacher and a mama!
Let's play Pom Pom Stick and Count:
Invite your child to play, "These pom poms are like little bugs flying by a spider's web. Can you throw or stick them on the web?"
Have fun throwing or sticking the pom pom bugs in the tape web.
Once all the pom poms have been thrown or stuck, take a step back and look at the web.
Count: how many pom-poms stuck to the tape altogether? How many blue? How many orange? How many red?
If your preschooler is also practicing writing numbers you can add a writing component as well. Using a paper and marker, draw circles the color of Pom Poms. Write the number of Pom Poms by each drawing.
If you are looking for another exciting counting activity for your preschooler, you have to check out punch math!