I asked my teacher bestie how to dye rice for a Valentine's Day Activity I planned to make for my kids. She said it was easy, but I really doubted that. It looked like a headache to me.
Turns out she was right!
I did a little instagram story on "how to dye rice for sensory bins" and a bunch of other insta-moms told me how to simplify what I was doing to make it in just two steps.
*As an Amazon affiliate, I may get a small commission for purchases made through links in this post.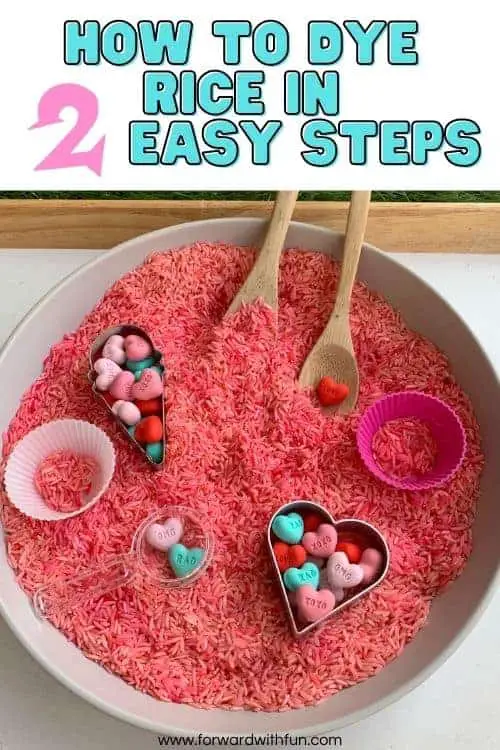 How to Dye Rice -seriously, so easy:
You'll need the following items:
Rice (brown or white)

Food coloring

(don't use the gel kind!)
Optional: a place to spread the rice out
Container to store the rice when you're done
Originally, I was told to use 1 tsp white distilled vinegar for each cup of rice I dyed, but the super awesome mamas watching my story told me that I don't even need that. Awesome!
I feel silly even typing out the steps but here goes, "How to Dye Rice in 2 Steps."
Put food coloring in the rice bag and shake it
Let the rice dry for an hour with the bag exposed to air (not sealed)
If you're planning on dying rice for sensory bins and need multiple colors, just portion the rice into multiple bags.
A few simple sensory bins for your dyed rice:
My number one tip for any sensory bin- put it in a second bin. Bins in bins is the way to go.
For our first experience in how to dye rice for sensory play, I used a tray as the catch all for any rice that was going to spill out.
My second major tip is to always go over expectations about the sensory fillers for the bin. Make sure the kids respond to your questions to check for understanding!
Where does the rice stay? -in the bin
Does it go in your mouth? -nope
Are you allowed to throw it? -no!
My kids almost robotically tell me each time, "We keep it in the bin!" Spills happen but if you have a bin inside a bin, the clean up is really simple.
1. Dyed Rice Love Potion
Make a love potion for some fine motor skills practice as kids scoop and transfer rice.
How many scoops would it take to fill the potion? A great way to incorporate counting is to count scoops of rice!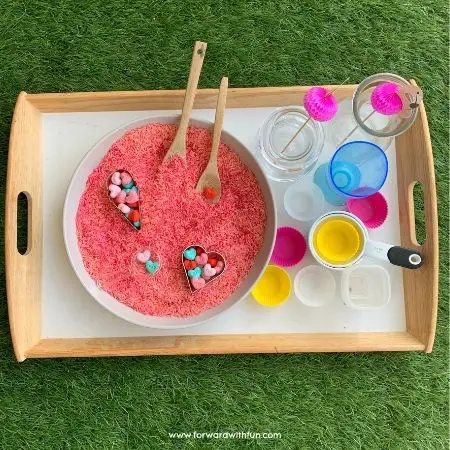 Dyed Rice Search and Rescue
Yes, you can use the same exact set up to play again the next day. Kids love repetition, but even one new "invitation to play" can change the whole game.
Instead of being completely child led for this activity, I gave the girls a mission. "Inside the dyed rice are a bunch of tiny erasers, (thanks Target Dollar Spot!). Can you search for and rescue these little hearts, puppies, and kittens with your kid tongs?" I explained.
Do you have these?
I love kids tongs for adding a new element to play. Not only are the tongs fun for the kids to use, the practice of squeezing the tongs and releasing them builds up the hands muscles kids need for fine motor skills such as buttoning, tying shoes, and writing. To learn more about how to make fine motor play fun for your little one, check out this list of favorite fine motor activities.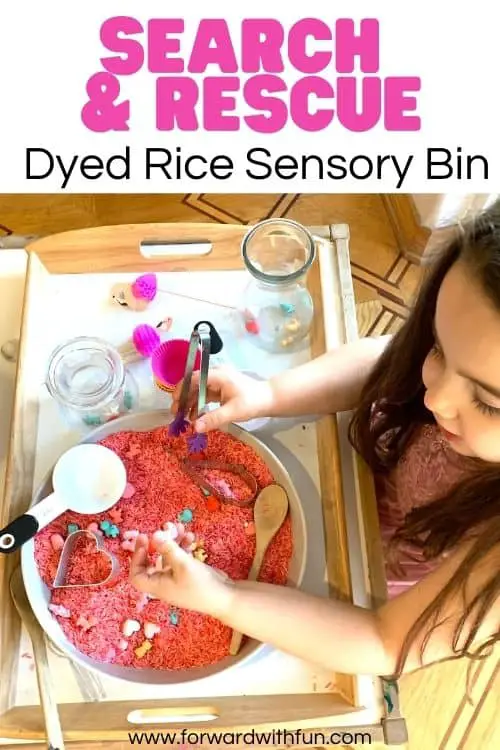 Now that I know how to dye rice, I think I might need to go buy some more rice. And did you know we can store dyed rice in an air tight container for up to 5 years?
I've got my eye on rainbow rice for my next dyed rice sensory bin!
How about you?
Ready to snag a free week of learning you can do with just Post-its? Subscribe now!