Pom Pom Stick and Count is the BEST activity to practice reading and even writing numbers 1-10. Forget those counting to 10 worksheets and have fun counting with us.
*As an Amazon affiliate, I may get a small commission for purchases made through links in this post.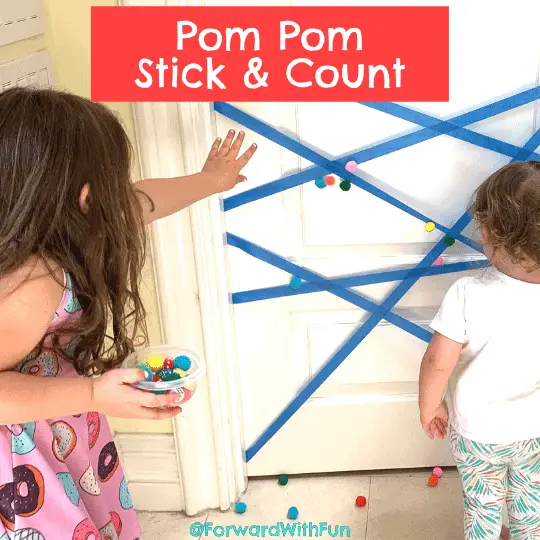 Let's Play to learn numbers 1-10: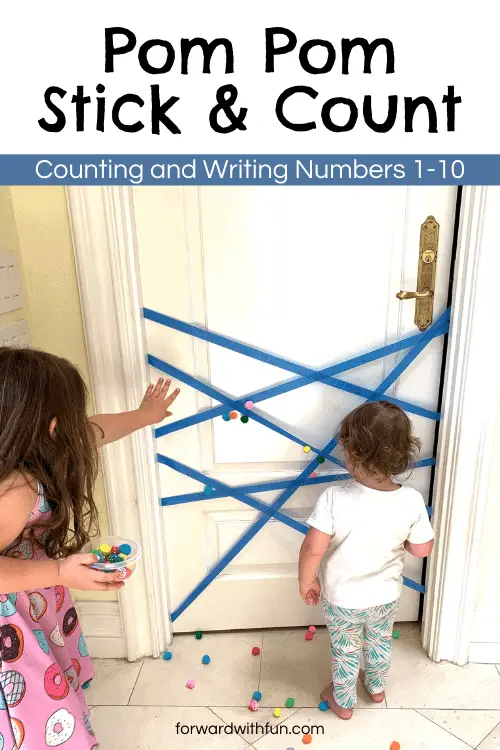 Grab some Pom Poms and blue painters tape.
Using a door frame, I placed 6-8 strips of tape of sticky side out. I made sure to tape them tightly so they didn't sag across the empty door frame.
I always semi-close the door to prevent pom poms from getting trapped on the other side.
Pom Pom Stick and Count:
Invite your child to play: These pom poms are like little bugs flying by a spider's web. Can you throw or stick them on the web?
Have fun throwing or sticking the pom pom bugs in the tape web.
Once kids have thrown all the pom poms, ask them to take a step back and look at the web.
Count: how many pom-poms stuck to the tape altogether? How many blue? Orange? Red?
If your preschooler is also practicing writing numbers 1-10 you can add a writing component as well. We created a writing numbers 1-10 worksheet that goes with this activity just for you!
If you are looking for another exciting game to practice numbers 1-10 with your preschooler, you have to check out punch math!
Other ways to practice numbers 1-10 without worksheets:
counting strawberries in a bowl
creating a counting collection of all your stuffed animals
playing a board game and counting steps forward (you'll love this idea to make your own)
counting houses as you walk up the street
counting beads on a necklace
matching the number of stickers to the digits in your phone number (check that out)
There are so many ways for preschoolers to practice counting with manipulatives, aka tangible objects. When young children are first practicing counting, it is extremely helpful to use manipulatives in order to develop 1-to-1 correspondence and count accurately. That's why counting to 10 worksheets are a hard no for me as a teacher and a mama!