I bust out the kids' favorite independent reading activities for a minimum stress, maximum fun phonics time. These can be used one on one, as kindergarten reading station activities, or be done with a whole classroom of kids.
All 3 of these independent reading activities have many ways to differentiate to meet the needs of all your young learners and build their phonics skills. So whether you're working on beginning and ending sounds, letters, CVC word reading, or digraphs like "sh" and "ch," I've got something for you.
Without further ado, the 3 most begged for independent reading activities are...
Beginning and Ending Sound Parking Lots
Phonics Dominoes
CVC Words and Digraph Cup Stacking Challenge
*As an Amazon Associate I may get a small commission if you decide to purchase from my links. Thank you.
3 Top Rated Independent Reading Activities
Get ready to sit back and watch kids get excited to practice reading all on their own. You might even have time to sit down and drink coffee while it's still hot. The best part? It's all hands-on!
Beginning and Ending Sound Parking Lots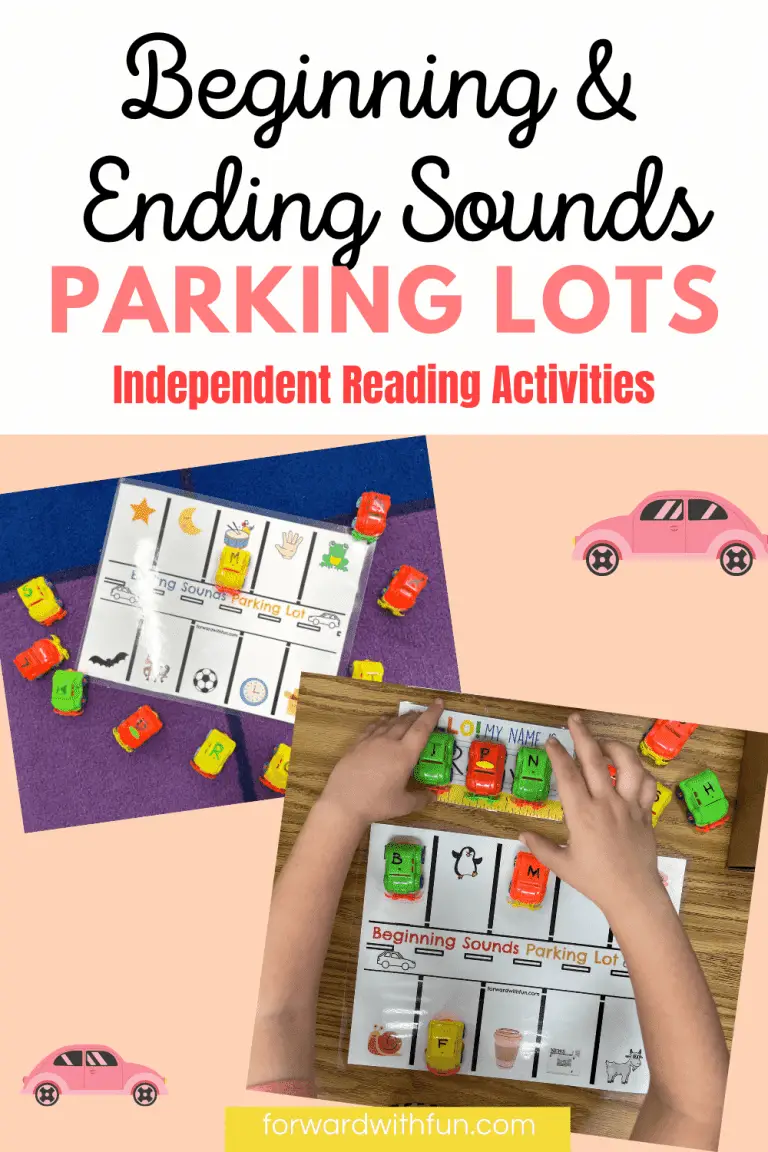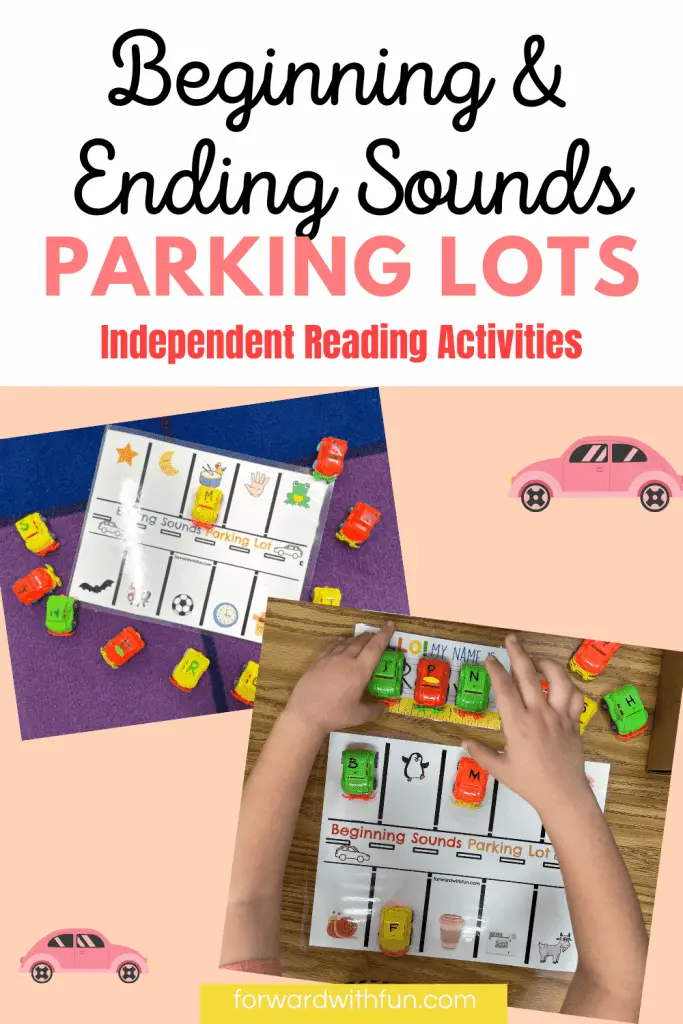 Kids dream of the day they'll get to drive, so bring that dream to life with phonics parking lots. It's so simple, you'll need 10 plastic cars, hot wheels, or trains you have lying around the house.
If you don't have ten little cars you can usually pick them up from the dollar store or here on Amazon.
Print out the 3 beginning sound parking lots or the 3 ending sounds parking lots and you're almost ready to play. Just label the cars with the 10 necessary letters using a dry erase or sharpie.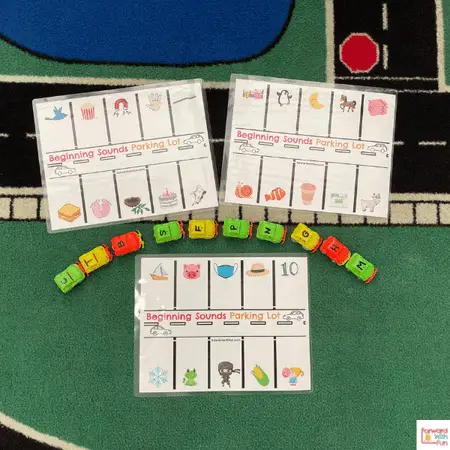 All the beginning sound parking lots use the same letters, and the ending sounds have the same letters on each of their mats too! This makes it so you only would need to change the letters on the cars when you're ready to move from beginning to ending sounds.
I love this game because kids are SO psyched to play and can do so independently. So they're working on their phonemic isolation (isolating sounds in words), while I can step back and beam with pride.
Phonics Dominoes
Kids can play this independent reading activity with a partner or on their own. You don't need anything but a sharpie, crayon, and popsicle sticks.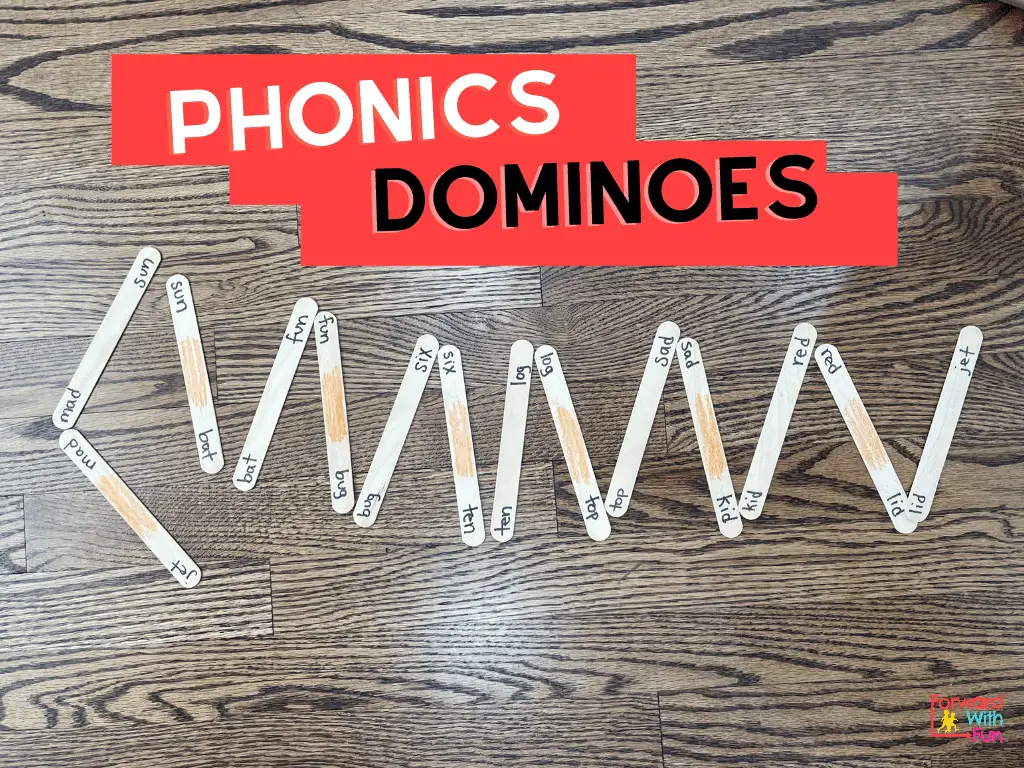 I played this game with my kindergartners using CVC words, but you can also play it with the alphabet, shapes, numbers, sight words, spelling words, etc.
Prep this quick independent reading activity in 5 steps:
Line up an even number of jumbo popsicle sticks.
Add a color to every other one.
Write a number, word, shape, or letter on both sides.
Whatever you wrote on the right sight of the first popsicle stick, write the same thing on the left side of the next stick.
Continue till the phonics dominoes all have two words each.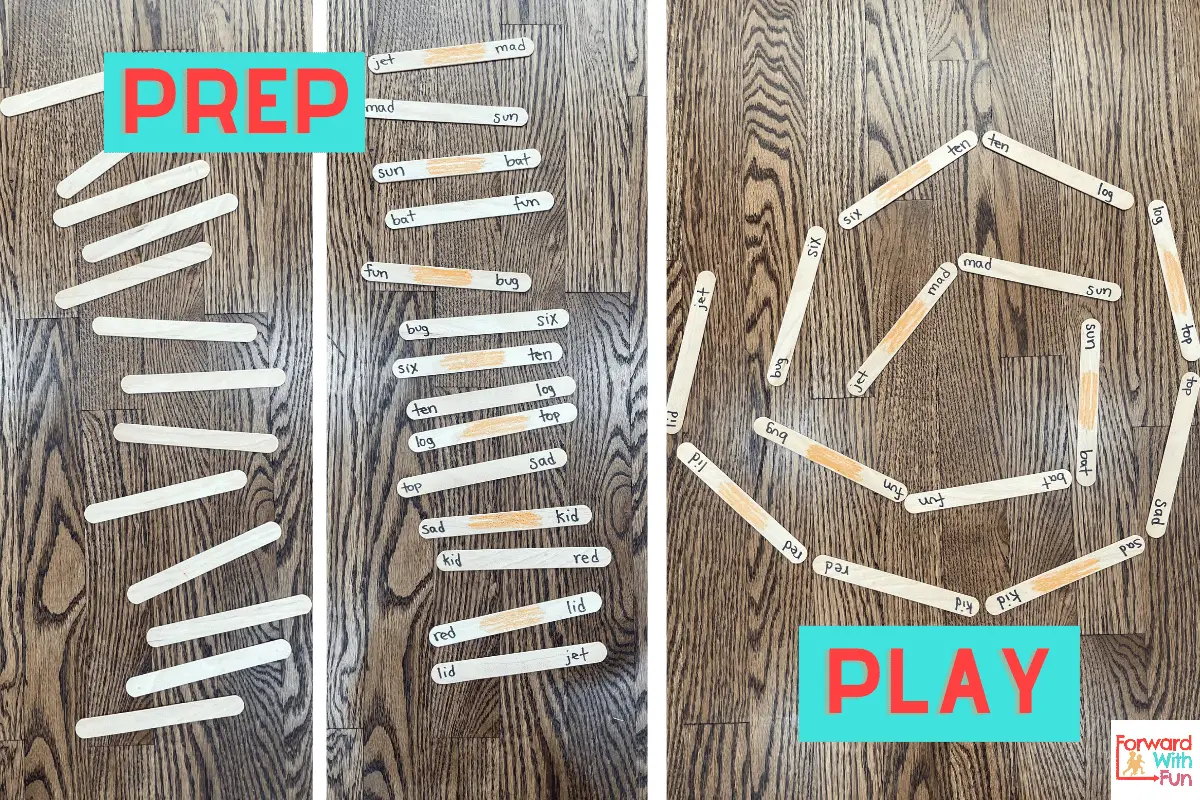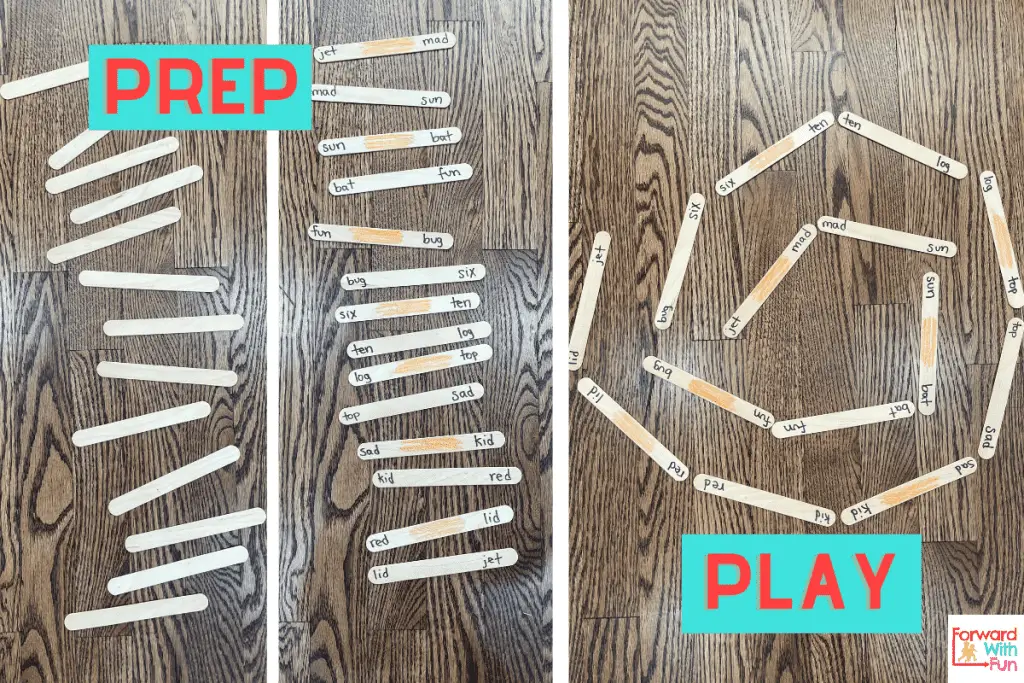 Once you teach this game to your kids or students, they'll know how to play forever. This makes it the easiest independent reading center. They see the popsicle sticks, and you barely have to say a word!
Cup Stacking Challenge - CVC words and Digraphs Sh and Ch
Just print and play. Kids freak out when you share they'll be reading and building based on the words they have on their cups.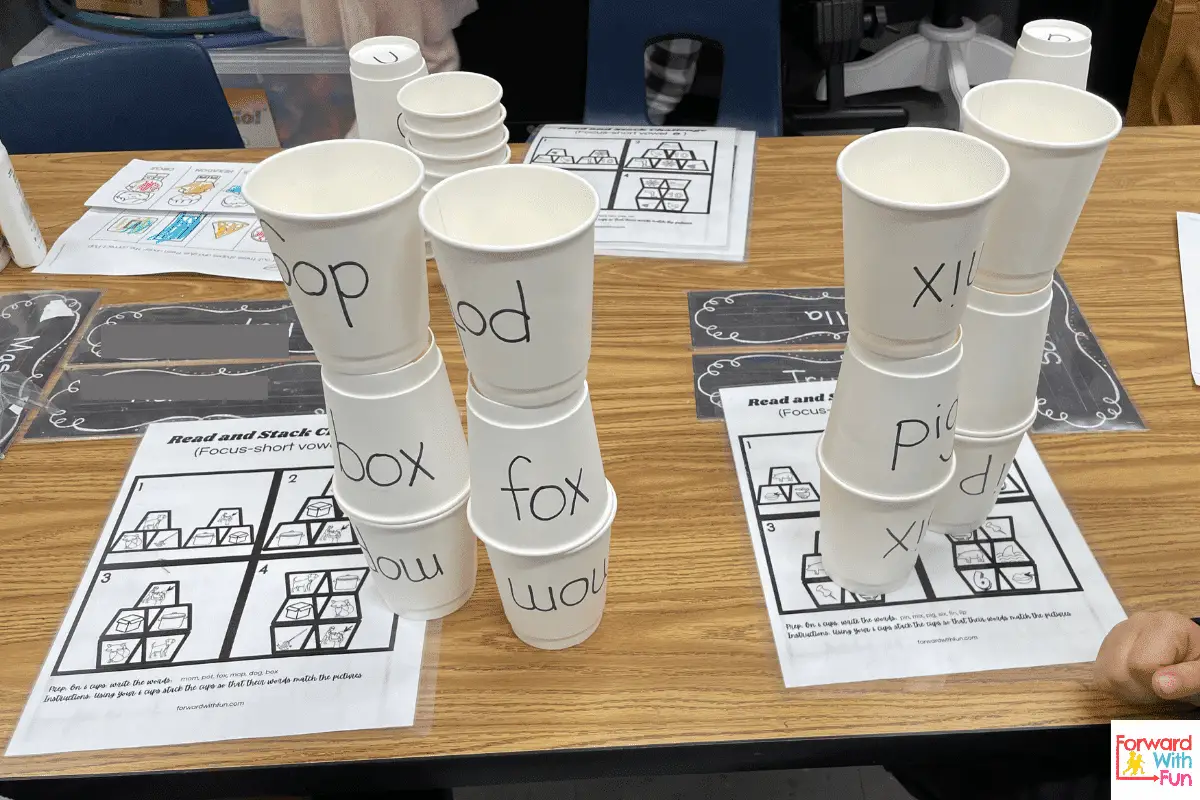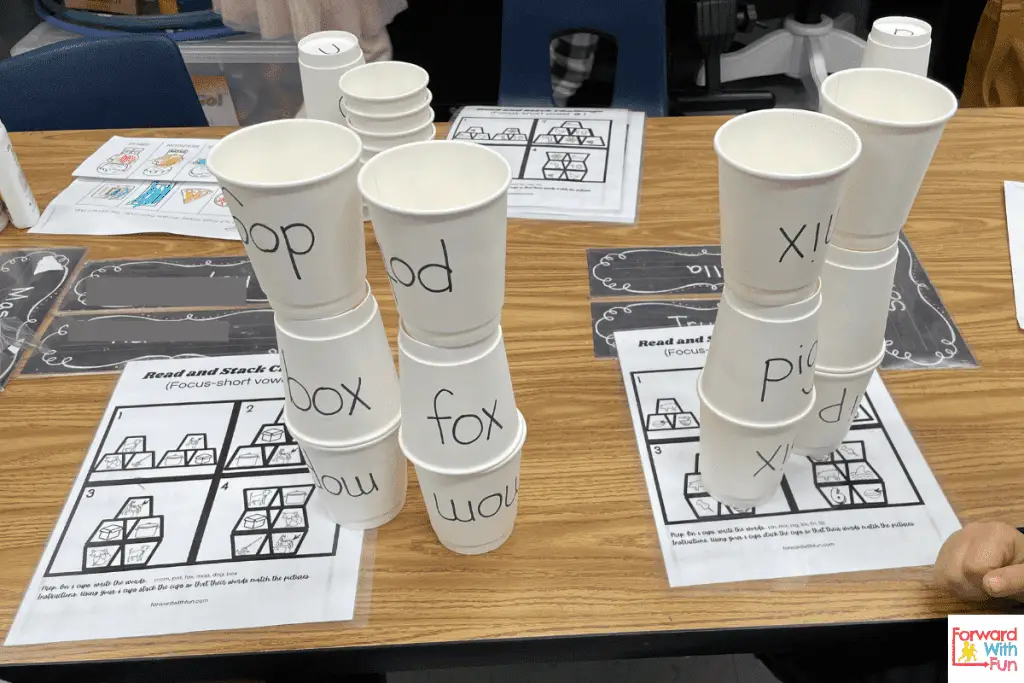 The Cup Stacking Challenge bundle comes with 4 building challenges per vowel and digraph. So you get stacking cards that focus on CVC words and digraphs ch and sh. The set comes with 7 sheets of challenges, focusing on each of the vowels in CVC words and the two digraphs.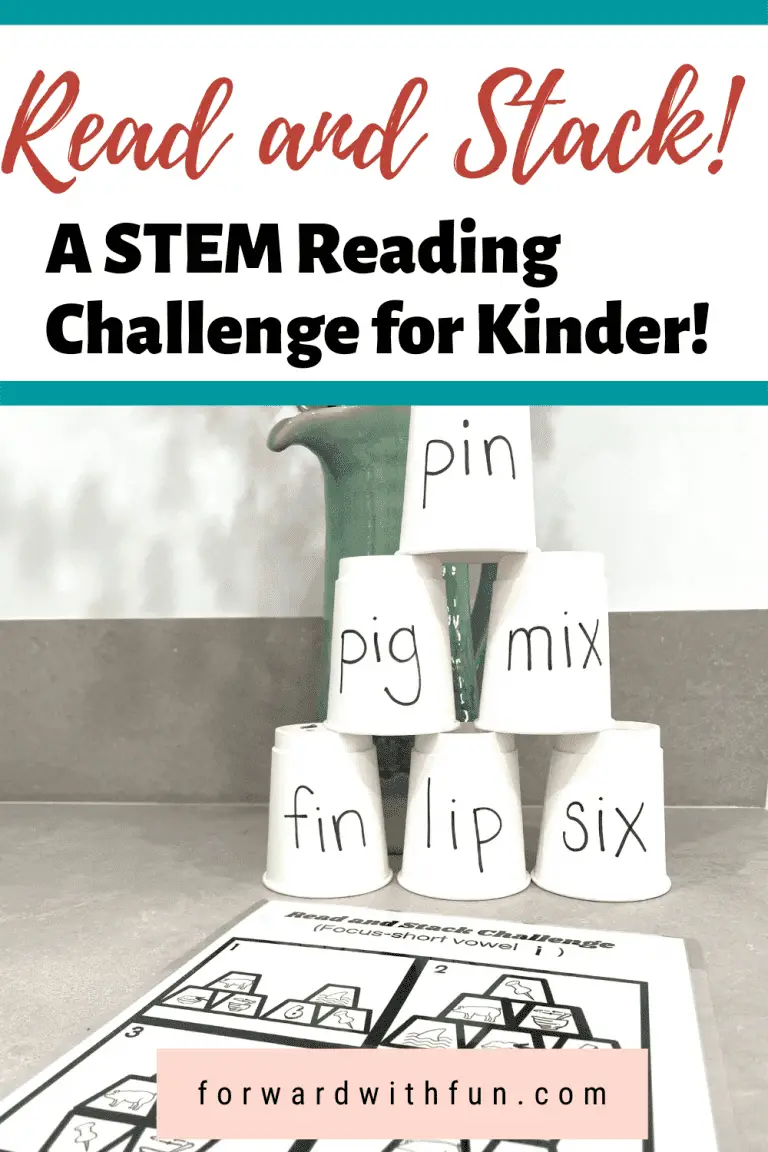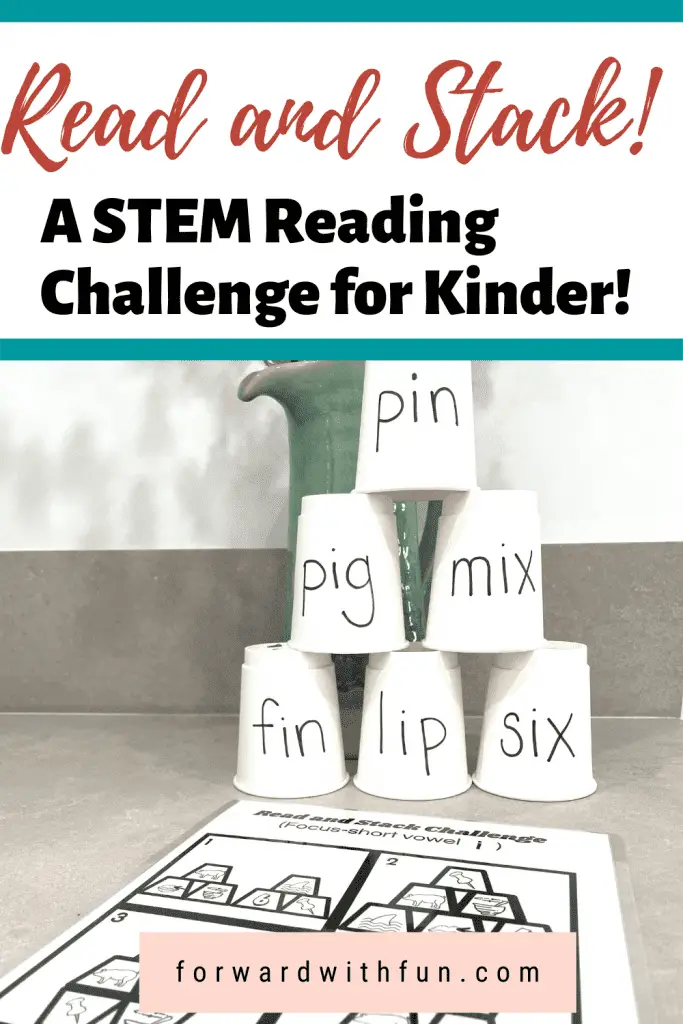 Each challenge requires only 6 cups. Use either plastic or paper to write the words listed at the bottom of that challenge's sheet. Below is an example with the "i" words using paper cups and the "sh" words using plastic cups.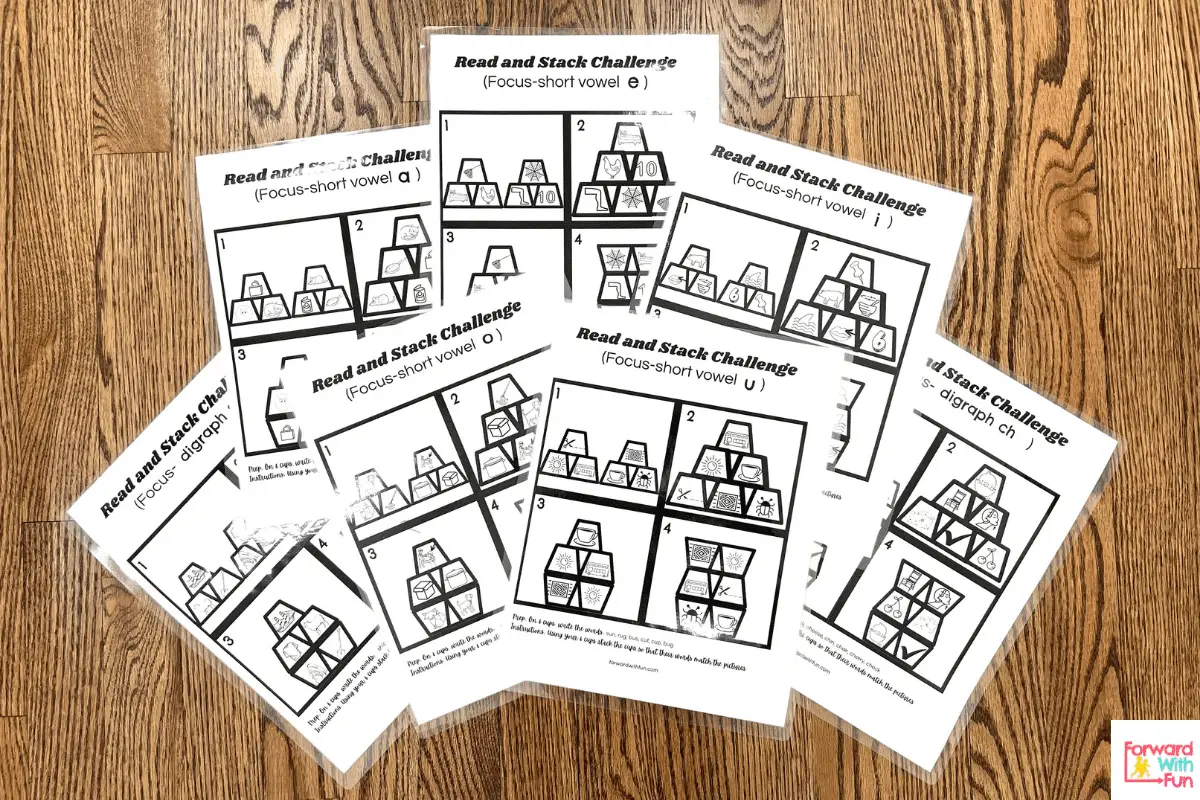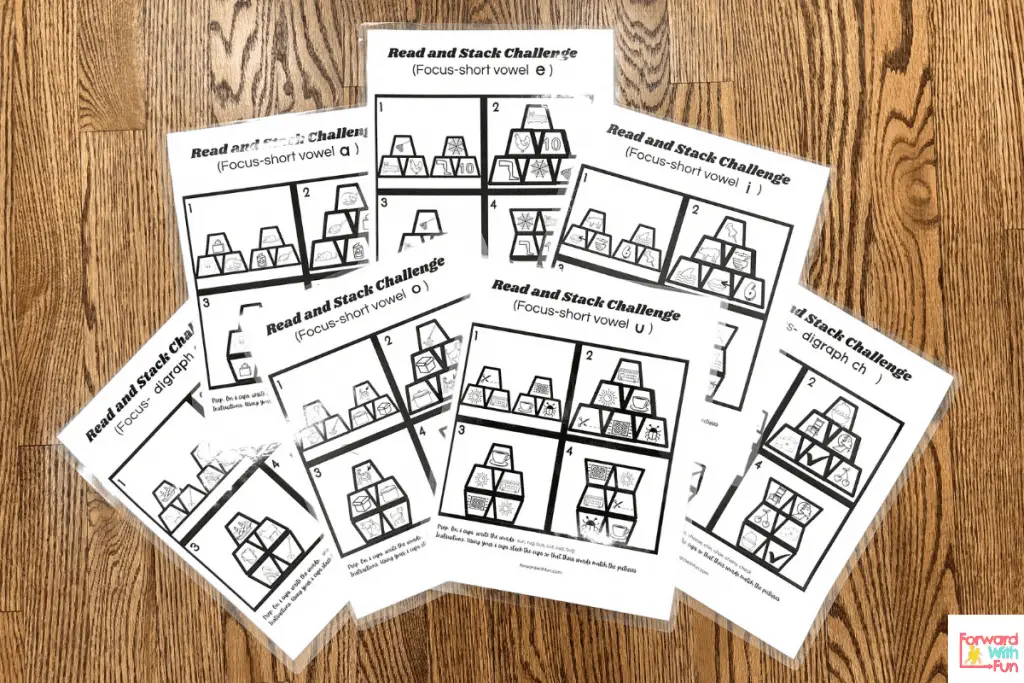 Download your bundle now to start playing these independent reading activities that kids beg for!
Worried your kids are not ready to play these independent reading activities?
Most kids begin reading in kindergarten at the age of 5 or 6. What does "reading" look like at this age? Well, in kindergarten kids by sounding out simple 3 letter words using their knowledge of letters and sounds. They also read words they have explicitly memorized aka sight words.
Everyone learns at different paces, so don't be worried if your child is not yet doing this. However, if you want to progress their learning through fun, hands-on games such as the ones you just read about, check out our signature program, The Fun Club.
TRUTH: The Fun Club is a monthly subscription with 20+ activities a month that WILL TEACH YOUR CHILD TO READ (and so much more).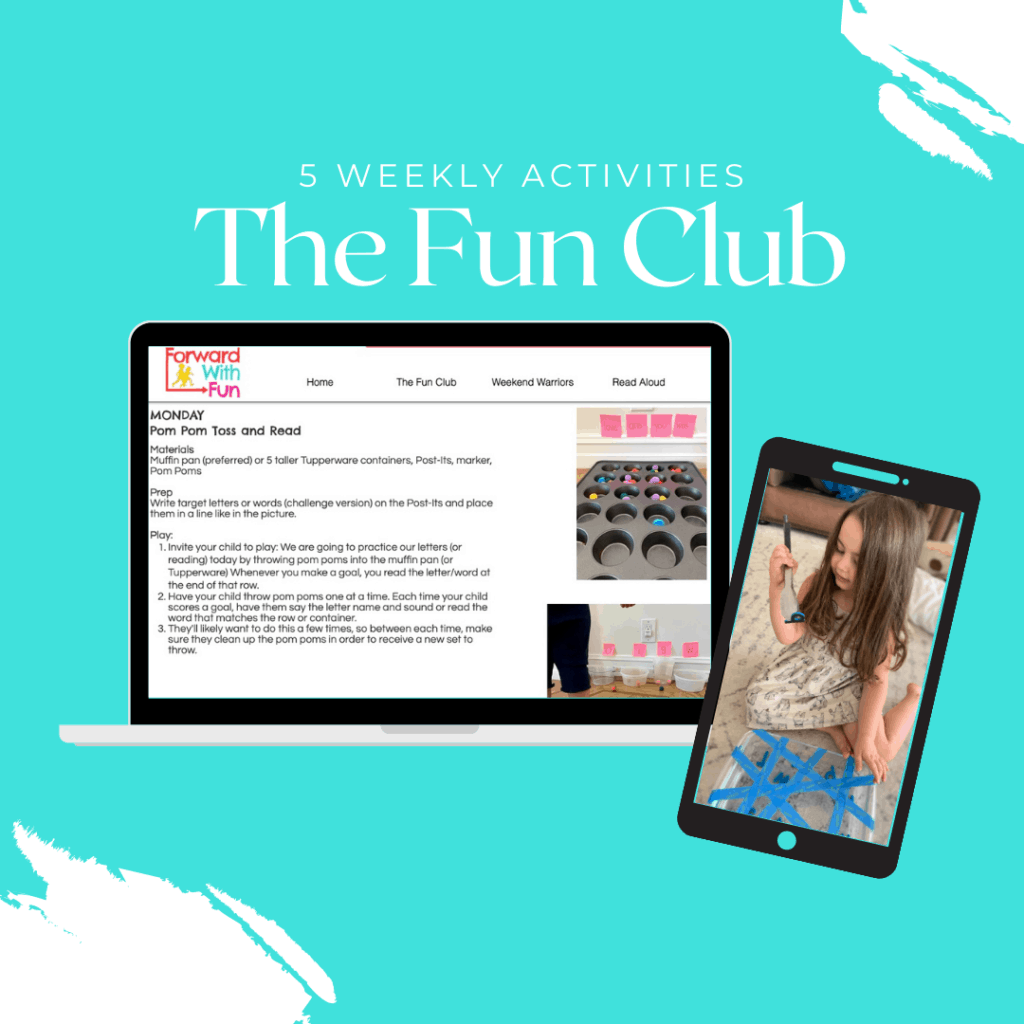 Each week includes reading and math activities that transform learning at home. Suddenly learning goes from being a chore to being the highlight of your day. Activities progress from beginning letters and numbers to mastering kindergarten reading and math standards.
Kids in The Fun Club can read this to you!
Whether you're looking to make learning fun or catch your kiddo up, join The Fun Club and start playing to learn.
I used to hate teaching sight words with worksheets and flashcards. Students would be frustrated about having to memorize words that didn't follow phonetic "sounding out" rules. It got to the point where even I was saying "I know. Sight words are boring."
So I had to do something about it. Instead of boring old school flashcards, I wanted to make sight words fun with hands on learning games that kids love. There is not a  worksheet in sight.
These games will involve sticking, throwing, swatting, jumping, popping and more, but before we jump in, do you know what a sight word is and which ones to choose?
*As an Amazon affiliate, I may get a small commission for purchases made through links in this post.What's a sight word? 
Sight words are words that show up all the time when we are reading, and often they don't follow phonetic rules. Words like of, the, could, and is just don't sound like they're spelled! They're also commonly called "high frequency words."
Sight word lists for your child's grade level
You might have heard of Dolch sight words and Fry sight words. They're both lists of words that schools use to determine which words to teach.
The Dolch Sight Words list can be found here, and they're based on a study by Dr. Edward Dolch who created lists of the most frequently used words in children's literature from the 1930-1940's (kinda outdated). They are conveniently separated into Pre-K, Kindergarten, first, second, and third grade lists though!
The Fry Sight Words list can be found here. Another Edward, Dr. Edward Fry decided to create a more modern list and break it down into lists of 100 most frequently used words in kids books. His lists were created in the 1950's but were update in the 1980's. I use the Fry's First 100 List to choose words to focus on with my kids.
Keeping track of your sight words
The key to learning sight words is memorization, so that newer readers can recognize them quickly and spend their decoding skills on words that are phonetic (sound like they're spelled).
I recommend keeping the words you are practicing up on a Word Wall that your child will pass by everyday and add a new word a week. You can create a simple sight word wall in your home or classroom and it's a great example of environmental print. It'll help you keep track of which words your class or child has mastered!
The Big List of Hands-on Sight Word Activities that kids LOVE
Write the sight words that your child is learning on construction paper and tape them to the wall.
Then write the words four times each on Post-it notes and hide them around your home. Have your child find and match the sight word to it's larger version, reading the word each time. It's like hide n seek meets sight word matching game.
2. Pom Pom Toss and Read with Sight Words
Grab some pom poms and a muffin pan along with my favorite supply Post-its. Write the sight words on the Post-its and place them on the wall, lined up with the rows of the muffin pan. Next, take a few steps back and throw pom poms into the muffin pan. Every time your child scores a "goal" they need to read the word at the top of that row.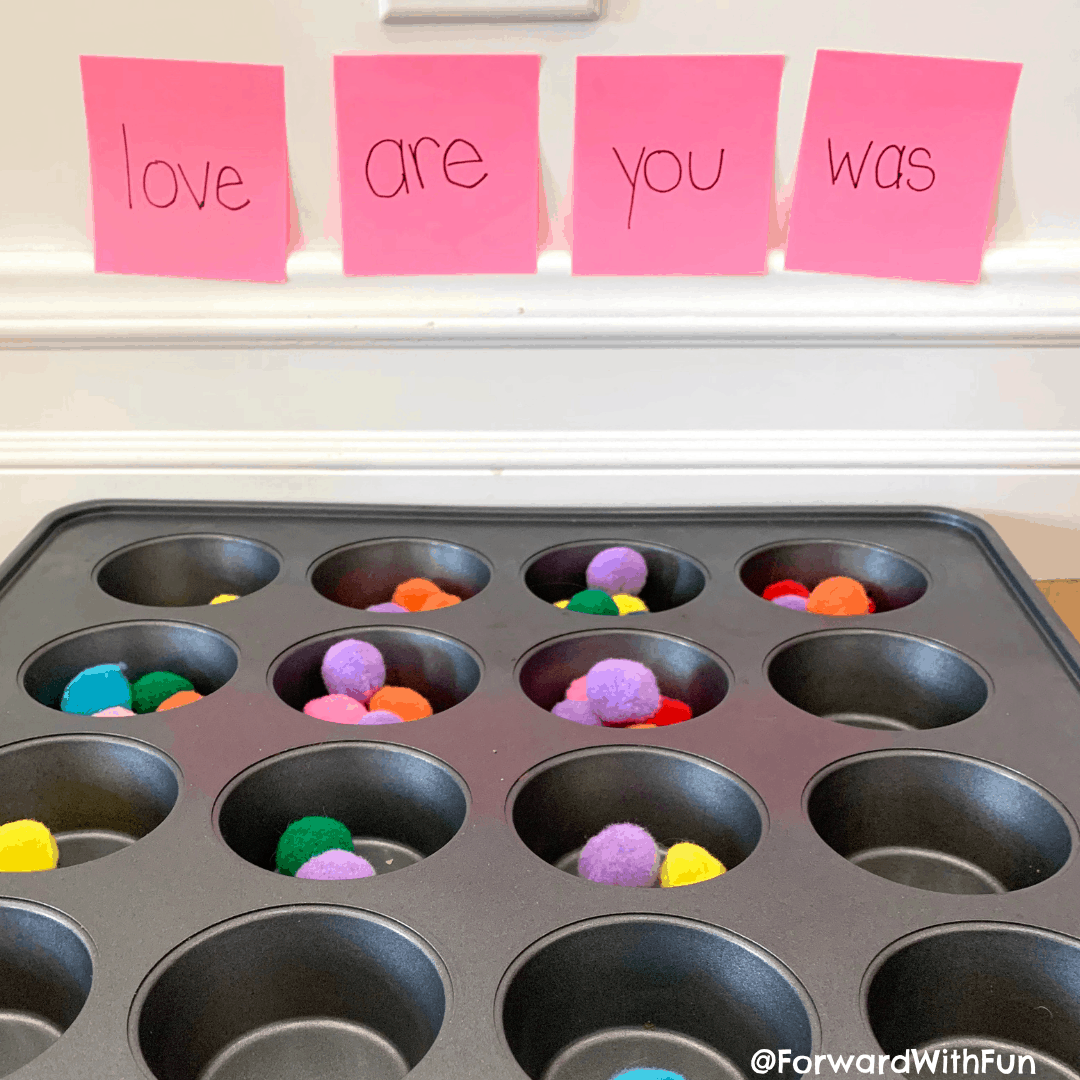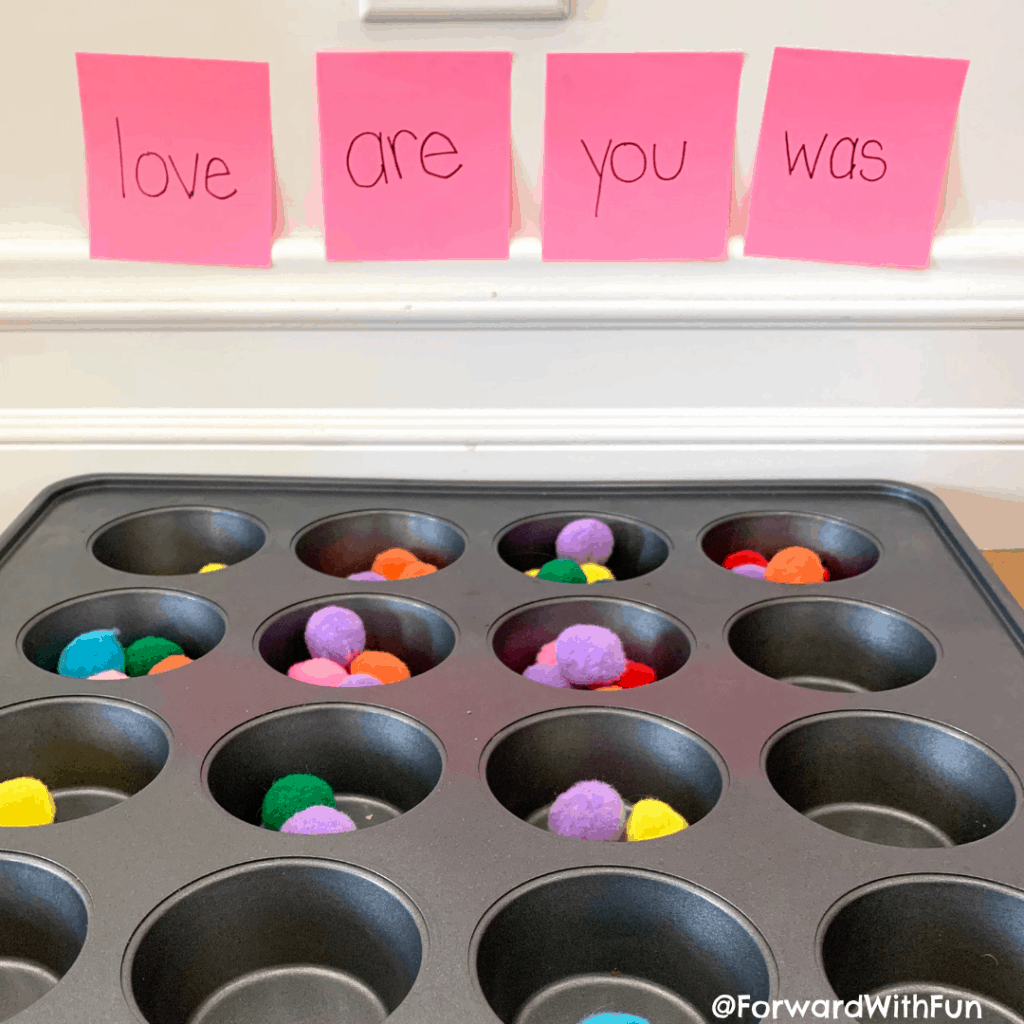 In this one, kids are imagining they're shopping for groceries.
You can use pretend food but if you don't already have that, just use what's in your pantry! Label the foods with dot stickers after writing sight words on them. Write matching sight words on the grocery bags, and have your little shopper read and match the sight word on the food to the bag.
4. Sight Word Steps
Post-its are a must-have for so many games including this one. The sight words are written on the sticky notes and placed onto the steps in our home.
As your child goes up and down the steps, they read each word as they get to the top. Don't have enough words for each step?
Repeating words gives your child lots of good exposure and helps those sight words stick in their brains!
5. Hidden Object Game- The Sight Words are hiding something!
This reading game can be used with sight words, CVC words, letters or even numbers...
Just write the sight words on the Post-its and place them atop of some opaque containers.
One container hides the hidden object? Can you find it? Kids must read the word on top of the container before they check under the container for the hidden object.
I love this idea from simpleplayideas.com Fold the index cards and then have your child's favorite superhero smash the sight words you call out. Each word they smash correctly, they get to keep in their pile.
7. Classic Sight Word Memory Game
A simple sight word memory game only takes one minute to prep. Choose 5-10 words that are on your child's list and write them on index cards. Then write them a second time on another set of index cards. Make sure you use pencil so that you can't read the card from the back. Flip them all over and play Memory! Try to make a match, taking turns to flip 2 cards.
It doesn't look glamorous but I can assure you, kids love this sight words memory game and it provides LOTS of opportunities to memorize the target words.
This gross motor game involves motor planning, reading, and best of all, kids love it.
Use a fly swatter or any soft object to whack the high frequency words. Your little reader has been waiting all their lives for permission to swat stuff, am I right?
Do a speed round! Now you're starting to see why you really need to get some Post-its, huh? You can also use Sight Words Swat as a hands-on way to teach numbers and letters too.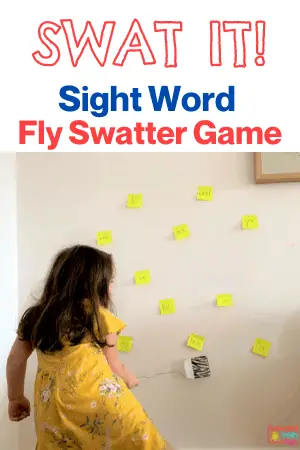 Create a parking lot by drawing a simple aerial view then filling in each spot with sight words. Grab the tons of race cars your child loves to zip and zoom around the house with and label each car with a matching word, using dot stickers.
This clever game comes from jugglingwithkids.com.
Using blue painters tape and Post-its create an obstacle course on the floor. Sprinkle in the Post-its with sight words written on them as stopping points.
Kids must complete the obstacle course doing different movements: tip top, hopping, skipping, balancing on a tight rope and stop to read each word before moving on.
They'll want to do it so many times, which will give them ample practice!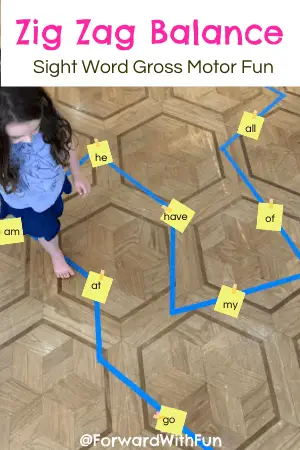 11. Dot Sticker Match
Quick and low prep practice: you don't need anything but dot stickers and paper plus a writing utensil.
Write out 4-5 sight words on your dot stickers filling out the sheet. Then write them again on a sheet of paper the same number of times.
Hand your kiddo the sheet and have them match the words on the dots to the ones on the paper. This is a fabulous fine motor activity for little hands, as they peel the stickers off the sheets.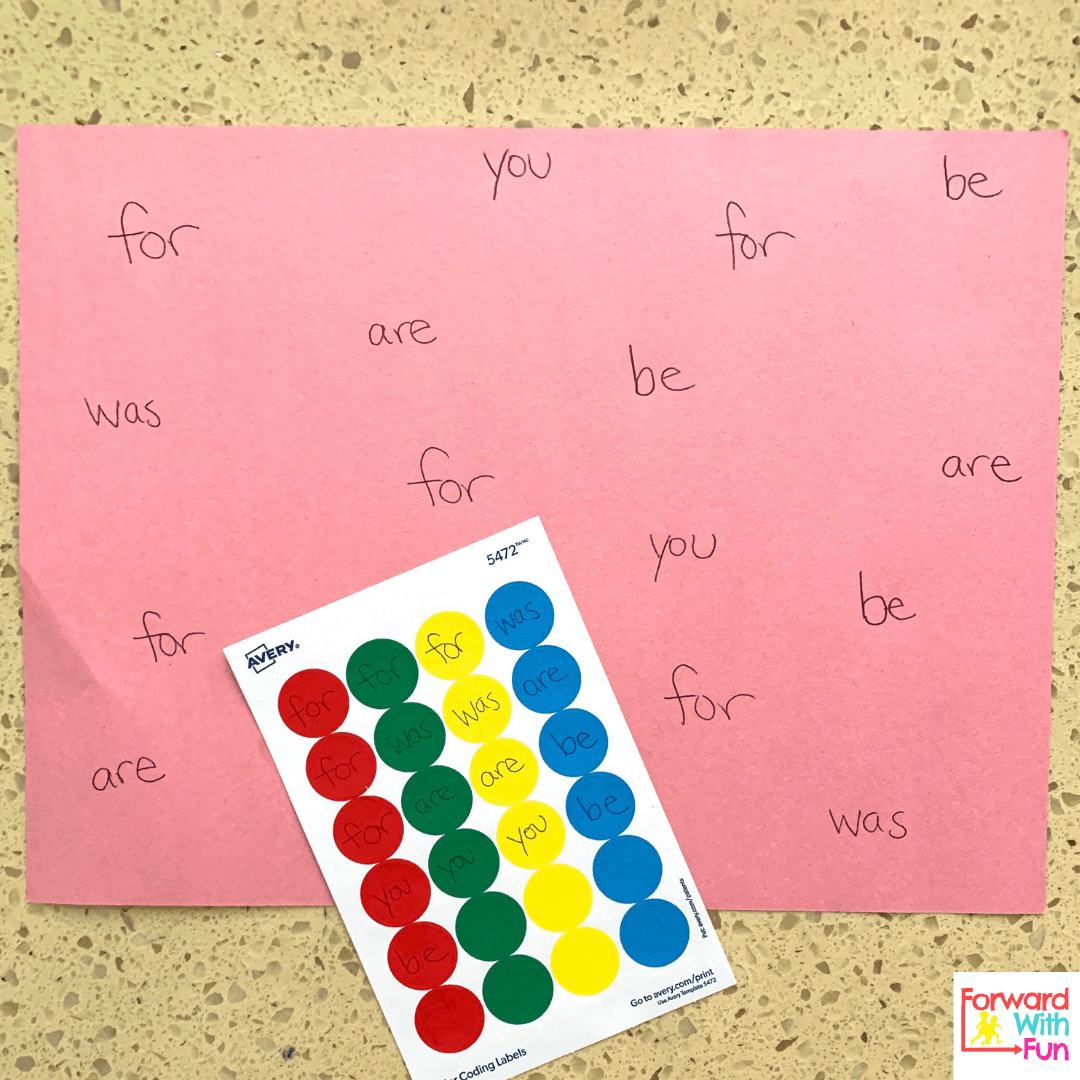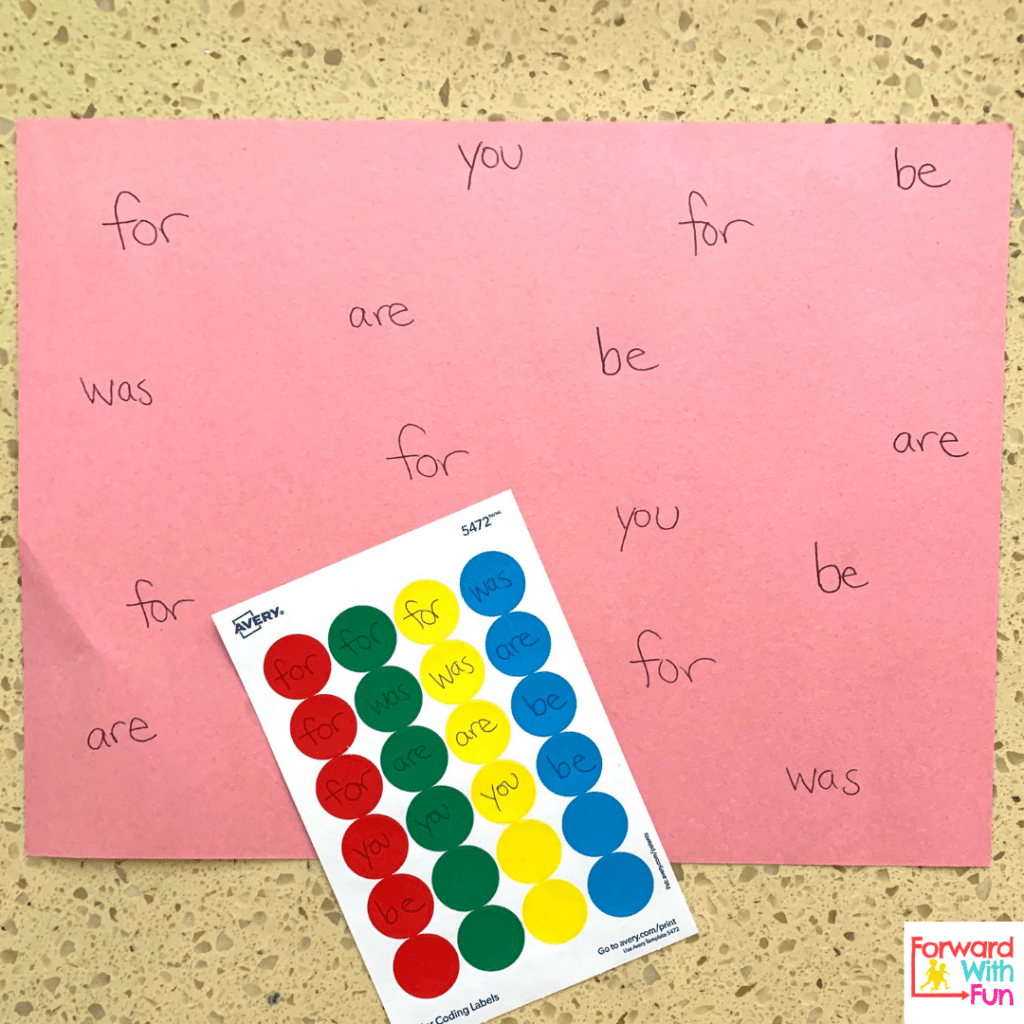 Write down the words your child is working on in large lettering then tape them on empty grocery bags and play ball in the house. Can you aim for the high frequency word and get your ball in the bag?
Read the word as you score a goal. That's a ton of great exposure!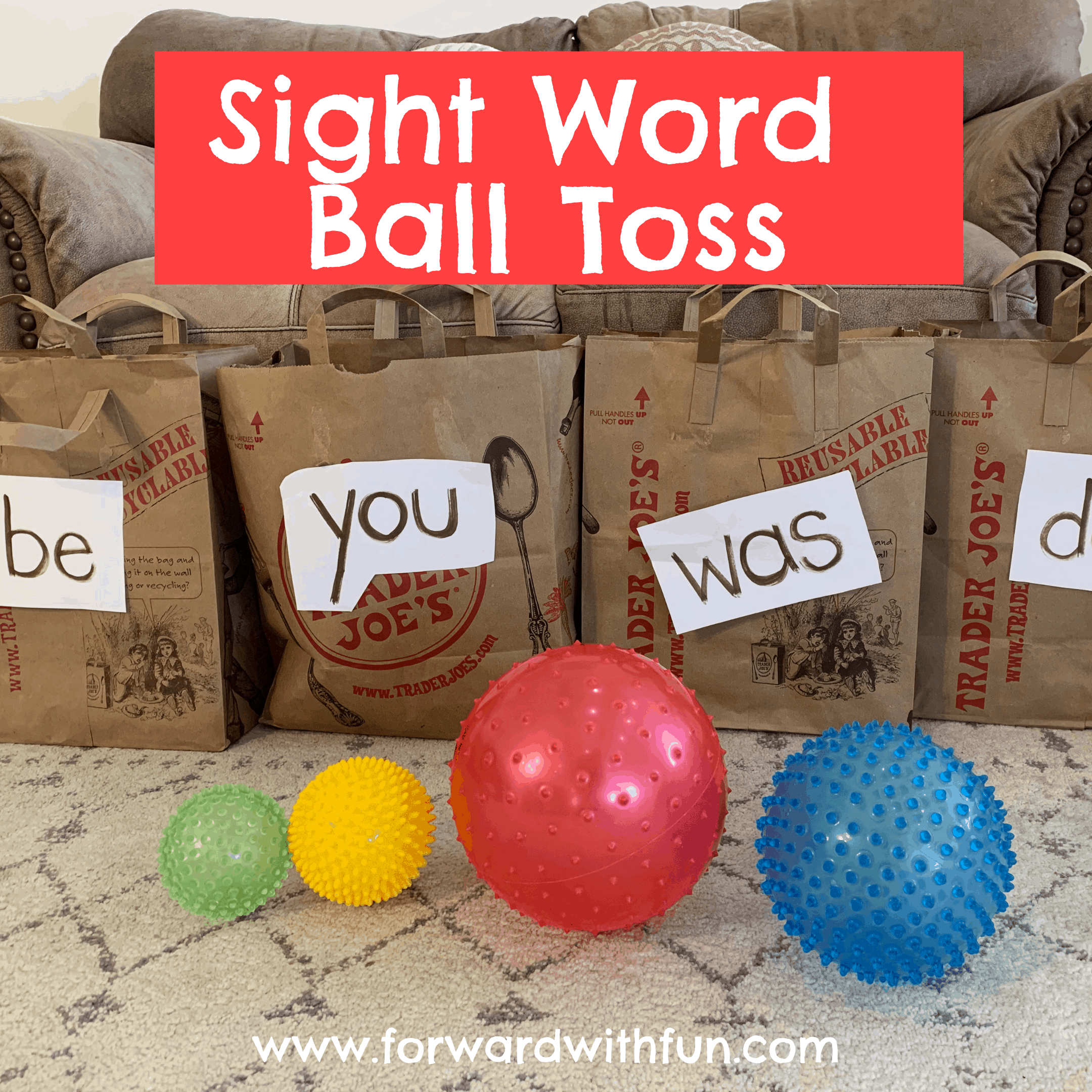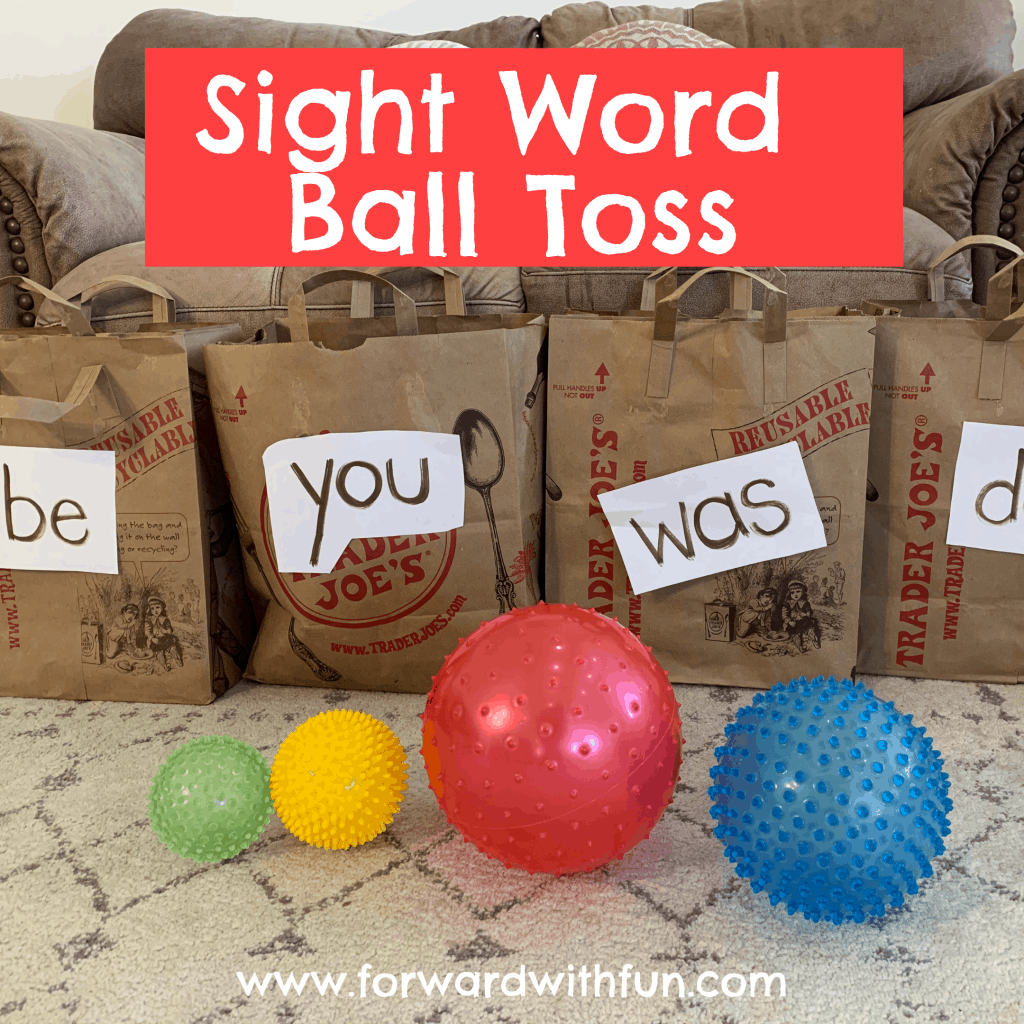 13. Read and Pop the Sight Words!
Lately we have been getting lots of packages, especially after Lil Sis's birthday, and the kids fight over the bubble wrap more than they do the toy! Let's make good use of the packaging and great a pop-a-word game just by writing words in Sharpie on top. 
With smaller bubble wrap, write the words on top and have kids read then pop with a hammer or their fingers. 
14. Sight Words Matching Muffins
For this game you'll need a muffin pan and index cards. Cut the index cards in half.
Pick one target sight word and write it on 5 index cards. For the rest of the spots, write other sight words (one each) . Fold all the cards and put one index card in each muffin spot.
Then cover the whole thing with aluminum foil.
Give your child a straw or other pokey object and tell them, their job is to find the target word 5 times to win.
Kids LOVE exposing the words in the muffin pan and as they find each one, they'll read them trying to see if they found the "target" sight word.
Here is what the muffin pan looks like before I covered it with aluminum foil.
15. Sight Words Flip and Scratch
You're gonna love this one. Just get out your deck of cards, a piece of paper, and a marker or make one like ours on canva.com for free! I copy and pasted the two words we are learning this week each 25 times on the paper and sprinkled in K, Q, and J for the face cards.
At the top I wrote "was" in red and "of" in black. If the kids flip a red card, they scratch out the word written in red, that many times and the same for the second word if they choose a black card.
If they get a face card, they scratch out the K, Q, or J! 
16. Tic Tac Toe with Sight Words
Now this one, you can do anytime and anywhere. Bored at a restaurant? Waiting for dinner to be ready?
This perfect partner activity replaces the X's and O's in tic-tac-toe with sight words so kids get some great writing and spelling practice. Make sure to switch words, so both players gets a turn to practice each word.
Sight Words are only 1 part of learning to read ...You'll want to read about CVC words next!