Signing up for the kindergarten entrance exam sounds so official and intimidating, even for teachers!

Here are the details on the why's and how's of the entrance exam so you and your child can feel more relaxed about it and even know a couple teacher secrets as to how it's used.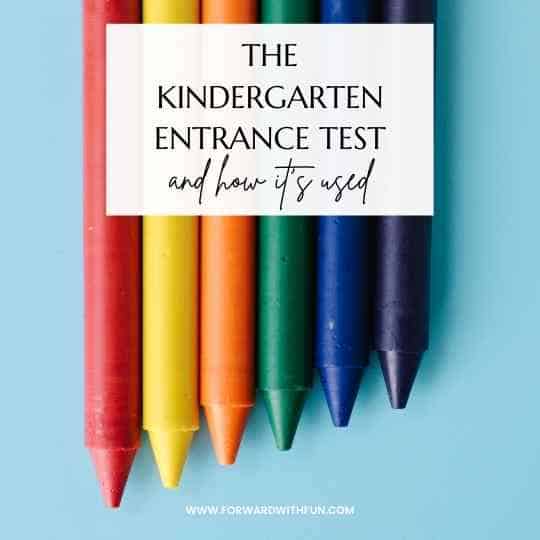 What is a kindergarten entrance exam?
In the summer before kids enter kindergarten most schools ask them to come in and do some kind of assessment in order to determine where they are academically. This can also be called a kindergarten screening, kindergarten assessment, or kindergarten entrance test.

These assessments are not all the same. Some school use teacher made assessments, while others use standardized widely available tests like the Lollipop Test and DIBELS. Many use a combination of assessments.
Does your child need to study for their kinder entrance test? NO!

Kids don't need to "pass" in order to be ready or admitted to kindergarten, which brings me to the next important point. What kinds of questions will be on the test and how are these assessments used?
What kind of questions will be on the kindergarten entrance test?
These tests vary by school, so there isn't a way to determine the exact content, but that is okay, because we don't want to coach kids towards right answers. Rather we want to see what your child truly knows.

I will say that the screening test will ask kids things they don't know, including many skills they'll learn in kindergarten. Don't let that scare you!
If you are wondering "What should my child ACTUALLY know before kindergarten? Is there a checklist?" There is, and I've made it for you, for FREE: check out this kindergarten readiness checklist post and grab your checklist for free, instantly!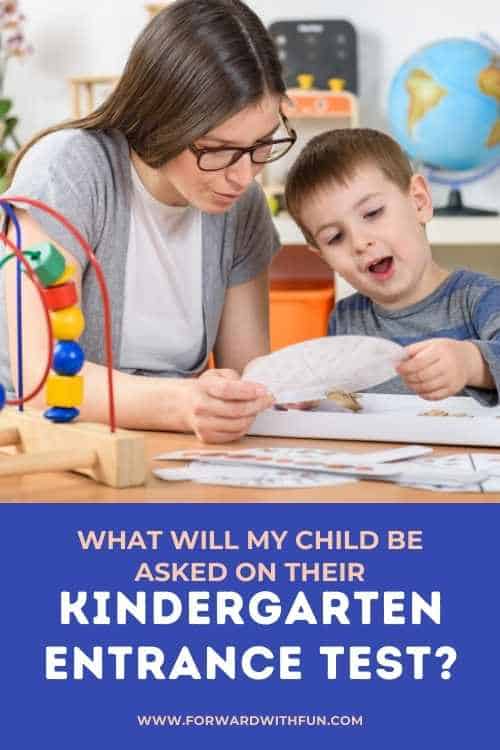 The kindergarten entrance exam will most like likely ask your child to demonstrate knowledge of:
Name Writing
Capital Letters
Lowercase Letters
Letter Sounds
Beginning sounds
Rhyming
Number recognition 1-20
Counting objects 1-10
Shape names
Pattern completion
Colors
Sorting
It may also contain questions about these kindergarten skills (they don't need to know yet!):
Reading common sight words
Reading consonant-vowel-consonant words
Writing the alphabet
Writing numbers 1-20
Simple arithmetic problems
Counting as high as they can
Sequence a story/events
Phonemic awareness skills like blending, segmenting, and sound isolation
The test can take any where from 5 to 30 minutes depending on the set of skills the teachers are assessing.
The lovely Sarah from "The Fabulous First Grade Blogspot" shares her school's kindergarten screening test pdf for free on google drive! It's a great sample of questions that kids can be asked.
Download it:
Kindergarten entrance exam pdf - provided by thefabulousfirstgrade-sarah.blogspot.com
How your child's kindergarten entrance exam results will be used:
Now this is something that varies by school, but some schools will be outright with the information and others may choose to keep this a bit hush.

Two Main Uses for the entrance exam:
To direct instruction and make sure your child is learning what they need to know!
To help determine class placement - more on that below
1. Using the assessment to plan instruction:
Most often, the kindergarten entrance exam is a comprehensive assessment to determine your child's mastery of pre-k skills but also kindergarten skills like reading and doing arithmetic.

By determining what kids do not yet know, teacher's can help individualize instruction and plan their lessons based on what kids need to know next. For example, it would be pointless to spend a week on each alphabet letter in kindergarten if all kids came in knowing all their letters!
Giving the teachers the opportunity to spend individual time with each student and assessing their needs and strengths BEFORE school starts will help maximize learning right off the bat. From a teacher's perspective, it really beats having to individually assess each child during classroom hours, or let's face it during recess time.
2. Ok, so why the hush?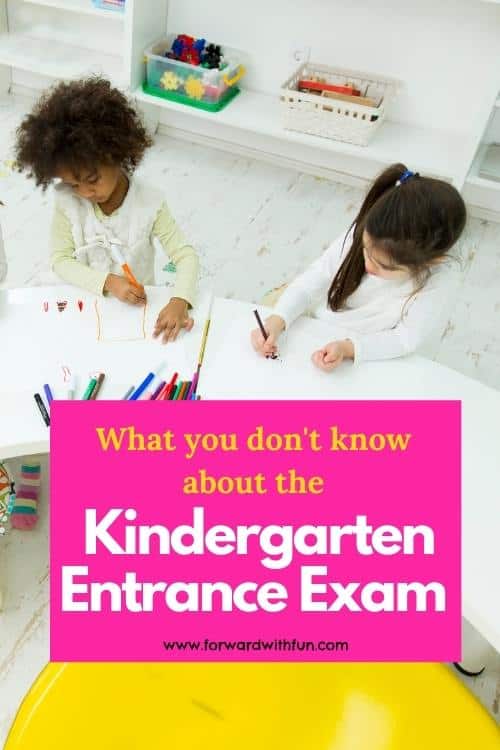 Some schools are not as forthcoming in how they use the tests to determine class placements but generally classes are either mixed ability or by ability.

What does that mean? Well, classes are either made up of kids with varying academic ability levels OR they're by kids in the same ability levels. That is where things can get tricky...
Scenario 1:
Many schools determine placement based on a child's READING SKILLS assessment. They may even tell you if you ask!

Many believe it would be to best way to target instruction at all levels.

Apparently, many students come in with no letter knowledge and some come in reading. In order to best meet all kids' needs they'd be separated by this determining factor, not necessarily taking into account if a child was really strong in math or other academic subjects.
This is often used with the early bird/late bird kindergartens.

Scenario 2:
At my previous school, entrance exams for kindergarten were also used to determine student ability. Early literacy/reading skills were the major factor we assessed, but there was a glaring difference.

We were creating MIXED ABILITY classrooms. You see, just because a child is advanced in one area, doesn't mean they're advanced in all areas (and vice versa).

Mixed ability classes help all to excel. In contrast, some research has shown that creating a high achieving vs low achieving class can be detrimental to the students classified as underperforming.
Mixed ability grouping is more equitable and helps lower achieving students. Also, mixed ability grouping allows high achieving students to excel in leadership roles. To read more on the research behind these statements check out this post by learningaccelerator.org.

Will teachers ignore a high achieving child's needs in a mixed-ability class? From my personal experience, I worked extra hard to ensure this wouldn't happen! I was able to not only get my struggling students to become readers. I also met the needs of very high achieving students as well.

It's okay to ask your child's school how placement is determined!
What happens if my kid doesn't know everything on the entrance exam?
Nothing bad is going to happen. Take a breath, for real. I mean it. Kids are not supposed to know everything on these tests!

This test is comprehensive, and remember when I said it was going to cover kindergarten skills too? They shouldn't know how to delete ending sounds or read CVC words yet, and even if they have never heard of a sight word, that's totally expected! They can't count to 100? GOOD! That means that they haven't mastered kindergarten standards before kindergarten. That's perfect!

The words "assessment" and "exam" do sound intimidating. However, these exams help teachers understand where your child is coming in academically.
Take the pressure off the "exam."
By treating this whole experience as an exam, your child may feel a bit nervous or scared. It's super normal! So if they flub up, they'll get lots of other chances to prove what they know. We teachers know this is a big new thing for them!

My recommendation is to not treat it like a test AT ALL.

Here are some ways to explain to your child what they'll be doing:
going to visit the new school
going to meet potential teachers
checking out the classrooms
exploring your new learning space
showing the teachers what you already know and what you still are learning
Walk around the school and point out different spots like the playground, the cafeteria, the library. Building familiarity with the new space will help your child a lot when the first day of school rolls around.
Okay, okay, Ashley! What do I do to prepare my child for kindergarten and to rock this assessment?
A KinderReady Summer is an 8 week home program made just for the summer before kindergarten! In less than 20 minutes a day, you can easily teach your child the MOST important academic skills listed in the kindergarten readiness checklist. (Did you snag that checklist yet? It'll tell you the real skills your child should know before kindergarten!)

How does this sound? Imagine a weekly email with 5 fun, hands-on activities to do with your child heading your way for 8 weeks. NO worksheets or boring printables, only MAXIMUM fun learning! Plus it's super simple to do, just read the instructions.

The supplies you need? You may already have them! I can send them to you if you want, yup, for real.
post its
construction paper
markers
alphabet letters
snacks
dice
mini shapes
dot stickers
magnetic bingo chips
These kinder-prep learning activities and games will ensure that your child will master the skills they need to have a smooth and successful kindergarten year.

You know, it might even skyrocket them to the top of their kindergarten class, and best of all they'll be developing a love of learning which serves them their whole academic career. Check out A KinderReady Summer.