I made these 44 FREE sight word playdough mats for YOU, because I'm so tired of seeing kids being sent home with sight word flashcards. BORING!
I get that things need to be simple, or we won't do them as parents, so I've create completely free hands-on playdough mats for your young reader to use. They're not individual pdfs either, just one big, easy packet to start using instantly.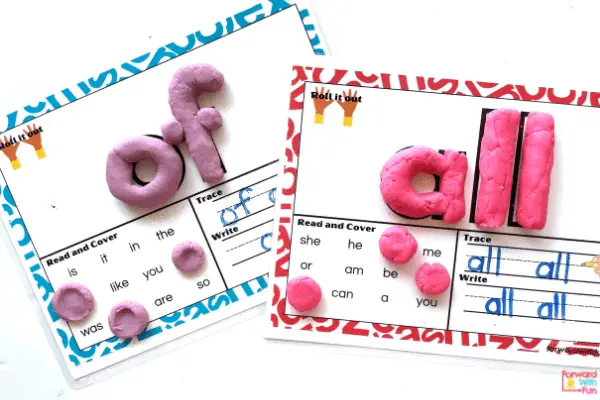 Which sight words are included in the packet?
Included in the packet are 44 words from Fry's first 100 sight words list.
When I taught kindergarten would introduce 1-2 sight words a week and these are the words that I taught first! Teachers choose sight words at their own discretion, and there is no one "right" list for kindergarten. These are also the words I am teaching my daughter first.
All the words included in the sight word playdough mats packet: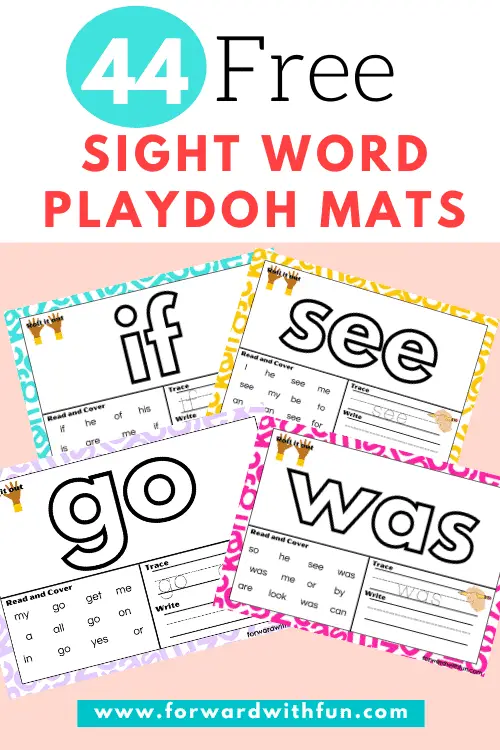 a
all
am
an
and
are
as
be
by
can
do
for
go
has
have
he
his
how
I
if
in
is
it
like
look
me
more
my
no
of
on
or
said
see
she
so
than
that
the
they
to
was
we
Why are these playdough mats so effective at teaching sight words? Well, the key to learning sight words is exposure. Since many sight words don't sound how they're spelled, kids must recognize them by sight.
Yes, that's why they're called sight words. Some teachers call them different things: tricky words, rainbow words, rule breakers, etc. In order to memorize these strange yet vital words, kids need to interact with them many times.
How to use your sight word playdough mats:
Each sight word playdough mat has 4 ways to interact with the word, and kids will see the sight word they're working on 6+ times during the activity.
See the playdough mats in action:
Roll It Out/Playdough Section
First, kids will roll out their playdough into long "snake" pieces, then twist and shape them into the letters that form the sight words. This sensory way to learn, really benefits all kids, especially young children who are often tactile learners (those who learn by touching).
Besides being a great sensory invitation to play, did you know that playing with playdough majorly builds up the small muscles in the hands needed for fine motor skills. I tell you all about why those are so important in this post about fine motor development!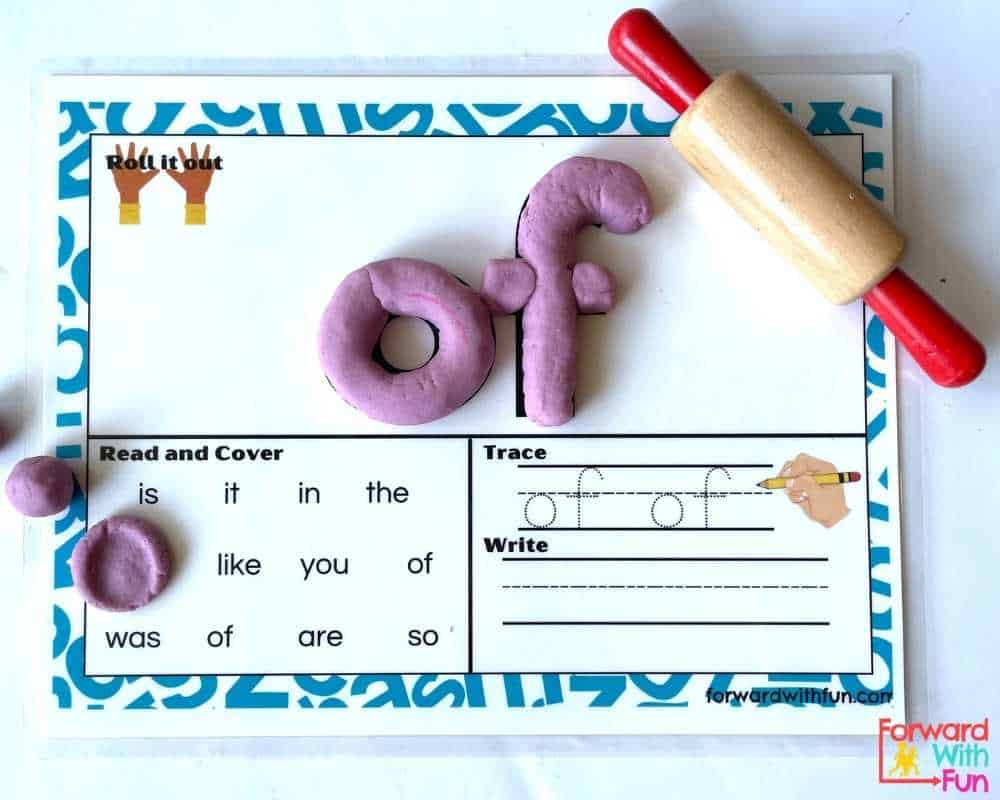 Read and Cover Section
Next kids will read the sight words in the left bottom corner and splat them with playdough.
Make 3 small playdough balls, and have kids smush the ball with their fingers on top of the sight word on the mat! Kids won't need to know how to read all the sight words in this section, only to find the one they're working on. However, seeing all the sight words they've previously worked on, only helps cement their memorization.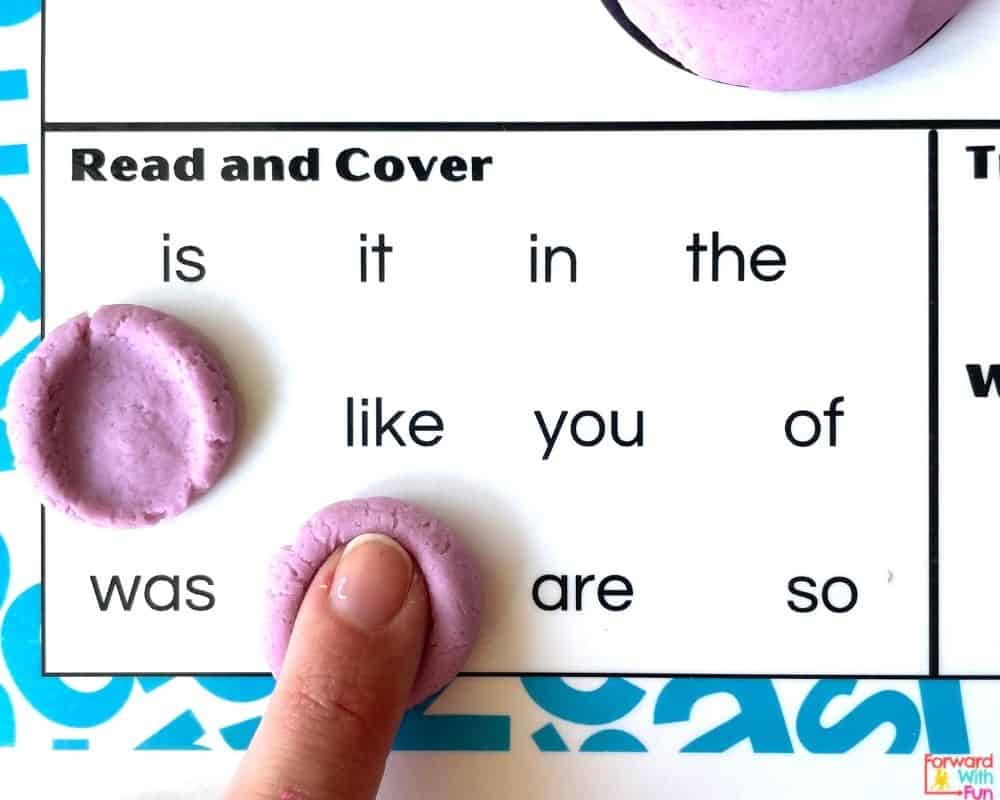 Trace and Write Section
The final section has a tracing component, and a writing component. If working with 4 year olds, they can just trace the sight word with their finger. When working with older kids in kindergarten and first grade, they can trace the word with their finger or a dry erase marker. If they're ready to write independently, the final line includes a space to try that, the most difficult step.
In sight word playdough mats, kids are building the word through sensory play, scanning and finding the word with reading skills, tracing the word, and finally writing it. With so many different kinds of interactions, these sight words have a much higher chance of being memorized than with boring, old flashcards!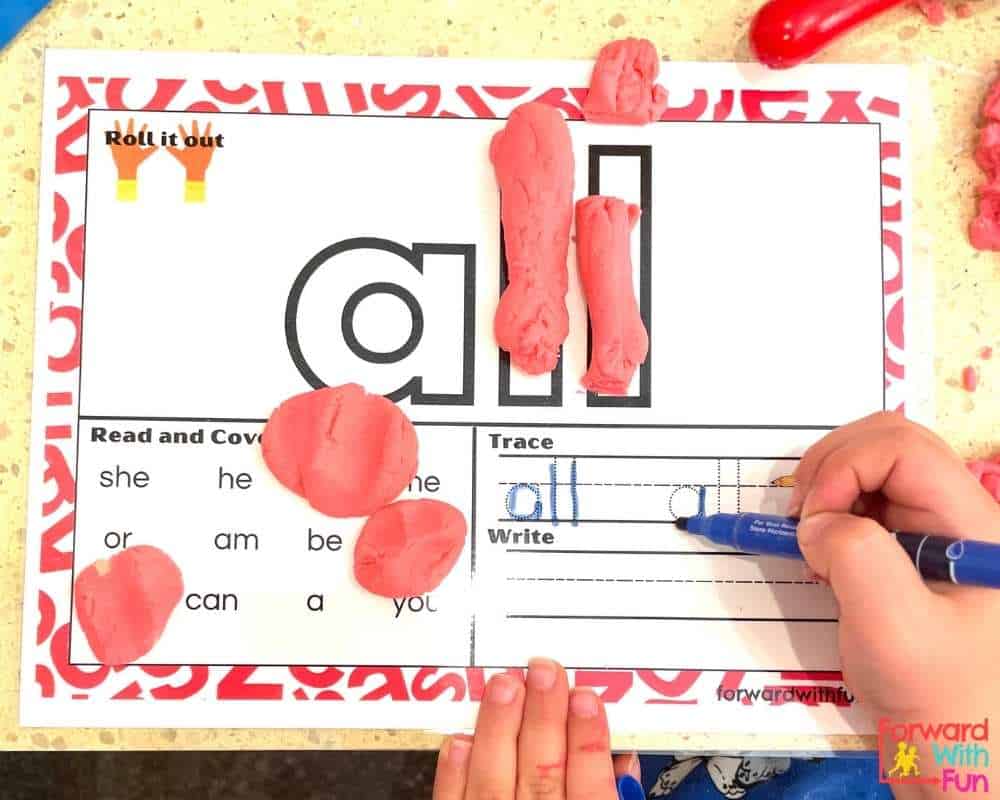 Download Your Sight Word Playdough Mats NOW!
Tips for best use of your sight word playdough mats:
Wanna use these over and over again? For best results, use cardstock. Cardstock is thicker so it'll last longer, but if you're gonna be one and done, just print on regular paper.
Laminate or place your sheet in a sheet protector. Who has a laminator? Though it is a nice way to preserve your sight word mats, it might be tricky to access, so use these sheet protectors, and BAM, you can use it again and again.
Check out these 16 other incredible sight word games that I use to increase exposure and help make reading a fun, bonding experience for me and my daughter.
Throw the flashcards away. ; )
Want even more playdough mats for your younger kiddos?
Check out these alphabet playdough mats, also totally free! Yes, you read that right.
Grab all 26 alphabet playdough mats and begin learning all about the alphabet with your 3-5 year olds.