If you're looking to switch up your sensory bin, check out the 50+ list of sensory bin fillers and how to use them.
Sensory play provides so many benefits to young children, and most of all it's fun so kids can play to their hearts content while you can sit back and relax. As you change out sensory bin fillers, it shifts the kind of play kids create, sparking creativity and learning. So read on to grab your handy list, print it, and put it on your fridge for a quick sensory bin activity anytime!
*As an Amazon Affiliate, I may make a small commission based on your purchase at no extra cost to you. Thank you.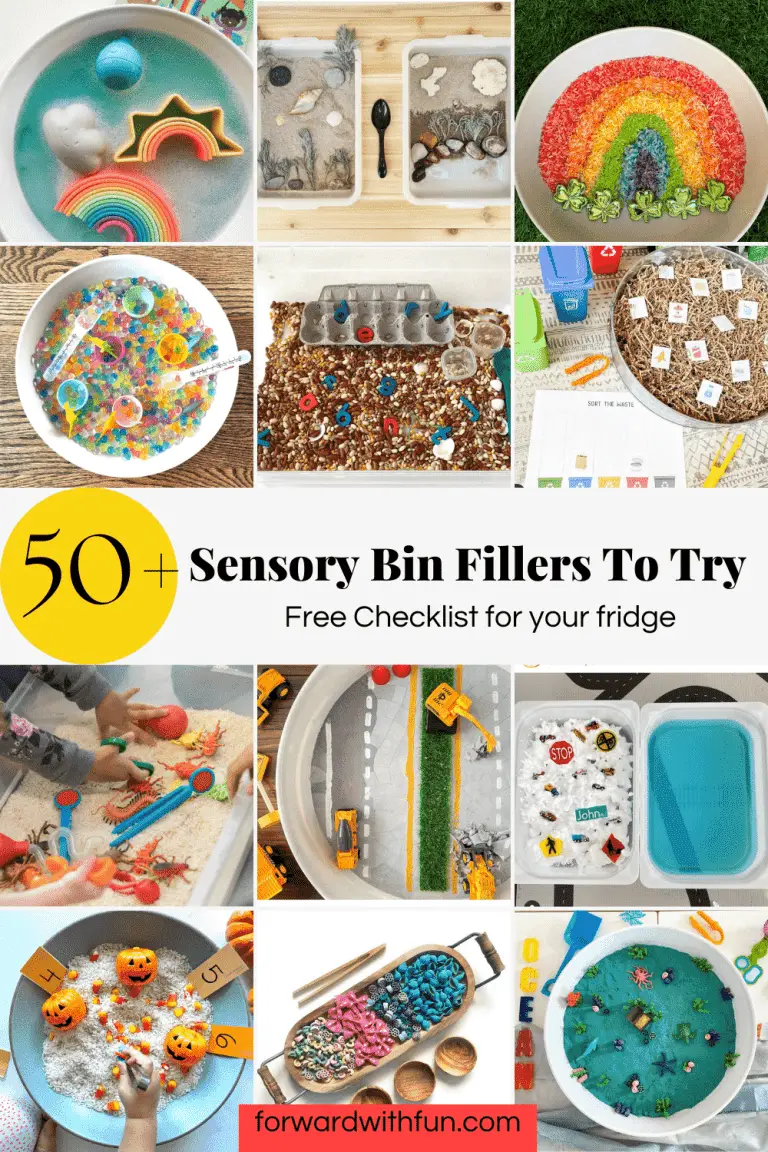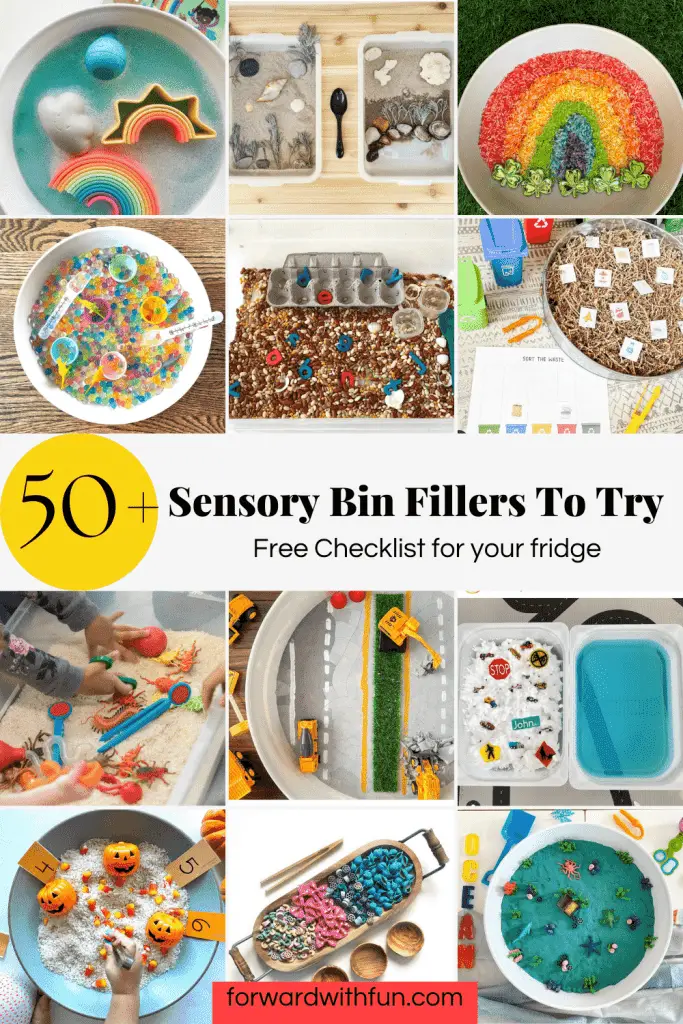 What is sensory play?
Sensory play is any kind of exploration kids can do with using their senses: hear, smell, taste, sight, and touch. But it is often used to describe exploratory play children can do with their hands while still stimulating some of the other senses.
Often kids will describe that sensory play just feels good! That is due to their curious nature and sensory needs being met by these types of activities!
What are the benefits of sensory play?
Sensory bins are one type of sensory play. There are so many types likes sensory trays, sensory jars, sensory kits, and more. Even experiences like being in a giant ball pit are considered sensory play.
Benefits of sensory play include:
Fine motor skills development
Calming/soothing effect
Creative thinking
Problem solving
Vocabulary building, speech development
Ways to encourage learning academic skills (you'll see what I'm talking about in the photos below)
As children scoop, pour, and maneuver the sensory bin fillers along with whatever else is in the bin, they're improving their muscle strength in their wrist and fingers. These small muscles are vital for fine motor skills development such as buttoning, tying, and writing.
Naming the fillers as well as the items in the bin provides important vocabulary opportunities. As children explore the sensory bin they are using language and promoting speech development.
And if you're adding in elements like numbers and letters, kids will play to learn with their sensory bins. Think of all the opportunities for counting, measuring, and labeling things as their little hands go to work.
What is a sensory bin and how do I make one?
A sensory bin is any type of container that you fill with a sensory bin filler and then other objects for children to manipulate. This can be as small as a bowl or a tray or as large as you want.
My favorite sensory bin is a clear container from Target. I make sure to purchase it with a top so that if we're doing messing play, I can close it and put it up high for another day. Often I am lugging play from home to school to be shared by all, so having a top helps with that too.
All you have to do is grab your container, print out the list of more than 50 sensory bin fillers, pick the one you want and throw it in. Then, add whatever else you want like:
smaller containers
spoons
small toys/figures
items of interest for your child
50+ sensory bin fillers to use with toddlers, preschoolers, and kids!
I've divided this mega-list of sensory bin fillers into taste-safe and non-taste safe. Taste safe means that if kids lick or taste the filler that it wouldn't be dangerous; however it doesn't mean that the filler is not a choking hazard! So please, as always, supervise your child when doing sensory play.
Don't forget to download your 50+ sensory bin fillers checklist at the bottom of this post. Keep it on your fridge for fresh sensory play ideas!
Taste-safe sensory bin fillers:
Jell-O
Water
Beans (black, red, lentil)
Whipped Cream
Oobleck (cornstarch + water)
Flour
Salt
Corn kernels
Raw pasta (can be dyed with food coloring)
Cooked spaghetti
Chickpeas
Oats
Rice (uncooked)
Snow
DIY snow (1/4 cup water + 1 c baking soda frozen for 3 min)
Cereal (some people blend it first)
Popcorn
Easter Eggs (not a food, but usually safe to lick)
Taste-safe paint
Aquafaba foam
Moon dough- flour + coconut oil
Sliced citrus + water
Pudding
Chia slime (seeds in water overnight)
Peas (frozen or raw)
Candy (great for sensory bins ie candy corn on Halloween)
Non-taste safe sensory bin fillers:
Shaving cream

Pom poms

Dirt
Cotton balls
Bubble foam
Flower petals
Leaf cuttings
Baking soda + vinegar
Play-doh
Rocks or gravel
Slime
Cloud dough (conditioner + cornstarch)
Sponge pieces
12 Inspirational Sensory Bins Using Different Fillers
Dyed Rice Sensory Trays
Dyed rice is very popular, likely due to it's satisfying texture and easiness to make. I thought it would be tricky to dye my own rice, but surprisingly it was incredibly easy. Here is the 2 step recipe to make your own rice sensory bin filler!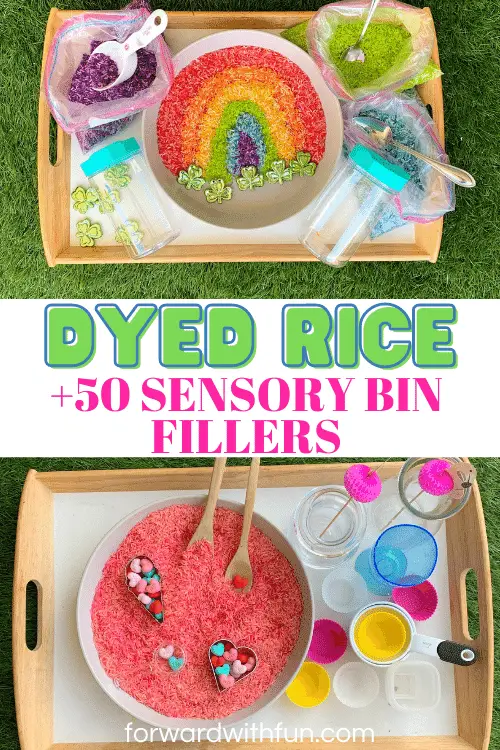 Beans Of All Kinds Sensory Bin
I used red, pinto, and white beans (plus a little bit of corn) to make this sensory soup learning bin. There are many ways to incorporate learning into sensory play and this is just one example!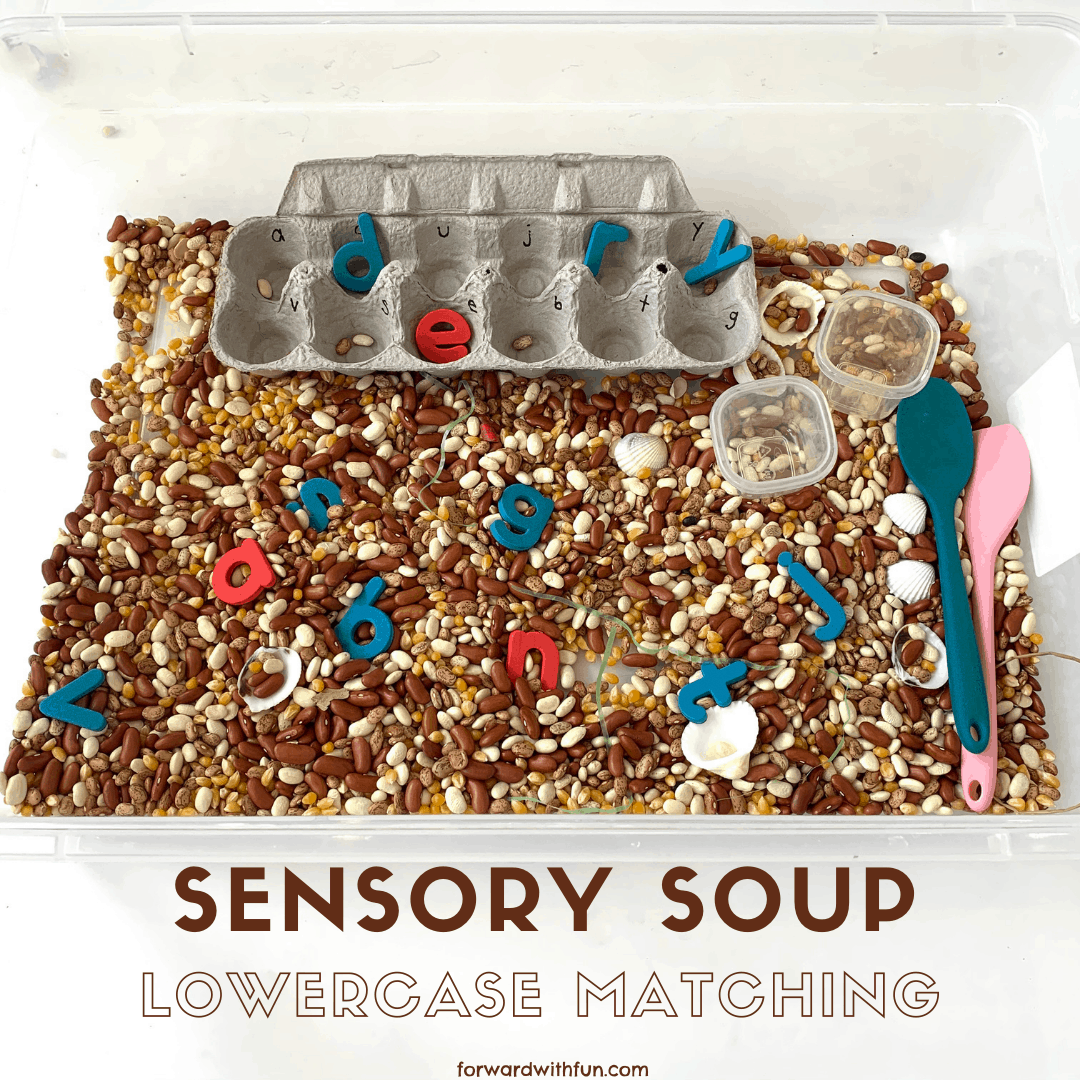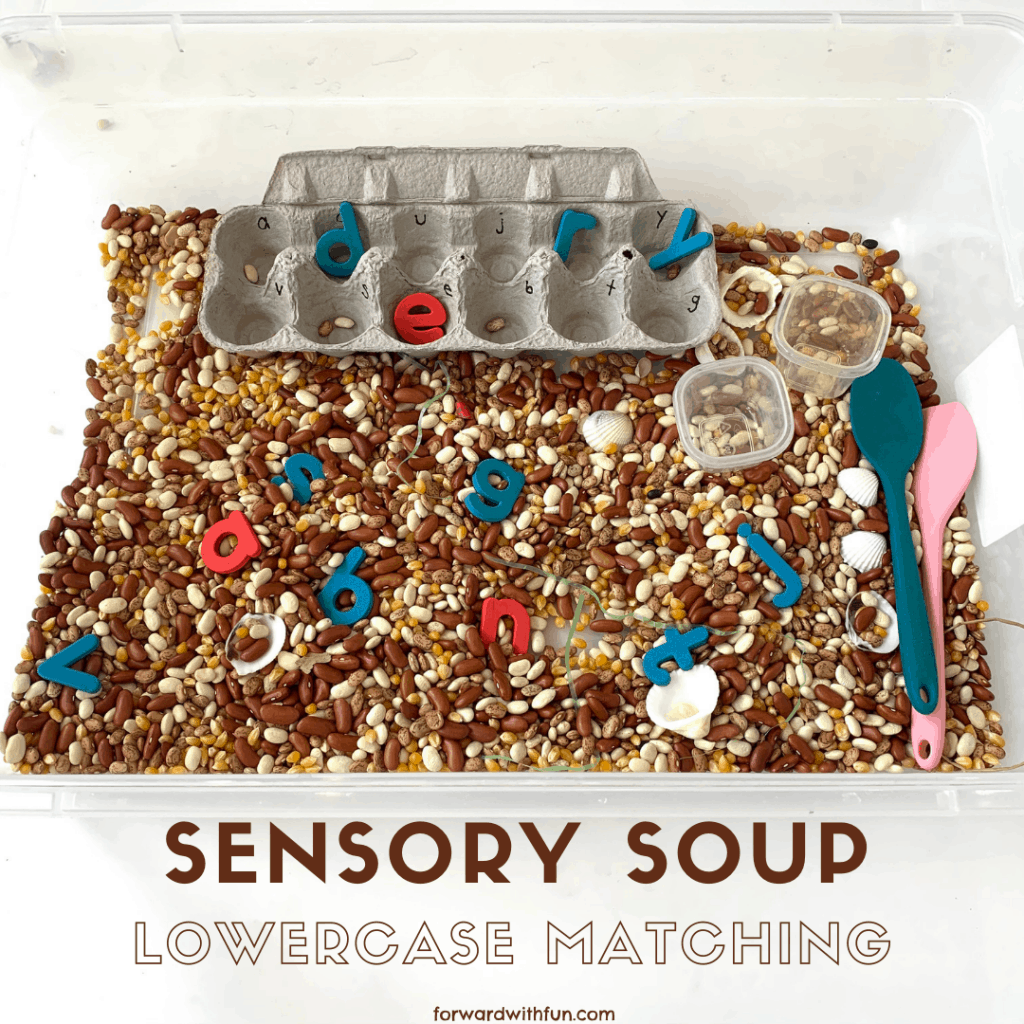 Water Beads Sensory Tray
Have you heard of water beads? Originally used for floral decorations, water beads come to you as teensy little balls. When you add water to them, they grow into satisfyingly squishy little spheres. In this quick little sensory bin, I used water beads as the sensory base, reused medicine spoons, and threw in some Easter Egg halves plus baby dinosaurs!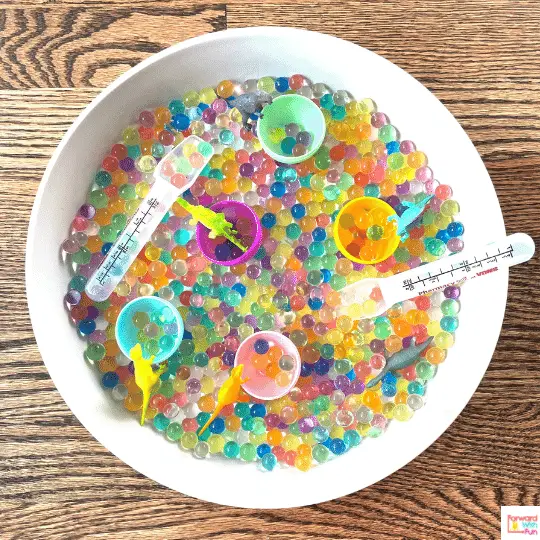 Car Wash Shaving Cream + Water Sensory Bin
Shaving cream is a cheap and easy to use sensory bin filler, and I just love how @daily_dig created this car wash for her little one in a double sensory bin that screams fun! She used little vehicles and stop signs, items of interest for her kiddo to make it something he can't resist!
Pairing loved items with new textures can be a great way to introduce new tactile sensations to children who may have sensory sensitivities.
Recycle Sorting with Paper Shreds Sensory Bin
You know those paper shreds that come in packaging? Save them for a really great, reusable sensory bin filler. That's what @farmhouse_mama_blog is teaching her kiddos in this earth friendly sensory bin featuring a printable by Comet Printables. Sensory bins pair so well with learning activities!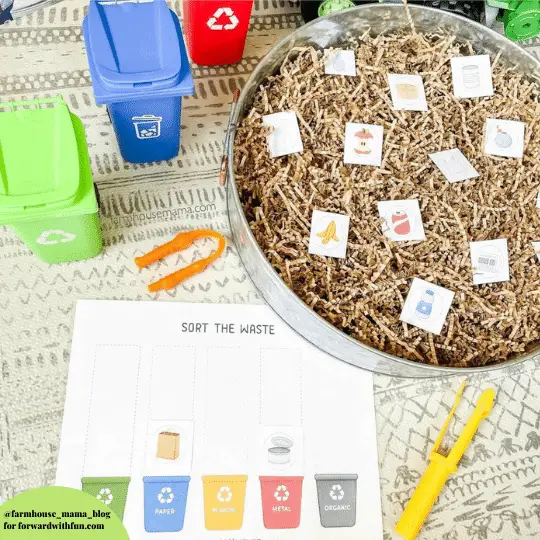 Sand and Natural Objects Sensory Bins
Bring nature into your home with play sand and found objects. I love this low cost, low prep sensory bin by @our.play.inspired.journey. For city slickers like us, this is a great way to get some nature into our play. And hey, you don't actually need to buy anything to make sensory play happen!
Bubble Foam Weather Sensory Bin
If you're worried about little pieces, your new sensory bin filler might just be bubble foam! It's sure to be a hit, especially with babies. You can use regular soap, but sometimes I put a little dish soap + water + food coloring in a blender and it makes it extra foamy!
Check out this adorable, baby friendly weather themed sensory bin by @threetimestheplay.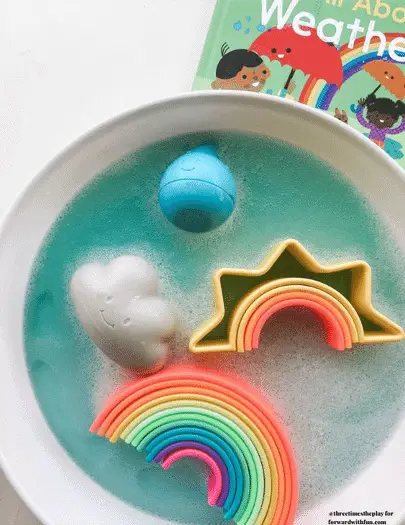 Dyed Pasta Sensory Bin Filler
Pasts can be dyed with food coloring or painted as this mama @sensory.play.at.home shows us. Pasta is so versatile as a sensory bin filler because each kind has its own texture, shape, and gosh, they're so fun to look at!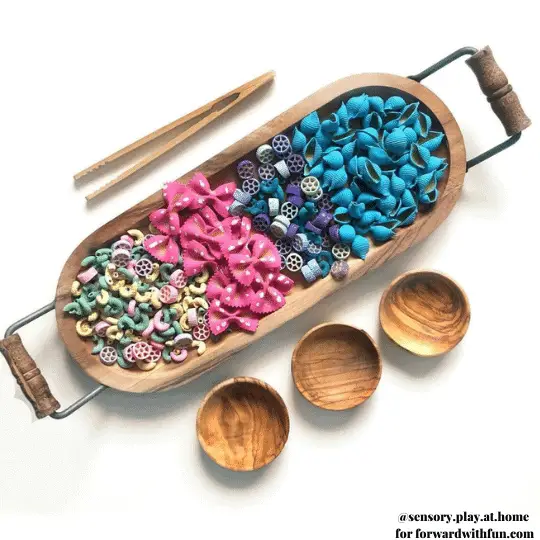 Kinetic Sand Ocean Tray
If you haven't played with kinetic sand, you have to try it! It stays together preventing a lot of mess and has a texture that really delights both adults and children. This ocean themed sensory bin by @daily_dig uses kinetic sand as a sensory base-it's so easy to shape! I spy some adorable dyed pasta too!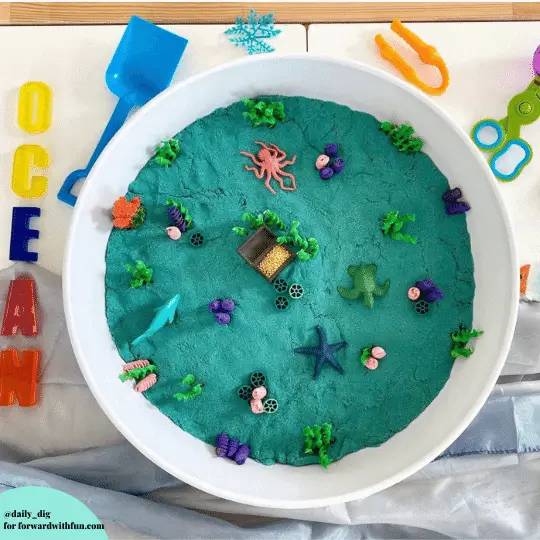 Oobleck Construction Sensory Bin
@Chloe_duffy3 takes oobleck to the next level by painting it to create a concrete looking street for the diggers to excavate! Wow! Have you ever made oobleck? It's 1 cup water and 1.5 cups cornstarch. It is a non-Newtonian fluid and behaves like a solid and a liquid! It might look solid in this picture but when picked up, it drips and oozes! Totally awesome.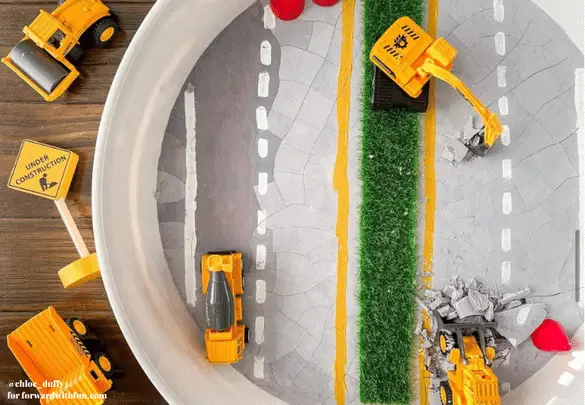 Super Taste Safe Spaghetti and Bugs Bin
Have some extra noodles in your fridge about to go bad? I know just what to do with them, thanks to @mammassori123. She dyed spaghetti with food coloring and tossed those bad boys in the plastic tub with some plastic bugs. Viola, an easy to make a baby friendly sensory bin! Add scissors for older kids to practice cutting!
Baking Soda and Vinegar Penguin Play
That blue water is actually vinegar. When you add baking soda, a super low cost grocery item, to it, it'll fizz up. Let the joy begin! You can use either baking soda or vinegar as the base in order to create this delightful chemical reaction that's super safe!
Those adorable penguins have been frozen by @momthemage in little ice cubes using a muffin pan, so they can glide around the tray. Oh and did you see how she snuck in some learning with the numbers? Can you count 3 ice cubes? 5 ice cubes?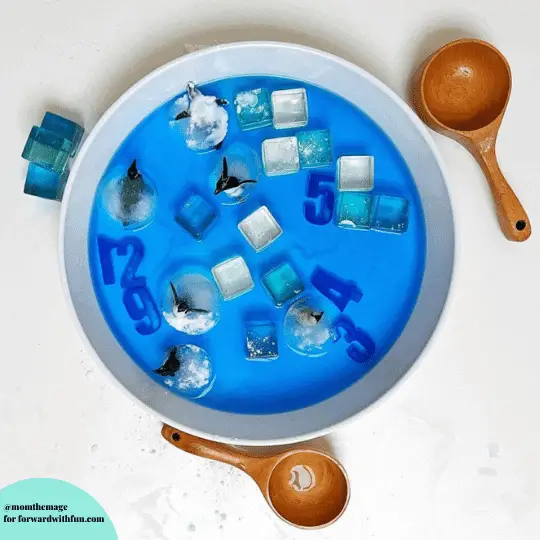 Download your sensory bin filler checklist below!