The best kind of kindergarten STEM challenge is one that has children working together to find a solution to a fun, engaging problem using simple supplies that don't take lots of prep time. Enter The Floor is Lava STEM activity for kindergarteners. It's so simple, you can do it with preschoolers too!
Don't forget to download your free lesson plan pdf too, for easy access to this action-packed kindergarten STEM challenge.
*As an Amazon Associate, I may make a small commission based on any purchases you make through links on this page. Thank you.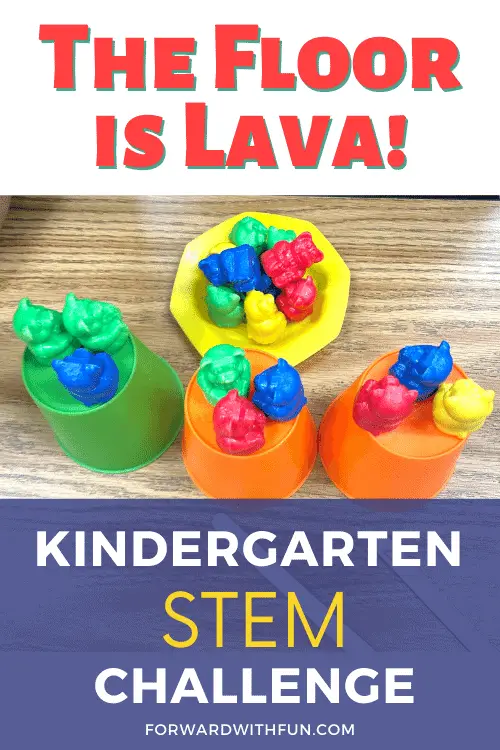 What is a STEM challenge anyway?
STEM stands for science, technology, engineering, and math. Sometimes you might see it as STEAM, in which the "a" stands for "Arts." In kindergarten, STEM challenges as kids to solve a problem in which there are multiple solutions and often children are required to build or make something with their hands. STEM challenges will require trial and error and combine elements of the 4 pillars: science, technology, engineering, math.
The Floor is Lava - The Best Kindergarten STEM challenge!
What's a better premise than The floor is lava? In this STEM challenge for kindergarteners, kids will work together to build a structure to save their bears (or any other small and numerous toy) from the lava.
Supplies you'll need:
plastic cups

counting bears

(or any counting creatures)
Free downloadable kindergarten STEM challenge lesson plan pdf
My kids are already obsessed with this song, that could be used to really hook the kids into the premise.
Lesson plan for The Floor is Lava STEM challenge
Objective: kindergarten kids will work together to create a sturdy structure that holds as many bears as possible above the table top level using only the materials given to them.
Standards for math and science can be found below and are detailed in the free " target="_blank" rel="noreferrer noopener">downloadable lesson plan.
Download your STEM lesson plan now!
Math (based on

US common core math standards

)
Science (based on

California science standards

)
Step by step STEM Challenge directions:
Introduction and hook:
Introduce the kids to the idea that the floor is lava, using the Kiboomers song in the video above. What would happen if the bears in our kindergarten STEM challenge remain on the floor?
If working with a class, break the kids up into teams of 2-3. At home? Skip this part.
Explain the premise. The kids must rescue as many bears as possible from the lava by building a structure with only the materials given to them: 3 plastic cups, 5 popsicle sticks, and counting bears. Bears cannot be at the table level, only above it, so that the lava doesn't get onto their feet or bodies in any way!
Part I:
Determine the amount of time, say 10 minutes, for children to work together to engineer a structure that keep the bears above table level.
At the end of the time, have all children freeze with their hands in the air. Remove the bears, and have them carefully count the number of bears they have rescued. If working in multiple teams, compare the number of bears rescued. Who had the most? The least?
Ask the little scientists: What helped you? What was difficult for you? Did you have any breakthroughs or aha moments? What advice do you have for building a sturdy structure?
Have the kids stand up and walk carefully around to the other tables (if in a classroom) to see the structures that others have created. This may give them new perspectives for part II.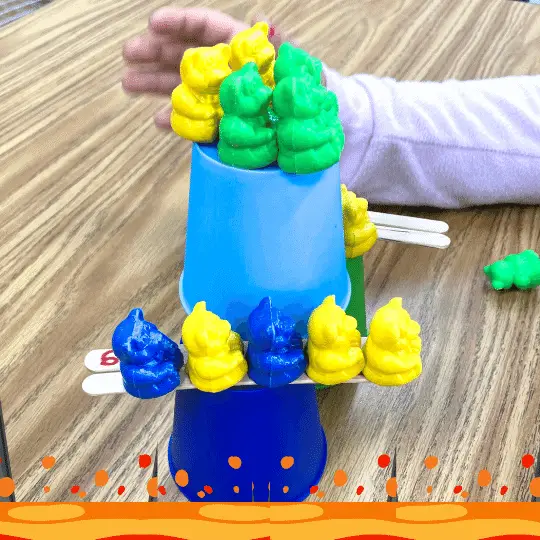 Part II:
In part II of the STEM challenge everyone is now given one index card. This can help greatly if used in the correct way. Now give the kids another 10 minutes to see if they can use the same supplies, plus an index card to save an even greater number of bears.
Once the timer is up, have children freeze with their hands in the air. Again have them count their rescued bears and share their strategy for helping the most bears stay above the lava during the STEM challenge.
Determine if you would like to add another building item for a third challenge: a plate? an additional cup? something else?
Conclude: is there only one way to save the bears? What would you do differently next time? What is another supply you would like to have had to help you in this kindergarten STEM challenge?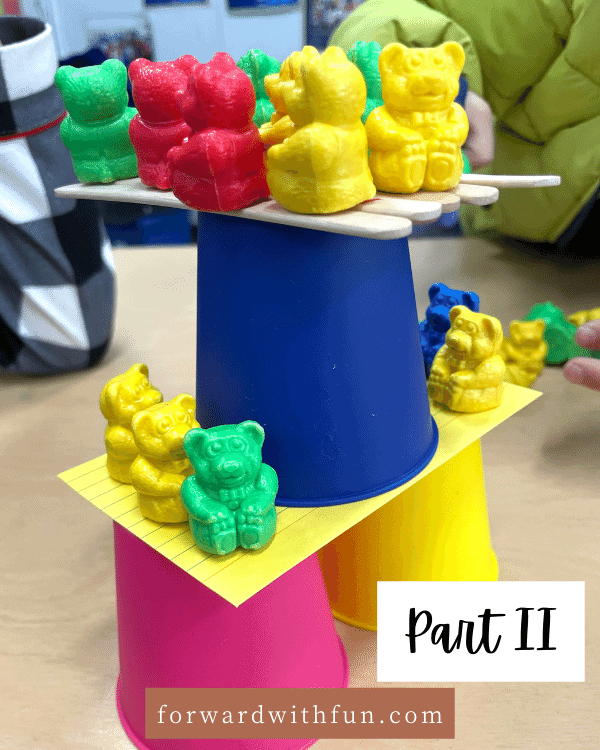 Why should kindergarten include STEM challenges and STEM education?
Many of us adults wonder why STEM education is now all the rage, and others have never even heard of a STEM challenge before! There are so many incredible benefits of STEM challenges for young kids including:
problem solving skills
teamwork, group thinking
learning about multiple ways to solve a problem
perseverance during trial and error
manipulating objects with hands
vocabulary development
learning that does not involve a "right answer"
multiple subject thinking like math + science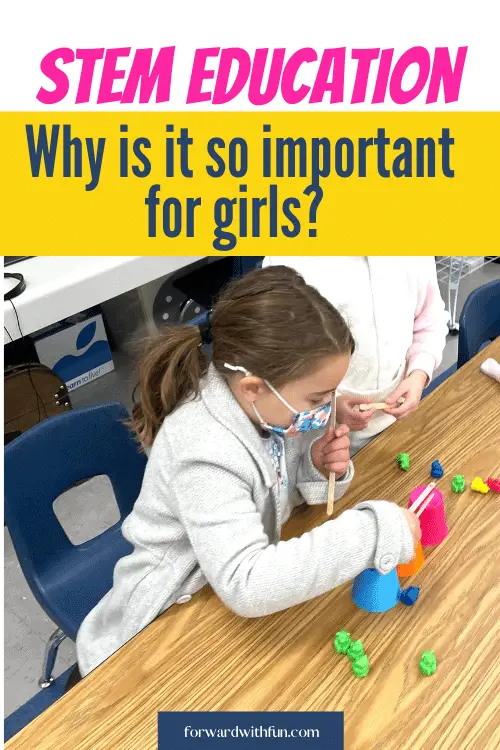 Another benefit that doesn't seem right to just include as a bullet point is the benefit doing kindergarten STEM challenges with girls! Many women today were often told they'd be good at subjects stereotypically more "suitable for girls," like history and literature.
Very few women I knew entered the fields of math, engineering, and science, and those that did, were often treated by many like they didn't belong.
When we introduce the STEM subjects at a young age, kids will have a sense of ownership and belonging in these fields. All the kids benefit from these skills, but it is vital that our little girls also view themselves as scientists, mathematicians, and engineers when these fields have been historically male-dominated. The future is in our hands!
So don't wait to begin your kids' STEM education. Start with this kindergarten STEM challenge, and watch how quickly kids begin to think of themselves as engineers.