Teach your preschooler their letters in 4 unique ways with this giant packet of alphabet playdough mats! No email subscription required. Just print and play!
*As an Amazon Associate I may get a small commission if you decide to purchase from my links. Thank you.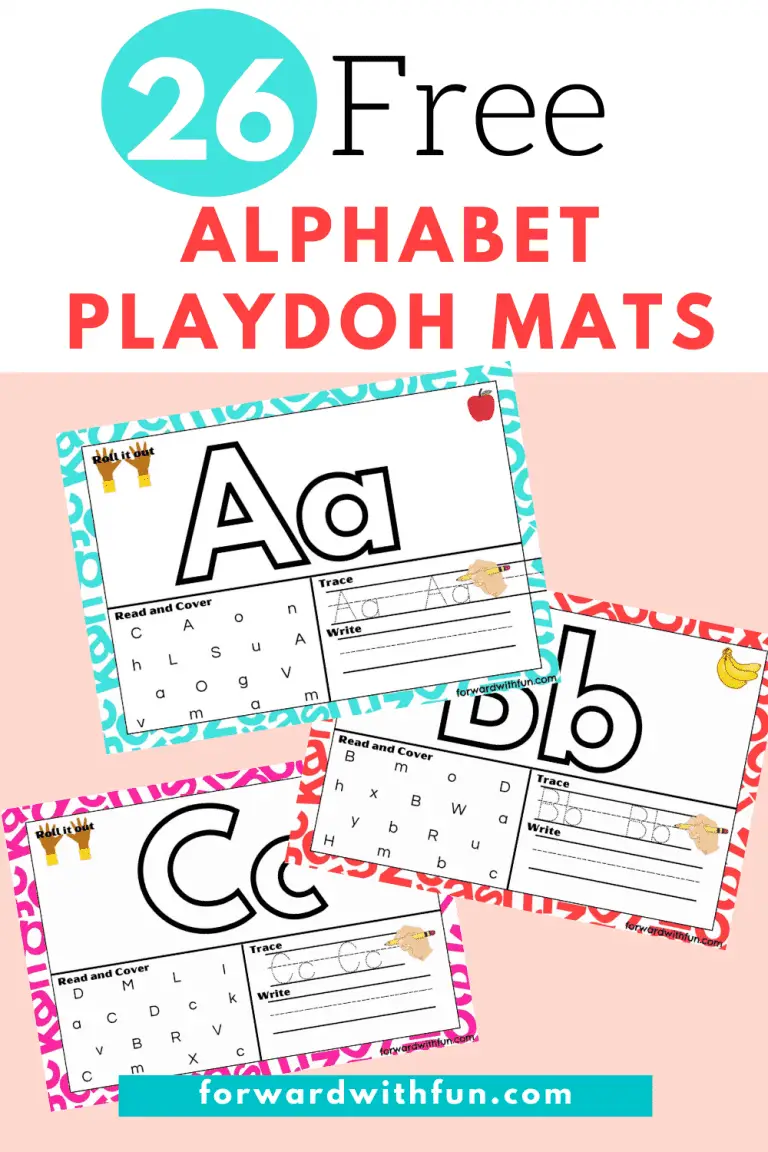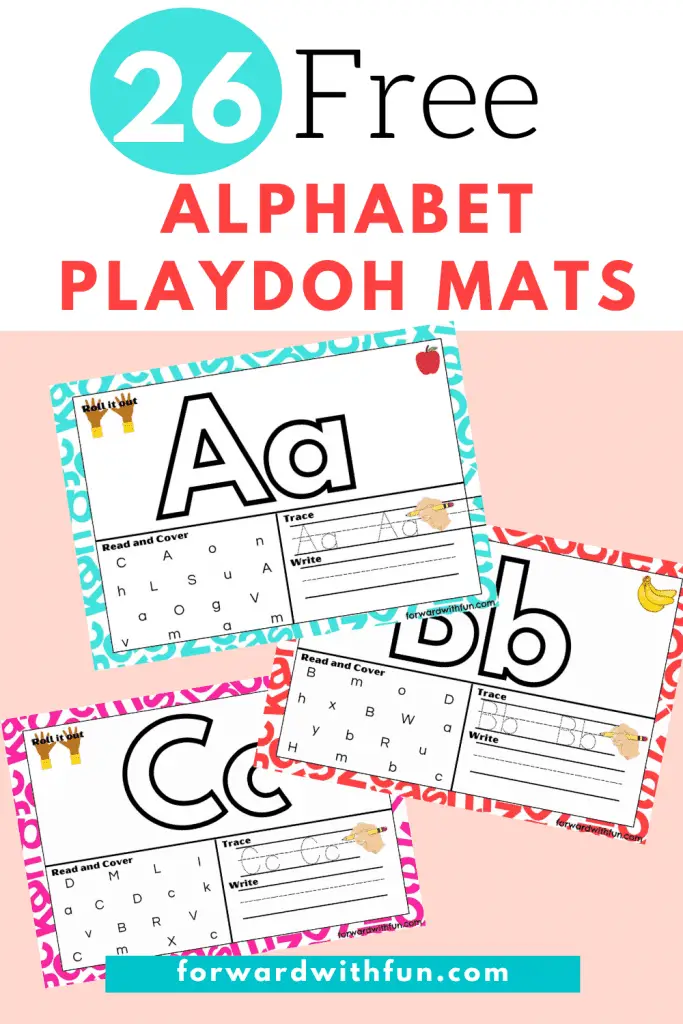 What makes these printable alphabet playdough mats so much better than others?
The MAJOR difference is that they promote letter learning in 4 different modalities catering to many learning styles:
shape letters in playdough
find and smoosh alphabet letters
tracing letters
writing letters
By playing to learn with these alphabet mats kids are exposed to letters through art, reading, and writing.
The more exposure a child has with letters the more likely they are to remember the letter. But we aren't just going to practice letter recognition; we are also building their ability to independently write each letter!
Also (updated version!), there is a little picture of a word that begins with that letter in the top right hand corner. So there is a phonics element to each mat as well!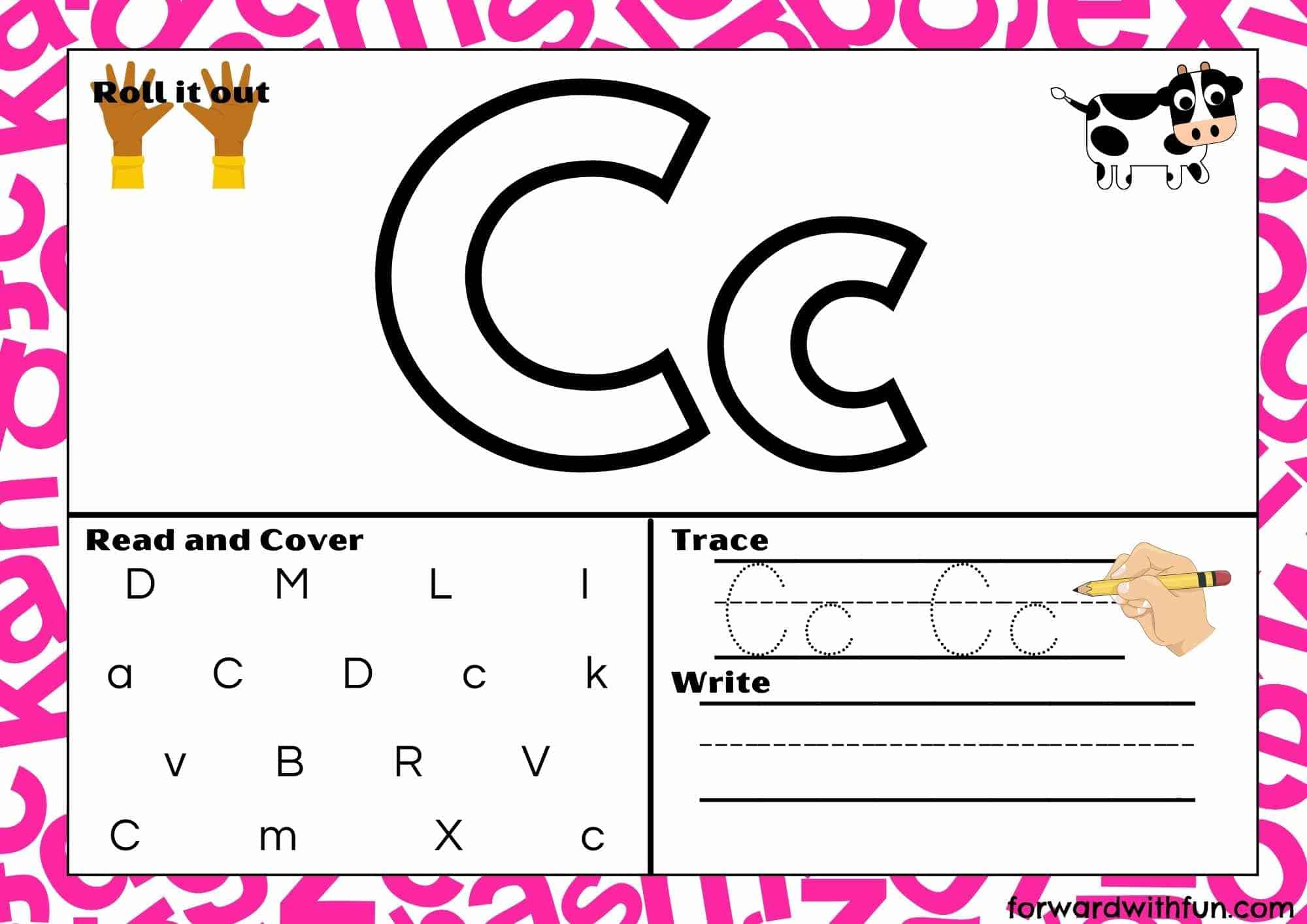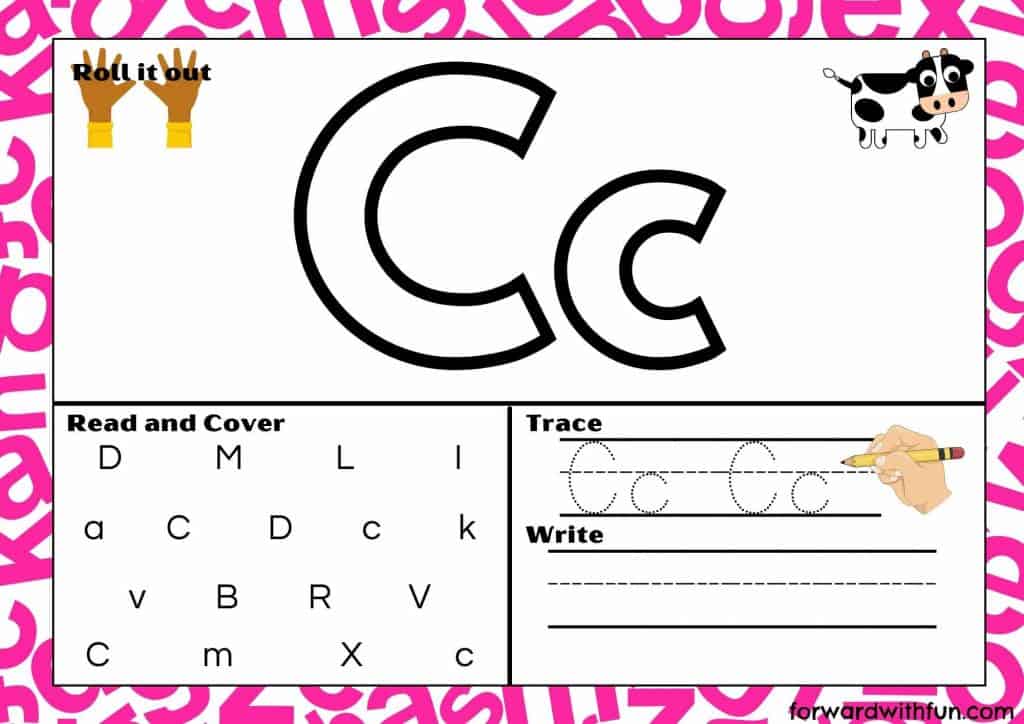 Side note: it drives me crazy to see uncommon sounds for each letter like giraffe for G when we teach that G says /g/ as in golf. All the pictures on these printable alphabet mats match the most common phonetic sound for each letter!
What's the benefit to using playdough with these alphabet mats?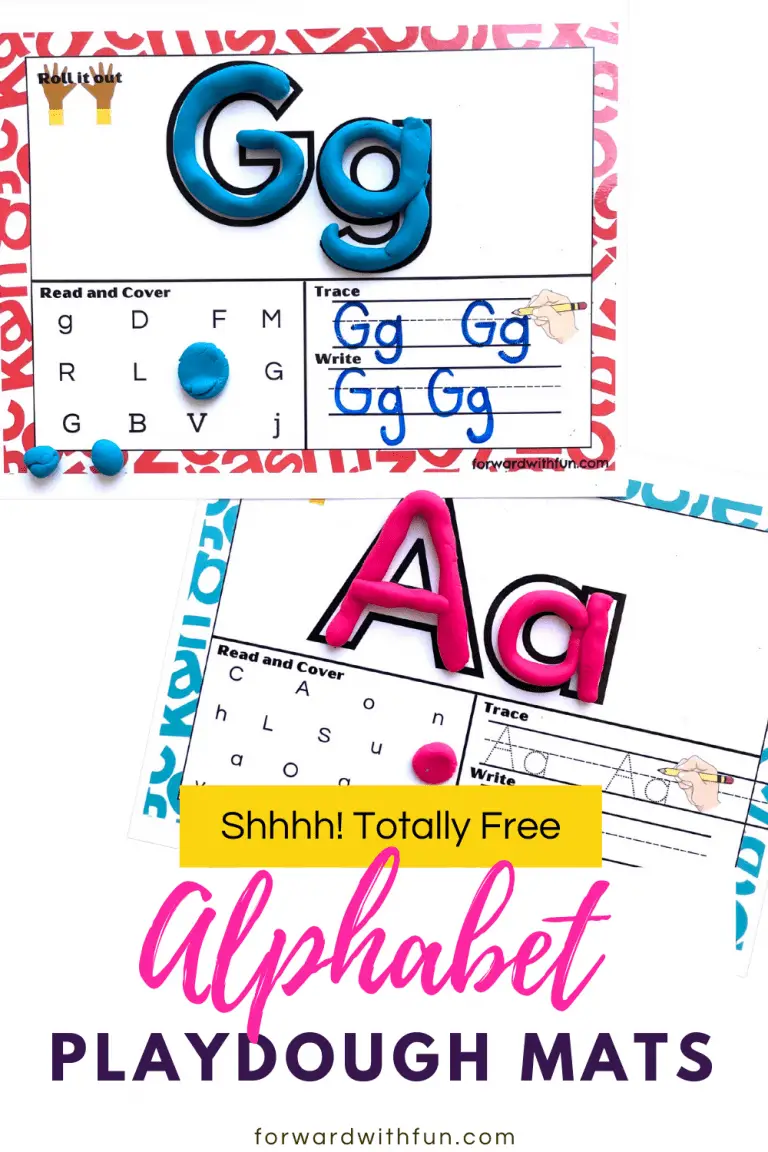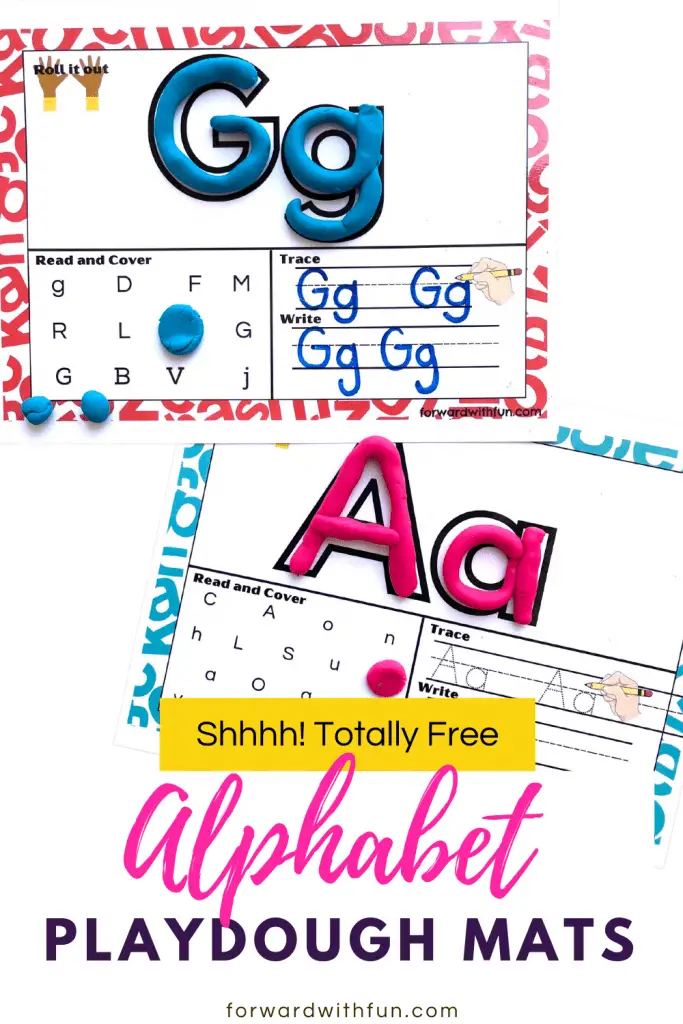 The benefits are HUGE and three fold.
Using playdough:
Builds fine motor skills - skills we use everyday to manipulate small objects with our hands.
Provides sensory input that children find pleasurable and often relaxing
Is a great opportunity to see if your child benefits from tactile learning. That means learning using touch.
Wait, why would building fine motor skills be helpful for all children?
As children learn to write, they don't just need to memorize the strokes it takes to form letters. There is so much more.
Writing requires:
proper grip
ability to maneuver pencil
putting pressure on a pencil so that lines are visible
With the alphabet playdough mats, kids will roll and shape playdough as well as make it into small balls to smush onto the correct letter in the "Read and Cover" section.
This very intentional kind of play strengthens hands, finger, and wrist muscles required to write properly!
How to best use your free and complete set of alphabet playdough mats:
These beautiful letter learning mats are super easy to use!
Print in black and white OR color, making sure to select fit to printable area on some computers.
Laminate OR place in a sheet protector
Ready, set, play to learn!
When writing on the mats, you can use any dry erase markers. Provide your preschooler or kindergartner with a tissue or small cloth to erase once they are done.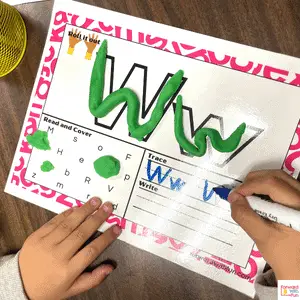 I find that laminating the alphabet playdough mats works makes them last longer, and I found a very affordable and effective laminator on Amazon (stays between $21-$24). I'll also link the laminating sheets and dry erase markers I love best.
Download your free printable playdough alphabet letter mats now!
Want more incredible play to learn activities to promote kindergarten readiness activities?
A KinderReady Summer is your one stop shop for fun activities that target the exact skills kids need as they enter kindergarten. 
Each week for 8 weeks, you'll get 5 simple pre-planned activities sent to your inbox. All you have to do is read the instructions.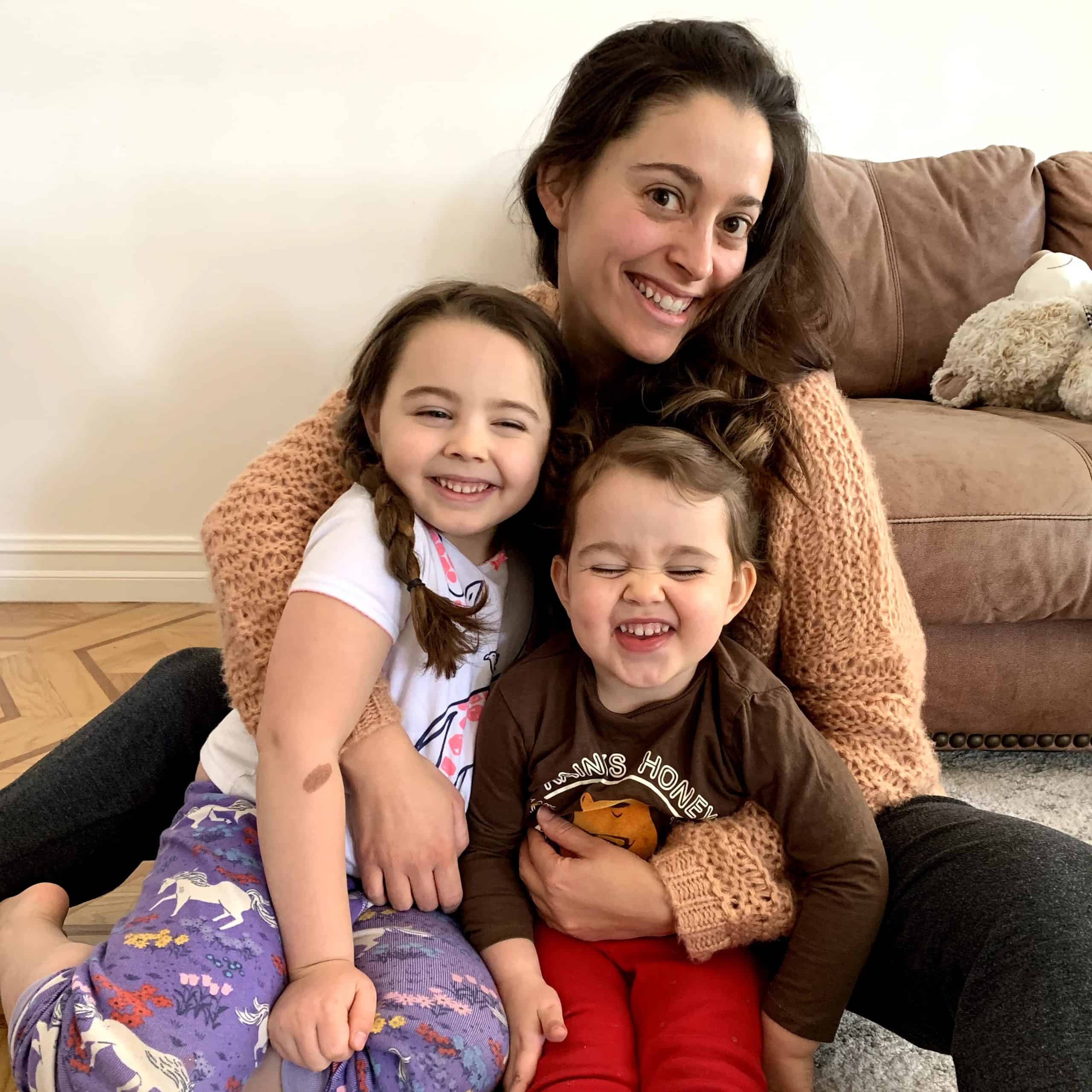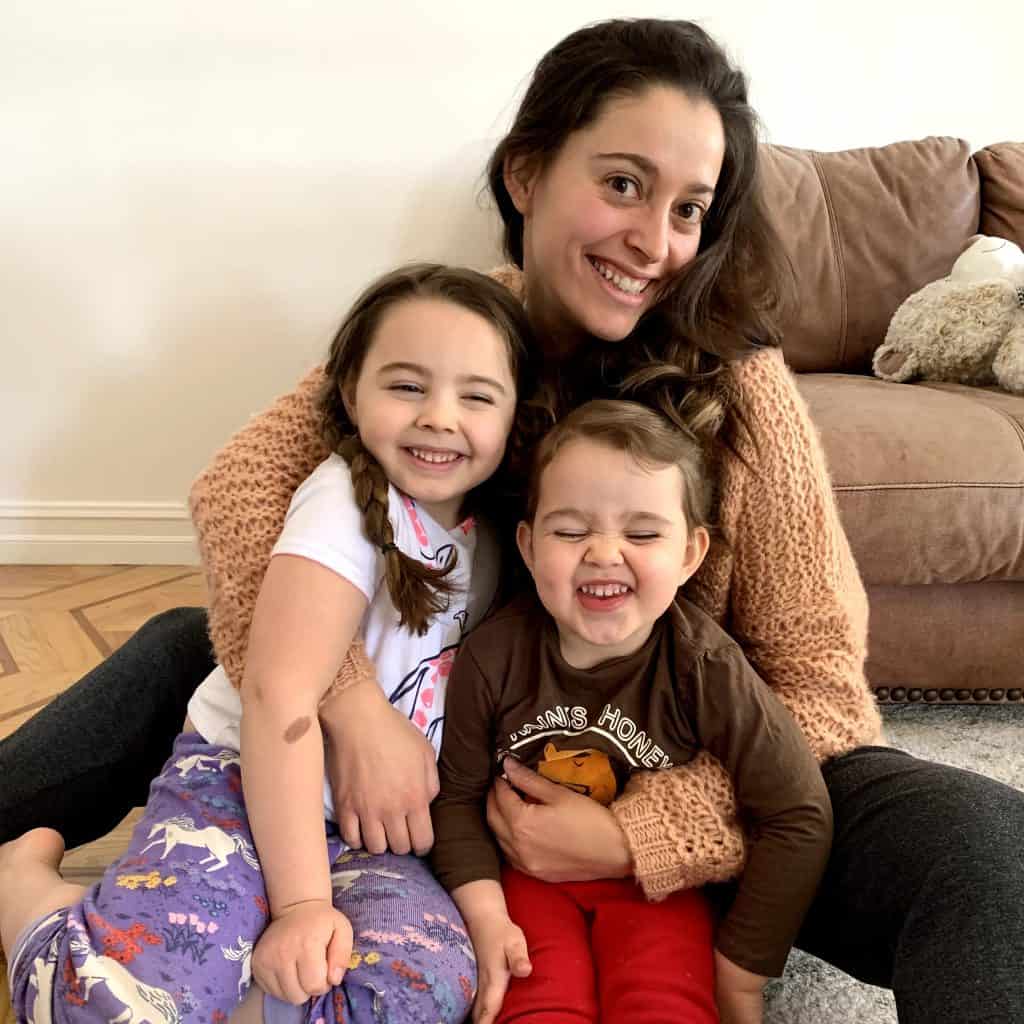 What skills will my child be learning?
The focus of A KinderReady Summer is to target the very important skills that come just before reading, writing, and doing arithmetic.

-letter identification, capital and lowercase
-letter sounds
-beginning sounds
-shape names and attributes
-number identification to 10
-counting with one to one correspondence
-pattern completion and creation
-name writing
-fine motor development
Signing up for the kindergarten entrance exam sounds so official and intimidating, even for teachers!

Here are the details on the why's and how's of the entrance exam so you and your child can feel more relaxed about it and even know a couple teacher secrets as to how it's used.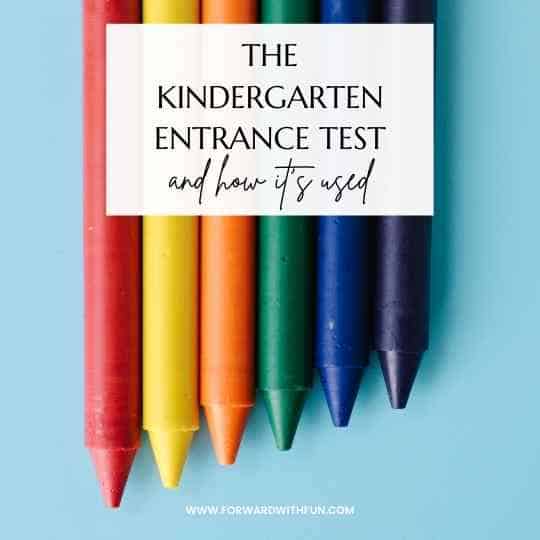 What is a kindergarten entrance exam?
In the summer before kids enter kindergarten most schools ask them to come in and do some kind of assessment in order to determine where they are academically. This can also be called a kindergarten screening, kindergarten assessment, or kindergarten entrance test.

These assessments are not all the same. Some school use teacher made assessments, while others use standardized widely available tests like the Lollipop Test and DIBELS. Many use a combination of assessments.
Does your child need to study for their kinder entrance test? NO!

Kids don't need to "pass" in order to be ready or admitted to kindergarten, which brings me to the next important point. What kinds of questions will be on the test and how are these assessments used?
What kind of questions will be on the kindergarten entrance test?
These tests vary by school, so there isn't a way to determine the exact content, but that is okay, because we don't want to coach kids towards right answers. Rather we want to see what your child truly knows.

I will say that the screening test will ask kids things they don't know, including many skills they'll learn in kindergarten. Don't let that scare you!
If you are wondering "What should my child ACTUALLY know before kindergarten? Is there a checklist?" There is, and I've made it for you, for FREE: check out this kindergarten readiness checklist post and grab your checklist for free, instantly!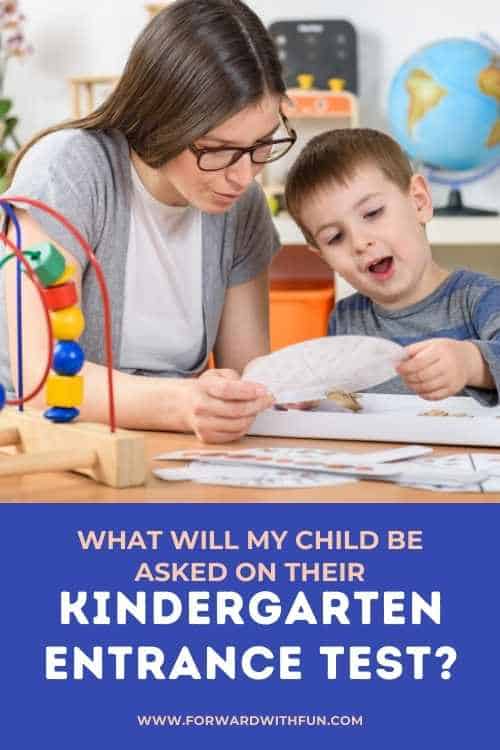 The kindergarten entrance exam will most like likely ask your child to demonstrate knowledge of:
Name Writing
Capital Letters
Lowercase Letters
Letter Sounds
Beginning sounds
Rhyming
Number recognition 1-20
Counting objects 1-10
Shape names
Pattern completion
Colors
Sorting
It may also contain questions about these kindergarten skills (they don't need to know yet!):
Reading common sight words
Reading consonant-vowel-consonant words
Writing the alphabet
Writing numbers 1-20
Simple arithmetic problems
Counting as high as they can
Sequence a story/events
Phonemic awareness skills like blending, segmenting, and sound isolation
The test can take any where from 5 to 30 minutes depending on the set of skills the teachers are assessing.
The lovely Sarah from "The Fabulous First Grade Blogspot" shares her school's kindergarten screening test pdf for free on google drive! It's a great sample of questions that kids can be asked.
Download it:
Kindergarten entrance exam pdf - provided by thefabulousfirstgrade-sarah.blogspot.com
How your child's kindergarten entrance exam results will be used:
Now this is something that varies by school, but some schools will be outright with the information and others may choose to keep this a bit hush.

Two Main Uses for the entrance exam:
To direct instruction and make sure your child is learning what they need to know!
To help determine class placement - more on that below
1. Using the assessment to plan instruction:
Most often, the kindergarten entrance exam is a comprehensive assessment to determine your child's mastery of pre-k skills but also kindergarten skills like reading and doing arithmetic.

By determining what kids do not yet know, teacher's can help individualize instruction and plan their lessons based on what kids need to know next. For example, it would be pointless to spend a week on each alphabet letter in kindergarten if all kids came in knowing all their letters!
Giving the teachers the opportunity to spend individual time with each student and assessing their needs and strengths BEFORE school starts will help maximize learning right off the bat. From a teacher's perspective, it really beats having to individually assess each child during classroom hours, or let's face it during recess time.
2. Ok, so why the hush?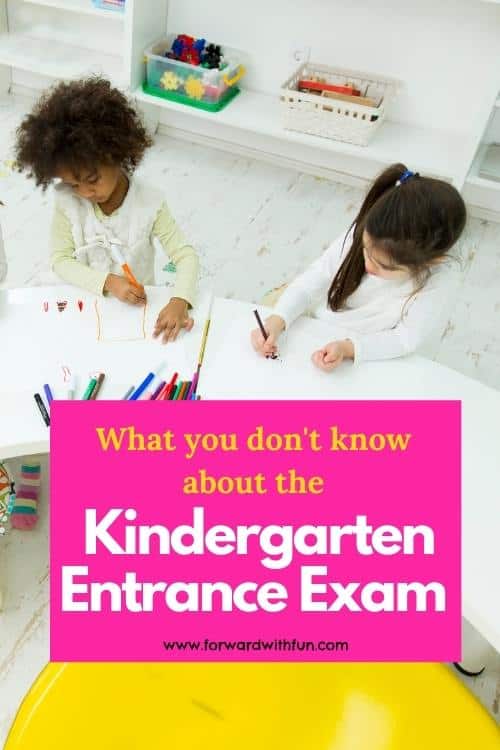 Some schools are not as forthcoming in how they use the tests to determine class placements but generally classes are either mixed ability or by ability.

What does that mean? Well, classes are either made up of kids with varying academic ability levels OR they're by kids in the same ability levels. That is where things can get tricky...
Scenario 1:
Many schools determine placement based on a child's READING SKILLS assessment. They may even tell you if you ask!

Many believe it would be to best way to target instruction at all levels.

Apparently, many students come in with no letter knowledge and some come in reading. In order to best meet all kids' needs they'd be separated by this determining factor, not necessarily taking into account if a child was really strong in math or other academic subjects.
This is often used with the early bird/late bird kindergartens.

Scenario 2:
At my previous school, entrance exams for kindergarten were also used to determine student ability. Early literacy/reading skills were the major factor we assessed, but there was a glaring difference.

We were creating MIXED ABILITY classrooms. You see, just because a child is advanced in one area, doesn't mean they're advanced in all areas (and vice versa).

Mixed ability classes help all to excel. In contrast, some research has shown that creating a high achieving vs low achieving class can be detrimental to the students classified as underperforming.
Mixed ability grouping is more equitable and helps lower achieving students. Also, mixed ability grouping allows high achieving students to excel in leadership roles. To read more on the research behind these statements check out this post by learningaccelerator.org.

Will teachers ignore a high achieving child's needs in a mixed-ability class? From my personal experience, I worked extra hard to ensure this wouldn't happen! I was able to not only get my struggling students to become readers. I also met the needs of very high achieving students as well.

It's okay to ask your child's school how placement is determined!
What happens if my kid doesn't know everything on the entrance exam?
Nothing bad is going to happen. Take a breath, for real. I mean it. Kids are not supposed to know everything on these tests!

This test is comprehensive, and remember when I said it was going to cover kindergarten skills too? They shouldn't know how to delete ending sounds or read CVC words yet, and even if they have never heard of a sight word, that's totally expected! They can't count to 100? GOOD! That means that they haven't mastered kindergarten standards before kindergarten. That's perfect!

The words "assessment" and "exam" do sound intimidating. However, these exams help teachers understand where your child is coming in academically.
Take the pressure off the "exam."
By treating this whole experience as an exam, your child may feel a bit nervous or scared. It's super normal! So if they flub up, they'll get lots of other chances to prove what they know. We teachers know this is a big new thing for them!

My recommendation is to not treat it like a test AT ALL.

Here are some ways to explain to your child what they'll be doing:
going to visit the new school
going to meet potential teachers
checking out the classrooms
exploring your new learning space
showing the teachers what you already know and what you still are learning
Walk around the school and point out different spots like the playground, the cafeteria, the library. Building familiarity with the new space will help your child a lot when the first day of school rolls around.
Okay, okay, Ashley! What do I do to prepare my child for kindergarten and to rock this assessment?
A KinderReady Summer is an 8 week home program made just for the summer before kindergarten! In less than 20 minutes a day, you can easily teach your child the MOST important academic skills listed in the kindergarten readiness checklist. (Did you snag that checklist yet? It'll tell you the real skills your child should know before kindergarten!)

How does this sound? Imagine a weekly email with 5 fun, hands-on activities to do with your child heading your way for 8 weeks. NO worksheets or boring printables, only MAXIMUM fun learning! Plus it's super simple to do, just read the instructions.

The supplies you need? You may already have them! I can send them to you if you want, yup, for real.
post its
construction paper
markers
alphabet letters
snacks
dice
mini shapes
dot stickers
magnetic bingo chips
These kinder-prep learning activities and games will ensure that your child will master the skills they need to have a smooth and successful kindergarten year.

You know, it might even skyrocket them to the top of their kindergarten class, and best of all they'll be developing a love of learning which serves them their whole academic career. Check out A KinderReady Summer.
As a transitional kindergarten and kindergarten teacher, I've been the person many parents ask, "How do I know if my child is ready for kindergarten?" So I've created a kindergarten readiness checklist and assessment to give you all the info you want, but before you go on, please note...
There is no one size fits all answer for parents because kindergarten readiness depends on a set of academic skills coupled with social emotional skills plus a familiarity for the classroom setting. Yet still this question begs an answer, so I'm going to do my very best to give you all the information you need in order to give your child the best chance at success.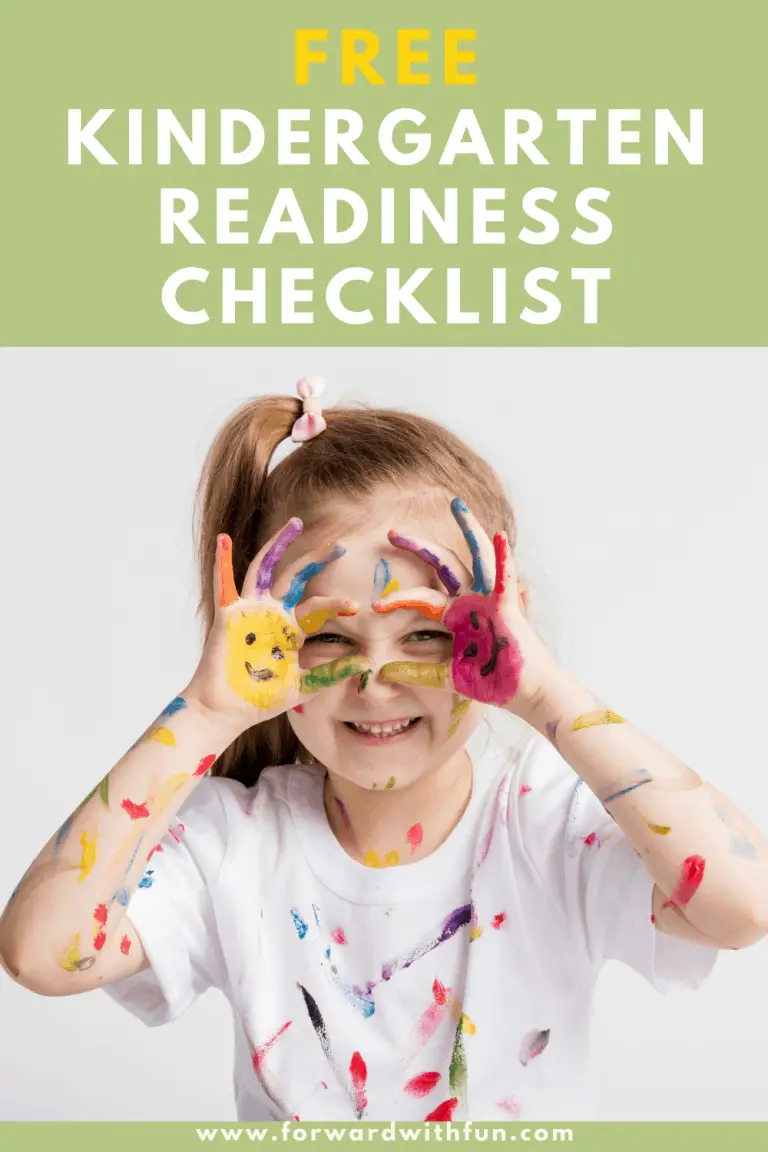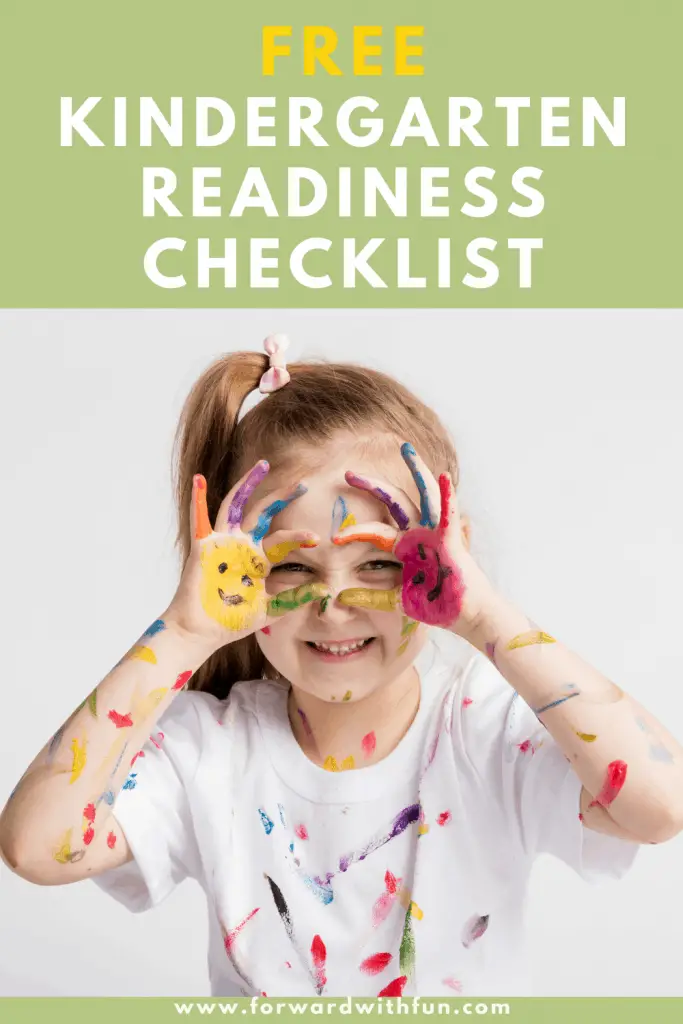 Academic Kindergarten Readiness Checklist and Skills
When it comes to academic readiness there is a certain set of skills that if mastered before kindergarten will ensure that children transition more smoothly and have more success picking up kindergarten skills.
Most of those skills are reading and math related since there is an expectation that children have been exposed to numbers and letters for some time before kindergarten. Below is a FREE downloadable checklist that briefly shares the main reading and math skills kids should know before entering school.
All kids come to kindergarten with different readiness levels
In the checklist I mention knowledge of at least 10 capital and 10 lowercase letters. I've had many kids come into my classroom reading and some without knowing a single letter. All made significant progress, but if I were to say what my expectation was of kids, I would suggest kids be confident with at least 10 letters.
Letter sounds is a big skill too. Some kids know them all; some don't even realize that letters make sounds. If kids realize that letters have sounds before kindergarten and know a few of them, that's a really great start.
Just a reminder, lots of schools differ in expectations. I once had a kindergarten class with multiple children ready for division and then at another school where children entered kindergarten with minimal number skills so that I was teaching numbers 1-5.
I'm just trying to give you the best information from my personal experience coupled with knowledge of the kindergarten standards that all students in the US need to meet by the end of the year.
Kindergarten Readiness Assessment -Letters, Numbers, and Essential Skills
If you're looking for a quick and easy way to assess your children's letters, sounds, and knowledge of numbers you can purchase the Kindergarten Readiness Assessment now for only $4.00.
This assessment is meant to test the skills that children should know or have familiarity with before kindergarten. This is NOT the same as a Kindergarten Entrance Exam, where kids will often be tested on a wider variety of skills that show their mastery of pre-k AND kindergarten skills. Those are much longer and kids are asked about things they likely do NOT need to know yet.
Here's what's included in the 5 page assessment:
Name Writing
Capital Letters
Lowercase Letters
Letter Sounds
Beginning sounds
Number recognition 1-20
Counting 1-10
One to one correspondence
Shape names
Pattern completion
Making a pattern
It's especially helpful to have the numbers and letters mixed up so kids cannot rely on the order to give them the correct name. Plus all the questions are written out so you know exactly what to say.
Don't keep wondering if your child is ready! Grab your Kindergarten Readiness Assessment and get the proof in your hands!
Social and Self Care Skills for Kindergarten Readiness
Below are the list of skills that help to have before kindergarten. If your child has a specific disability that precludes them from being independent in the self care skills, I would make sure to mention it to their teacher during their transitional IEP or 504 meeting before the school year.
Self care skills that kids should have before kindergarten:
use the bathroom independently unless there is a specific disability that would allow for a paraprofessional or other adult helper in the restroom
wash hands, wipe nose, self hygiene skills
feed themselves independently, again unless there is a specific disability
ask an adult for help/know how to get needs met
use feeling words to describe their emotions
Social and classroom skills that help kids succeed in kindergarten:
wait for their turn (not perfectly but show some ability to do this)
listen to a story with a sense of focus
join other children in play
sit for at least twice their age in minutes
hold a writing utensil - may still need some help with grip
familiar with raising hand to be called on
transitions from one activity to another with minimal help (again this doesn't apply if a child has a specific disability that makes this a challenge.)
help during clean up time
Parents know their kids best!
I've taught transitional kindergarten for a number of years and have seen a number of scenarios. Ive seen many children enrolled in this extra year of school even when extremely academically advanced. I'm talking about kids coming in counting to 100, writing simple words, and reading short books, all coming in to Transitional Kindergarten which feeds into kindergarten.
As a new teacher in 2010, I asked them why they made this choice. I had not yet had children of my own and wanted to know the motivation behind "keeping their kids back a year."
Since my first year teaching TK, aka transitional kindergarten, I've come to shift my view. It no longer feels like children are "being held back" and feels more like they've been given "the gift of time."
Just because children can read doesn't mean they're necessarily ready for kindergarten. Social skills and parental intuition matter a whole lot.
Parents often chose the "gift of time" if they felt their child was not emotionally mature enough or able to be independent enough to go to kindergarten. Other reasons included social confidence or lack of interest in paper to pencil tasks.
Sometimes a parent can't put their finger on it, but they have this feeling that they need to start kindergarten a year later, and I say, "Go with your gut!" You know your child!
Are you feeling unsure of how to prepare your child for kindergarten this fall? Was their assessment just okay or did it make you want to work on some learning in these next weeks?
You're in luck! I've created a kinder-ready curriculum to teach the MOST important academic skills listed in the kindergarten readiness checklist. It's only 8 weeks long and presented in a way kids love and parents find SUPER SIMPLE!
Each week (for 8 weeks) I'll send you 5 hands-on activities to do with your child straight to your email. All activities are fun and hands-on. So, you'll see NO worksheets or have to enforce that your child do "work." In fact, the kids will be asking, "Hey, what's the next activity?"
All activities are less than 5 minutes to set up and the supplies will be super simple:
post its
construction paper
markers
alphabet letters
snacks
dice
mini shapes
dot stickers
These hands-on learning activities ensure that your child masters the skills they need to have a smooth and successful kindergarten year. Heck, it might even catapult them to the top of their class. Best of all they'll be EXCITED about learning.
At an age where they have 13 years of schooling ahead of them (or more), it's vital that we get kids excited about learning. Check it out!
I used to cringe the first week of kindergarten when all the kids would come in their new, lace up shoes. If only I had learned the Cheerio Method of tying shoes earlier!
In those first weeks of kindergarten, I knew I'd be spending lots of time tying laces on cute little sneakers, feeling trapped! Eventually, I would send an email home, asking parents to please send their kids in Velcro or non-lace-up shoes until they learned how to tie them.
Though we would practice tying shoes in class, the usual bunny loop method required more double-handed dexterity than most of kindergarteners have. Even with lots of practice the kids would often get stuck after the first step. That was until I was introduced to the Cheerio Method of tying shoes!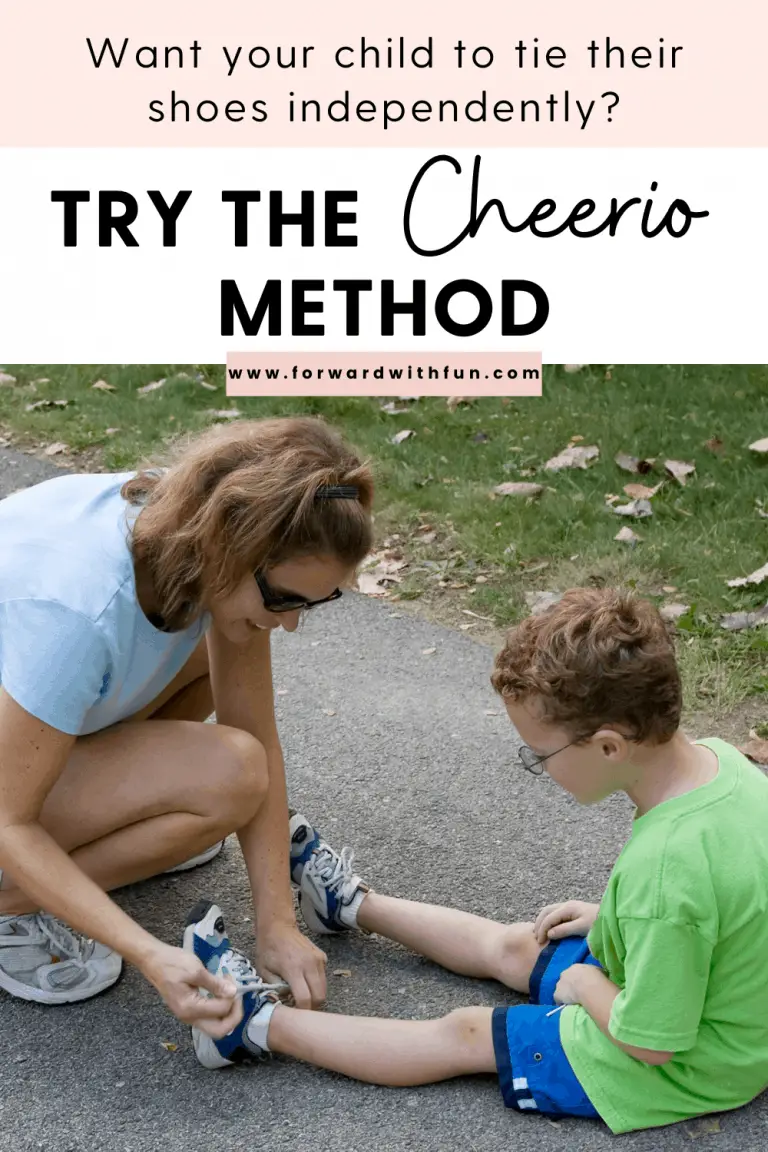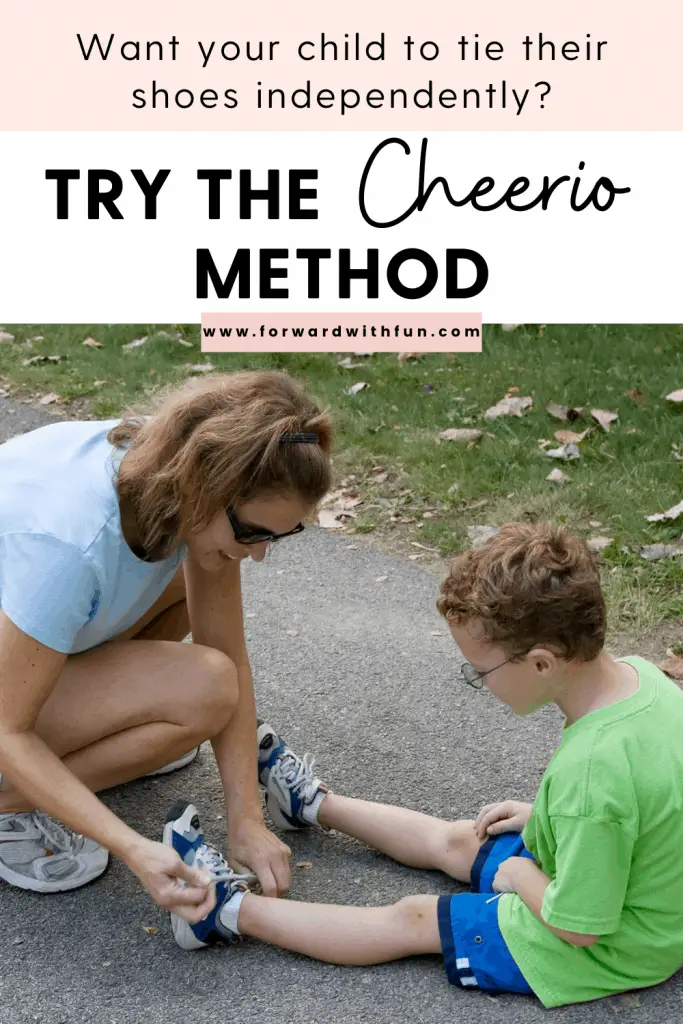 The Cheerio Method for tying shoes in 5 easy steps:
The Cheerio way will teach your child how to tie shoes in 5 easy steps, and it works! It breaks down the most difficult part into two simple steps that kids really understand and can take ownership of. This is true hands-on learning.
This method does make a slightly different knot. Just pull up on one of the loops and it'll undo itself, simple as pie!
Step 1-Take the two strings and cross them over. Now take one of them and put it through the hole and pull them tight.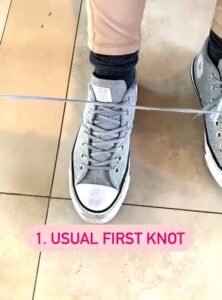 Step 2- This is the step that makes the biggest difference! Do the same thing again, but instead of pulling the strings all the way tight, I'm leave a little hole big enough for a Cheerio. (It can be bigger than a Cheerio, but Cheerio is a cute reminder for them).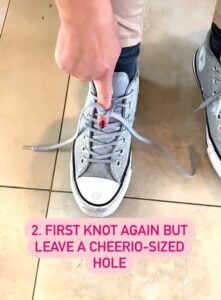 Step 3- Take one lace and put it through the Cheerio making a little loop. Don't pull it yet.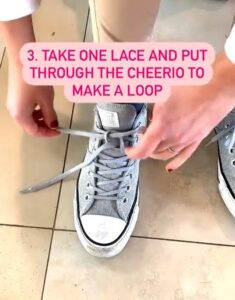 Step 4- Repeat on the other side.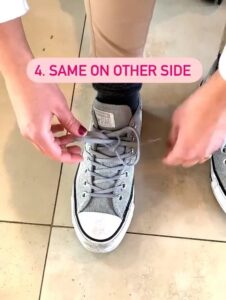 Step 5- Pull both loops outward and the shoe is tied!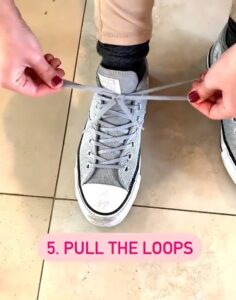 At what age should kids learn how to tie shoes?
Generally kids learn to tie their shoes between the ages of 5-7. The real answer is that everyone learns at their own pace. Tying shoes takes practice and dexterity.
For children that struggle with fine motor skills, it may take longer. To learn more about how to build up fine motor skills, check out this article that includes many fun, hands-on activities that strengthen the small muscles in fingers, hands, and wrists required for children to manipulate shoelaces, buttons, zippers, and writing utensils.
Using The Cheerio Way, I've helped many children aged 4-5 years old learn to tie their shoes. It works better than the "Bunny loops" version that requires children to hold a knot with one hand and then pull a lace around that and through with the other hand by removing that part completely!
Usually kids master the first step and get stuck, but with the Cheerio Method of tying shoes, they feel more comfortable moving to the second step since it's basically just a repeat! This method is also more accessible to kids with limb or finger differences that may struggle with manipulating objects using both hands.
What is the best way to teach a child to tie shoes?
Again, this question doesn't have a solid answer. The best way to teach your child is the one that works for them. I would even try more than one method and see what clicks.
There is the bunny loop method, which is actually how I was taught. The saying for tying your shoes with the bunny ears method goes like this:
Over, under, around and through,
Meet Bunny Rabbit, pull and through.
Another option is the double bunny ears method. Instead of pulling the bunny around and through, you make two loops, cross them over one another, then pull one under and through.
To me, both the bunny loop and double bunny ears method require lots of coordination on the part of the child. Looking for fun and easy ways to increase your child's dexterity? Check out these mega-fun fine motor skills activities.
Just because they require more dexterity doesn't mean these are not great methods though! I actually had a MEGA-VIRAL pin about shoe-tying on Pinterest that has over 6.5 million impressions. It had lots of love and some truly grumpy comments from people who did NOT want to learn any way but their way of tying shoes. HAHA!
But in all seriousness, the Cheerio method of tying shoes is an excellent option for kids, but that's just what it is, an option. Choose whatever works for you!