Rainbow writing is a fun way to make spelling practice more engaging for children.
The idea of rainbows has always been a source of fascination and joy for kids, which makes it a great way to get them excited about practicing their words. They will be eager to color their word over and over again until they have formed their own rainbow!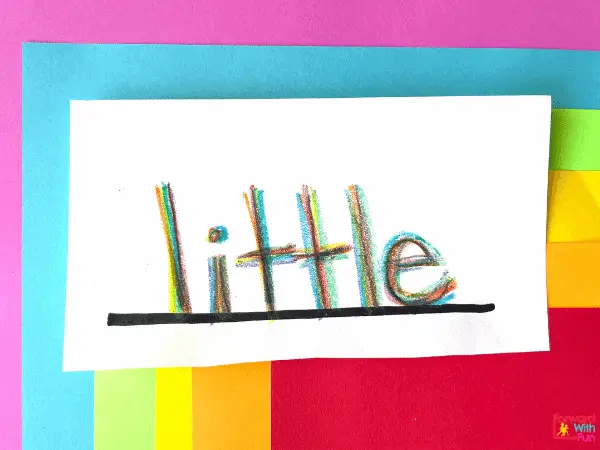 What is rainbow writing?
Rainbow writing is a simple, do anywhere, writing practice strategy where children either trace or write the words in rainbow colors. You can use colored pencils and crayons to create your rainbow words or try markers when doing the more independent version below.
The benefits:
Increased engagement
Improved

fine motor skills

Learning how to spell new words
Better letter formation
How do you implement rainbow writing?
These differentiated versions are both wonderful ways to use rainbow writing with your kids or students. And of course, it doesn't have to be just so.
What to practice:
name writing (children 3+)
sight words (kindergarten and up)
spelling words (elementary school)
cursive (third grade)
You can give rainbow writing your own flair by choosing other colors, using different materials, or writing the words in different styles and shapes.
Rainbow writing with tracing:
This is the simpler version of rainbow writing, since the children are not writing words on their own unlike the next version.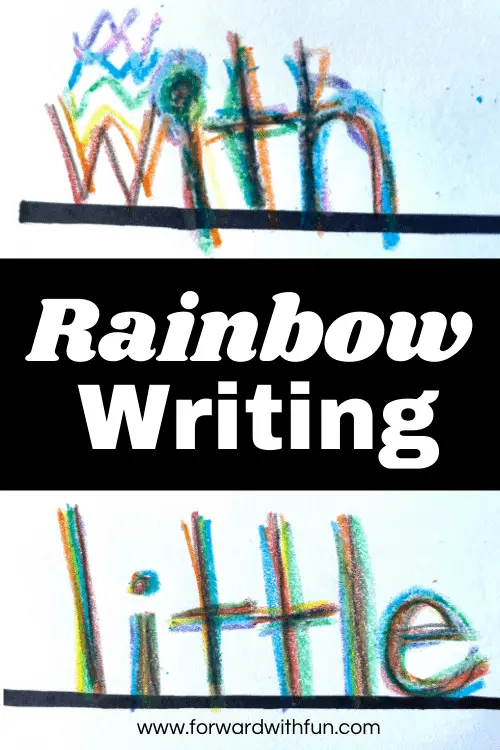 On a piece of paper, write the words you want your child to trace. Make sure to write them big enough so your child can easily trace them. The smaller the words, the more difficult they are to trace.
Next have your students or your child pick out their favorite colors to trace the word with. I know my daughter will always do things in rainbow order: ROYGBIG (red, orange, yellow, green, blue, indigo, violet) but there is no one way to rainbow write.
Have your child or students trace the word 3 or more times. For younger children, especially preschoolers, I would say 3 times is plenty of practice.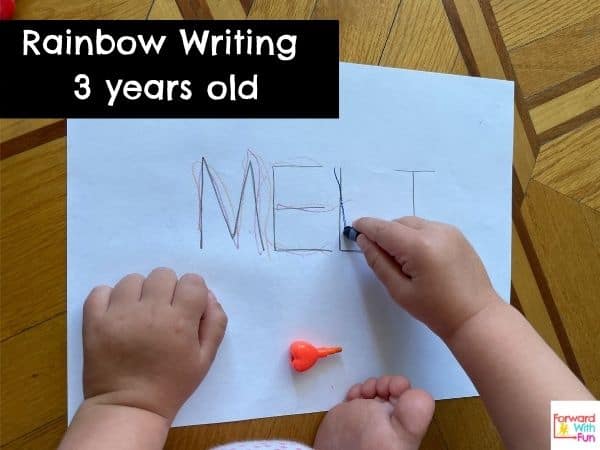 Rainbow writing independently
For this version, I recommend using the rainbow colors in order. Children will copy the word instead of trace it, writing it multiple times until they've created a rainbow of that word. Use markers, colored pencils, crayons, or even paint, if you're feeling it!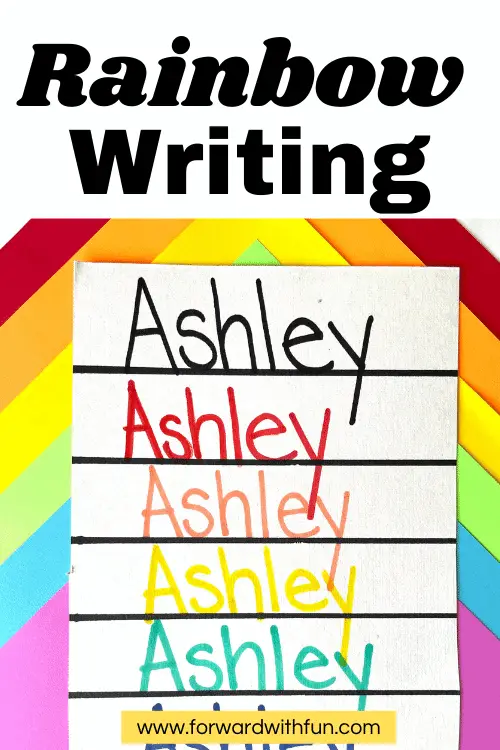 Where can you find resources to help with spelling and writing skills?
My favorite handwriting curriculum is called Learning Without Tears. They have an emphasis on learning to write in ways that are fun and developmentally appropriate.
They have a wonderful handwriting chart that shows proper letter formation, which is actually really helpful as an adult. I never knew I was doing my lowercase f's backwards.
Download the Learning Without Tears letter and number formation charts HERE! -Thanks to Learning Without Tears for making these available for FREE!
I wouldn't put too much emphasis on the exact formation if they letter looks correct when your child is writing, but when YOU write out the words, check to make sure your letters are looking like these so children learn the proper way to write!
What are your favorite resources for handwriting and spelling? Leave me a comment below!
I made these 44 FREE sight word playdough mats for YOU, because I'm so tired of seeing kids being sent home with sight word flashcards. BORING!
I get that things need to be simple, or we won't do them as parents, so I've create completely free hands-on playdough mats for your young reader to use. They're not individual pdfs either, just one big, easy packet to start using instantly.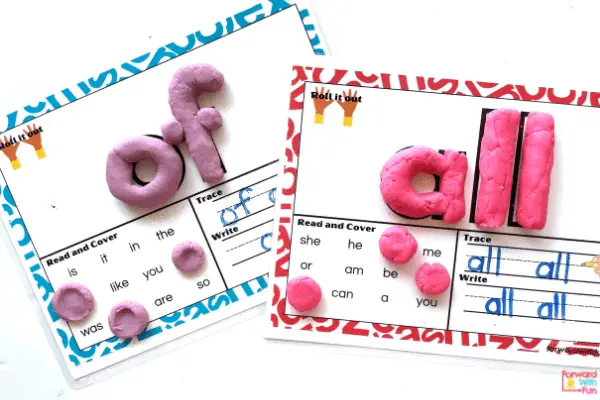 Which sight words are included in the packet?
Included in the packet are 44 words from Fry's first 100 sight words list.
When I taught kindergarten would introduce 1-2 sight words a week and these are the words that I taught first! Teachers choose sight words at their own discretion, and there is no one "right" list for kindergarten. These are also the words I am teaching my daughter first.
All the words included in the sight word playdough mats packet: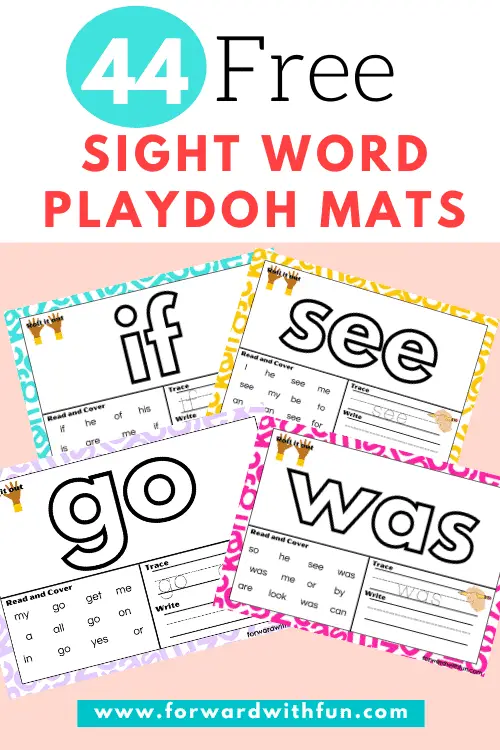 a
all
am
an
and
are
as
be
by
can
do
for
go
has
have
he
his
how
I
if
in
is
it
like
look
me
more
my
no
of
on
or
said
see
she
so
than
that
the
they
to
was
we
Why are these playdough mats so effective at teaching sight words? Well, the key to learning sight words is exposure. Since many sight words don't sound how they're spelled, kids must recognize them by sight.
Yes, that's why they're called sight words. Some teachers call them different things: tricky words, rainbow words, rule breakers, etc. In order to memorize these strange yet vital words, kids need to interact with them many times.
How to use your sight word playdough mats:
Each sight word playdough mat has 4 ways to interact with the word, and kids will see the sight word they're working on 6+ times during the activity.
See the playdough mats in action:
Roll It Out/Playdough Section
First, kids will roll out their playdough into long "snake" pieces, then twist and shape them into the letters that form the sight words. This sensory way to learn, really benefits all kids, especially young children who are often tactile learners (those who learn by touching).
Besides being a great sensory invitation to play, did you know that playing with playdough majorly builds up the small muscles in the hands needed for fine motor skills. I tell you all about why those are so important in this post about fine motor development!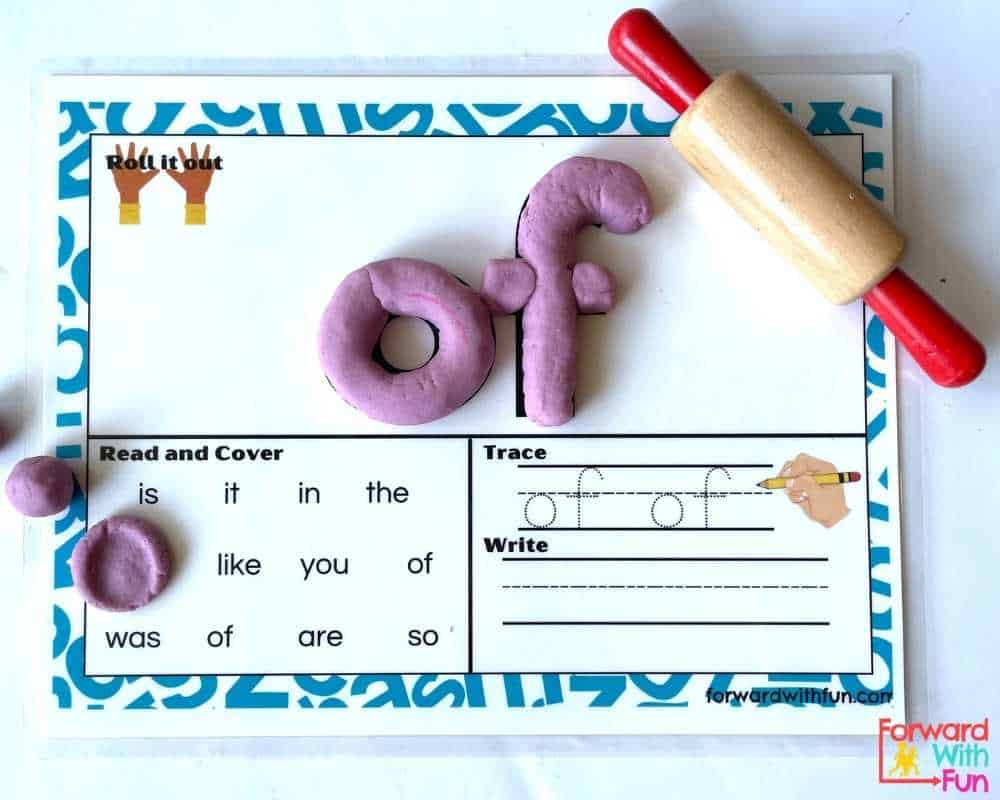 Read and Cover Section
Next kids will read the sight words in the left bottom corner and splat them with playdough.
Make 3 small playdough balls, and have kids smush the ball with their fingers on top of the sight word on the mat! Kids won't need to know how to read all the sight words in this section, only to find the one they're working on. However, seeing all the sight words they've previously worked on, only helps cement their memorization.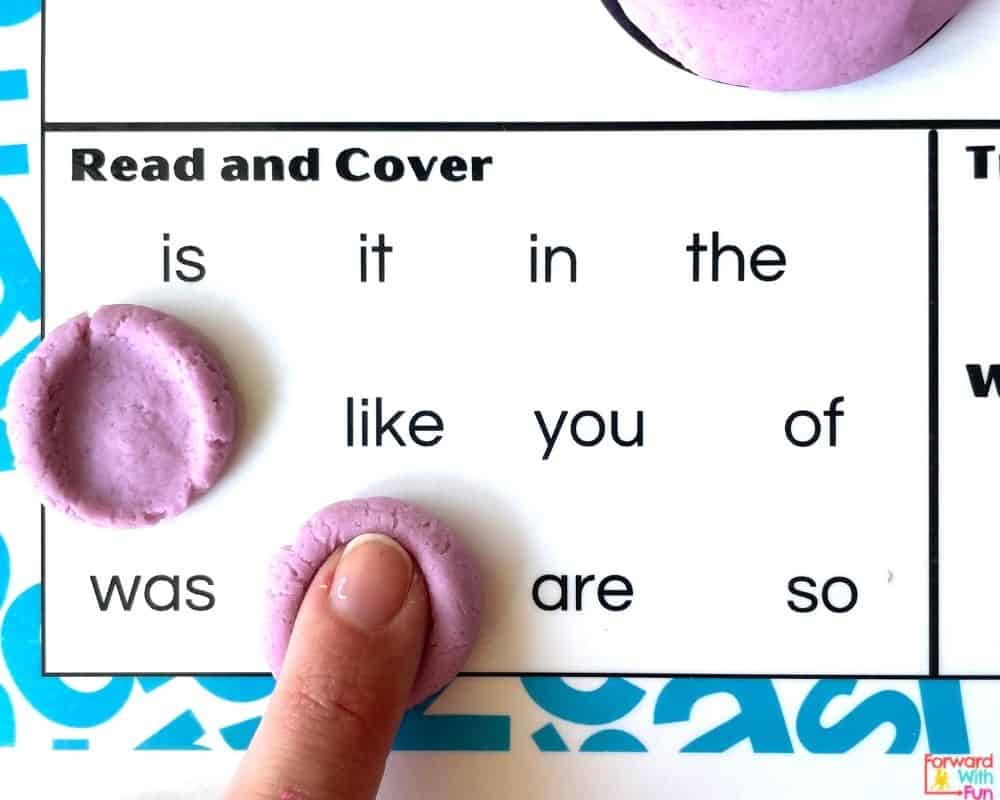 Trace and Write Section
The final section has a tracing component, and a writing component. If working with 4 year olds, they can just trace the sight word with their finger. When working with older kids in kindergarten and first grade, they can trace the word with their finger or a dry erase marker. If they're ready to write independently, the final line includes a space to try that, the most difficult step.
In sight word playdough mats, kids are building the word through sensory play, scanning and finding the word with reading skills, tracing the word, and finally writing it. With so many different kinds of interactions, these sight words have a much higher chance of being memorized than with boring, old flashcards!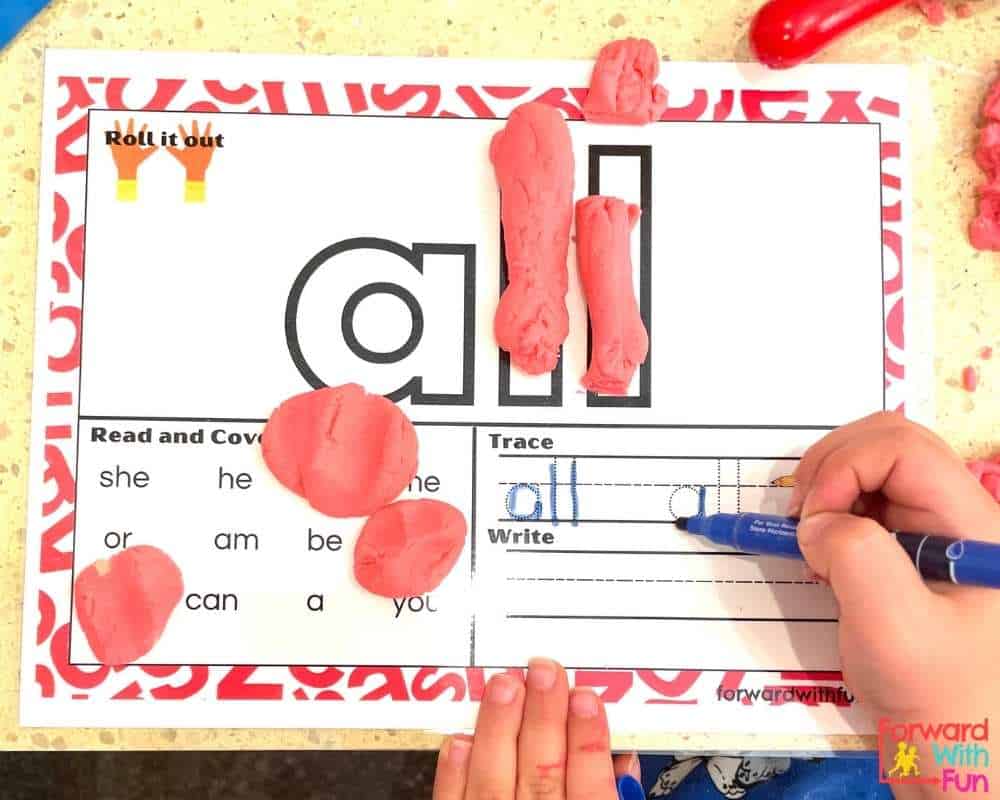 Download Your Sight Word Playdough Mats NOW!
Tips for best use of your sight word playdough mats:
Wanna use these over and over again? For best results, use cardstock. Cardstock is thicker so it'll last longer, but if you're gonna be one and done, just print on regular paper.
Laminate or place your sheet in a sheet protector. Who has a laminator? Though it is a nice way to preserve your sight word mats, it might be tricky to access, so use these sheet protectors, and BAM, you can use it again and again.
Check out these 16 other incredible sight word games that I use to increase exposure and help make reading a fun, bonding experience for me and my daughter.
Throw the flashcards away. ; )
Want even more playdough mats for your younger kiddos?
Check out these alphabet playdough mats, also totally free! Yes, you read that right.
Grab all 26 alphabet playdough mats and begin learning all about the alphabet with your 3-5 year olds.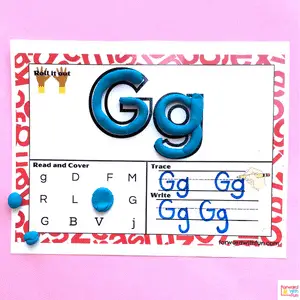 I used to hate teaching sight words with worksheets and flashcards. Students would be frustrated about having to memorize words that didn't follow phonetic "sounding out" rules. It got to the point where even I was saying "I know. Sight words are boring."
So I had to do something about it. Instead of boring old school flashcards, I wanted to make sight words fun with hands on learning games that kids love. There is not a  worksheet in sight.
These games will involve sticking, throwing, swatting, jumping, popping and more, but before we jump in, do you know what a sight word is and which ones to choose?
*As an Amazon affiliate, I may get a small commission for purchases made through links in this post.What's a sight word? 
Sight words are words that show up all the time when we are reading, and often they don't follow phonetic rules. Words like of, the, could, and is just don't sound like they're spelled! They're also commonly called "high frequency words."
Sight word lists for your child's grade level
You might have heard of Dolch sight words and Fry sight words. They're both lists of words that schools use to determine which words to teach.
The Dolch Sight Words list can be found here, and they're based on a study by Dr. Edward Dolch who created lists of the most frequently used words in children's literature from the 1930-1940's (kinda outdated). They are conveniently separated into Pre-K, Kindergarten, first, second, and third grade lists though!
The Fry Sight Words list can be found here. Another Edward, Dr. Edward Fry decided to create a more modern list and break it down into lists of 100 most frequently used words in kids books. His lists were created in the 1950's but were update in the 1980's. I use the Fry's First 100 List to choose words to focus on with my kids.
Keeping track of your sight words
The key to learning sight words is memorization, so that newer readers can recognize them quickly and spend their decoding skills on words that are phonetic (sound like they're spelled).
I recommend keeping the words you are practicing up on a Word Wall that your child will pass by everyday and add a new word a week. You can create a simple sight word wall in your home or classroom and it's a great example of environmental print. It'll help you keep track of which words your class or child has mastered!
The Big List of Hands-on Sight Word Activities that kids LOVE
Write the sight words that your child is learning on construction paper and tape them to the wall.
Then write the words four times each on Post-it notes and hide them around your home. Have your child find and match the sight word to it's larger version, reading the word each time. It's like hide n seek meets sight word matching game.
2. Pom Pom Toss and Read with Sight Words
Grab some pom poms and a muffin pan along with my favorite supply Post-its. Write the sight words on the Post-its and place them on the wall, lined up with the rows of the muffin pan. Next, take a few steps back and throw pom poms into the muffin pan. Every time your child scores a "goal" they need to read the word at the top of that row.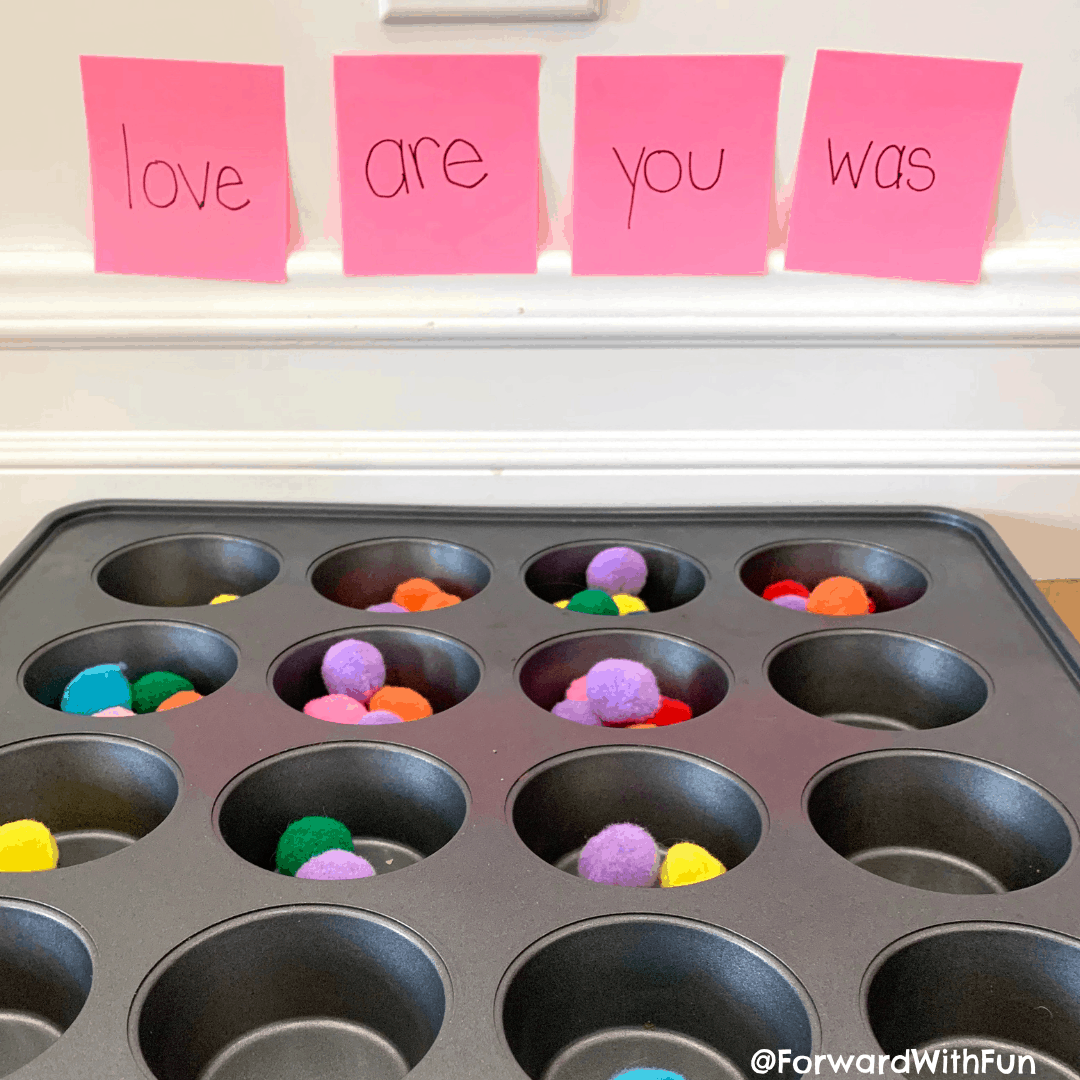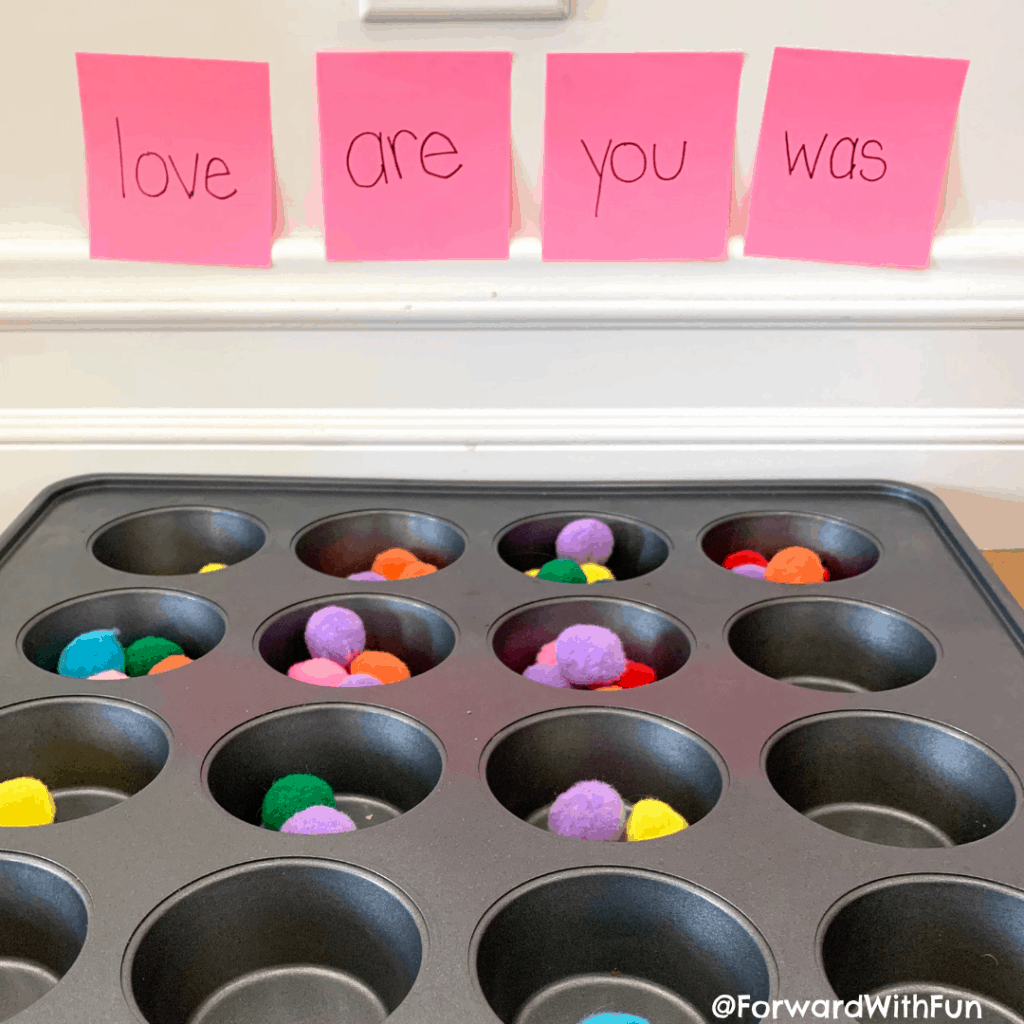 In this one, kids are imagining they're shopping for groceries.
You can use pretend food but if you don't already have that, just use what's in your pantry! Label the foods with dot stickers after writing sight words on them. Write matching sight words on the grocery bags, and have your little shopper read and match the sight word on the food to the bag.
4. Sight Word Steps
Post-its are a must-have for so many games including this one. The sight words are written on the sticky notes and placed onto the steps in our home.
As your child goes up and down the steps, they read each word as they get to the top. Don't have enough words for each step?
Repeating words gives your child lots of good exposure and helps those sight words stick in their brains!
5. Hidden Object Game- The Sight Words are hiding something!
This reading game can be used with sight words, CVC words, letters or even numbers...
Just write the sight words on the Post-its and place them atop of some opaque containers.
One container hides the hidden object? Can you find it? Kids must read the word on top of the container before they check under the container for the hidden object.
I love this idea from simpleplayideas.com Fold the index cards and then have your child's favorite superhero smash the sight words you call out. Each word they smash correctly, they get to keep in their pile.
7. Classic Sight Word Memory Game
A simple sight word memory game only takes one minute to prep. Choose 5-10 words that are on your child's list and write them on index cards. Then write them a second time on another set of index cards. Make sure you use pencil so that you can't read the card from the back. Flip them all over and play Memory! Try to make a match, taking turns to flip 2 cards.
It doesn't look glamorous but I can assure you, kids love this sight words memory game and it provides LOTS of opportunities to memorize the target words.
This gross motor game involves motor planning, reading, and best of all, kids love it.
Use a fly swatter or any soft object to whack the high frequency words. Your little reader has been waiting all their lives for permission to swat stuff, am I right?
Do a speed round! Now you're starting to see why you really need to get some Post-its, huh? You can also use Sight Words Swat as a hands-on way to teach numbers and letters too.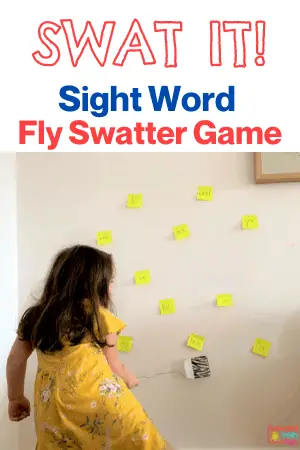 Create a parking lot by drawing a simple aerial view then filling in each spot with sight words. Grab the tons of race cars your child loves to zip and zoom around the house with and label each car with a matching word, using dot stickers.
This clever game comes from jugglingwithkids.com.
Using blue painters tape and Post-its create an obstacle course on the floor. Sprinkle in the Post-its with sight words written on them as stopping points.
Kids must complete the obstacle course doing different movements: tip top, hopping, skipping, balancing on a tight rope and stop to read each word before moving on.
They'll want to do it so many times, which will give them ample practice!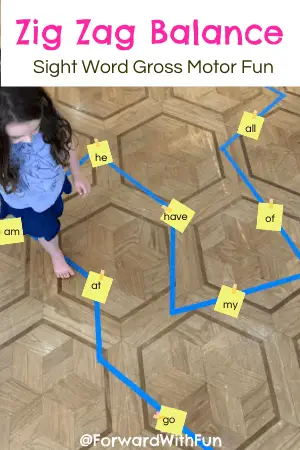 11. Dot Sticker Match
Quick and low prep practice: you don't need anything but dot stickers and paper plus a writing utensil.
Write out 4-5 sight words on your dot stickers filling out the sheet. Then write them again on a sheet of paper the same number of times.
Hand your kiddo the sheet and have them match the words on the dots to the ones on the paper. This is a fabulous fine motor activity for little hands, as they peel the stickers off the sheets.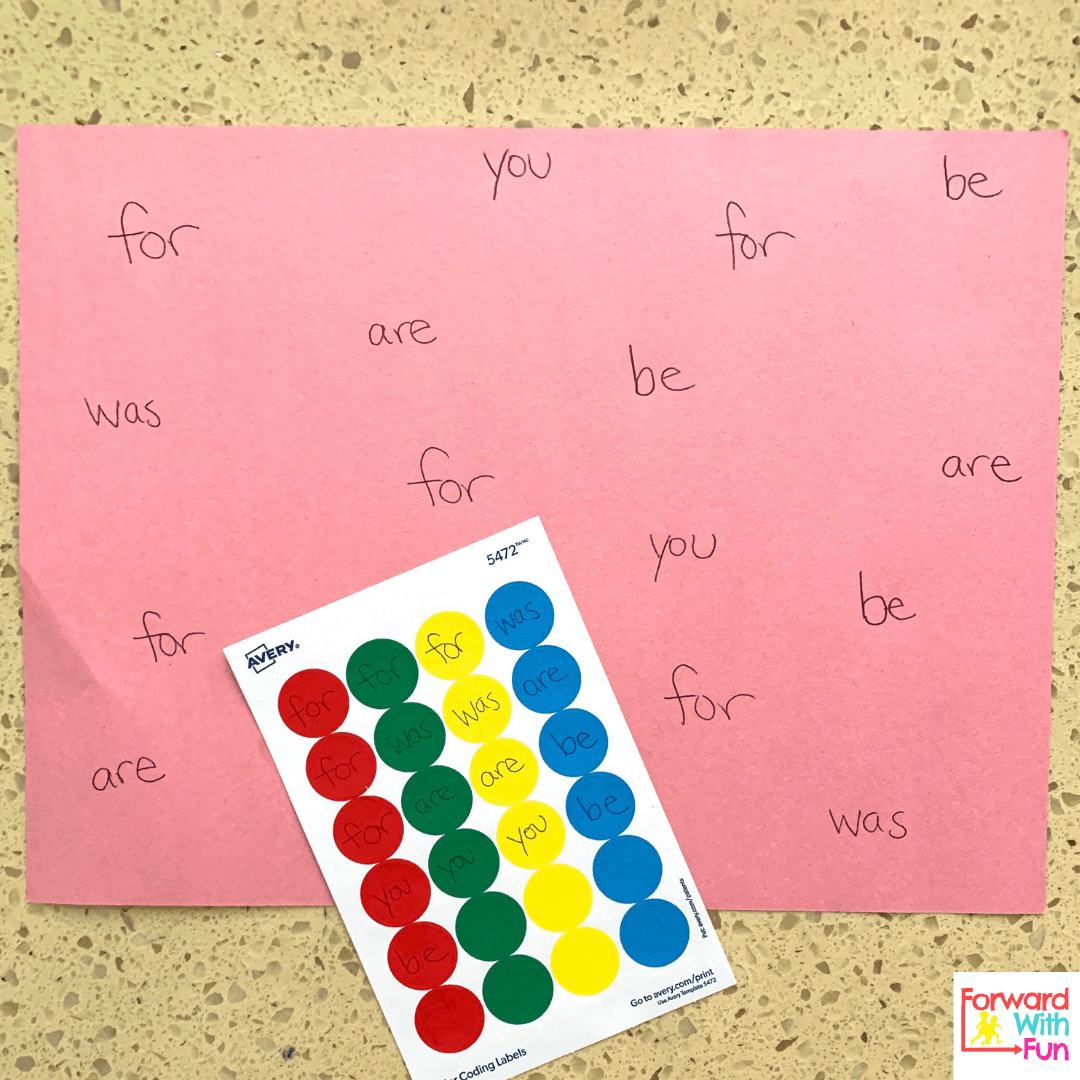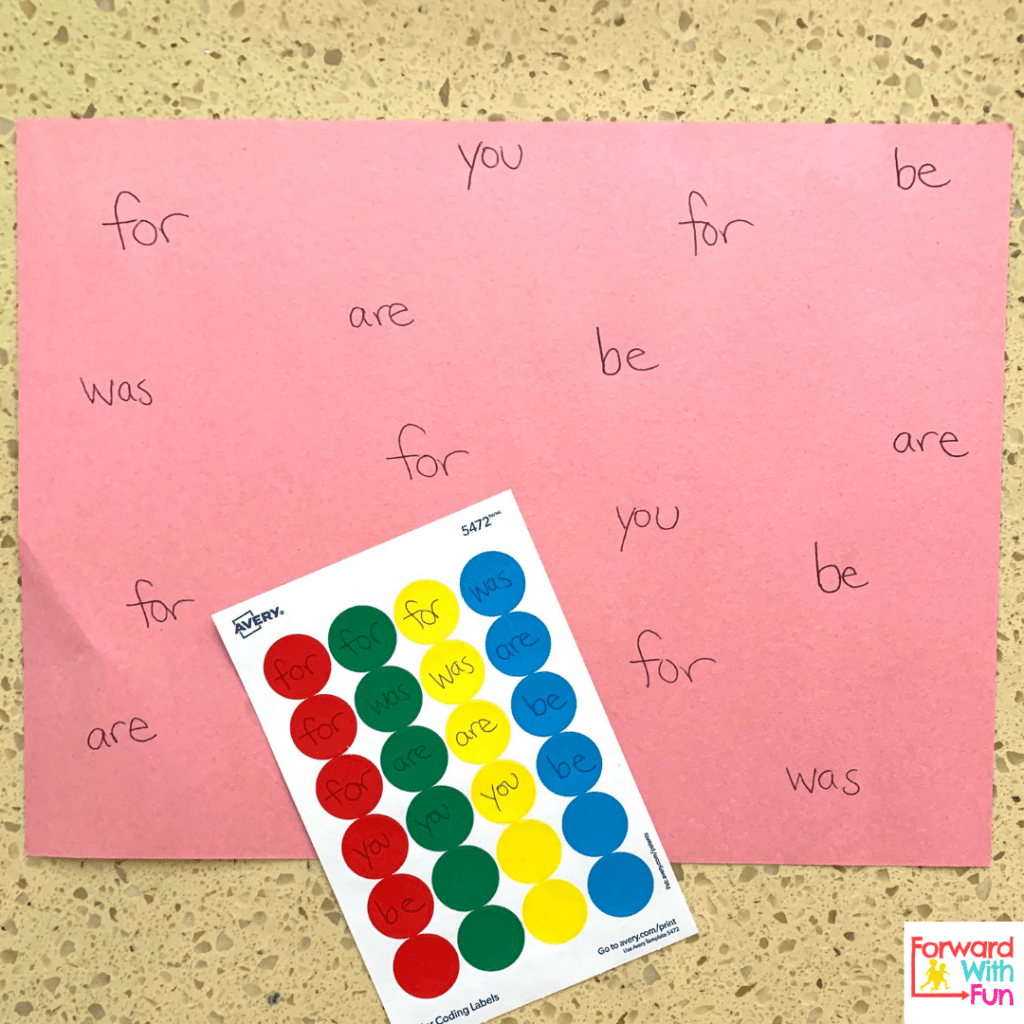 Write down the words your child is working on in large lettering then tape them on empty grocery bags and play ball in the house. Can you aim for the high frequency word and get your ball in the bag?
Read the word as you score a goal. That's a ton of great exposure!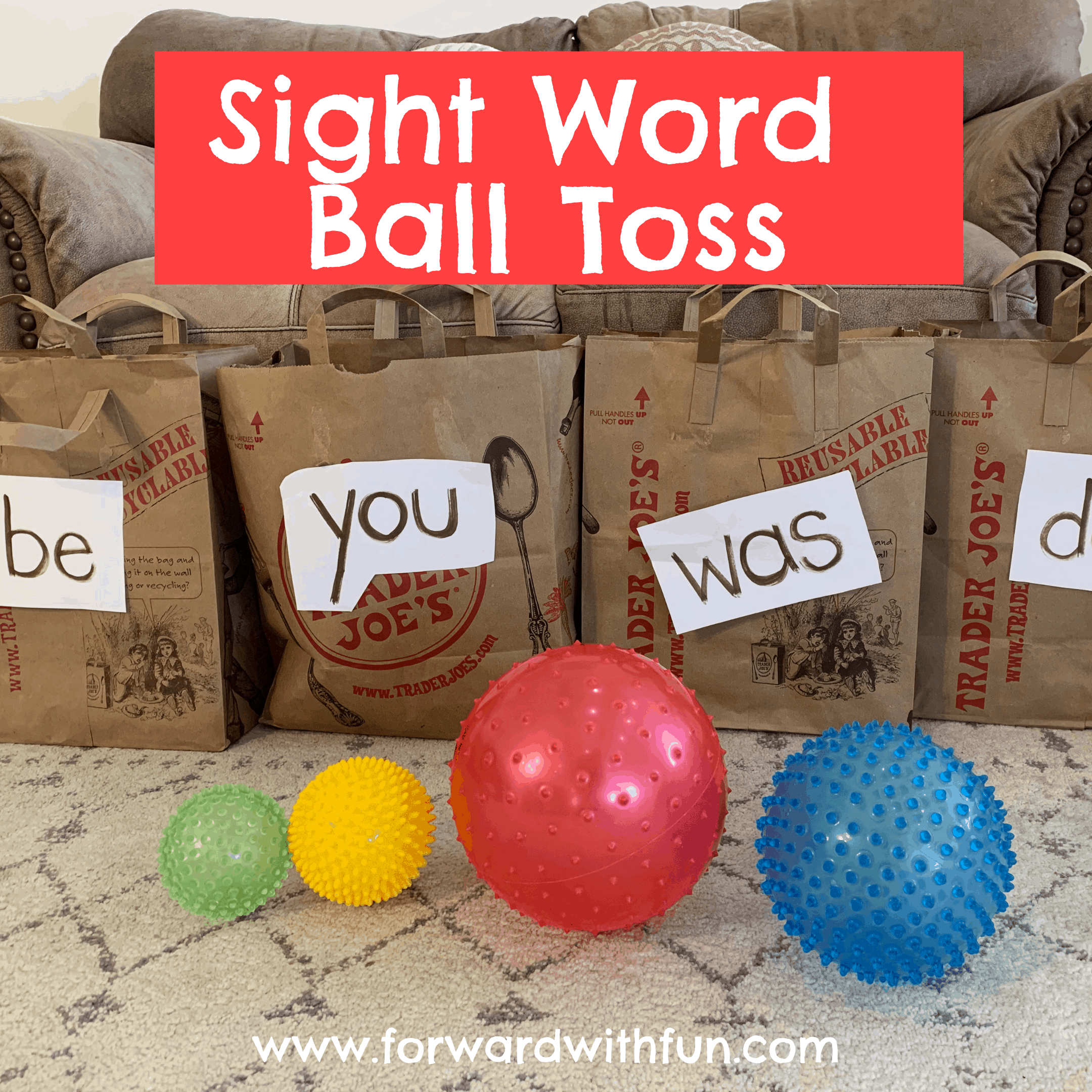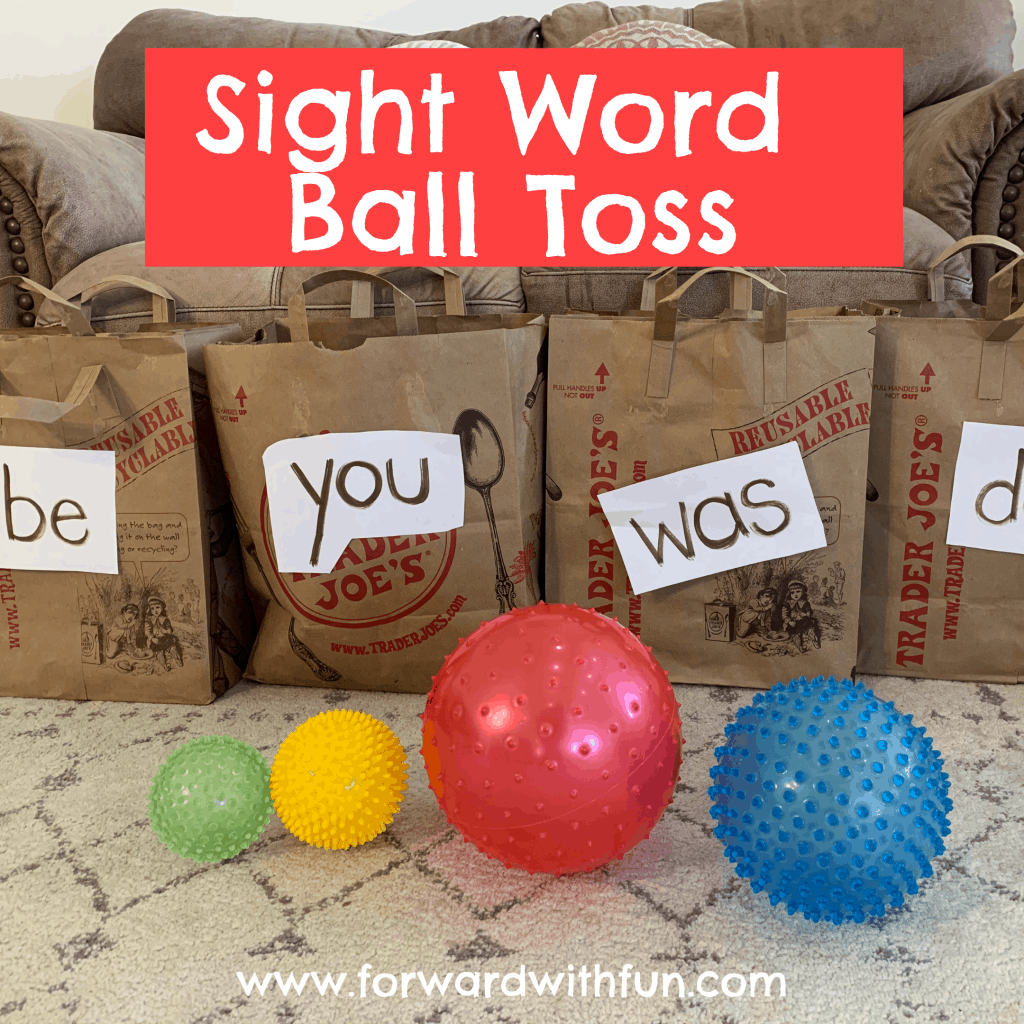 13. Read and Pop the Sight Words!
Lately we have been getting lots of packages, especially after Lil Sis's birthday, and the kids fight over the bubble wrap more than they do the toy! Let's make good use of the packaging and great a pop-a-word game just by writing words in Sharpie on top. 
With smaller bubble wrap, write the words on top and have kids read then pop with a hammer or their fingers. 
14. Sight Words Matching Muffins
For this game you'll need a muffin pan and index cards. Cut the index cards in half.
Pick one target sight word and write it on 5 index cards. For the rest of the spots, write other sight words (one each) . Fold all the cards and put one index card in each muffin spot.
Then cover the whole thing with aluminum foil.
Give your child a straw or other pokey object and tell them, their job is to find the target word 5 times to win.
Kids LOVE exposing the words in the muffin pan and as they find each one, they'll read them trying to see if they found the "target" sight word.
Here is what the muffin pan looks like before I covered it with aluminum foil.
15. Sight Words Flip and Scratch
You're gonna love this one. Just get out your deck of cards, a piece of paper, and a marker or make one like ours on canva.com for free! I copy and pasted the two words we are learning this week each 25 times on the paper and sprinkled in K, Q, and J for the face cards.
At the top I wrote "was" in red and "of" in black. If the kids flip a red card, they scratch out the word written in red, that many times and the same for the second word if they choose a black card.
If they get a face card, they scratch out the K, Q, or J! 
16. Tic Tac Toe with Sight Words
Now this one, you can do anytime and anywhere. Bored at a restaurant? Waiting for dinner to be ready?
This perfect partner activity replaces the X's and O's in tic-tac-toe with sight words so kids get some great writing and spelling practice. Make sure to switch words, so both players gets a turn to practice each word.
Sight Words are only 1 part of learning to read ...You'll want to read about CVC words next!
Get ready to ditch worksheets and flashcards in favor of hands on reading games.
Why hands on reading?
Lots of what kids learning in the first few years of school is about memorization: letters, letter sounds, sight words, shapes, colors, numbers, etc. Traditionally these types of things are taught with repetition through worksheets and flashcards.
But that's BORING! Okay, some kids might like those things, but I betcha that MORE children prefer to learn in a more hands on way.
"Tell me and I forget, teach me and I may remember, involve me and I learn."
Xunzi, Chinese Philosopher
With hands on reading games like Pom Pom Toss and Read kids are more likely to memorize whatever reading skill they're working on because they're having fun and involved in play. I mean, when have you ever learned something new from a worksheet?
In Pom Pom Toss and Read I focus on sight words as an example, but this game can also be used to practice letters, letter sounds, vocabulary, or spelling.
*As an Amazon affiliate I may make a small commission from purchases made through this post, at no extra cost to you.
Play Pom Pom Toss and Read!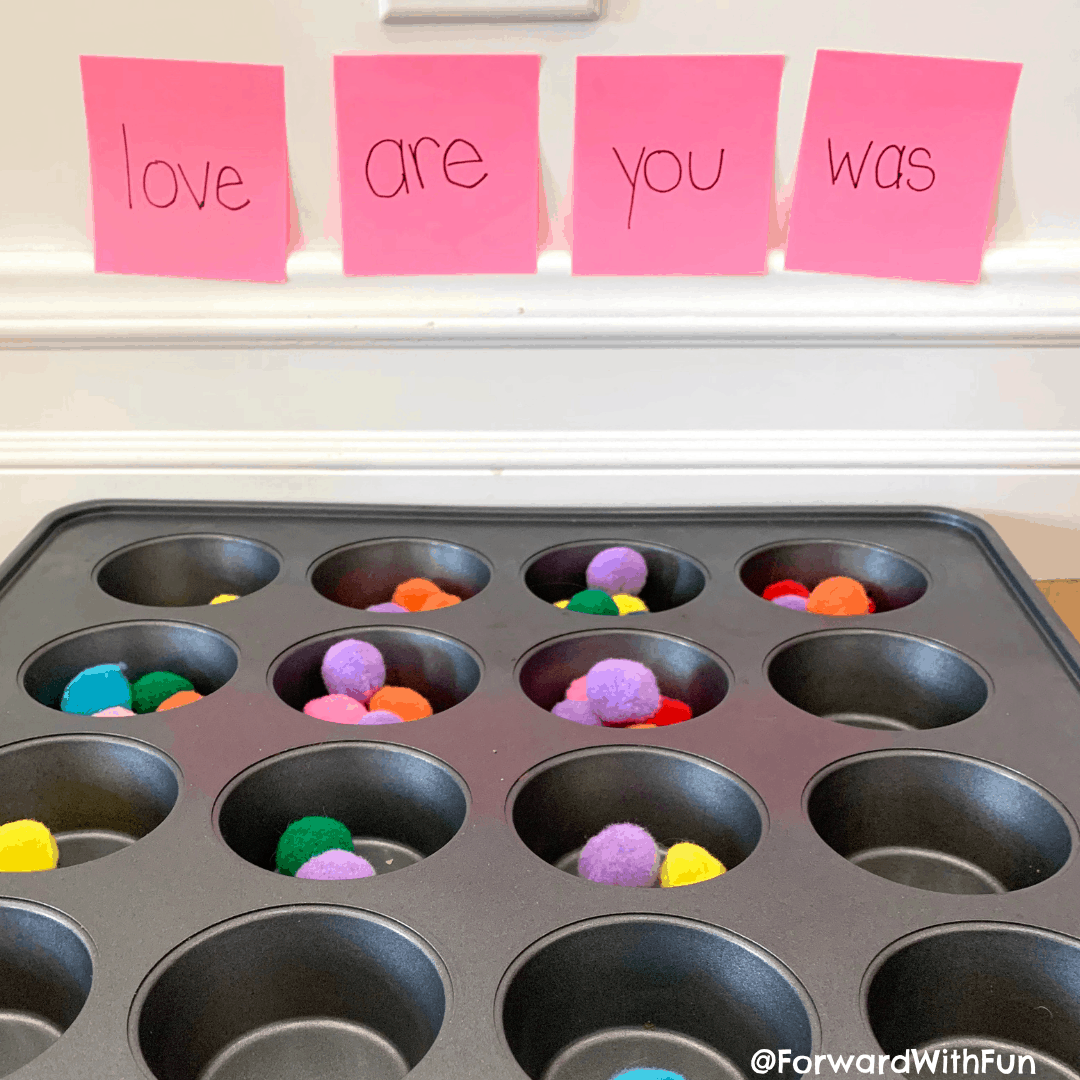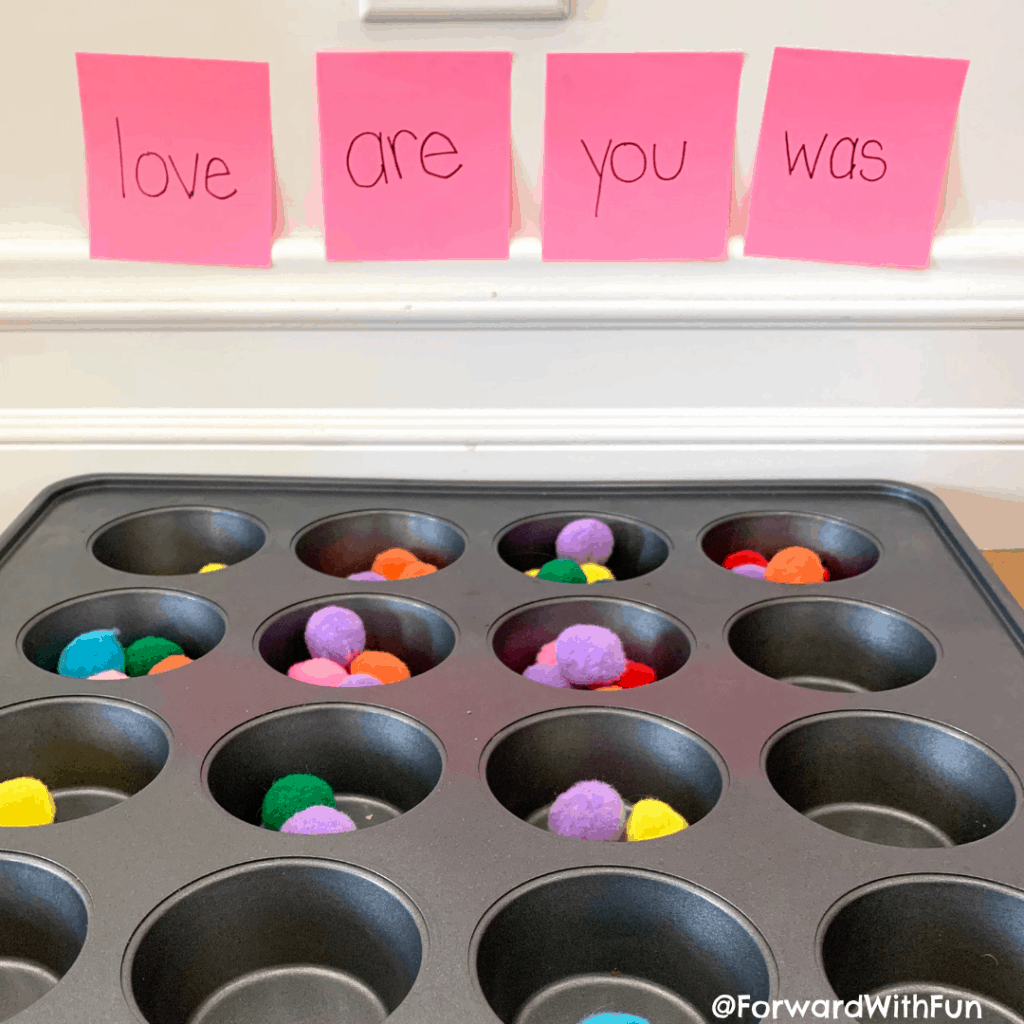 Materials and Setup:
Muffin pan

- This 24 cup one* is my favorite, and we use it for all sorts of projects (*affiliate link)
Markers
Write your 4 target sight words on Post-its and place them in a line like in the picture. Line your muffin pan up with the words so that the rows lead down from the sight words. You can also use letters, vocab words, spelling words, or CVC words.
Invite your child to play!
Have your child toss pom poms into the pan. Whenever they make a "goal," they need to read the word at the top of that row! Play along with them. Celebrate your goals and read out the words.
Play Pom Pom Toss and Read with Letters too!
Got a little one working on learning letters in their name or learning the alphabet? Instead of sight words, just write letters on the post-its and have them yell out the letter name or letter sound when they score a "goal."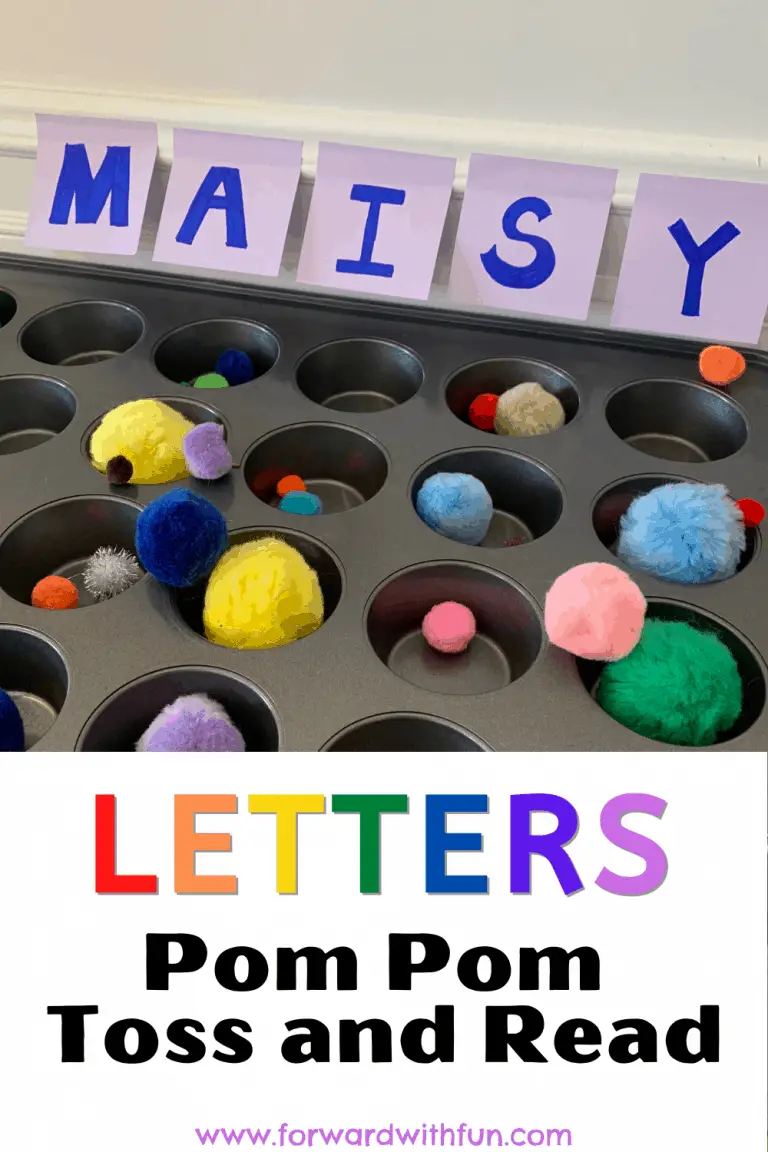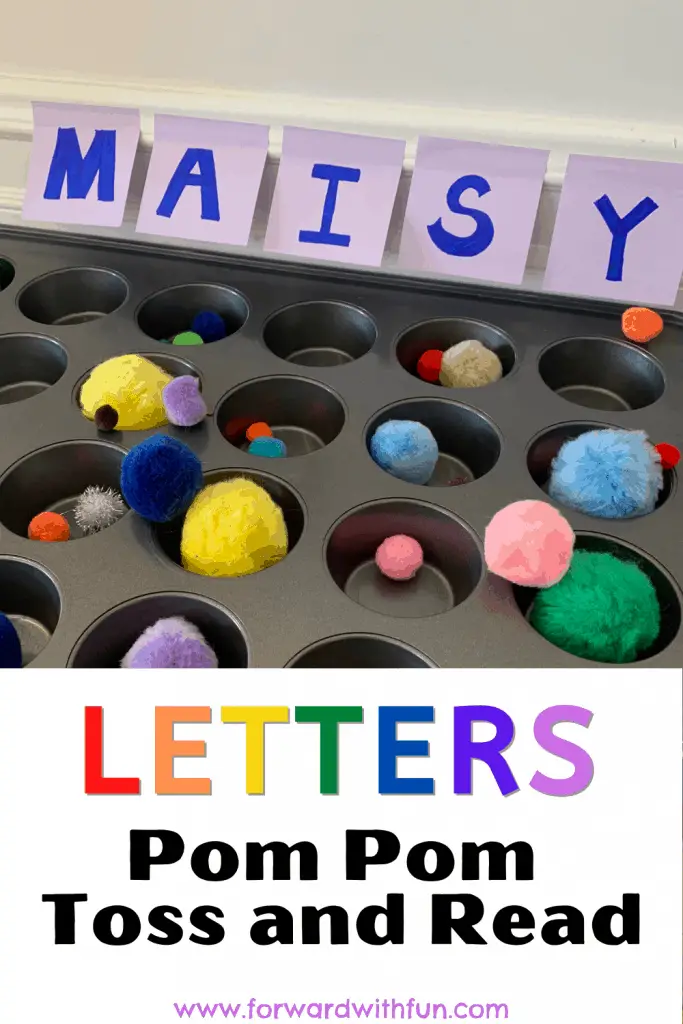 Looking for more ways to hands on reading sight word games?
I've compiled 16 favorite activities that make learning sight words fun. There is not a single worksheet and lots of these play based activities involve your child to be active. For kids aged 4-5 it's so important to keep learning fun and moving. Little ones are not meant to sit and do busy work; they learn by doing!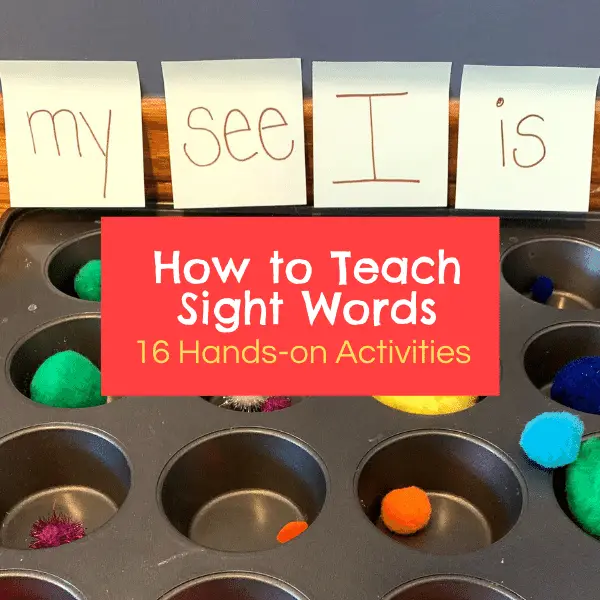 Hands on learning is my secret to teaching reading so kids are never bored!
I NEVER use workbooks or worksheets.

When I say "hands on learning," I mean any kind of learning where your child is actively participating in creating new knowledge or solving a problem. This is also called learning by doing. From your own childhood, did you ever really learn something from a worksheet? I remember the projects, the games, the activities that got me and my classmates up and moving, creating, and solving problems.

Hidden Object is a hands on learning game that combines reading skills with a fun, element of surprise.
How to Play Hidden Object- A hands on learning game:
What you'll need-
5 opaque containers, like cups or bowls.
Post-Its
Marker
1 small, special object of your choosing
Version 1, Letters and Letter Sounds:
On the Post-its, write the letters your child is learning. If you're child is just starting to recognize letters, I recommend starting with the letters of their name.
In this version, children will either say the letter name or the letter sounds as they lift each bowl on the hunt for the hidden object.
Version 2, Reading CVC Words:
If your child has moved into reading, try sight words or CVC words in a particular word family (on example is the AT word family with words like cat, rat, bat, sat, etc).

Another idea would be to include words that have a new sound they've just learning like digraphs: sh, wh, th, and ch.
Invite your child to play:
Say, "I've hidden a special object under one of these containers. Before you check under the container you must read the letter or word on that container's note."
Remind your child to read the letter or word before they can look under the container for the hidden object.
Once they find the hidden object, have them close their eyes and start again!
Hands on Learning at all levels of literacy:
This simple hands on game can be used for so many different skills: letter sounds, letter identification, sight words, CVC words, digraphs, etc.
In this instance, Big Sis was practicing reading CVC words (consonant vowel consonant words) that had different vowels in the middle. If I notice her struggling with a specific vowel or letter sound, I would put more words with those sounds on the Post its.
Hands-On Learning Games + Reading Comprehension:
Whenever I discuss early literacy skills like reading CVC words and sight words, I want to reinforce that all the games and wonderful activities are only part of the reading puzzle. The biggest thing you can do for your child to have success with reading from an early age is read to them everyday.
Guiding questions as you read aloud with your child:
What kind of letters do you see
What words?
Who is in the story?
What's the problem in the story?
Take a look through a book before reading and see if the pictures give you clues as to what might happen.
Make predictions as you go along.
Retell or sequence events in the story
Like teaching your child through hands on learning games? Want to teach you 4-5 year old to read using hands on learning? Check out The Fun Club! Subscribe for a free week of activities right now!
Imaginative play rolled into sight word sort activity: an unusually clever way to make what was once dull, suddenly burst with potential.
One thing my kids really missed from our Pre-Covid life is grocery shopping. I never knew how much I'd miss taking them to the grocery store and all the sweet interactions we would have as we walked around picking out what we needed (and yes, tantrums too).
Now I go to Trader Joe's (heaven?) once a week and when I come home, the kids are SO excited to look at what I got. They love to sort out the food items and learn what goes in the fridge, freezer, and pantry. Since groceries became so high interest for them, I created a grocery sorting sight words activity for them.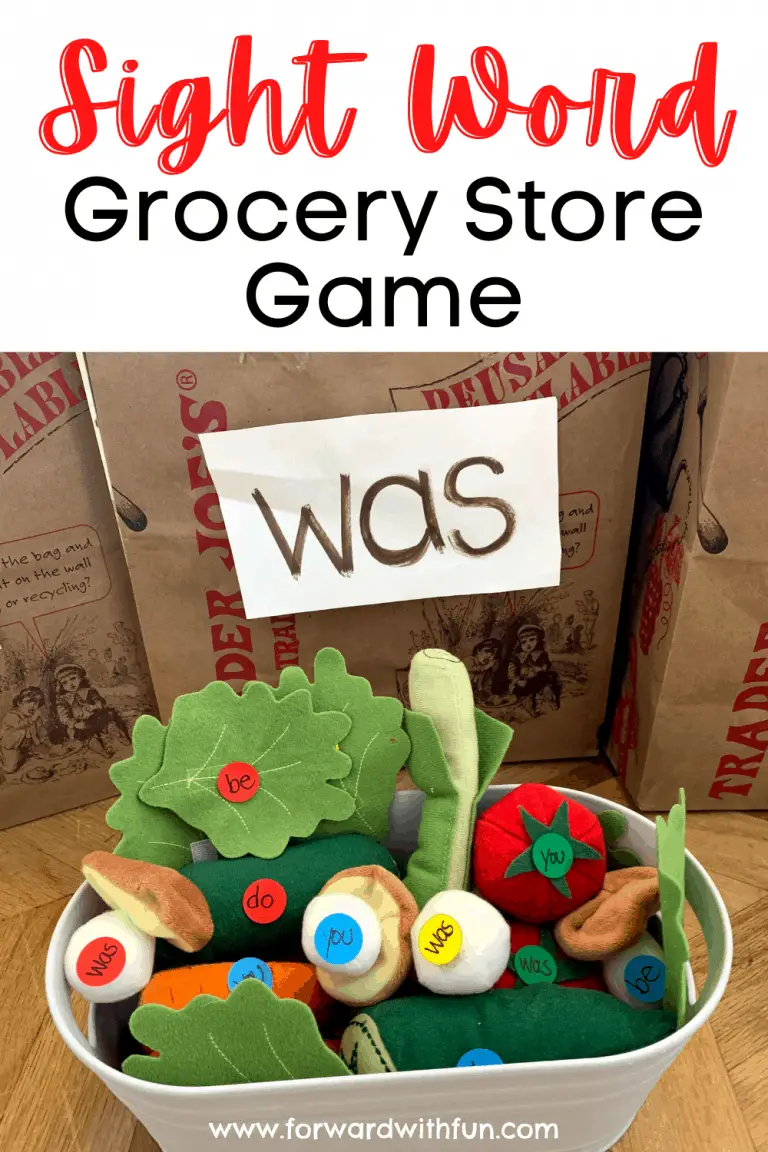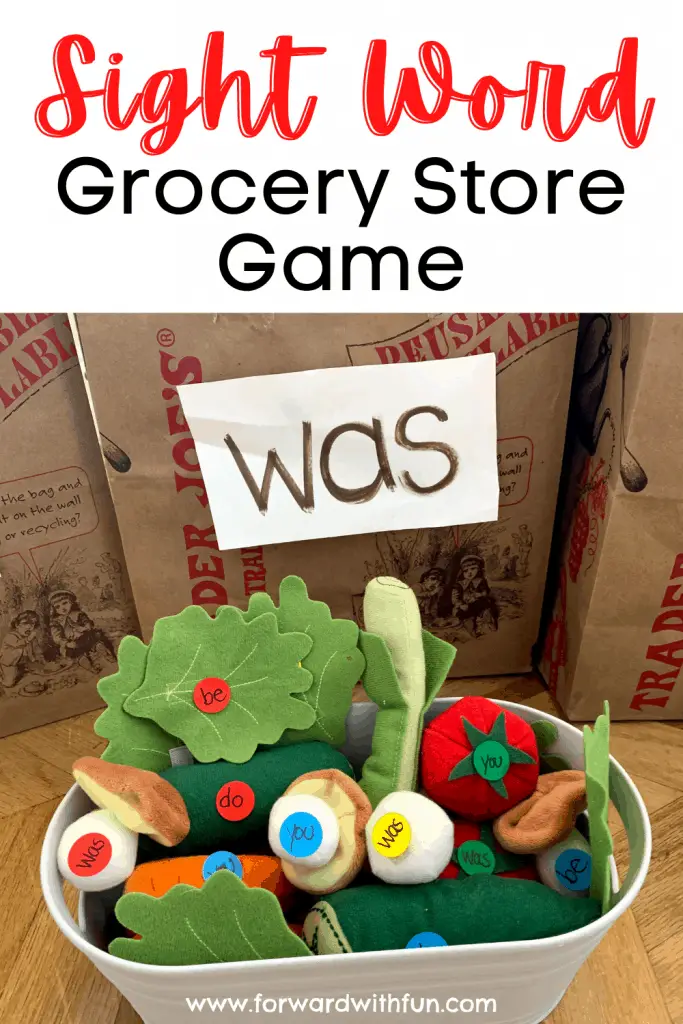 *As an Amazon affiliate, I may get a small commission for purchases made through links in this post.
Sight Words on Aisle 6:
Pick 4-5 sight words your child is working on for this activity. Don't know which ones you should start with? Check out this list. Write them in big lettering on white paper and cut them out. Tape them onto your grocery bags.
Using dot stickers (we love these), write those same sight words multiple times on the sheet. Then peel off the stickers and place them on play food or real food before placing it in your grocery basket.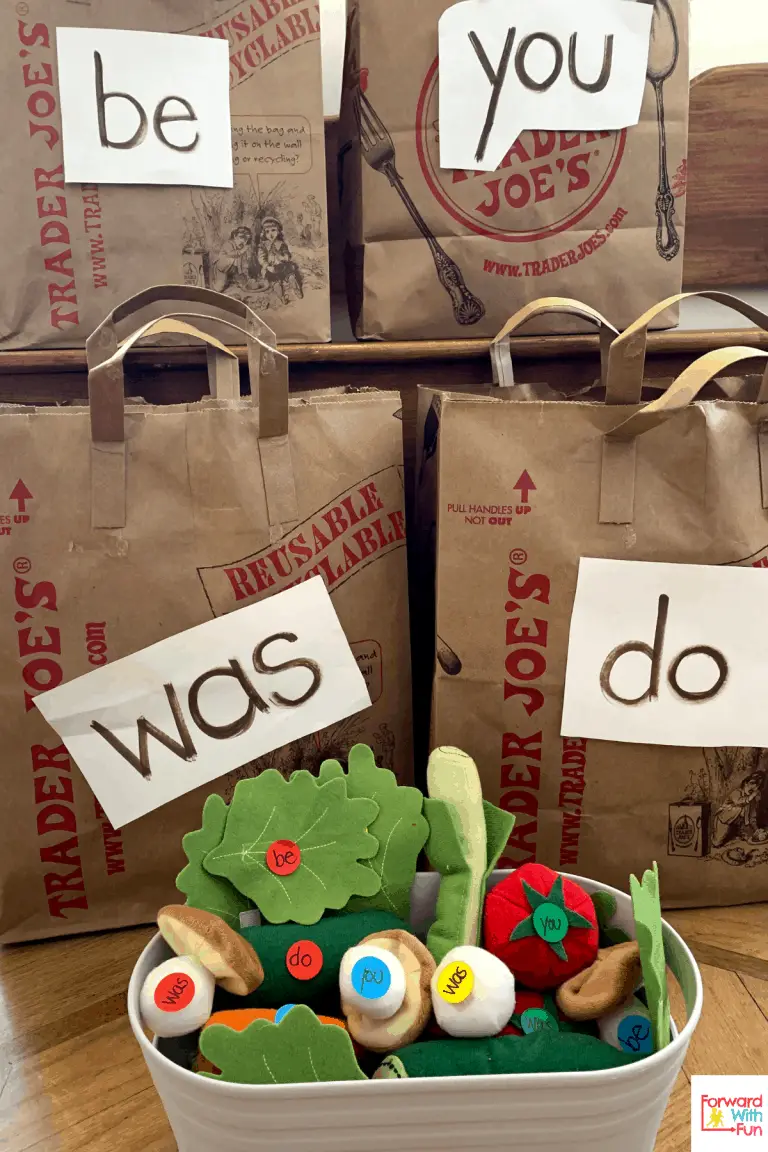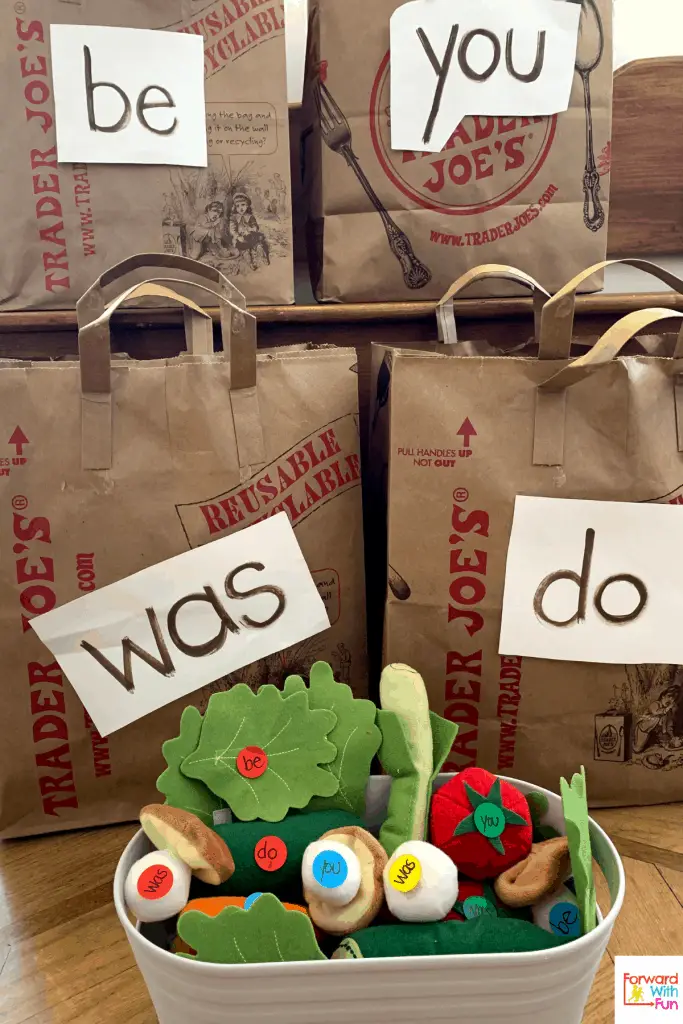 With my girls, I pretended I had done the shopping in the grocery store and had come to the checkout counter to pay.
Often the bagging clerk will separate the groceries into bags based on where they go: fridge, freezer, or pantry, but for our sight words sorting activity we would be reading each word and putting it in the matching sight word's bag.
This activity got some great sight words reading in as Big Sis sorted the sight words on the produce to the bag. It was also a great way to talk about real life skills, like grocery shopping.
If you loved Grocery Sight Word Sort, you'll love these 16 Sight Word Games...
Here are 16 of my favorite, highly engaging sight word activities perfect for kindergarten through second grade. You'll never need another sight words worksheet again.