The AT word family is one of the first sets of words young children learn to read, usually in kindergarten. These words are practiced as part of a word family.
What is a word family?
A word family is a set of words with the same ending. The words in a word family always rhyme.
Here is a downloadable list of words from the AT word family. Just click to download and read on for some great printable worksheets and activities to teach the words in the AT word family.
The first words kids usually read...
When kids are first starting to read, they usually begin reading CVC words. CVC stands for consonant vowel consonant words.
The AT word family is one of the first, if not THE first, family of words children practice reading in school. Since "a" is the first letter of the alphabet, children are usually most familiar with its sound out of the vowels: a, e, i, o, and u. "T" is also another sound kids more easily remember.
*As an Amazon affiliate, I may get a small commission for purchases made through links in this post.
AT Word Family Worksheets Packet
These FREE downloadable worksheets will help your child build fluency with the words in the AT family.
When working with the list and flashcards in the printable packet, I recommend using the 3 letter CVC words for beginning readers. The 4 letter words (CCVC words) are only for a challenge.
There are so many hands-on ways to use the AT word family flashcards for activities and games that your kid will love. I find that just going through the flashcards can be boring, so check out the activities we played with them below!
Page 1 of 2 Flashcards
Hands-On Activities Using AT Words
AT Word Family SPLAT!
Okay so I usually call this game, SWAT it, but it didn't rhyme, SPLAT the AT word it is!
Use those flashcards you just printed out and call out a word. Kids love getting permission to make something go SPLAT! Make sure to use blue painters tape so you don't ruin your walls!
Muffin Pan Spelling with the AT word family
Kids absolutely love muffin pan spelling so if you're looking to try this with other word families you can find more picture cards there. We use any muffin pan and these soft and magnetic Coogam letters.
Try this game with one of two ways:
Beginning sounds version- match the initial sound to the word from the picture card
CVC spelling full version- spell the AT word that matches the picture in it's entirety
Word Ladder for the AT Family
Create a word ladder listing all the words you can think of that rhyme with at! Display them with Post-its, flashcards, or these cute paint chip cards.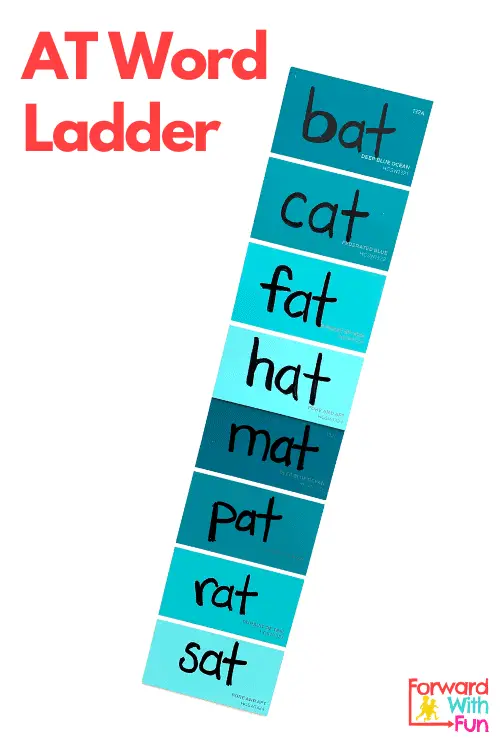 Memory Matching Game- Pictures + Words
Using the picture and word flashcards from the AT word packet, play a classic game of memory. Take turns flipping two cards and if they match, you keep them. Continue flipping them over till all are gone.
AT Family Word Sort
This is pretty intuitive, but a simple sorting game can be great practice. Read the word and match it with the picture.
As kids sound out the words, they're practicing their phonics letter/sound association, but they also need to be able to BLEND those three sounds together to make the word, which is a very important phonemic awareness skill that lots of people don't know to practice.
The AT Word Family House
Let's really lean in to that family part of "word family." All these words live together! So let's give them a house.
The Cat and the Rat Book, A First Reader
I created this printer friendly (black and white) decodable book to help kids practice reading words in the -at family. It's FREE to print and use with your child. They can even color it in. Maybe it'll be the very first book they read!
Parents often ask...
When are kids supposed to be able to read the words in the AT word family?
Kids are expected to read most CVC (consonant vowel consonant words) at the end of kindergarten based on Kindergarten Common Core Standard CCSS.ELA-LITERACY.RF.K.2.D. Since the AT family is usually the first set of words children learn to decode (sound out) independently, they are likely to begin reading these words around the middle of kindergarten.
But I want to make sure I say that everyone is different and that's okay! Not all kids will read these words in kindergarten.
According to understood.org, "Not all kids develop reading skills at the same rate. Taking longer doesn't mean they're not on track to become good readers." That's a very important reminder for parents in this world where we are constantly comparing ourselves and our kids.
What are other word families at the same reading level?
Other families to work on after the -at word family would be the -ag, -ad, -am, and -an families.
I've created these activities and printables for the -an word family just for you!
The letters in all these families use the usual phonetic sounds for each letter so they don't confuse beginning readers (unlike the -ar and-as word families where there are letters making irregular sounds like the "a" in far and the "s" in has).