Hands on learning is my secret to teaching reading so kids are never bored!
I NEVER use workbooks or worksheets.

When I say "hands on learning," I mean any kind of learning where your child is actively participating in creating new knowledge or solving a problem. This is also called learning by doing. From your own childhood, did you ever really learn something from a worksheet? I remember the projects, the games, the activities that got me and my classmates up and moving, creating, and solving problems.

Hidden Object is a hands on learning game that combines reading skills with a fun, element of surprise.
How to Play Hidden Object- A hands on learning game:
What you'll need-
5 opaque containers, like cups or bowls.
Post-Its
Marker
1 small, special object of your choosing
Version 1, Letters and Letter Sounds:
On the Post-its, write the letters your child is learning. If you're child is just starting to recognize letters, I recommend starting with the letters of their name.
In this version, children will either say the letter name or the letter sounds as they lift each bowl on the hunt for the hidden object.
Version 2, Reading CVC Words:
If your child has moved into reading, try sight words or CVC words in a particular word family (on example is the AT word family with words like cat, rat, bat, sat, etc).

Another idea would be to include words that have a new sound they've just learning like digraphs: sh, wh, th, and ch.
Invite your child to play:
Say, "I've hidden a special object under one of these containers. Before you check under the container you must read the letter or word on that container's note."
Remind your child to read the letter or word before they can look under the container for the hidden object.
Once they find the hidden object, have them close their eyes and start again!
Hands on Learning at all levels of literacy:
This simple hands on game can be used for so many different skills: letter sounds, letter identification, sight words, CVC words, digraphs, etc.
In this instance, Big Sis was practicing reading CVC words (consonant vowel consonant words) that had different vowels in the middle. If I notice her struggling with a specific vowel or letter sound, I would put more words with those sounds on the Post its.
Hands-On Learning Games + Reading Comprehension:
Whenever I discuss early literacy skills like reading CVC words and sight words, I want to reinforce that all the games and wonderful activities are only part of the reading puzzle. The biggest thing you can do for your child to have success with reading from an early age is read to them everyday.
Guiding questions as you read aloud with your child:
What kind of letters do you see
What words?
Who is in the story?
What's the problem in the story?
Take a look through a book before reading and see if the pictures give you clues as to what might happen.
Make predictions as you go along.
Retell or sequence events in the story
Like teaching your child through hands on learning games? Want to teach you 4-5 year old to read using hands on learning? Check out The Fun Club! Subscribe for a free week of activities right now!
Searching for letter sounds and beginning sounds worksheets? You won't find those here. Transform your learning from home from pulling teeth to learning through play. My goal in creating Forward with Fun is all about using play to create hands on learning experiences. Kids are more likely to engage and remember new skills when they are actively participating in experience, especially if it's a game!
Learning letter sounds is essential to learning to read, and the most natural place to start is with beginning sounds. Worksheets are fine for busy work, but to make new knowledge really stick, you need to make it fun.
*As an Amazon affiliate, I may get a small commission for purchases made through links in this post.
Letter Sounds Stomp
How to Play: Letter Sounds STOMP
What you'll need:
Play dough. We use the classic version but for our gluten-free friends, Aroma dough!
10 small items that begin with different letter sounds
Index cards
Writing utensil
Bag
Prepare to play "Letter Sounds Stomp" in 5 minutes or less:
Write the first letter of each item on the index cards. Make sure you pick items that have first letters that match the most common sound of that letter. Things like "phone" or "ice cream" will confuse them!
Make sizable balls with the Play doh, one for each index card and place them beside the index card.
Put all the small items in the bag.
Invite your child to play:
I'm sure the set-up laid out before your child is sure to inspire and delight them. To invite them to play share your Bag of Letter Sounds. As you pull items out, one at a time, invite your child to search for the sound they hear at the beginning of the word, then find the matching letter on the ground. Once they find the letter that makes the correct letter sound they can jump, hop, or STOMP the Play-doh ball next to it!
Here is an example from our letter sounds play.
Me: What's this? A hammer. What sound do you hear at the beginning of the word hammer?
Big Sis: /h/ /h/ Hammer.
Me: What letter makes the /h/ sound?
Big Sis: The H!
Me: Alright, let's stomp the H!
If your child doesn't know a letter sound, remind them. No big deal. We love to sing this song we heard from a Leap Frog toy, "The B says /b/. The B says /b/. Every letter makes a sound. The B says /b/." If they don't know any letters, start with 2-3 objects. You can always simplify a game so they can still get important practice in with beginning sounds without knowing many letters!
For more fabulous hands on letter learning you'll definitely love The Hidden Object Game
and for a clever letter writing activity, check out Toy Rescue by familyedventures.com
When should my child know all their letter sounds?
I don't rush in to teach letters and sounds to kids before they're 4 years old, and even then, I go SLOWLY. Some show interest much earlier, and I've even heard of 2 year olds naming all their letters and sounds, but that's NOT the goal.
My goal as a teacher is to create a learning environment where kids LOVE learning from a young age. I seek to provide learning though play and hands on learning activities that make kids active agents in their education. Like I said, you wouldn't get an beginning sound worksheets here!
At 4 years old I would introduce letters, first ones in your child's name. Pick out 5 new letters to learn at one time, because visual overwhelm staring at 26 new abstract symbols on a page is NOT going to help your child learn.
In the Montessori philosophy, letter sounds are taught before letter names! I teach the letter names first, but I have always admired the Montessori way as it makes sense for learning to read, especially when some letters have names that don't correspond to their sound: C, H, W, Y.
As you work on your target letters, you can also teach the corresponding letter sounds. I find this is easier than waiting till your child knows ALL the letter names. At the end of Pre-K, kids should be able to write their names and name some letters and sounds.
If they're going into Transitional Kindergarten, that is more than enough. From my personal experience, going into Kindergarten, kids should know at least 10 letters and sounds to be on par with curriculum.
Mastery of all the letters and letters sounds should happen by the end of kindergarten! Did you think it was earlier? Later? Though we see many posts about people who have 3 year olds reading, that doesn't necessarily mean those kids will end up more advanced or better off?
It's also hard not to compare our own kids to those shiny moments on social media. But let this guide you, if you're making learning FUN and it's a time where you're really present to connect with your child, you're on the way to helping creating a LIFELONG learner.
The kids who do better in school are not the ones who could read by 3; they're the ones who LOVE learning.
Hands-on Learning: Ensure kids LOVE learning
"Tell me and I forget, teach me and I may remember, involve me and I learn."
Xunzi, Chinese Philosopher
Fun, Simple Learning
In The Fun Club all our activities are Hands-on learning experiences and games. Every Sunday, Fun Club Members get their weekly activities packet via email. Inside are 5 incredibly fun, learning activities crafted just for 4-5 year olds by a TK and Kindergarten teacher.
The activities are:
Simple
Hands-on FUN
Under 5 minutes prep
Bursting with learning
Easy to differentiate for different levels
Based in foundational skills: literacy, math, social emotional skills
Can be done in 20 minutes or less, perfect for their attention spans!
Each month has a mini supply list of things you'll probably already have: blue tape, Post-its, things like that and our members have a support community where they have access to a teacher, all the time! Don't hesitate to ask things like, "Is this normal?" "My 5 year old writes their letters backwards, should I correct that?" "What do I do when they can't sit still?" Yup, I'm here for all of it.
If you're someone who wants to connect with your child by doing awesome activities that will make them think you always have something new and fun up your sleeve, The Fun Club is the place for you.
Have questions? Email [email protected]
Letter sounds come right after learning letter names in reading. While some kids are naturally inclined to learn letters from a young age, others take longer and that's okay.
My mission is to making learning how to read (and that definitely includes learning letter sounds) fun and hands on. So if you're looking for a letter sounds worksheet or some alphabet flashcards, this isn't the place.
Instead I'm going to show you my most favorite, hands-on learning games to teach your child letter sounds so that they're just as excited about the alphabet as I am (that's super excited...ahem...kindergarten teacher).
10 Hands-on Games to Teach Letters and Letter Sounds:
All you need are some Post-its, a fly swatter (or a hand), and you're ready to go. Call out letter names or letter sounds and have your little one jump and swat the letters. You can use numbers too!
Find the letter by its sound
Letter Sounds Toy Rescue!
Hide toys around the house or even just on a door with blue tape. Invite your child to play by telling them that the Toy Thief has stolen their precious toys and they, and they alone must rescue them.
At the rescue station, toys must be matched with their beginning sound, reinforcing the letter sounds while also working on phonemic awareness!
Match the letters to their sounds
Rescue the Letters:
Got salad tongs? Blue tape? Any container? Combine with letters for this fun challenge!
It's simple, really...call out the letter sound and have your child pluck the corresponding letter from the container below, maneuvering through the blue tape.
It's a wonderful chance to practice fine motor skills as well!
Active kids don't like to sit to learn. Try Letter Sounds Stomp to get your child smashing their way to all their letters and sounds.
Letter Sounds Stomp
Got some tricky letters that continue to confuse your child? Pick out those 5 or so letters and place them on Post-its for this surprising little game that kids love!
Practice letter sounds and reveal a surprise
Much like my very viral Pinterest post for teaching Sight Words, you can place letters on Post-its, lining them up with a muffin pan.
Throw the poms poms at the muffin pan and yell the letter name and sound! Kids and adults love this hands-on learning game that happens to also improve your aim.
Loving letter sounds yet?
Letter Sounds Post-it Hunt:
Pick out those target letters your child is working on and write them separately on a piece of construction paper. Hide 4 Post-it notes of the same letter around your home and have your child seek out those Post-its.
As your child matches the Post-it letter to the matching construction paper letter, they say the matching letter sounds!
Bear's Bag:
Surprise, your favorite stuffed animal is going on a trip, but you need to pack some intriguing objects for it!
Place different letters in a bag. Take turns pulling out different letters and searching around the house that you can pack that begin with that letter sound.
Place the item with the letter and pack them for Bear's trip! Bon Voyage!
Learn letter sounds as Bear packs for a trip!
Got some blue painters tape? Create some zig zags for your child to traverse. Along the way, place some Post-it notes with letters on it.
Give your child a way they must cross the path: tip toe, jump, hop on one leg, walk, skip.
Each time they come to a letter, they need to stop, name it, and say it's letter sound.
Do your kids love trains and cars? They can even use their vehicles to traverse the zig zag path encountering letters as train stations or stop lights.
Letter Sounds Movement Game
Alphabet Basketball:
I love this letter sounds game with a fine motor twist from School Time Snippets.
Alphabet Basketball Letter Sounds Game
Noisy Letter Jump Phonics Game:
Take the fun outside with some chalk and play this silly, active hands-on learning game from The Imagination Tree, a super awesome UK mama!
I can still remember the Easter activities we did in preschool from when I was 3 and 4. My family didn't celebrate Easter and I was completely enthralled by the magical activity of hunting for eggs all around the preschool campus.
As a teacher, I got my hands on those magical Easter Eggs, because they're full of so much hands-on learning potential for teaching lots of kindergarten and preschool skills like numbers, letters, and fine motor skills.
Our family celebrates Easter now and as a mother, I wanted to harness the magic of the Easter Egg for some incredible Easter activities for my preschoolers. So Glowing Alphabet Easter Eggs were born... um, I mean laid?
*As an Amazon affiliate, I may get a small commission for purchases made through links in this post.
Making the "Glow Up Eggs"- An Easter Activity for Preschoolers
What you'll need for this Eggscellent Easter Activity for Preschoolers:
Easter Eggs - these are ideal because they're all light colors which will heighten the GLOW factor
Mini glow sticks - if you click this link, the second picture is glowing Easter Eggs!
A bag or Easter basket of sorts for collecting the eggs
Paper
Marker
Scissors
Simple Prep:
On a piece of paper write the alphabet in all capital letters. Then on a separate sheet of paper, write the
Alphabet Easter Activity for Preschool
alphabet again. If you're doing this Easter activity with toddlers, I suggest only choosing maybe 5 letters to hide over and over again in the Easter eggs and keep them all capital. I would start with the letters of their name!
Since we were playing this Easter game with a preschooler and a toddler, I chose to put lowercase letters in the eggs, but you can use all capital letters, or like I suggested, limit the number of letters to be less overwhelming to your child.
Cut out small strips from the paper with the second alphabet written on it.
Then, comes the really satisfying part. Crack 26 mini glow sticks for what will soon be the coolest Easter activity your preschooler has ever seen.
In each egg, place one one letter and one glow stick.
Once you've got all the eggs ready and glowing, you're ready to hide them for your preschooler to find.
Ready for your Preschooler's New Favorite Easter Activity?
Once you've hidden the eggs in a dark room, make sure to clear the space of any tripping hazards. Always practice caution and even if it makes the glow a little less magical, it's best to keep a small source of light on so no one gets hurt!
Set expectations before you start. Where do you want the children to collect the eggs? Are they allowed to run? Should they wait before cracking them? It's all up to you, but I found that being specific with my expectations during the game allows everything to go much more smoothly.
Ready, set, Easter Eggs are a go!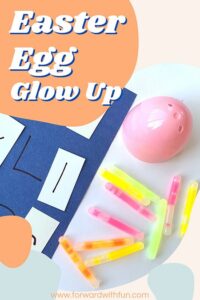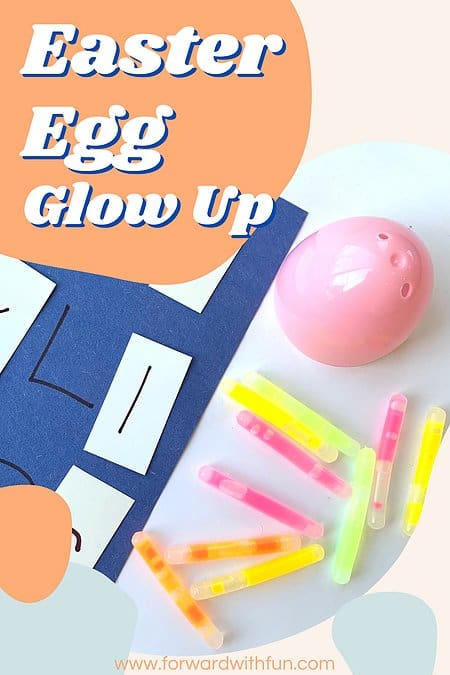 Where is the learning in this preschool Easter activity?
I'm always looking to embed learning in play. Think about it. If your children's first memories of learning letters are through playful, enchanting memories like this spectacular activity, they're going to have a positive association with letters and with learning as a whole.
I'm never pushing my kids into learning letters at an early age. In fact, they're the ones asking me to create learning activities for them, because while we are learning, we are playing together, connecting, creating, and making memories. This is our special Mama and Me time.
Letters are the forefront of this preschool easter activity but there is a lot of other learning that happens here too. Kids are:
using positional words to discuss the locations of the eggs as they search for them
developing fine motor skills to open the eggs (and probably also to close them as they get ready for round 2)
discussing colors of the glow sticks and the eggs
potentially counting how many eggs there are
matching letters (either lowercase or capital) to the ones on the paper
Alphabet Fun with Easter Eggs
Pro tip: Including an imaginative play element will always increase engagement in the learning activity with preschoolers!
When all the eggs are found and my preschoolers were ready to match the letters, we used our imagination to "hatch" the baby letters from the eggs. The baby lowercase alphabet were eager to find their parent, the matching capital letter.
My kids were so enchanted by the soft glowing eggs, we must have played this 6 times more after the initial alphabet puzzle was completed.
Just because Easter Sunday only comes about once a year, doesn't mean the egg hunt only gets to happen once a year. Whether you're setting up this Easter activity for your preschoolers, toddlers, or kindergarteners it is sure to delight them.
Bonus points if you have a glow stick dance party afterwards!