Hands on learning is my secret to teaching reading so kids are never bored!
I NEVER use workbooks or worksheets.

When I say "hands on learning," I mean any kind of learning where your child is actively participating in creating new knowledge or solving a problem. This is also called learning by doing. From your own childhood, did you ever really learn something from a worksheet? I remember the projects, the games, the activities that got me and my classmates up and moving, creating, and solving problems.

Hidden Object is a hands on learning game that combines reading skills with a fun, element of surprise.
How to Play Hidden Object- A hands on learning game:
What you'll need-
5 opaque containers, like cups or bowls.
Post-Its
Marker
1 small, special object of your choosing
Version 1, Letters and Letter Sounds:
On the Post-its, write the letters your child is learning. If you're child is just starting to recognize letters, I recommend starting with the letters of their name.
In this version, children will either say the letter name or the letter sounds as they lift each bowl on the hunt for the hidden object.
Version 2, Reading CVC Words:
If your child has moved into reading, try sight words or CVC words in a particular word family (on example is the AT word family with words like cat, rat, bat, sat, etc).

Another idea would be to include words that have a new sound they've just learning like digraphs: sh, wh, th, and ch.
Invite your child to play:
Say, "I've hidden a special object under one of these containers. Before you check under the container you must read the letter or word on that container's note."
Remind your child to read the letter or word before they can look under the container for the hidden object.
Once they find the hidden object, have them close their eyes and start again!
Hands on Learning at all levels of literacy:
This simple hands on game can be used for so many different skills: letter sounds, letter identification, sight words, CVC words, digraphs, etc.
In this instance, Big Sis was practicing reading CVC words (consonant vowel consonant words) that had different vowels in the middle. If I notice her struggling with a specific vowel or letter sound, I would put more words with those sounds on the Post its.
Hands-On Learning Games + Reading Comprehension:
Whenever I discuss early literacy skills like reading CVC words and sight words, I want to reinforce that all the games and wonderful activities are only part of the reading puzzle. The biggest thing you can do for your child to have success with reading from an early age is read to them everyday.
Guiding questions as you read aloud with your child:
What kind of letters do you see
What words?
Who is in the story?
What's the problem in the story?
Take a look through a book before reading and see if the pictures give you clues as to what might happen.
Make predictions as you go along.
Retell or sequence events in the story
Like teaching your child through hands on learning games? Want to teach you 4-5 year old to read using hands on learning? Check out The Fun Club! Subscribe for a free week of activities right now!
I can still remember the Easter activities we did in preschool from when I was 3 and 4. My family didn't celebrate Easter and I was completely enthralled by the magical activity of hunting for eggs all around the preschool campus.
As a teacher, I got my hands on those magical Easter Eggs, because they're full of so much hands-on learning potential for teaching lots of kindergarten and preschool skills like numbers, letters, and fine motor skills.
Our family celebrates Easter now and as a mother, I wanted to harness the magic of the Easter Egg for some incredible Easter activities for my preschoolers. So Glowing Alphabet Easter Eggs were born... um, I mean laid?
*As an Amazon affiliate, I may get a small commission for purchases made through links in this post.
Making the "Glow Up Eggs"- An Easter Activity for Preschoolers
What you'll need for this Eggscellent Easter Activity for Preschoolers:
Easter Eggs - these are ideal because they're all light colors which will heighten the GLOW factor
Mini glow sticks - if you click this link, the second picture is glowing Easter Eggs!
A bag or Easter basket of sorts for collecting the eggs
Paper
Marker
Scissors
Simple Prep:
On a piece of paper write the alphabet in all capital letters. Then on a separate sheet of paper, write the
  Alphabet Easter Activity for Preschool
alphabet again. If you're doing this Easter activity with toddlers, I suggest only choosing maybe 5 letters to hide over and over again in the Easter eggs and keep them all capital. I would start with the letters of their name!
Since we were playing this Easter game with a preschooler and a toddler, I chose to put lowercase letters in the eggs, but you can use all capital letters, or like I suggested, limit the number of letters to be less overwhelming to your child.
Cut out small strips from the paper with the second alphabet written on it.
Then, comes the really satisfying part. Crack 26 mini glow sticks for what will soon be the coolest Easter activity your preschooler has ever seen.
In each egg, place one one letter and one glow stick.
Once you've got all the eggs ready and glowing, you're ready to hide them for your preschooler to find.
Ready for your Preschooler's New Favorite Easter Activity?
Once you've hidden the eggs in a dark room, make sure to clear the space of any tripping hazards. Always practice caution and even if it makes the glow a little less magical, it's best to keep a small source of light on so no one gets hurt!
Set expectations before you start. Where do you want the children to collect the eggs? Are they allowed to run? Should they wait before cracking them? It's all up to you, but I found that being specific with my expectations during the game allows everything to go much more smoothly.
Ready, set, Easter Eggs are a go!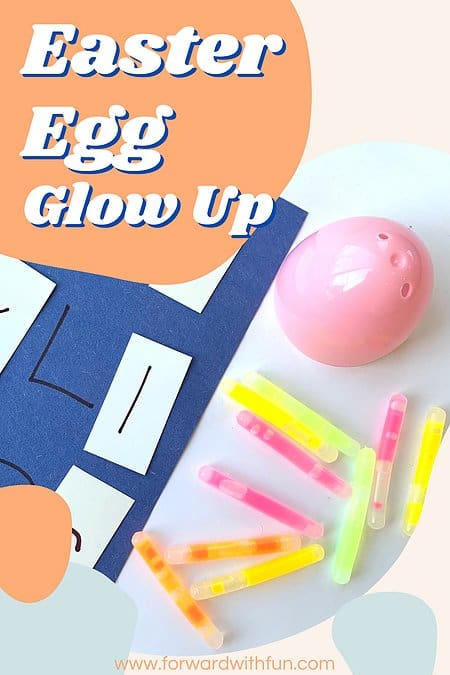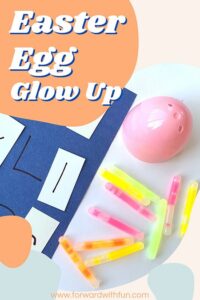 Where is the learning in this preschool Easter activity?
I'm always looking to embed learning in play. Think about it. If your children's first memories of learning letters are through playful, enchanting memories like this spectacular activity, they're going to have a positive association with letters and with learning as a whole.
I'm never pushing my kids into learning letters at an early age. In fact, they're the ones asking me to create learning activities for them, because while we are learning, we are playing together, connecting, creating, and making memories. This is our special Mama and Me time.
Letters are the forefront of this preschool easter activity but there is a lot of other learning that happens here too. Kids are:
using positional words to discuss the locations of the eggs as they search for them
developing fine motor skills to open the eggs (and probably also to close them as they get ready for round 2)
discussing colors of the glow sticks and the eggs
potentially counting how many eggs there are
matching letters (either lowercase or capital) to the ones on the paper
Alphabet Fun with Easter Eggs
Pro tip: Including an imaginative play element will always increase engagement in the learning activity with preschoolers!
When all the eggs are found and my preschoolers were ready to match the letters, we used our imagination to "hatch" the baby letters from the eggs. The baby lowercase alphabet were eager to find their parent, the matching capital letter.
My kids were so enchanted by the soft glowing eggs, we must have played this 6 times more after the initial alphabet puzzle was completed.
Just because Easter Sunday only comes about once a year, doesn't mean the egg hunt only gets to happen once a year. Whether you're setting up this Easter activity for your preschoolers, toddlers, or kindergarteners it is sure to delight them.
Bonus points if you have a glow stick dance party afterwards!