When introducing the concept of measurement to children, we always start with non standard measurement.
At the ages of 4-6, children understand the concept of short, long, taller, etc but they usually have no understanding of centimeters and inches, making those standard units of measurements too abstract for them.
So in preschool and kindergarten we introduce units of measurement that kids can really wrap their minds around. Usually those are regular household objects and toys.
Measuring is a practical skill that kids use when pouring water, comparing who had more cookies, determining who is taller, etc. In this activity kids delve in deeper to understand measurement of length and height with non standard units!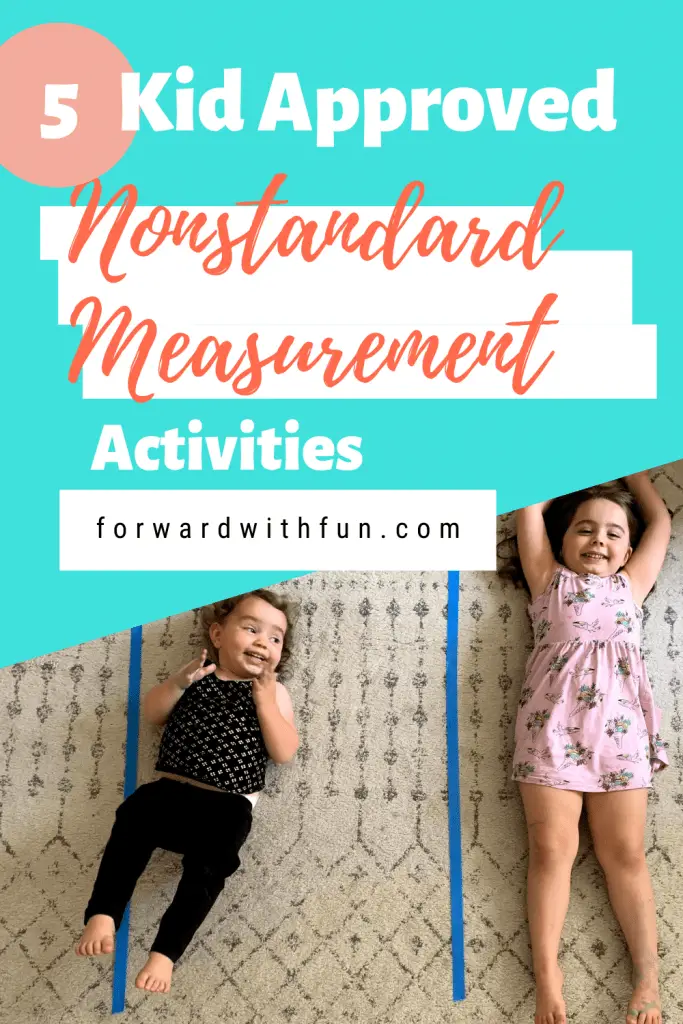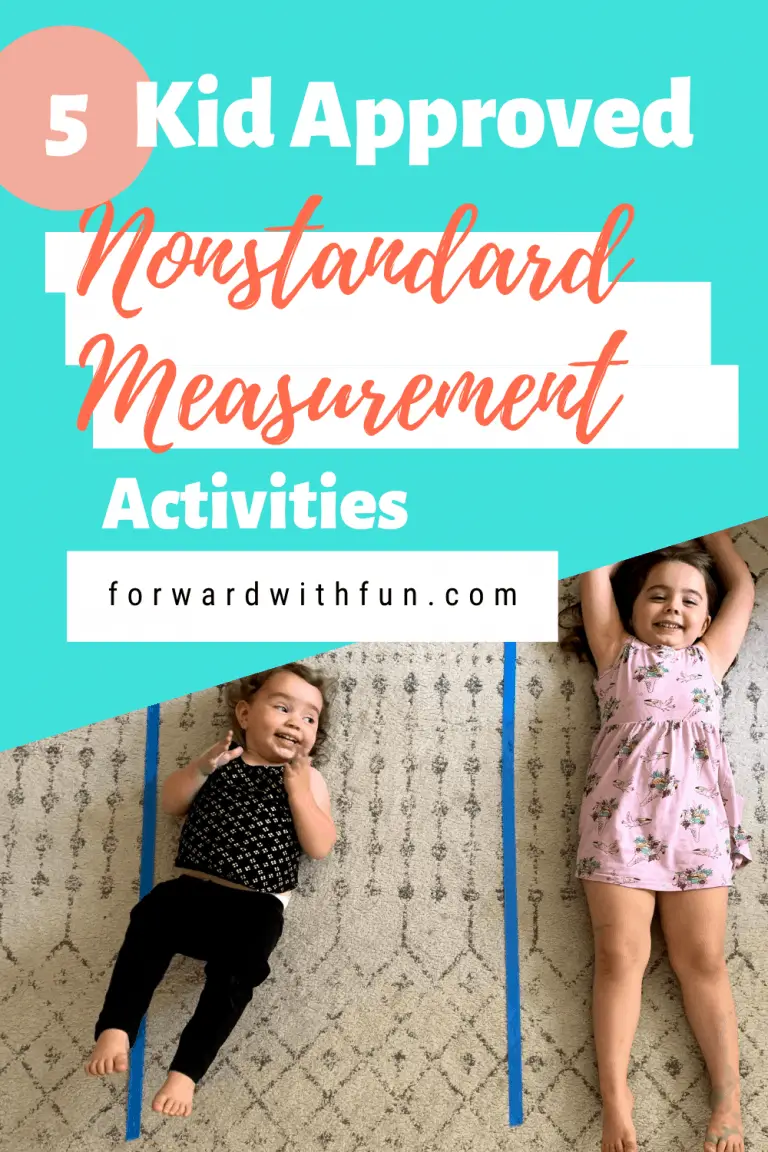 What's the difference between standard measurement and non standard measurement?
Though measuring length is usually the first thing that comes to mind when we think of measurement, there are actually multiple types of things we measure. Here are some of the standard units we use for these measurements:
weight - kilograms, pounds
capacity - number
volume- cubic ft, liters, cup
area - square ft, square meter
length- inches, feet, centimeters, meters
Adults are used to pulling out a ruler, measuring cup, or using a scale to measure things. Usually we can visualize something close to a foot or a cup, if we needed to estimate. But children do not have that awareness yet, so instead teach them to measure with non-standard measurement unit.
These non-standard units can be anything but are best when the child selects them and are of high interest: shoes, lego pieces, stickers, race cars, etc. The one thing that they MUST be is uniform in size.
A child cannot measure their height in legos and markers! Instead one unit needs to be used at a time and lined up end to end, just as we would do when measuring with a ruler.
When do children begin to use standard measurement tools like rulers?
In the United States, the common core standards introduce standard measurement in second grade.
CCSS.MATH.CONTENT.2.MD.A.1
Measure the length of an object by selecting and using appropriate tools such as rulers, yardsticks, meter sticks, and measuring tapes.
Before then, kids are expected to understand the concepts of measuring objects without using standard measurement tools, like in this first grade standard:
CCSS.MATH.CONTENT.1.MD.A.2
Express the length of an object as a whole number of length units, by laying multiple copies of a shorter object (the length unit) end to end.
5 Ridiculously Fun Non Standard Measurement Activities for kids
In each of these activities, kids use objects instead of rulers to measure length. There are a few rules for measuring precisely that kids should follow when lining up their nonstandard units:
no gaps
no overlaps
make a straight line
1. Measuring Me in Household Objects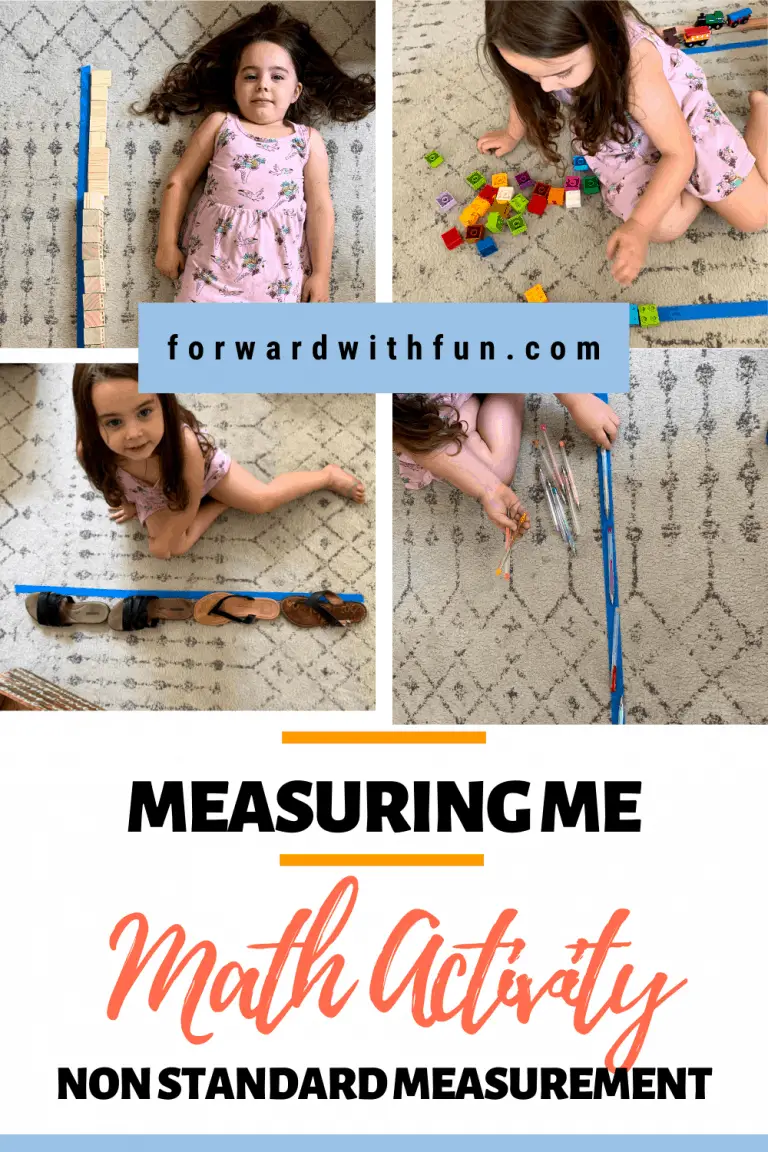 To play "Measuring Me," you'll need blue tape and access to items around the home that are (mostly) uniform in length. Some ideas are shoes, blocks, markers, crayons, envelopes, etc.
Have your child lie down and mark their height with a length of blue tape.
Ask them to pick out one type of object of uniform size to use as their non standard unit of measurement: their shoes, markers, race cars, envelopes, crayons, etc.
Have them line up the items one by one along their length of blue tape. It's important that they practice placing objects end to end without gaps to get an accurate measurement.
As they reach the end of lining up the objects, have them count the total number. They are that many markers or race cars tall!
Try again with different objects, and make predictions on whether or not it'll take more or less of that new unit of measurement to span the blue tape.
While you have the blue tape out, check out TAPE SHAPES!
2. Snacktivity- Measuring My Foot and Hand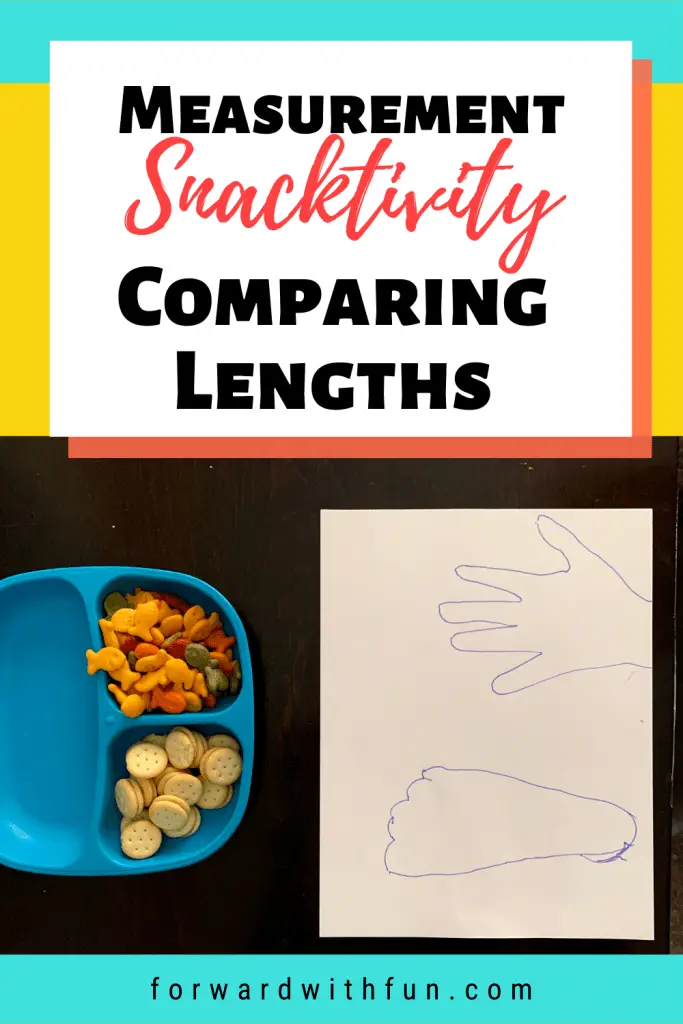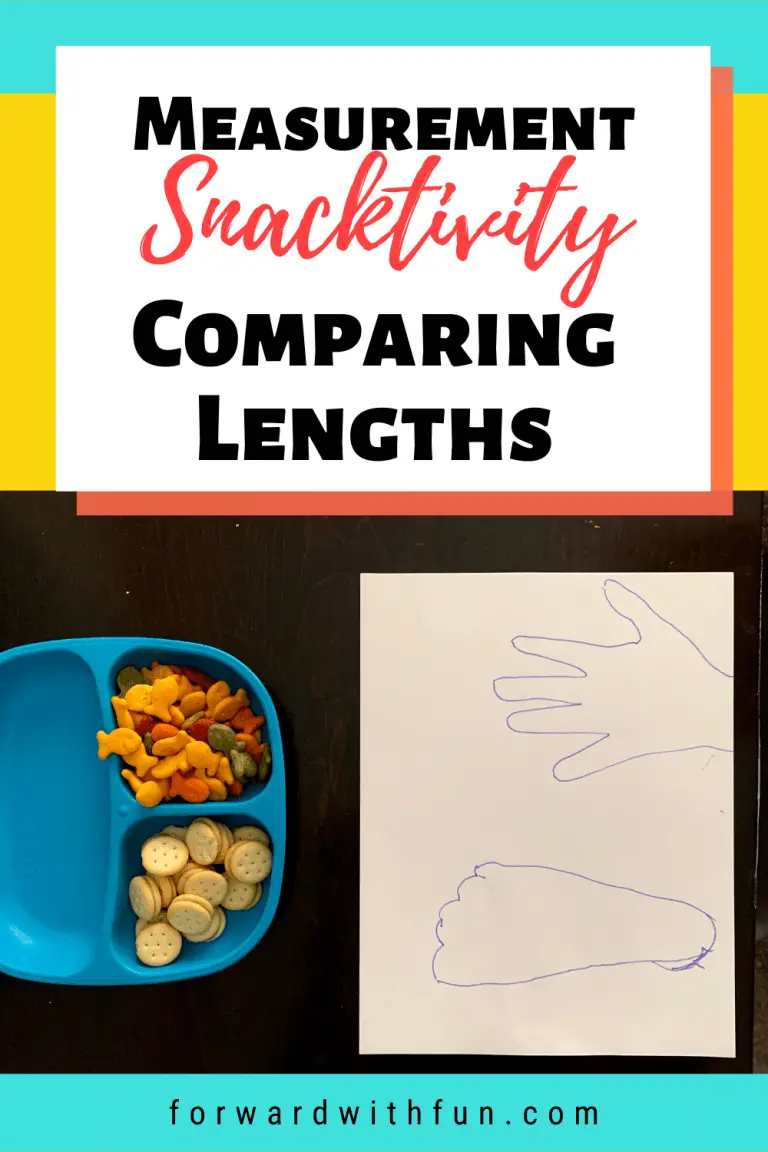 The non standard measurement unit for this activity is my favorite... snacks!

You can choose anything that is uniform in size, and I recommend items that are easy to line up end to end like pretzel sticks. Of course, a classic and fun snack to use is goldfish.
Trace your child's hand and foot on a piece of paper, and determine which one is longer.
Provide your child multiple types of snacks to measure their hand and foot with. Optional: draw a straight line from the top of their foot/hand outlines down to the bottom for more accurate measuring.
Line up those snacks and start measuring. How many goldfish long is your foot? Your hand?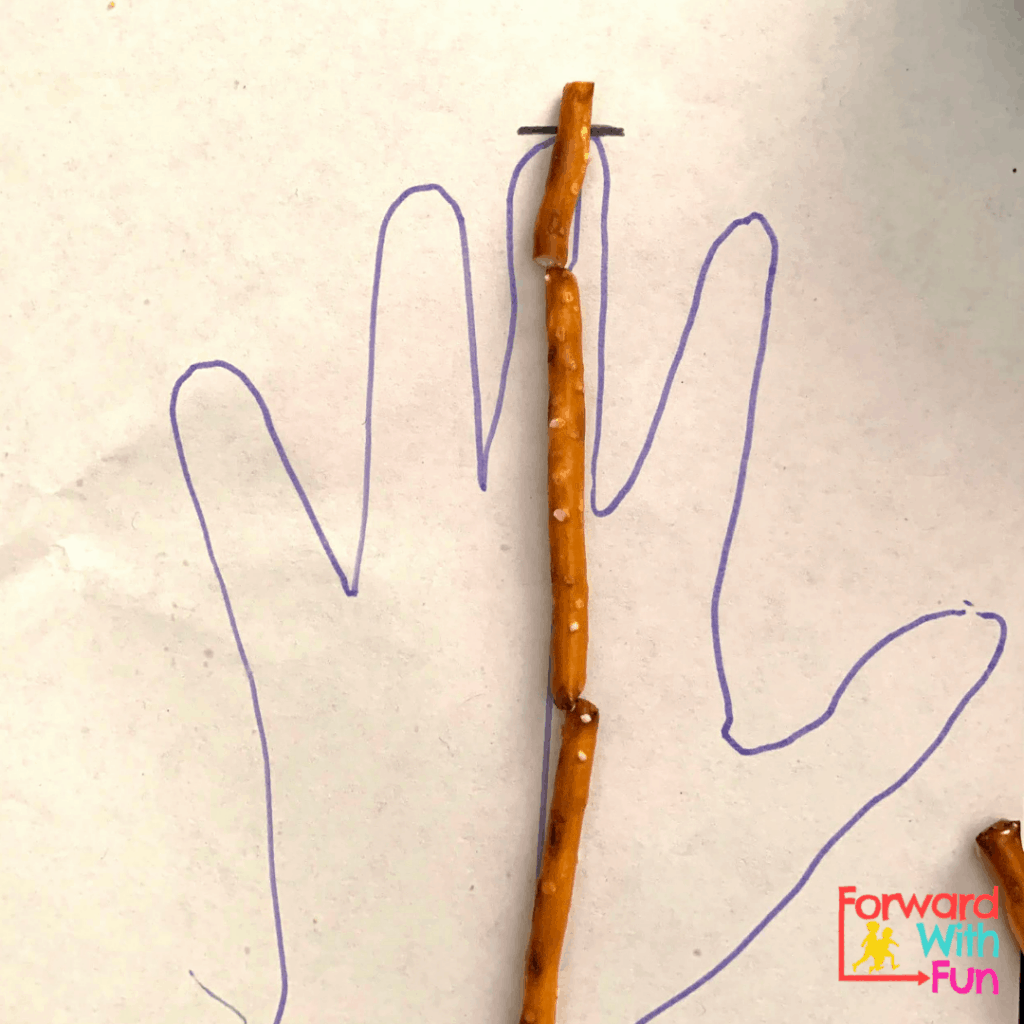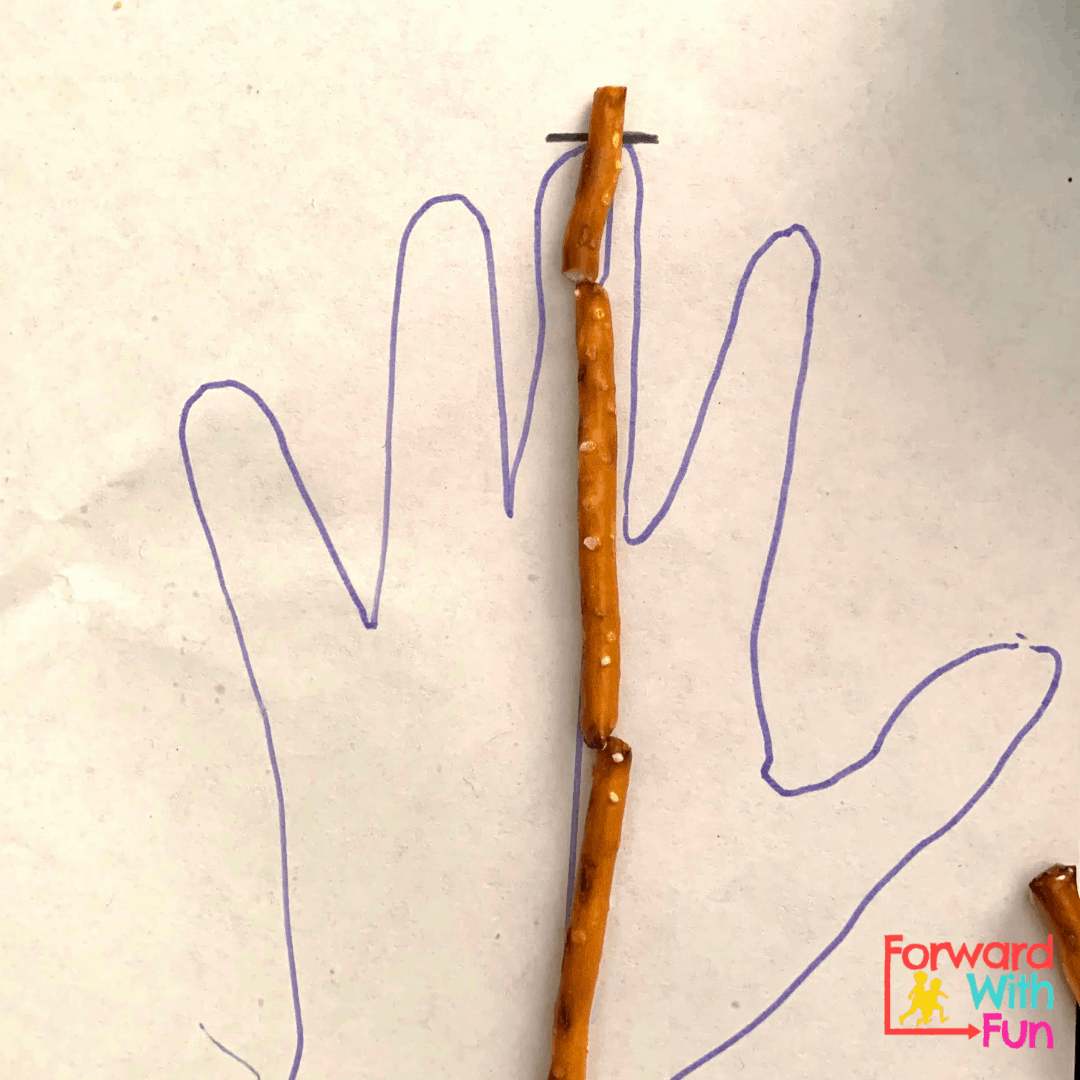 There may be opportunities to talk about halves or beginnings of fractions in case snacks don't line up exactly. You could also round up or round down...
Want another fun math snacktivity? You'll love PUNCH MATH!
3. Snowman Heights in Unifix Cubes
This is one of my favorite math centers for the winter. Kids love to see the family of snowmen and compare their heights from shortest to tallest before measuring them in unifix cubes.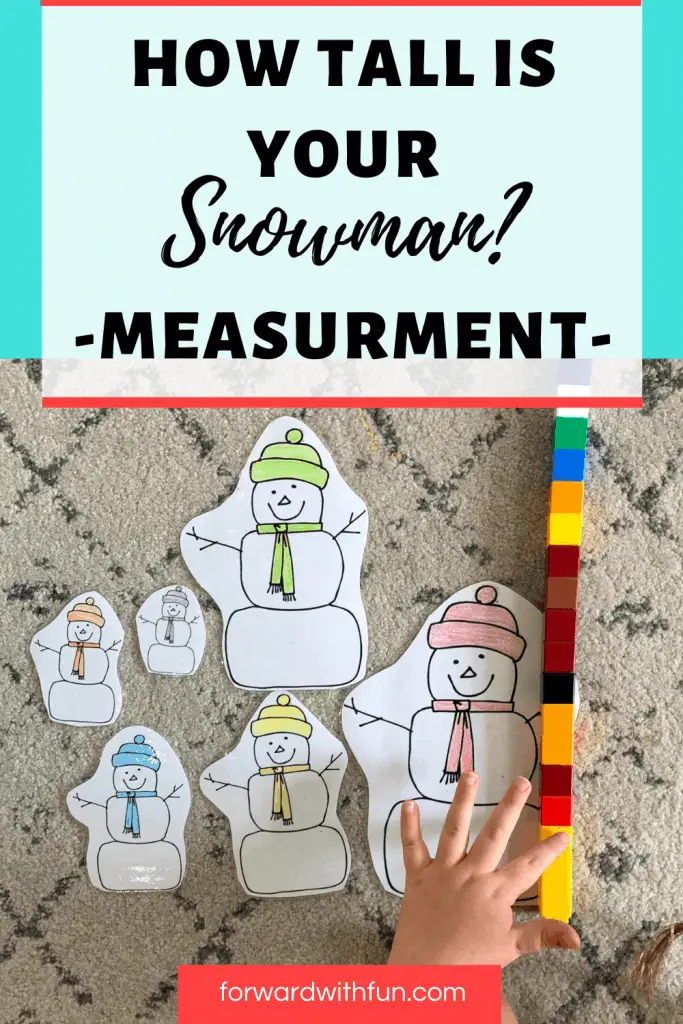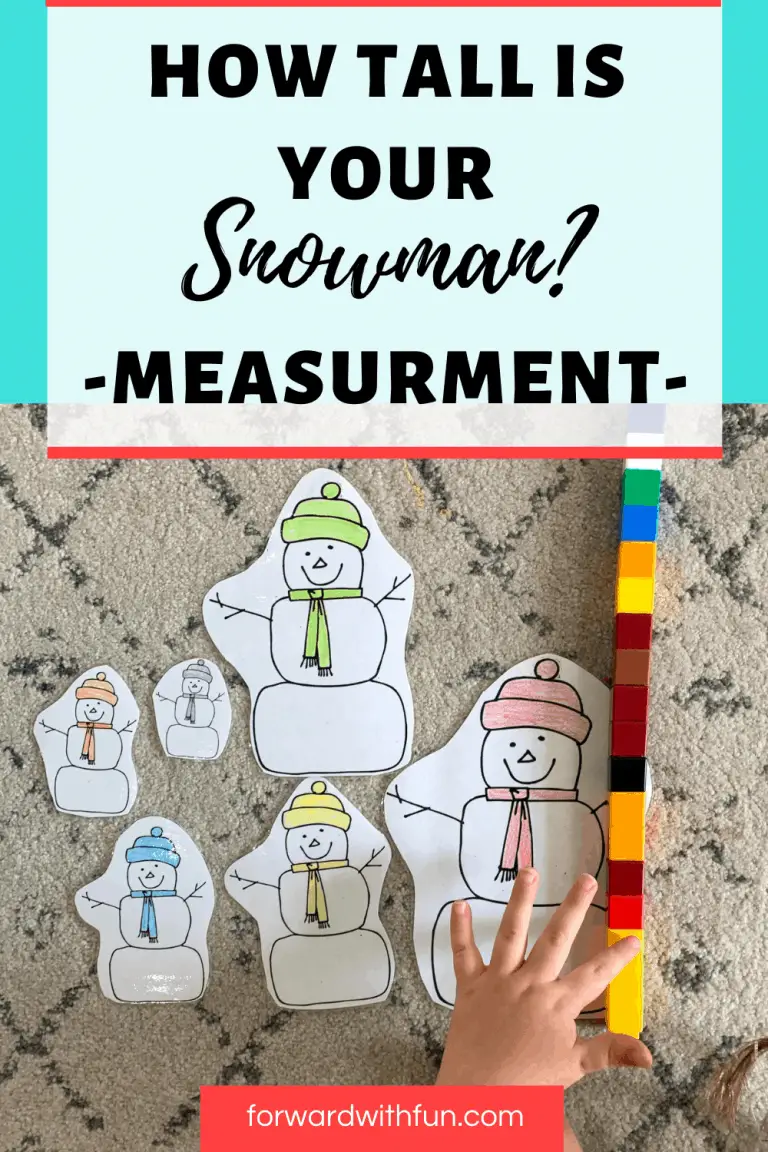 Student in this teacher's classroom measured and compared the lengths of different vegetables during a farming unit. Their teacher made them non standard bean rulers to practice measurement in a developmentally appropriate and fun fashion!
I love this simple yet genius measurement activity. Draw one straight line on a piece of paper and one crooked, anyway you choose. Have kids guess which is longer and then use paper clips to measure which one is longer.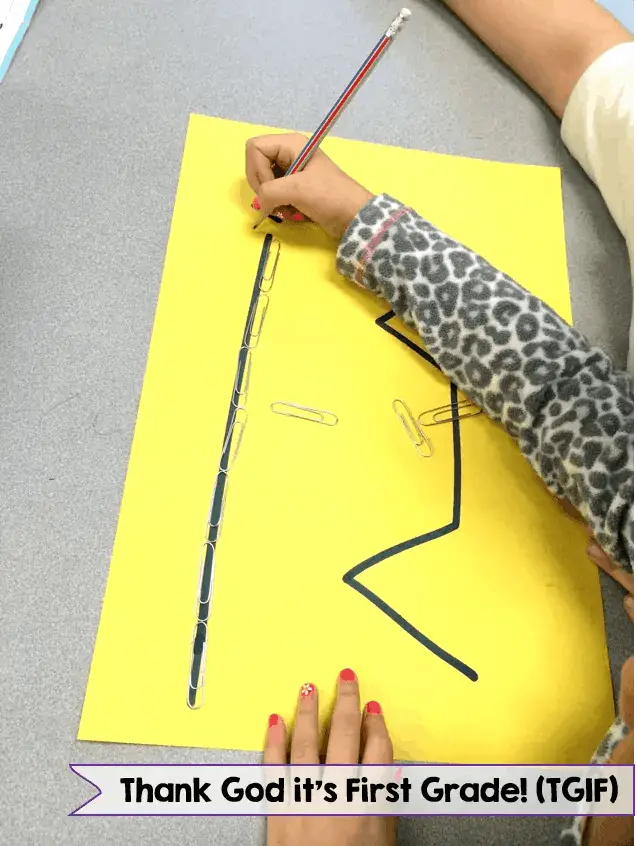 More Hands-on Learning for you...
Want a free week of hands-on learning activities that will wow your child? I'll send it right to you!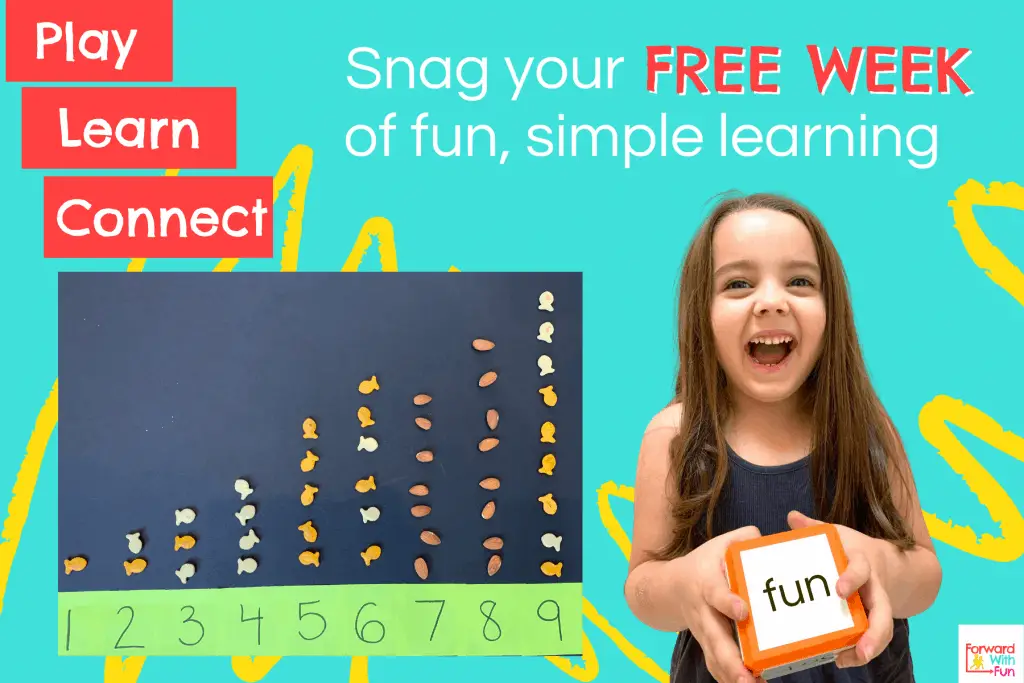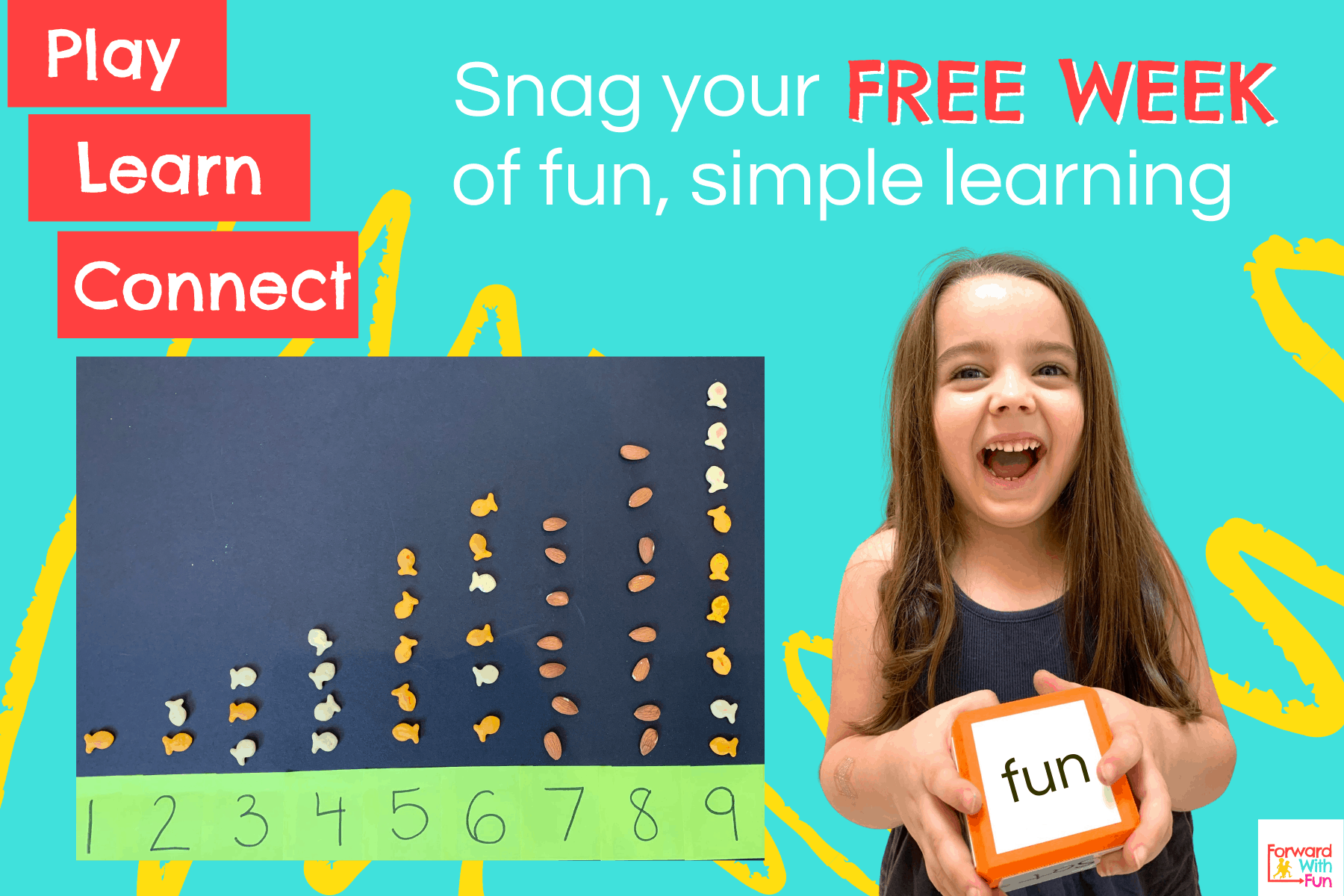 I think I traumatized one of my kindergarteners with my lesson plan on how to make a leprechaun trap.

Even 10 years later, his mother and I recount how she had to convince him leprechauns were not real, but he swore that they came to school and messed up our classroom. I'm so sorry, Dude! Just trying to do some engaging hands-on learning with the kiddos.
So be warned, that it might be a good idea to tell your child that maybe after all, it was you who tripped the trap after all.
*As an Amazon Affiliate I may make a small commission based on any items you purchase from links in this post, at no additional cost to you.
Let's make a leprechaun trap!
Before making the trap, you'll going to want to have a plan. What materials will you want to use? What object might lure a leprechaun into your trap?

This project involves so much learning from science to STEM to writing. In the first steps, kids will plan and prepare to build their leprechaun trap using my FREE How I'll Make My Leprechaun Trap printable.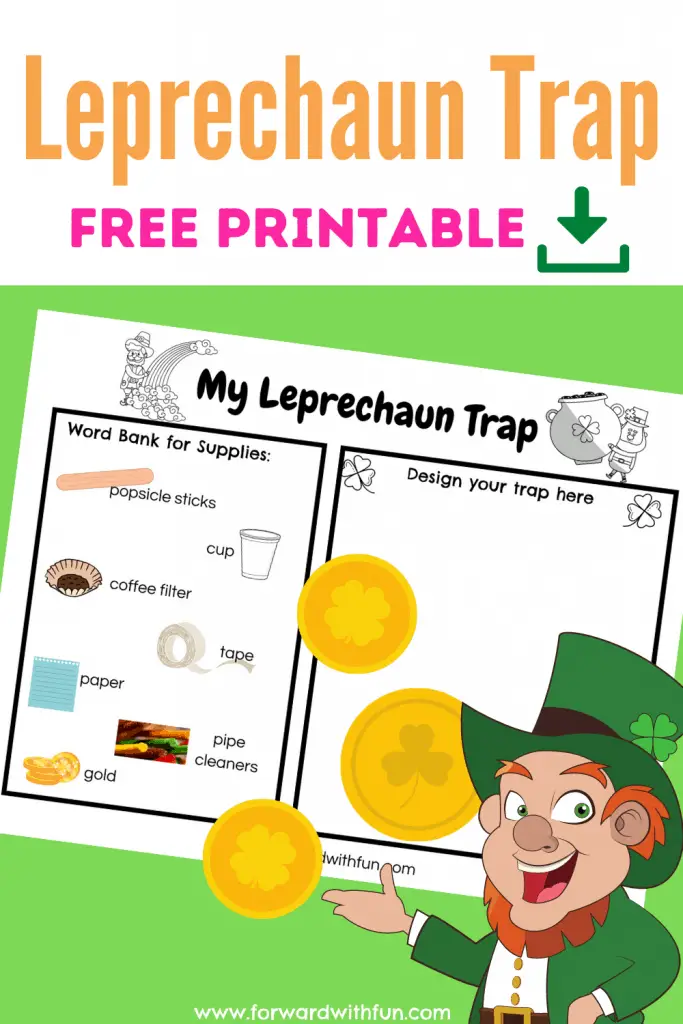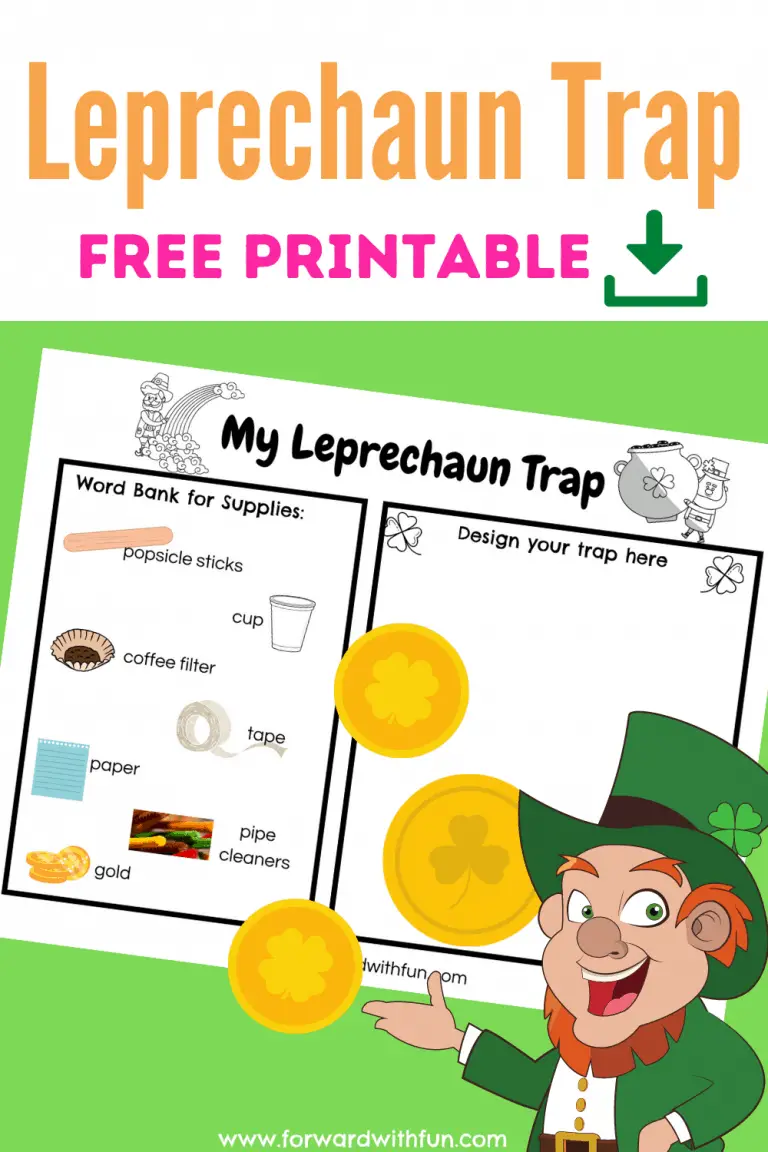 Download the printable and you're ready to make an easy leprechaun trap in minutes. If you don't have all the supplies listed on the left hand side, tell your child/students what you do have. You might want to show them the materials but not let them use them just yet.

Using the printable, have them draw a plan of what their trap will look like. What will they use to lure the leprechaun into the trap? Hopefully, something shiny!

For older kids who can already write, have them label their leprechaun trap plans so that the reader will know what materials they plan to use for which parts.

Ask your child/students, how will the leprechaun know to come to the trap. Will there be any signage to entice them to come inside?

Now let's build it!
Supplies you'll want to have handy: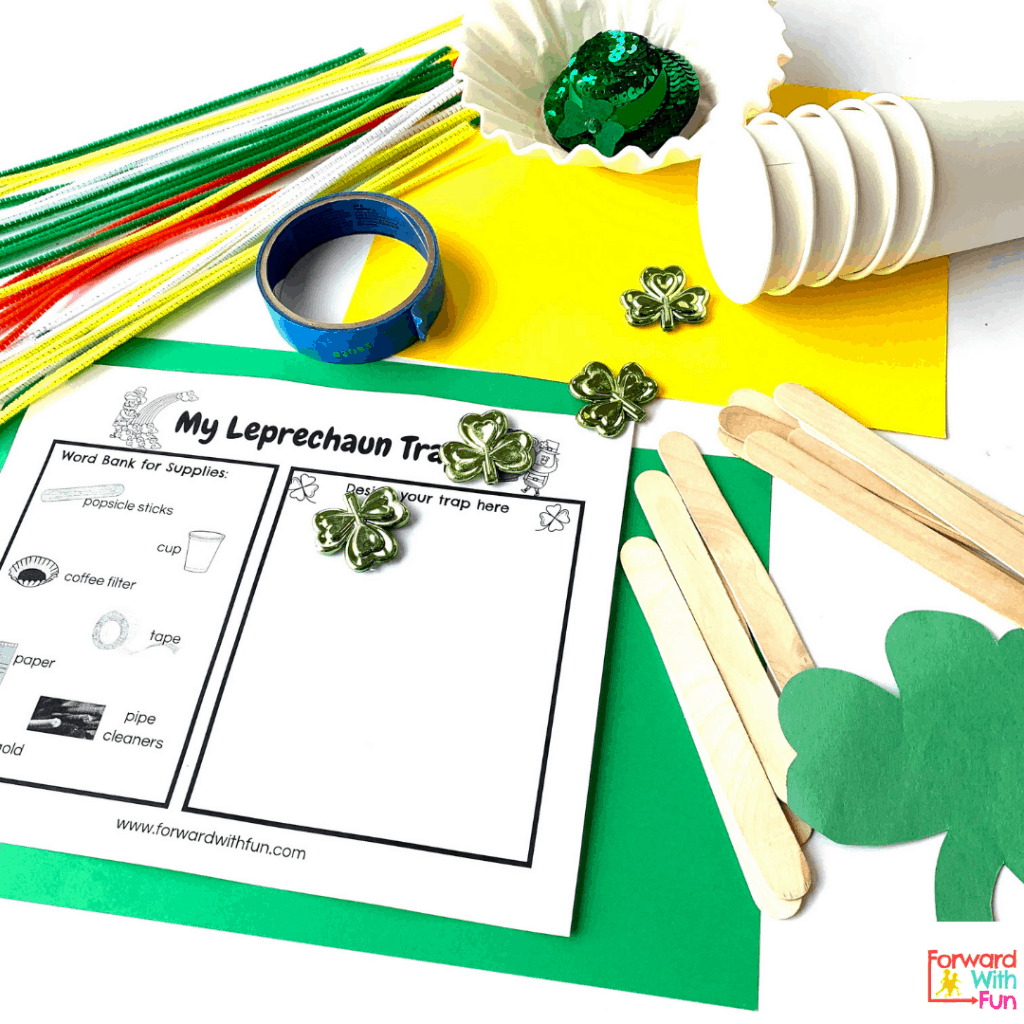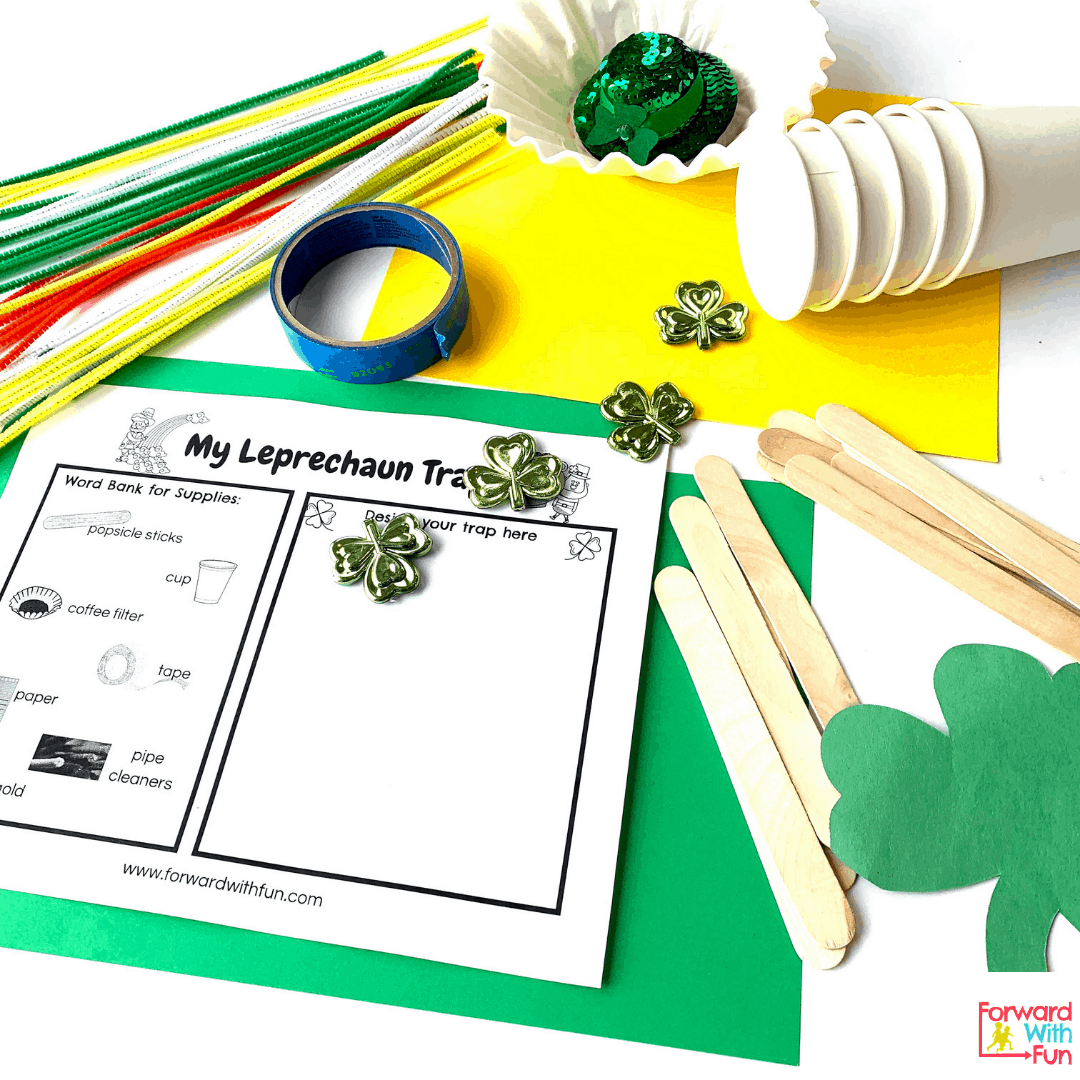 tape
scissors
coffee filters
markers
shiny object like these plastic gold coins (around St. Patricks Day, the Target dollar area may have shiny coins for cheap!)
While watching the kids build their leprechaun traps you might feel inclined to jump in and say, "Oh what about this? It would be cool if we..." but I encourage you to stop yourself and let this experiment be completely child led.

In the planning stages, we have provided the questions to provoke problem solving and the materials to inspire. This is the kids' part to be the engineers! Giving our children full creative freedom is hard, but it means that what they create is 100% their own.

Whenever I feel the urge to place value on my children's creation or make suggestions, I try to use the technique called "Say what you see." I just narrate what is happening. So instead of saying, "I love that little door you made," I might say, "You made a door out of paper." Sometimes I just try to step away and see what they'll come up with completely on their own!

These easy to make leprechaun traps will surely bring some excitement to your home or classroom. So now what do you do with them on St. Patrick's day?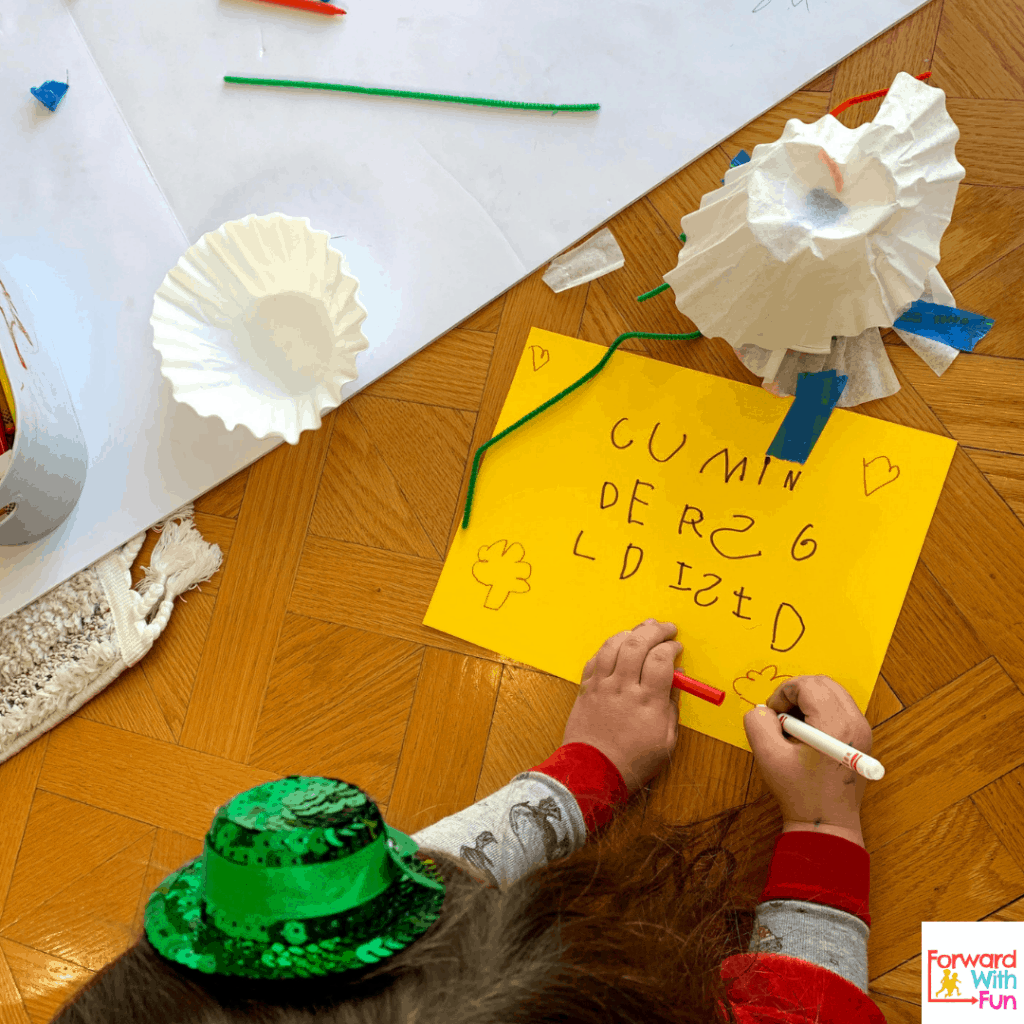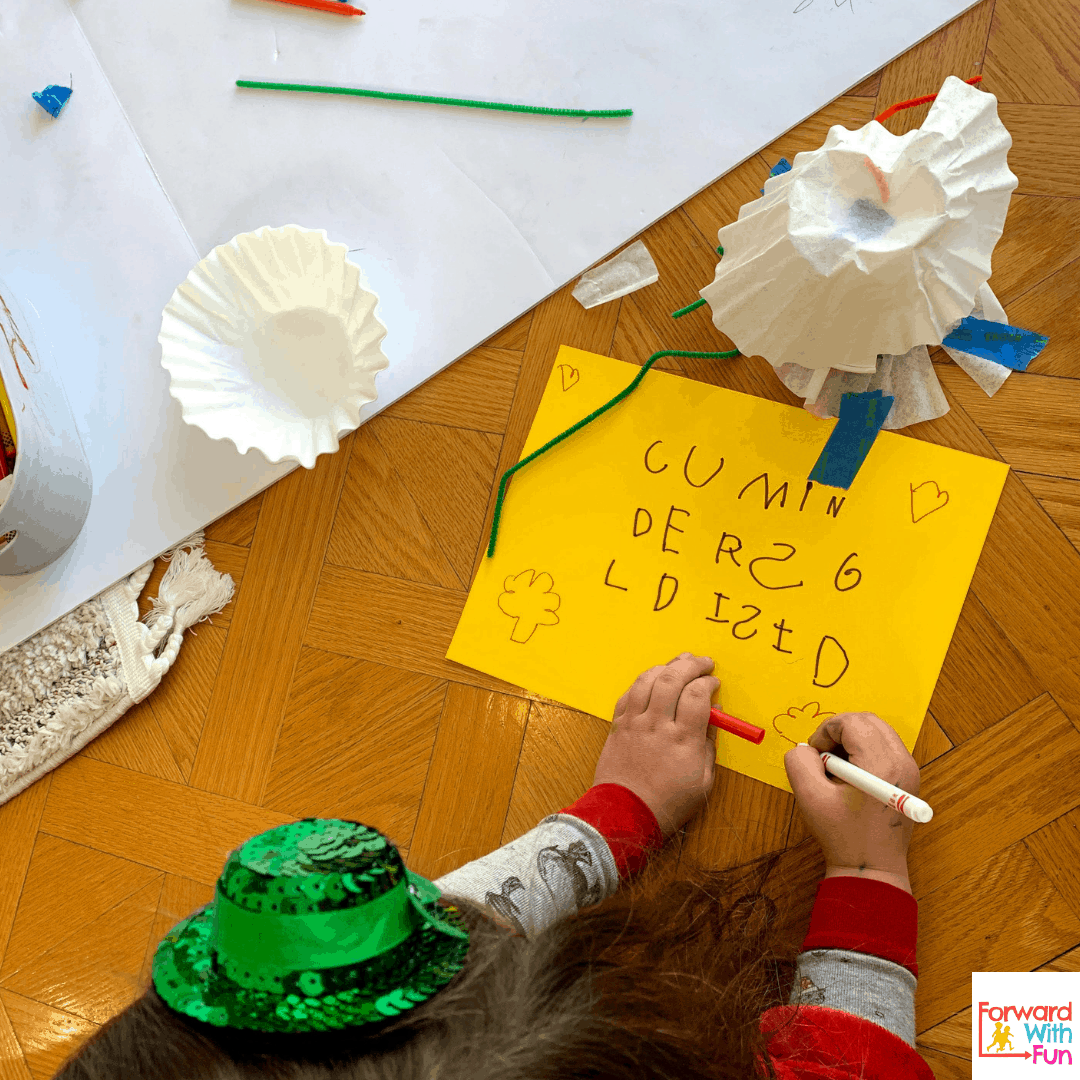 Setting and Springing your Leprechaun Traps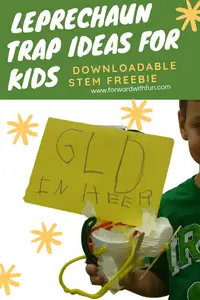 The day before St. Patrick's day, I have the kids lay their traps wherever they think the leprechauns will be searching for gold and shiny goods. I make sure that they have their lure inside the trap.

Once I'm alone, I go and snag the gold coins/lures out of each trap.

This is the kicker, the piece de resistance, that probably really made my little student frightened: the footprints. Are you unsure of how to make little leprechaun footprints around your trap?
Easy! Get some green paint. Make a fist and paint the bottom side of your fist before gently stamping it across the surface of your choosing. Then dip your pointing finger in the green paint and create little toes over the foot print. Tada, adorable leprechaun footprints, and they couldn't have been made by an adults large feet!

So yeah, it's a good prank, but if your child or students are iffy on the subject, show them how you did it!!!

The kids will flip when they see the leprechauns have sprung their traps without being caught. This is usually when I leave a little note from the leprechauns saying something like, "You almost got me!" or "Try again next year!" If you're looking for some more St. Patricks Day STEM activities, especially for the classroom, check out The Stem Laboratory!