It's a no brainer to use this adorable WANTED poster for your kindergarten winter writing project.
Gingerbread decorating is a common winter theme, along with the exploration of Gingerbread related stories, so let's keep with the theme and create our own WANTED poster.
*As an Amazon affiliate, I may get a small commission for purchases made through links in this post.
Literature based learning with gingerbread:
The Runaway Gingerbread man is a famous story, but did you know there are many stories that have runaway gingerbread characters?
My kindergartners and I love the following stories to compare and contrast the following gingerbread stories (all perfect to inspire winter writing!):
Kindergarten Winter Writing Project: My runaway gingerbread!
Before writing, students will need to create their very own gingerbread people to decorate. You can use the template from the second page of the Kindergarten Winter Writing PDF to trace the gingerbread shape onto a piece of construction paper. If you have brown printer paper, you can also print it on that.
Items you'll need to decorate gingerbread people:
googly eyes
buttons (can be stickers, real buttons, or candy -our fave)
strips of paper to add color
bows/hats cut out of paper
marker to draw details
glue
optional: glitter glue
Part 1 of Our Project: Decorate
Kids added the following to their gingerbread:
eyes
hat or a bow
stripes of one color to the hands and feet
buttons (candy)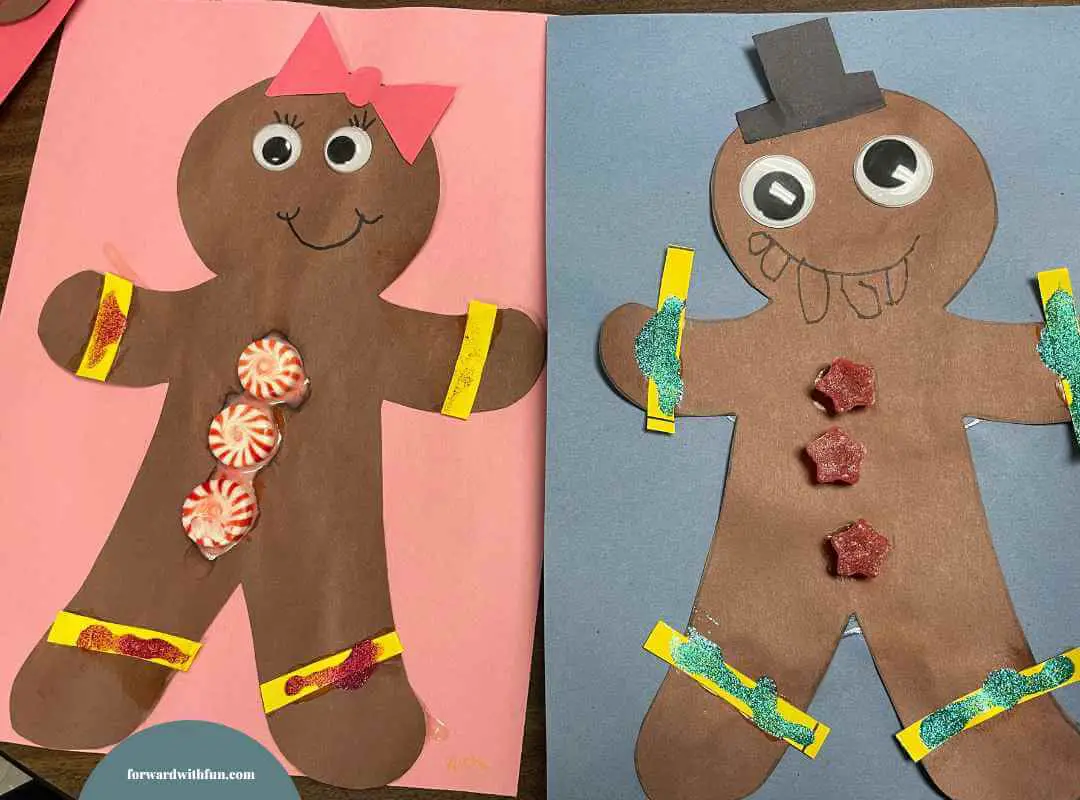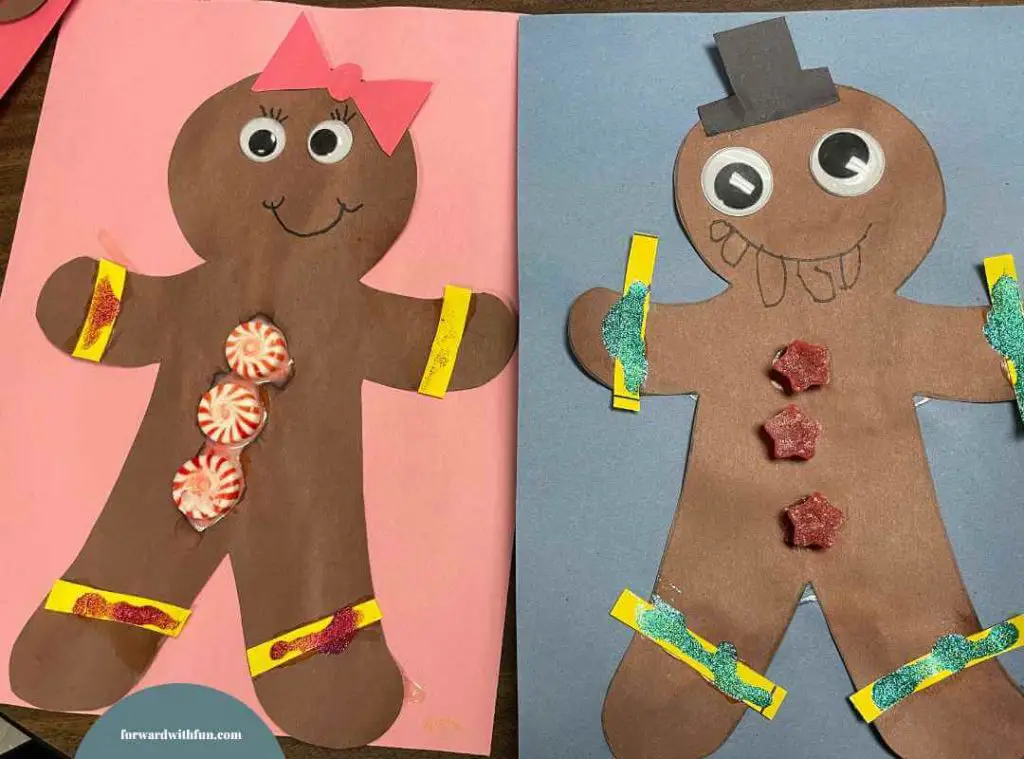 Part 2 of Kindergarten Winter Writing: Label
Once our gingerbread people were dry, we chose our favorite color as a background for them. Then we discussed the most important parts of the gingerbread person. (This is a great opportunity to build vocabulary especially if teaching students who are still learning English.)
A great kindergarten writing prompt is labeling. (It also lends itself nicely to learning about diagrams, an important text feature in kindergarten.)
Labeling is very accessible to kindergartners because usually it requires the writing of only one word at a time, and children can usually name parts of different pictures on their own.
I use these labeling stickers from Target because they're super cheap ($1.99), and who doesn't love stickers?
Part 3 of Kindergarten Winter Writing: WANTED Poster
I got the idea of doing a gingerbread wanted poster after reading these stories with my class in 2013. When making connections from the story to our own lives, a student retold the story of their dog running away and how their family made signs describing the dog to put up around the town.
This project was a spin on that idea. And it really makes a great "on the wall" kind of display to put up in the classroom or home.
Parents, if you're reading this, you might notice that when students are writing in my class, their words are not spelled correctly. They're spelled as they sound -phonetically.
The best kind of spelling to use at this age is phonetic spelling, and if you're curious about why I don't have kids spell things the "grown up way," I would highly suggest reading this post.
Before You Download:
I do share lots of free activities because teaching is hard enough as it is. In return please consider following me on Pinterest or Instagram to see more cute activities for you to use with your kiddos.
You've found the treasure trove of Letter V worksheets, here in this most unusual place.
Why is it unusual? Well, I'm not the biggest fan of worksheets for teaching new information, but I also know that worksheets work really well to reinforce skills like letter writing and allow kids to practice skills like letter sound correspondence.
So let this be the first of many free worksheets in the alphabet series, created by a kindergarten teacher for parents and other teachers.
These letter V worksheets are divided into 4 categories:
Identifying the letter V
Sound/letter correspondence
writing
Sight word book
*As an Amazon affiliate, I may make a tiny commission from any purchase that you make through links on my site to help with the upkeep of these free resources. Thank you in advance.
Free Downloadable Letter V Worksheets
Letter Identification Worksheets - Letter V Series
When kids are first learning the names of letters, they can easily mix them up. Since they all are a series of squiggles and lines, and the names are so abstract, it's easy to see why.
These printables can be colored, put stickers onto, or dabbed with these Do-a-dot dabbers. Those are the only ones I trust, after being in the dabbing game for over 13 years now.
Letter Sound Correspondence- Letter V Worksheets
Reinforce the phonetic piece behind letter learning. What sound does the letter V make? Which pictures do and do not start with that /v/ sound? Beginning sound isolation is the skill we are working on Easy Phoneme Isolation Activities
Beginning Sound Isolation is the skill of identifying the first sound in a word, and it's a very important early reading skill. This is what these two worksheets focus on.
Letter V Writing Worksheets
These are probably the most helpful worksheets to have, tracing and writing worksheets. There really is nothing that can replace the pencil to paper tasks kids must learn to become writers.
If your children are struggling with pencil to paper tasks, and you notice their writing is really light, shaky, or messy, they likely have low fine motor tone. Here are some play based activities you can do to develop those fine motor skills.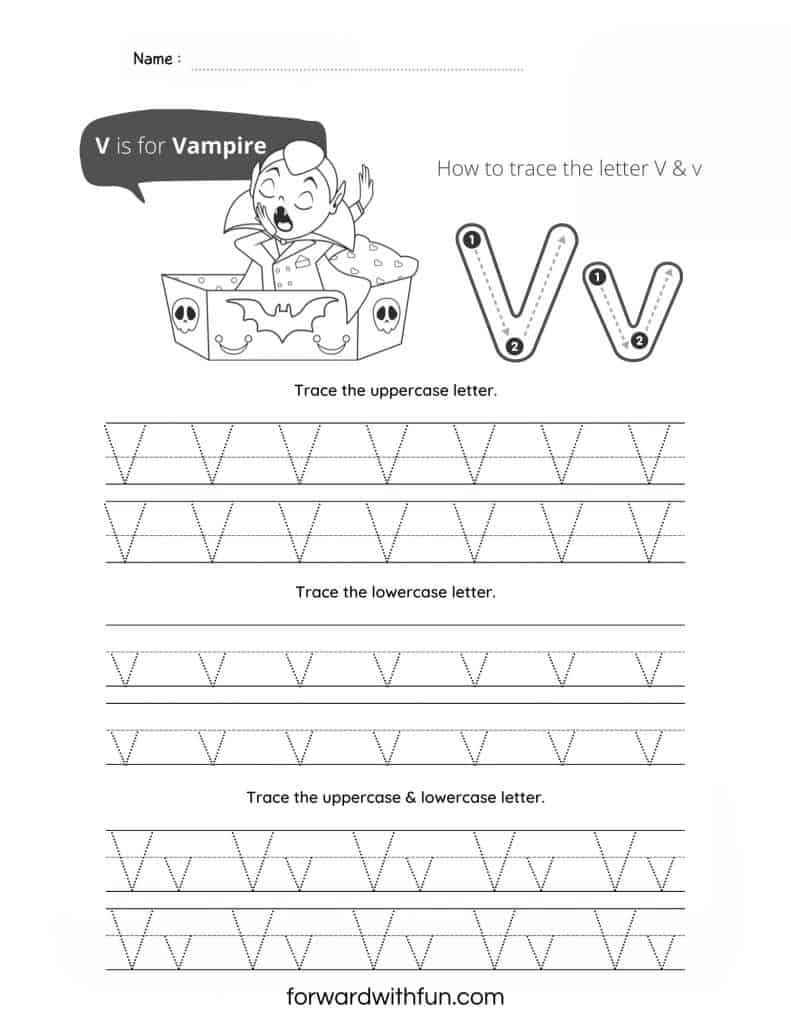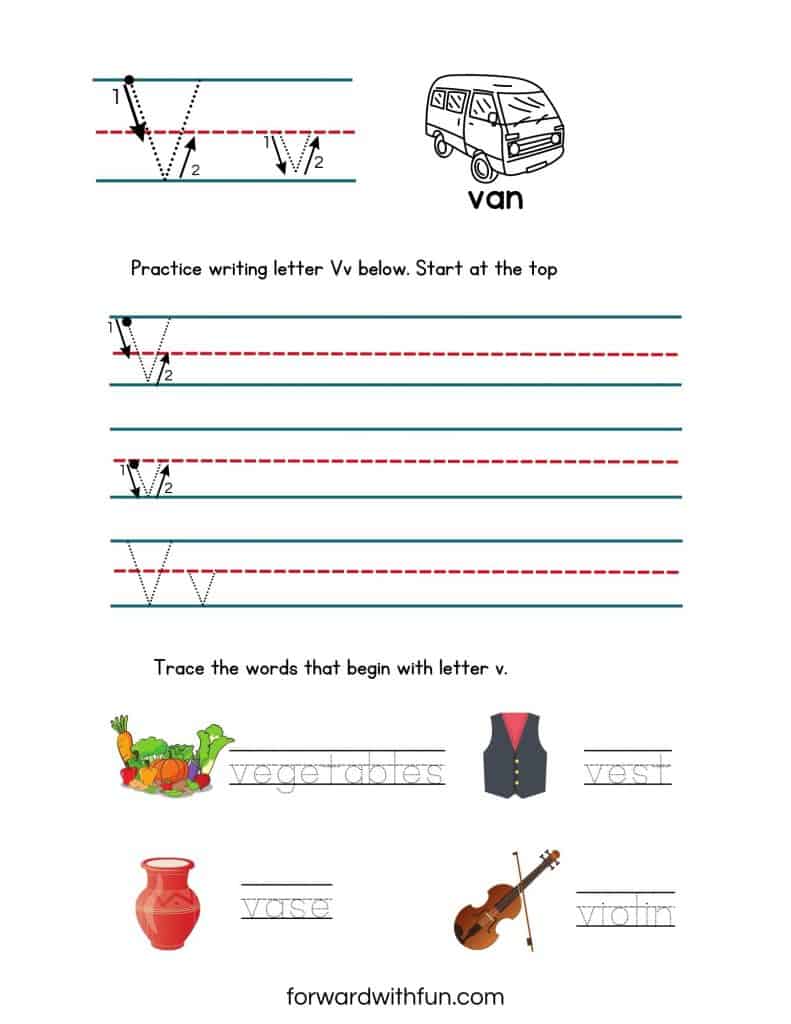 Letter V Printable Book
This printable book reinforces the letter V sound as children read about lots of words that start with V. Bonus! When kids read this book they're also practicing concepts of print and sight words. As you can see the sight words used in this book are "is" and "for."
Teach your preschooler their letters in 4 unique ways with this giant packet of alphabet playdough mats! No email subscription required. Just print and play!
*As an Amazon Associate I may get a small commission if you decide to purchase from my links. Thank you.
What makes these printable alphabet playdough mats so much better than others?
The MAJOR difference is that they promote letter learning in 4 different modalities catering to many learning styles:
shape letters in playdough
find and smoosh alphabet letters
tracing letters
writing letters
By playing to learn with these alphabet mats kids are exposed to letters through art, reading, and writing.
The more exposure a child has with letters the more likely they are to remember the letter. But we aren't just going to practice letter recognition; we are also building their ability to independently write each letter!
Also (updated version!), there is a little picture of a word that begins with that letter in the top right hand corner. So there is a phonics element to each mat as well!
Side note: it drives me crazy to see uncommon sounds for each letter like giraffe for G when we teach that G says /g/ as in golf. All the pictures on these printable alphabet mats match the most common phonetic sound for each letter!
What's the benefit to using playdough with these alphabet mats?
The benefits are HUGE and three fold.
Using playdough:
Builds fine motor skills - skills we use everyday to manipulate small objects with our hands.
Provides sensory input that children find pleasurable and often relaxing
Is a great opportunity to see if your child benefits from tactile learning. That means learning using touch.
Wait, why would building fine motor skills be helpful for all children?
As children learn to write, they don't just need to memorize the strokes it takes to form letters. There is so much more.
Writing requires:
proper grip
ability to maneuver pencil
putting pressure on a pencil so that lines are visible
With the alphabet playdough mats, kids will roll and shape playdough as well as make it into small balls to smush onto the correct letter in the "Read and Cover" section.
This very intentional kind of play strengthens hands, finger, and wrist muscles required to write properly!
How to best use your free and complete set of alphabet playdough mats:
These beautiful letter learning mats are super easy to use!
Print in black and white OR color, making sure to select fit to printable area on some computers.
Laminate OR place in a sheet protector
Ready, set, play to learn!
When writing on the mats, you can use any dry erase markers. Provide your preschooler or kindergartner with a tissue or small cloth to erase once they are done.
I find that laminating the alphabet playdough mats works makes them last longer, and I found a very affordable and effective laminator on Amazon (stays between $21-$24). I'll also link the laminating sheets and dry erase markers I love best.
Download your free printable playdough alphabet letter mats now!
Want more incredible play to learn activities to promote kindergarten readiness activities?
A KinderReady Summer is your one stop shop for fun activities that target the exact skills kids need as they enter kindergarten. 
Each week for 8 weeks, you'll get 5 simple pre-planned activities sent to your inbox. All you have to do is read the instructions.
What skills will my child be learning?
The focus of A KinderReady Summer is to target the very important skills that come just before reading, writing, and doing arithmetic.

-letter identification, capital and lowercase
-letter sounds
-beginning sounds
-shape names and attributes
-number identification to 10
-counting with one to one correspondence
-pattern completion and creation
-name writing
-fine motor development
I bust out the kids' favorite independent reading activities for a minimum stress, maximum fun phonics time. These can be used one on one, as kindergarten reading station activities, or be done with a whole classroom of kids.
All 3 of these independent reading activities have many ways to differentiate to meet the needs of all your young learners and build their phonics skills. So whether you're working on beginning and ending sounds, letters, CVC word reading, or digraphs like "sh" and "ch," I've got something for you.
Without further ado, the 3 most begged for independent reading activities are...
Beginning and Ending Sound Parking Lots
Phonics Dominoes
CVC Words and Digraph Cup Stacking Challenge
*As an Amazon Associate I may get a small commission if you decide to purchase from my links. Thank you.
3 Top Rated Independent Reading Activities
Get ready to sit back and watch kids get excited to practice reading all on their own. You might even have time to sit down and drink coffee while it's still hot. The best part? It's all hands-on!
Beginning and Ending Sound Parking Lots
Kids dream of the day they'll get to drive, so bring that dream to life with phonics parking lots. It's so simple, you'll need 10 plastic cars, hot wheels, or trains you have lying around the house.
If you don't have ten little cars you can usually pick them up from the dollar store or here on Amazon.
Print out the 3 beginning sound parking lots or the 3 ending sounds parking lots and you're almost ready to play. Just label the cars with the 10 necessary letters using a dry erase or sharpie.
All the beginning sound parking lots use the same letters, and the ending sounds have the same letters on each of their mats too! This makes it so you only would need to change the letters on the cars when you're ready to move from beginning to ending sounds.
I love this game because kids are SO psyched to play and can do so independently. So they're working on their phonemic isolation (isolating sounds in words), while I can step back and beam with pride.
Phonics Dominoes
Kids can play this independent reading activity with a partner or on their own. You don't need anything but a sharpie, crayon, and popsicle sticks.
I played this game with my kindergartners using CVC words, but you can also play it with the alphabet, shapes, numbers, sight words, spelling words, etc.
Prep this quick independent reading activity in 5 steps:
Line up an even number of jumbo popsicle sticks.
Add a color to every other one.
Write a number, word, shape, or letter on both sides.
Whatever you wrote on the right sight of the first popsicle stick, write the same thing on the left side of the next stick.
Continue till the phonics dominoes all have two words each.
Once you teach this game to your kids or students, they'll know how to play forever. This makes it the easiest independent reading center. They see the popsicle sticks, and you barely have to say a word!
Cup Stacking Challenge - CVC words and Digraphs Sh and Ch
Just print and play. Kids freak out when you share they'll be reading and building based on the words they have on their cups.
The Cup Stacking Challenge bundle comes with 4 building challenges per vowel and digraph. So you get stacking cards that focus on CVC words and digraphs ch and sh. The set comes with 7 sheets of challenges, focusing on each of the vowels in CVC words and the two digraphs.
Each challenge requires only 6 cups. Use either plastic or paper to write the words listed at the bottom of that challenge's sheet. Below is an example with the "i" words using paper cups and the "sh" words using plastic cups.
Download your bundle now to start playing these independent reading activities that kids beg for!
Worried your kids are not ready to play these independent reading activities?
Most kids begin reading in kindergarten at the age of 5 or 6. What does "reading" look like at this age? Well, in kindergarten kids by sounding out simple 3 letter words using their knowledge of letters and sounds. They also read words they have explicitly memorized aka sight words.
Everyone learns at different paces, so don't be worried if your child is not yet doing this. However, if you want to progress their learning through fun, hands-on games such as the ones you just read about, check out our signature program, The Fun Club.
TRUTH: The Fun Club is a monthly subscription with 20+ activities a month that WILL TEACH YOUR CHILD TO READ (and so much more).
Each week includes reading and math activities that transform learning at home. Suddenly learning goes from being a chore to being the highlight of your day. Activities progress from beginning letters and numbers to mastering kindergarten reading and math standards.
Kids in The Fun Club can read this to you!
Whether you're looking to make learning fun or catch your kiddo up, join The Fun Club and start playing to learn.
When it comes to introducing ending sound activities, kids may feel a little out of their element. For so long, they've been taught phonics with a focus on beginning sounds. "B is for ball!" Now we start telling them that there is an "l" in ball, and they get all discombobulated.
Here are the tips, tricks, and best ending sound activities that I use to teach my own kids and my kindergarten students. These hands-on activities really make the sounds click and stick in their brains. Plus, the best part is...they're super fun and easy to prep.
*As an Amazon affiliate, I may get a small commission for purchases made through links in this post.
How do you teach ending sounds in kindergarten?
This might seems like a no brainer to us, but kids are not aware that there is a beginning, middle, and ending to each word. This concept of a word being a visual thing, rather than just something you say, can really confuse children.
My two biggest ending sound strategies:
Show each word as 3 parts with a visual
Stretch out the word and focus on what we hear (not the letters in it).
When I set out to teach ending sounds, I always begin by showing my kindergartners the word as three parts. This is often known as using Elkonin boxes, a visual reading strategy to help kids understand the word as made up of separate sounds.
Using the Elkonin visual, I help children segment words into the phonemes, aka sounds, they're made from, and point to each box. By attaching a visual, many light bulbs suddenly go off.
A second strategy for teaching ending sounds, is to speak like a whale, from "Finding Nemo." Elongate the word, and when you hit that last sound, make it super clear: GOOOAAATTTTTTTT. As I do this, I pretend I'm visually pulling a word, as if it were a piece of bubblegum, with the ending sound landing in the palm of my hand. Then I ask, "What sound was here, at the end?"
Stretching the word and asking the kindergartners for the sound (instead of the letter) allows them to work on hearing the ending sound without knowledge of letters yet. This strategy builds an umbrella of skills called phonemic awareness, the understanding that words are made up of sounds.
Hands-on ending sounds activities that kids go gaga for:
More than anything, I know kids learn best by having fun. So I try to bring the ending sound activities to life through games, imagination, and when possible, movement!
Muffin Pan Ending Sound Activity
Remember those Elkonin boxes, I mentioned? They can be used to represent sounds or letters, and this muffin pan activity will help kids really visualize the ending sound of each word.
Turning your muffin pan sideways, you now have three perfect sections to help segment each word. This muffin pan game works best with CVC words (that means consonant, vowel, consonant) and you can even find the printable CVC picture cards right here.
These are the alphabet letters we love for teaching phonics. They're magnetic, and the vowels are red which especially helps for teaching middle sounds.
Set up your words, so that only the ending letters are missing. Saying the sounds of the beginning and middle sound, help your kindergartner listen for the missing final sound.
Ending Sounds Toy Thief Game
We have played this game for beginning and ending sounds, and it's got to be one of my all-time favorites. Kids always go gaga for this game.
The Toy Thief has stolen some items from around the house that need to be rescued. Now, to teach ending sounds with this game, you must be rather intentional with the objects you choose. For example, an elephant toy, has an obvious ending sound: t. But do you know the ending sound of horse? It's not "e." It's "s."
Write the phonetic ending sounds of each word on a piece of paper, and hide the toys. We used blue tape to hang them on our door, but you can also trap them under a laundry basket or hide them in different drawers. Be creative!
Have the kindergartener in your life rescue the toy and match them to their correct ending sound. Remember, it's about hearing the sound at the end of the word, not necessarily the letter. Tarantula would NOT be an "a," it would be the "uh" sound which goes with "u." Grown ups, I know you can do this! Haha!
Rescue the Ending Sounds Activity
This game requires barely 3 minutes of prep and also strengthens kids' hand muscles while they play. So let's build those fine motor skills and learn about ending sounds at the same time!
Choose a basket or a pan, and get out some blue tape. Make some overlapping lines over the top of the container so that there are multiple individual sections. In each small section, place a letter that is a common ending sound. I recommend using: g, n, m, p, d, s, r, l, k.
Give your kindergarteners salad tongs or these kid friendly pincers and have them rescue the letter that ends each word you call out: bag, soon, mom, hop, bed, gas, star, bell, sock, etc.
If you're playing this in small groups in a classroom, it would be great fun for the kids to create their own blue tape webs to reduce the prep for you.
SMACK the Ending Sound
This one is quick but effective. Place 3 Post-its notes on a table in front of each kiddo. Have the children clearly print the letters "D," "N," and "K" on them. I like to use 3 very different sounding letters to make it the easiest to discern.
Call out words that end with only those sounds and have the kids SMACK the matching ending sound in front of them.
Want to use those letters for the activity? Perfect. Just call out these words:
Can, Kick, Sad, Bed, Soon, Fine, Pack, Ten, Kid, Sick, Quack, Pen, Red, Fun, Lick, Kitten, Jade, Stick, Bird, Salad.
Ending Sounds Bean Bag Toss
Invite your child to toss a bean bag at a group of objects. Where does it land? Say the word, and stretch out the word. What sound did you hear at the end?
If you have got a kid that has a lot of energy, this is a great game that incorporates a physical aspect. Kids get excited for their turn to throw the bean bag, and you can't lose. Everything has an ending sound! It's simple but effective.
Free Printable Ending Sounds BINGO Activity
In this ending sounds activity, everyone wins. This set of BINGO boards all have the same pictures but in different spots. This way, kids aren't copying off one another but still get the joy of always finding a match.
You'll need either magnetic letters or write the following letters out on index cards: D, D, G, M, N, N, P, T, T
Each time the kids match the letter to the picture, they can use stickers or BINGO chips to cover up the picture.
The most fun way to set up the game is to put each of the ending sounds in an envelope or even in plastic Easter eggs. Have your kiddos choose a letter and find a word that ends with that sound.
Kids will often try to match with beginning sounds, when first learning about ending sounds. When this happens, I use the stretch the word strategy and "hold" the ending sound in my hand. Which sound did you hear at the end?
Bear's Ending Sounds Hunt
Now this activity is more challenging than the rest, due to the fact that kids will need to be more independent in isolating ending sounds. So I would do this one after you've tried all the rest of the ending sound activities.
In a bag, place the letters that are common ending sounds: D, M, N, R, T, S. There are more, but those will do! Have a stuffed animal host this challenge. Let the Letter Bear pick a letter out of a bag, and have kids go on a hunt for something in the room that ENDs with that letter. It's a challenge, but wow, doesn't it feel great when they get it?
Of all these ending sound activities, which was your favorite?
The AT word family is one of the first sets of words young children learn to read, usually in kindergarten. These words are practiced as part of a word family.
What is a word family?
A word family is a set of words with the same ending. The words in a word family always rhyme.
Here is a downloadable list of words from the AT word family. Just click to download and read on for some great printable worksheets and activities to teach the words in the AT word family.
The first words kids usually read...
When kids are first starting to read, they usually begin reading CVC words. CVC stands for consonant vowel consonant words.
The AT word family is one of the first, if not THE first, family of words children practice reading in school. Since "a" is the first letter of the alphabet, children are usually most familiar with its sound out of the vowels: a, e, i, o, and u. "T" is also another sound kids more easily remember.
*As an Amazon affiliate, I may get a small commission for purchases made through links in this post.
AT Word Family Worksheets Packet
These FREE downloadable worksheets will help your child build fluency with the words in the AT family.
When working with the list and flashcards in the printable packet, I recommend using the 3 letter CVC words for beginning readers. The 4 letter words (CCVC words) are only for a challenge.
There are so many hands-on ways to use the AT word family flashcards for activities and games that your kid will love. I find that just going through the flashcards can be boring, so check out the activities we played with them below!
Page 1 of 2 Flashcards
Hands-On Activities Using AT Words
AT Word Family SPLAT!
Okay so I usually call this game, SWAT it, but it didn't rhyme, SPLAT the AT word it is!
Use those flashcards you just printed out and call out a word. Kids love getting permission to make something go SPLAT! Make sure to use blue painters tape so you don't ruin your walls!
Muffin Pan Spelling with the AT word family
Kids absolutely love muffin pan spelling so if you're looking to try this with other word families you can find more picture cards there. We use any muffin pan and these soft and magnetic Coogam letters.
Try this game with one of two ways:
Beginning sounds version- match the initial sound to the word from the picture card
CVC spelling full version- spell the AT word that matches the picture in it's entirety
Word Ladder for the AT Family
Create a word ladder listing all the words you can think of that rhyme with at! Display them with Post-its, flashcards, or these cute paint chip cards.
Memory Matching Game- Pictures + Words
Using the picture and word flashcards from the AT word packet, play a classic game of memory. Take turns flipping two cards and if they match, you keep them. Continue flipping them over till all are gone.
AT Family Word Sort
This is pretty intuitive, but a simple sorting game can be great practice. Read the word and match it with the picture.
As kids sound out the words, they're practicing their phonics letter/sound association, but they also need to be able to BLEND those three sounds together to make the word, which is a very important phonemic awareness skill that lots of people don't know to practice.
The AT Word Family House
Let's really lean in to that family part of "word family." All these words live together! So let's give them a house.
The Cat and the Rat Book, A First Reader
I created this printer friendly (black and white) decodable book to help kids practice reading words in the -at family. It's FREE to print and use with your child. They can even color it in. Maybe it'll be the very first book they read!
Parents often ask...
When are kids supposed to be able to read the words in the AT word family?
Kids are expected to read most CVC (consonant vowel consonant words) at the end of kindergarten based on Kindergarten Common Core Standard CCSS.ELA-LITERACY.RF.K.2.D. Since the AT family is usually the first set of words children learn to decode (sound out) independently, they are likely to begin reading these words around the middle of kindergarten.
But I want to make sure I say that everyone is different and that's okay! Not all kids will read these words in kindergarten.
According to understood.org, "Not all kids develop reading skills at the same rate. Taking longer doesn't mean they're not on track to become good readers." That's a very important reminder for parents in this world where we are constantly comparing ourselves and our kids.
What are other word families at the same reading level?
Other families to work on after the -at word family would be the -ag, -ad, -am, and -an families.
I've created these activities and printables for the -an word family just for you!
The letters in all these families use the usual phonetic sounds for each letter so they don't confuse beginning readers (unlike the -ar and-as word families where there are letters making irregular sounds like the "a" in far and the "s" in has).
Hands on learning is my secret to teaching reading so kids are never bored!
I NEVER use workbooks or worksheets.

When I say "hands on learning," I mean any kind of learning where your child is actively participating in creating new knowledge or solving a problem. This is also called learning by doing. From your own childhood, did you ever really learn something from a worksheet? I remember the projects, the games, the activities that got me and my classmates up and moving, creating, and solving problems.

Hidden Object is a hands on learning game that combines reading skills with a fun, element of surprise.
How to Play Hidden Object- A hands on learning game:
What you'll need-
5 opaque containers, like cups or bowls.
Post-Its
Marker
1 small, special object of your choosing
Version 1, Letters and Letter Sounds:
On the Post-its, write the letters your child is learning. If you're child is just starting to recognize letters, I recommend starting with the letters of their name.
In this version, children will either say the letter name or the letter sounds as they lift each bowl on the hunt for the hidden object.
Version 2, Reading CVC Words:
If your child has moved into reading, try sight words or CVC words in a particular word family (on example is the AT word family with words like cat, rat, bat, sat, etc).

Another idea would be to include words that have a new sound they've just learning like digraphs: sh, wh, th, and ch.
Invite your child to play:
Say, "I've hidden a special object under one of these containers. Before you check under the container you must read the letter or word on that container's note."
Remind your child to read the letter or word before they can look under the container for the hidden object.
Once they find the hidden object, have them close their eyes and start again!
Hands on Learning at all levels of literacy:
This simple hands on game can be used for so many different skills: letter sounds, letter identification, sight words, CVC words, digraphs, etc.
In this instance, Big Sis was practicing reading CVC words (consonant vowel consonant words) that had different vowels in the middle. If I notice her struggling with a specific vowel or letter sound, I would put more words with those sounds on the Post its.
Hands-On Learning Games + Reading Comprehension:
Whenever I discuss early literacy skills like reading CVC words and sight words, I want to reinforce that all the games and wonderful activities are only part of the reading puzzle. The biggest thing you can do for your child to have success with reading from an early age is read to them everyday.
Guiding questions as you read aloud with your child:
What kind of letters do you see
What words?
Who is in the story?
What's the problem in the story?
Take a look through a book before reading and see if the pictures give you clues as to what might happen.
Make predictions as you go along.
Retell or sequence events in the story
Like teaching your child through hands on learning games? Want to teach you 4-5 year old to read using hands on learning? Check out The Fun Club! Subscribe for a free week of activities right now!
Learning letters is the first step in learning to read. Children in preschool and kindergarten largely focus on letter identification and letter sounds.
While some kids are naturally inclined to learn letters from a young age, others take longer and that's okay.
My mission is to making learning letters and how to read fun and hands on. So if you're looking for a letter sounds worksheet or some alphabet flashcards, this isn't the place.
Instead I'm going to show you my most favorite, hands-on letter learning games so that your kid is just as excited about the alphabet as I am (that's super excited...ahem...kindergarten teacher).
Is there a correct order of teaching letters and sounds?
There is not one correct order of teaching letters but instead many different ways to choose which letters to focus on first.
Alphabetical Order - this is often very common in classrooms that have a "Letter of the Week" curriculum.
Learning letters of child's name first - Kids are excited and drawn to learn about the letters in their name, and one of the most important things to demonstrate kindergarten readiness is writing one's name. For that reason, I do recommend we begin letter learning with the letters of your child's name.
Learning letters based on their shape - this method is recommended by Handwriting Without Tears, a writing curriculum. Basically, they recommend teaching letters that are easiest to write first. That would mean letters that are made with straight lines first (L, T, I, H), followed by ones with curves next (D, B, S, C), and finally letters with diagonal lines last (R, Z, K, N).
SATPIN - These are part of a phased learning of letters that recommends teaching SATPIN first. Apparently, those letters are the most common ones that can also make the most words: pin, sat, tin, pat, pan, sit, etc. Learning SATPIN letters first gives kids the ability to work on other reading skills without memorizing all the letters first. After SATPIN comes... m d g o c k  e r u b h f  l   j w  v x y z q
No matter what order of teaching letters you choose, I would recommend only working on 5-7 new letters at a time to avoid overwhelming your child. They'll need lots of repetition for those letters to stick in their minds, so always add in some letters they already know when you're playing these games.
14 Hands-on Games for Learning Letters and Sounds!
All you need are some Post-its, a fly swatter (or a hand), and you're ready to go. Call out letter names or letter sounds and have your little one jump and swat the letters. You can use numbers too!
2. Letter Sounds Toy Rescue!
Hide toys around the house or even just on a door with blue tape. Invite your child to play by telling them that the Toy Thief has stolen their precious toys and they, and they alone must rescue them.
At the rescue station, toys must be matched with their beginning sound, reinforcing the letter sounds while also working on phonemic awareness!
3. Rescue the Letters:
Got salad tongs? Blue tape? Any container? Combine with letters for this fun challenge!
It's simple, really...call out the letter sound and have your child pluck the corresponding letter from the container below, maneuvering through the blue tape.
It's a wonderful chance to practice fine motor skills as well!
Active kids don't like to sit to learn. Try Letter Sounds Stomp to get your child smashing their way to all their letters and sounds.
Got some tricky letters that continue to confuse your child? Pick out those 5 or so letters they're learning and place them on Post-its for this surprising little game that kids love!
Much like my very viral Pinterest post for teaching Sight Words, you can place letters on Post-its, lining them up with a muffin pan.
Throw the poms poms at the muffin pan and yell the letter name and sound! Kids and adults love this hands-on learning game that happens to also improve your aim.
Loving learning letters yet?
7. Letter Sounds Post-it Hunt:
Pick out those target letters your child is working on and write them separately on a piece of construction paper. Hide 4 Post-it notes of the same letter around your home and have your child seek out those Post-its.
As your child matches the Post-it letter to the matching construction paper letter, they say the matching letter sounds!
8. Learning Letters with Bear's Bag:
Surprise! Your favorite stuffed animal is going on a trip, but you need to pack some intriguing objects for it!
Place different letters in a bag. Take turns pulling out different letters and searching around the house that you can pack that begin with that letter sound.
Place the item with the letter and pack them for Bear's trip! Bon Voyage!
Learn letter sounds as Bear packs for a trip!
In this creative game, kids rescue their toys from under a laundry basket, unlocking the "code" by writing the letters that match the beginning sounds for each item. Genius!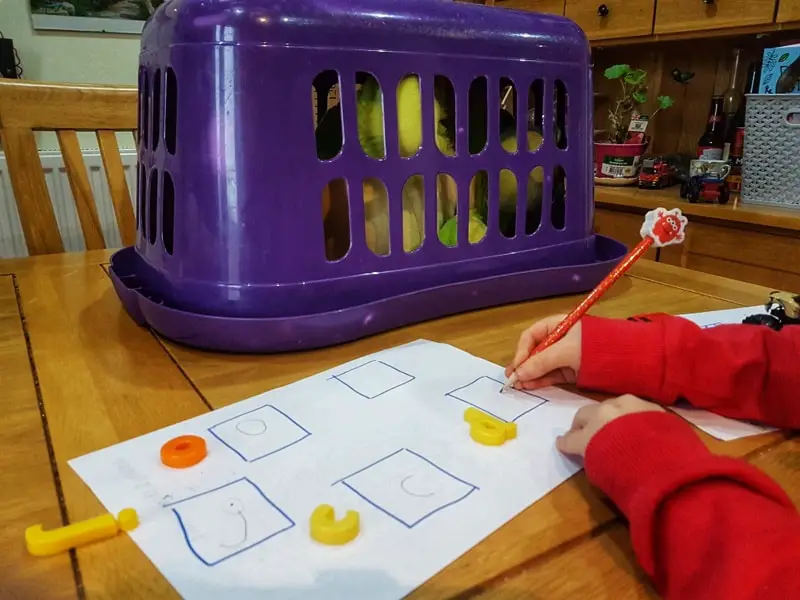 Got some blue painters tape? Create some zig zags for your child to traverse. Along the way, place some Post-it notes with letters they're learning on it.
Give your child a way they must cross the path: tip toe, jump, hop on one leg, walk, skip.
Each time they come to a letter, they need to stop, name it, and say it's letter sound.
Do your kids love trains and cars? They can even use their vehicles to traverse the zig zag path encountering letters as train stations or stop lights.
Take the fun outside with some chalk and play this silly, active hands-on learning game from The Imagination Tree. Draw letters on the ground and have children jump on the letters you name!
Grab those plastic Easter eggs and get ready for the most epic letter learning experience. Match the letters in the eggs to the mat, and we even added a secret ingredient! WOW!
Practice matching letters with lowercase and capitals in this sensory soup bin that will keep even toddlers engaged!
The newest addition to this list is a complete set of alphabet playdough mats. This activity promotes learning letters in 4 different ways and includes sensory, tactile, fine motor, and reading/writing in every single mat.
Wondering how to teach CVC words to beginning readers? Let's do it with 11 fun games. CVC words are consonant-vowel-consonant words. These phonetically spelled words are the building blocks of kindergarten reading and writing.
*As an Amazon affiliate, I may get a small commission for purchases made through links in this post.
Top tips for teaching CVC words to kids 4-6:
Start working with one vowel at a time, words with "a" in the middle are a good start
Make it a game to encourage lots of repetition and practice
Find CVC words in books as you're reading and give your child the opportunity to read a few of them.
Practice blending sounds together in addition to sounding out letters
Model how to sound out words, pointing to each letter and then blending the sounds
What's a CVC word?
CVC stands for consonant-vowel-consonant. These are the first words that kids read by decoding, otherwise known as sounding out. By the end of kindergarten all kids are expected to read all CVC words that use all vowels, except irregular ones like words that end in "r."
CVC words make sense to kindergarten readers, because they are phonetic (sound as they're spelled). Examples of CVC words include Bob, mat, kit, peg, fog, gum.
Which CVC Words should I teach first?
Most children learn "a" as their first vowel. For that reason I recommend teaching kids to sound out CVC words that have an "a" in the middle first. Stick with one word family like the -am, -an, -ad, or -at word family (you'll want these freebies).
11 Fabulously Fun Ways to Teach CVC Words:
The first 8 activities are best for how to teach CVC words to beginners. Activities 8-11 focus on how to teach CVC word families and are better for children who are sounding CVC words out with independence.
All you need are letters, a muffin pan, and these epic picture cards for 4 ways to play. You can grab the cvc words list with pictures here.
2. Stack and Read CVC Word Challenge
My most reluctant readers love this game so much, they don't even know I've tricked them into reading CVC words. Seriously, this is in my top 3 games I've ever made! Kids stack the CVC word paper cups in different configurations based on the pictures.
I've made 5 sets of challenges, one for CVC words of each vowel sound and 2 bonus sets for those readers who are ready for the /sh/ and /ch/ sounds.
Get stacking!
3. Magnetic Bingo Chip Reading with CVC Words
When I discovered magnetic bingo chips, I nearly lost my mind. This is one of the most engaging ways I have used for how to teach CVC words. Print out the FREE CVC words cards. Then place one magnetic bingo chip on each dot. Finally give your child their magnetic wand to touch each of the chips with as they sound out the word. Viola!
Where could it be? Read the word and lift the cup. This hands on reading game is perfect for beginners, since you can play with as many or as few CVC words as you'd like, preventing visual overwhelm!
KindergartenWorksheetsandGames.com brings this hands on game where kids have to find the beginning sound for each picture to crack the code. Once the pictures are complete, they reveal a CVC word at the bottom. How fun!
An important part of how to teach CVC words is not just blending the words but for children to understand the word they just read. In this magnetic letter game, kids will make their own CVC words and determine whether they're real words or silly words.
The Coogam magnet letters are perfect to use when teaching CVC words, because the vowels are red and the consonants are blue, making it really easy for children to make their own CVC words.
For additional practice with nonsense CVC words, you have got to check out this video version of the Real or Silly word game by the extremely silly Mr. B's brain.
Got a wiggly kid in need of reading practice? They'll love this SPLAT the CVC word game as you call out CVC words and they make them go SPLAT! Use 5 words with beginners and increase as they build fluency (that means are able to read faster).
8. Match the Picture and CVC word game
Rather than matching CVCs on a worksheet, let's make it FUN! Grab your free CVC words with pictures HERE and play a classic game of memory or give each student one card and have them find their partner! There are so many ways to practice reading CVC words with these pictures and words.
Kids love any kind of activity where they get to go on a "hunt," right? So if you've got an active kiddo, this is JUST how to teach CVC words so they'll be super into it. First hide the Post-its around the house or classroom; then have your child find them and return them to the home base.
10. CVC Word Families Duplo Sort
Write CVC words in from 3 different word families on dot stickers, then place the stickers on the Duplos. Next, hide the Duplo bricks around the house and have your little one find them.

Then comes the reading part. Each brick must be sorted with the ones in its word family. Once all the bricks in the family are reunited, build a tower with them to complete the game.
This fun game is ICanTeachMyChild.com's take on how to teach CVC words, and it is ridiculously fun. You're going to need some ping pong balls and containers to try to match the words on the ping pong balls to the word family cups.
When is my child ready to start reading CVC words?
Children usually begin reading CVC words in kindergarten, when they are 4-6 years old. This can sometimes happen earlier or a little later. A lot of the "when" is based on when children are exposed to things such as letters and sounds, and also when they begin to master phonemic awareness skills (the ability to manipulate sounds like isolate the first sounds in words).
What are good books that teach CVC words?
My favorite book series for beginning readers that I recommend to every family are the Bob books. Their books are truly decodable, so there are no tricky words that make kids confused.
I cannot recommend the BOB series enough because the books are simple, short, and not too many words on the page. They combine CVC words and sight words to create fun and easy to follow stories kids enjoy.
I use these books for all my kindergarteners and my own child. Have you found a series of decodable readers you like to use for teaching CVC words?