The Addition Cup Stack builds fact fluency to 6, 10, and 20 through hands-on fun that no child can resist. Just print the 20 differentiated addition challenges for students of all abilities and grab your cups.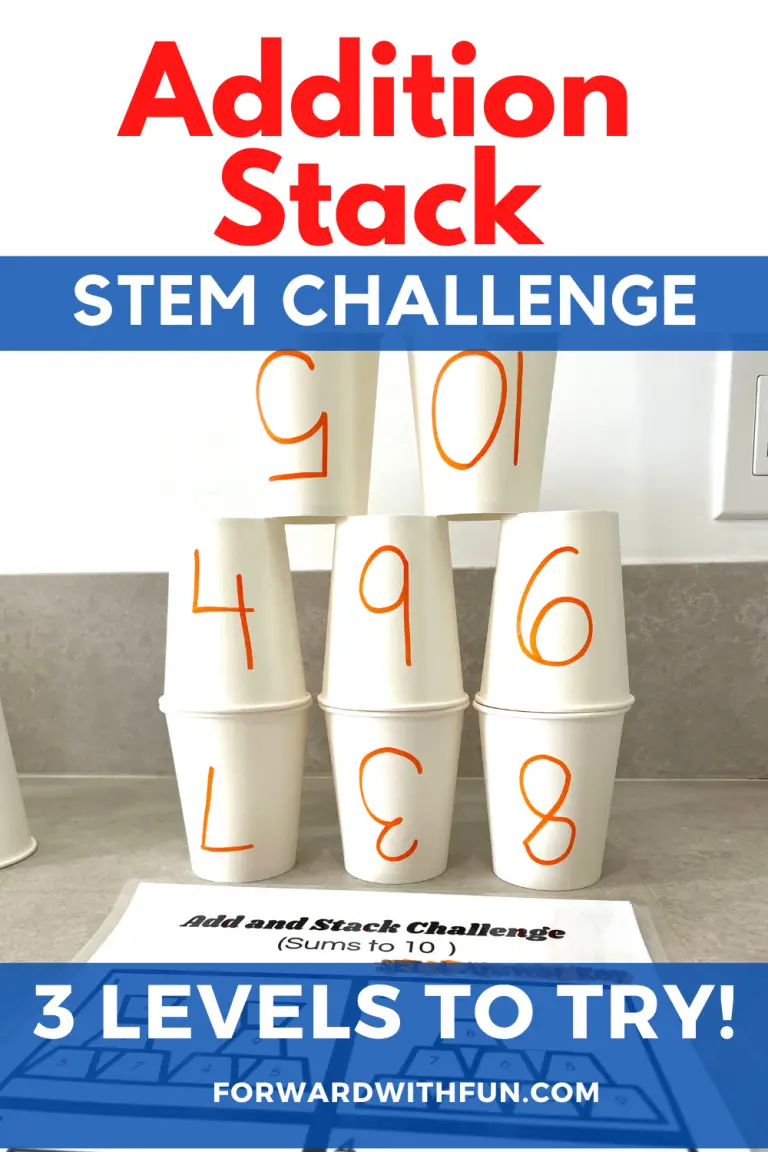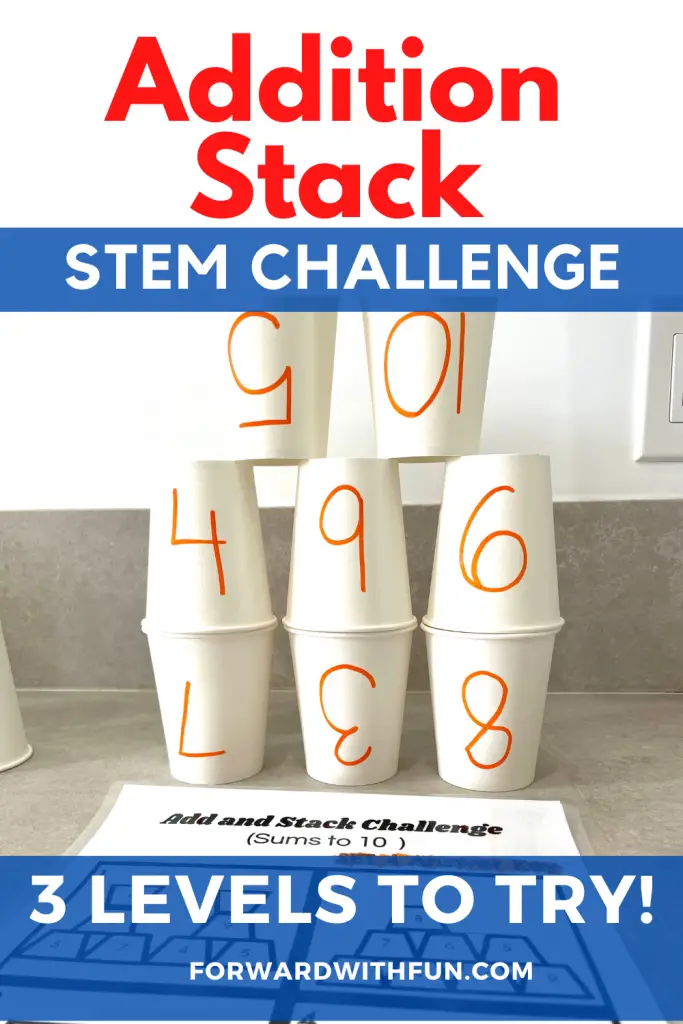 *As an amazon affiliate I may receive a teensy commission if you buy something from one of the links in this post, at no additional cost to you. Thank you.
How to play Addition Cups Stack
It's all in the name. Add the numbers on the sheet, and then stack the cup with the matching number.
Kids will build many cup towers while mastering addition, in a ridiculously fun activity that they'll beg to play. Believe me, I had to pry my children off these cups in order to take the pictures in this post.
The 5 differentiated sets of stacking challenges are made to meet the needs of learners at varying levels. Choose from adding to 6, to 10, or to 20 for a super challenge.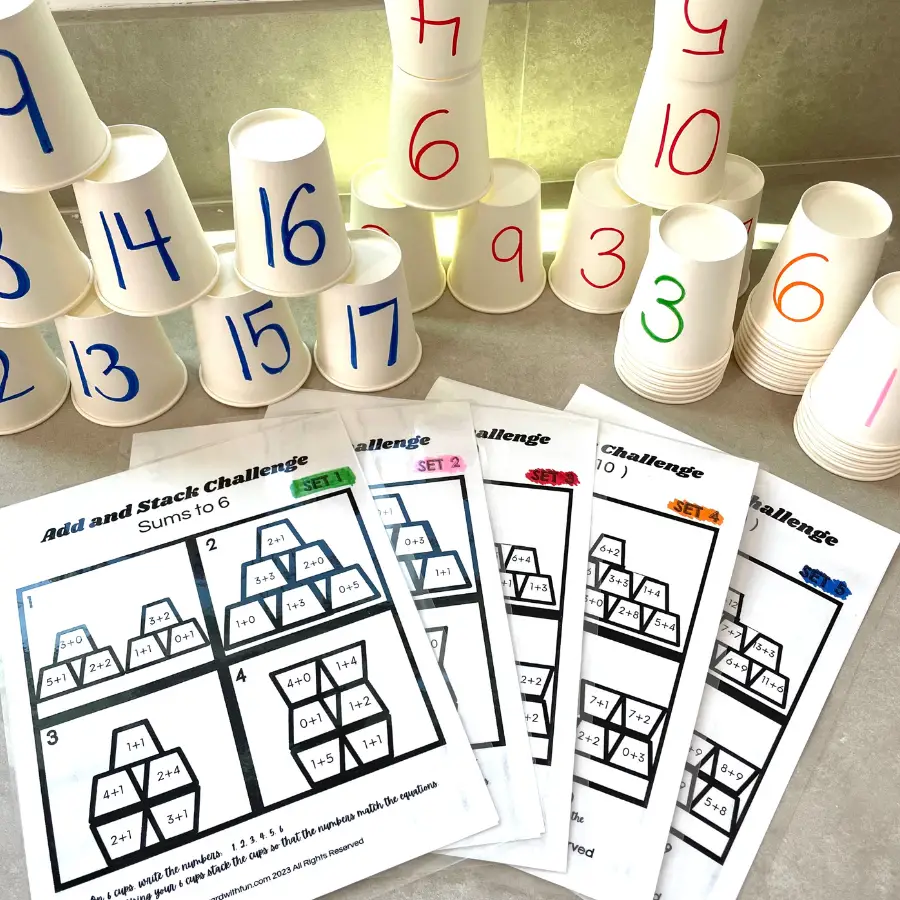 As a very loose guideline, this is how I use the cups:
Print out the 5 sets of challenges. Each will come with an answer key, so that kids can self check as they build, making this activity perfect for an independent math center.
To make the activity as kid run as possible, I laminated each set with its Answer Key on the back. So children will be able to self-check when they have completed a challenge.
Prepare the Addition Cups:
You know how sometimes you buy an activity and you just never use it because it's too complicated to do? This is the COMPLETE opposite. Easiest. Prep. Ever.
Print the 5 sets of challenges. Optional: laminate them.
Write the numbers listed on the bottom of each paper on that set of cups.
These cups will be used for sets 1 and 2. Both sets work on sums to 6. (So for one child, you could use the same cups for sets 1 and 2.)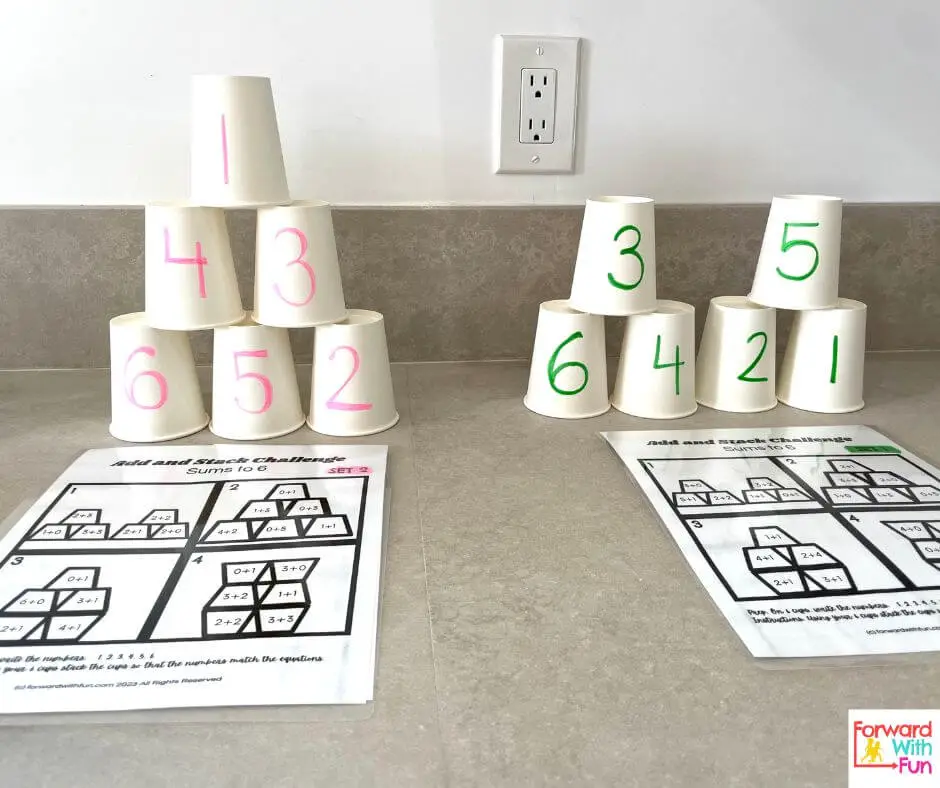 These cups will be used for sets 3 and 4. Kids will make sums to 10 here. (Again, if you'd like to reduce waste, you can just use one set of cups for these.)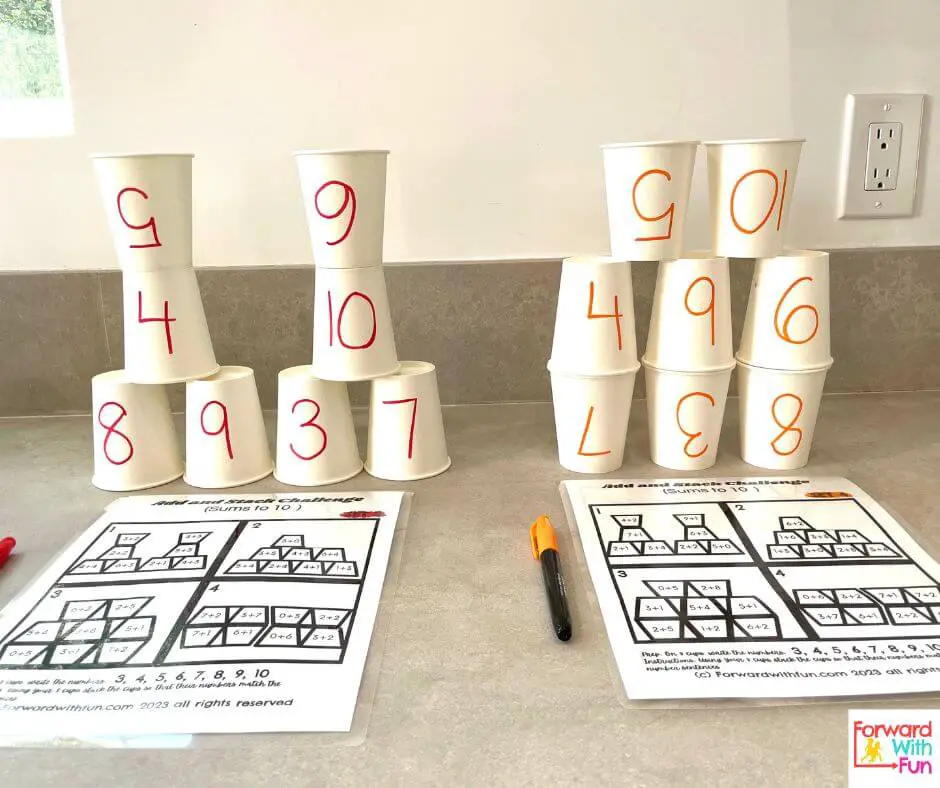 These cups are for the final set 5, for practicing sums to 20.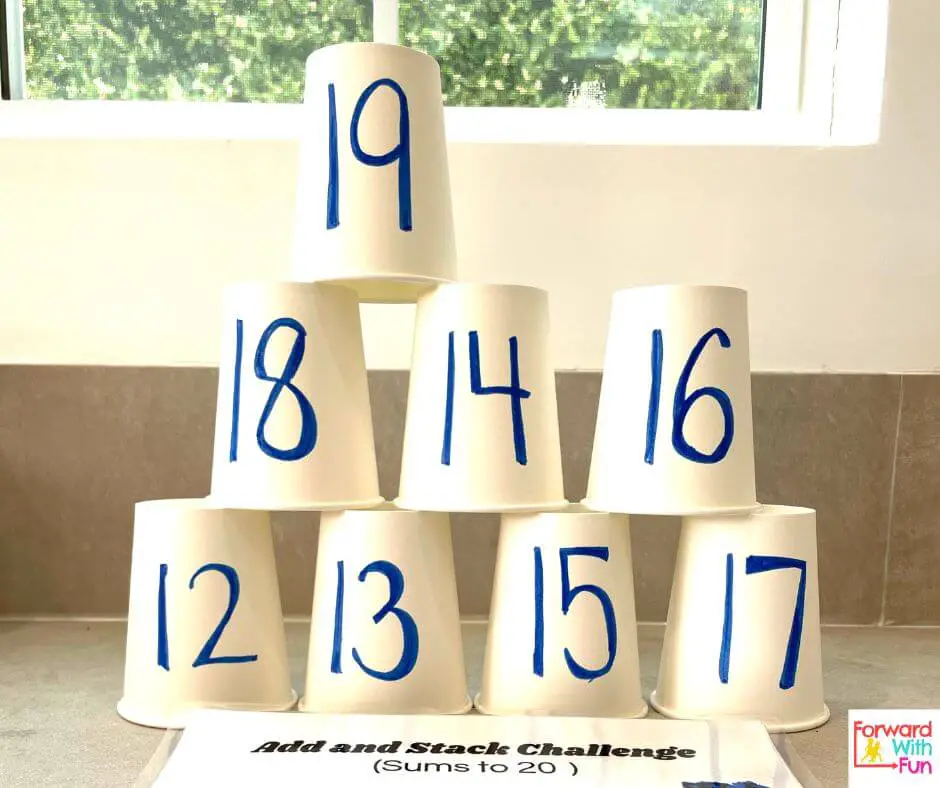 To avoid the cups from getting mixed up in my classroom, I have written the numbers in different colored markers that match the set number on the challenge sheet. This way kids with the same numbers on their cups won't fight over whose is whose. -Phew!-
Let's get stacking
You'll get:
instructions
5 sets of challenges (that's 20 challenges!)
5 sets of answer keys
What are we learning?
Addition Cup Stack meets the common core standards for kindergarten and first grade.
Kindergarten Operations and Algebraic Thinking K.OA
Understand addition as putting together and adding to, and understand subtraction as taking apart and taking from.
Represent addition and subtraction with objects, fingers, mental
images...or equations.
Fluently add and subtract within 5.
First Grade Operations and Algebraic Thinking 1.OA
Represent and solve problems involving addition and subtraction
Add and subtract within 20, demonstrating fluency for addition and
subtraction within 10.
Work with addition and subtraction equations.
Besides the obvious, addition, kids are learning how to plan out how to move things in space otherwise called motor planning.
According to TheOTToolbox.com, motor planning is "the ability to plan out, organize, and carry out an action." In this case it is the ability to think about how to stack the cups to match each challenge. Will the cups need to be flipped? Right side up? How can we balance them on top of one another?
As adults this might seem really simple, but many young children benefit greatly from activities that involve fine motor planning, like this free printable STEM challenge.
Wanting to keep stacking cups?
Did you love this addition STEM challenge? I know I did! The original cup stacking challenge that inspired addition cups is actually a reading activity that went viral this year (2023). So if you're working on sounding out CVC words (consonant vowel consonant words), then be sure to check out this activity as well. I even included cups for the digraphs sh and ch to keep your kiddos challenged.
Also, check back as I'm working on some subtraction cups that will use the numbered cups we have already prepped. So you'll just need to print and be on your merry way. Does that count as a life hack?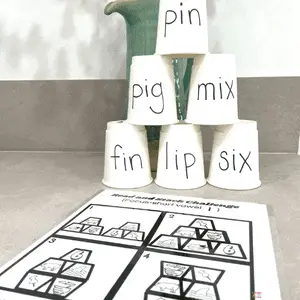 Why trace numbers to 20 with pencils, when you can use kid-approved vehicles to teach tricky numbers in a hands-on approach?
Find fabulous tips and tricks to teaching kids number formation and download number tracing mats at the end of this post for absolutely free!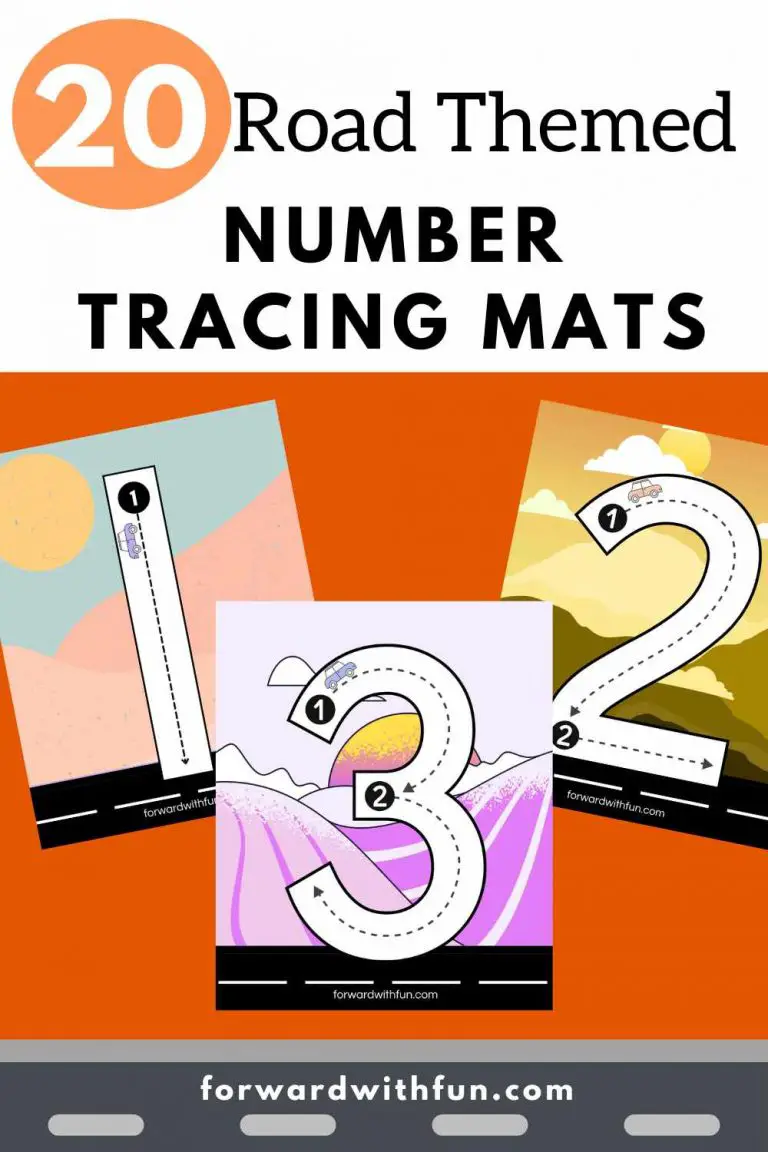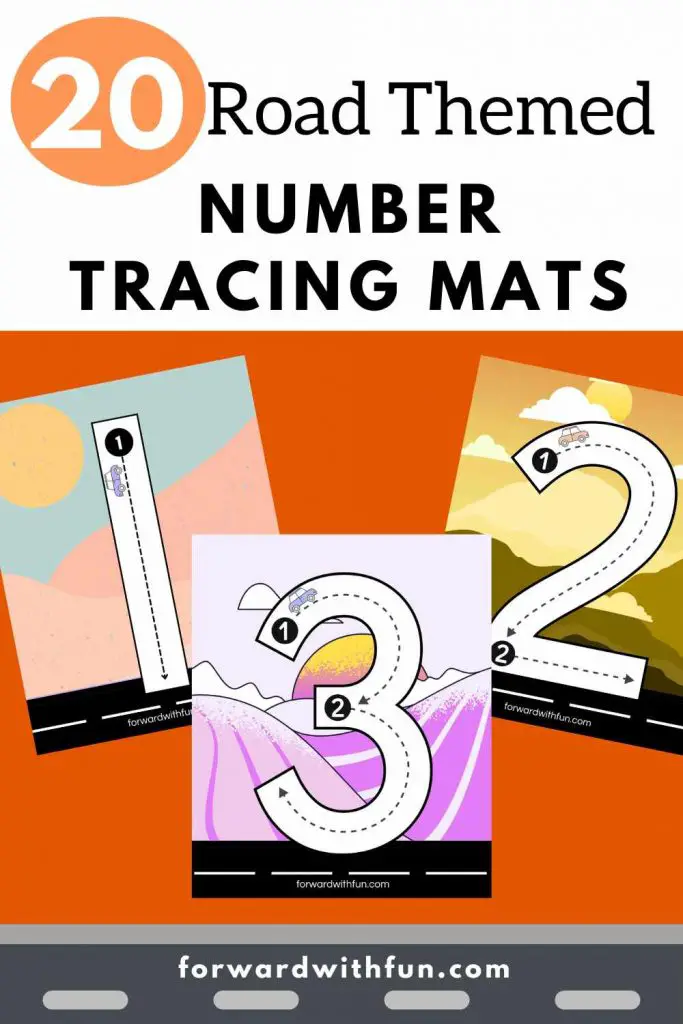 *As an Amazon Affiliate, I may make a small commission based on your purchase at no extra cost to you. Thank you.
8 Hands-on ways to trace numbers to 20
Kids are often resistant to tracing numbers on a piece of paper. Here are some great ways to get children to practice writing these numbers in less traditional ways:
Vehicle tracing with numbers to 20 road mats
Shaving cream tracing
Painting numbers with water/paint
Salt tray writing
Chalk
Tracing on partner's back
Air writing
Play-doh number mats (also a great freebie!)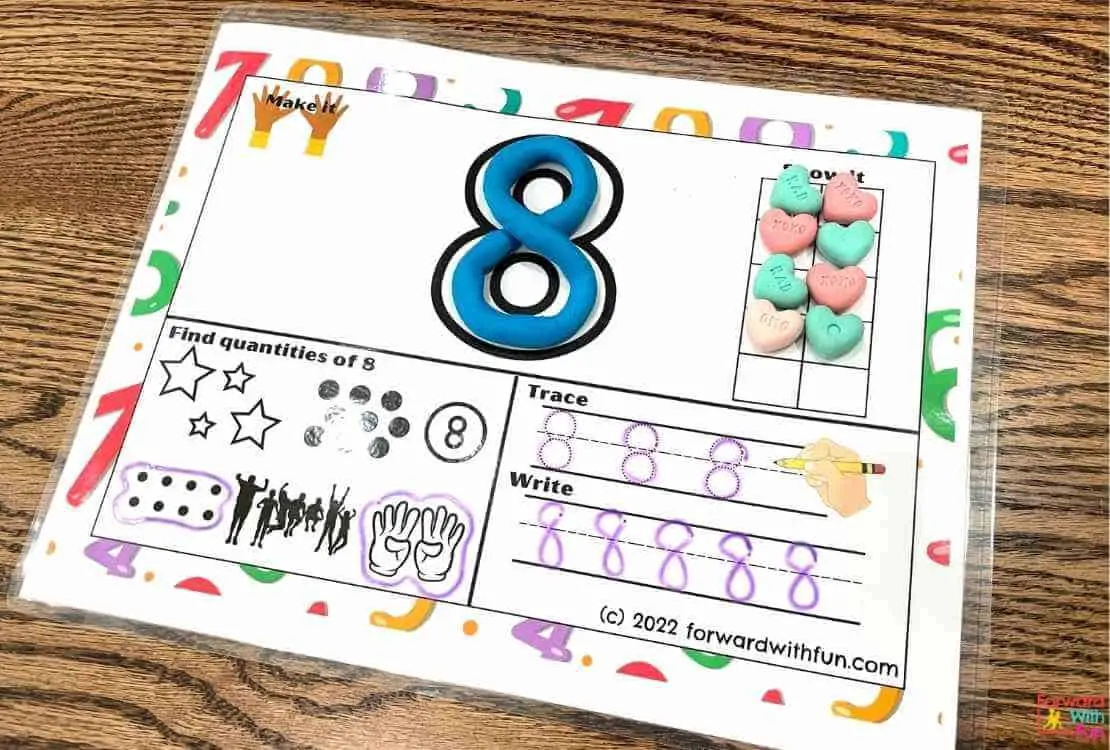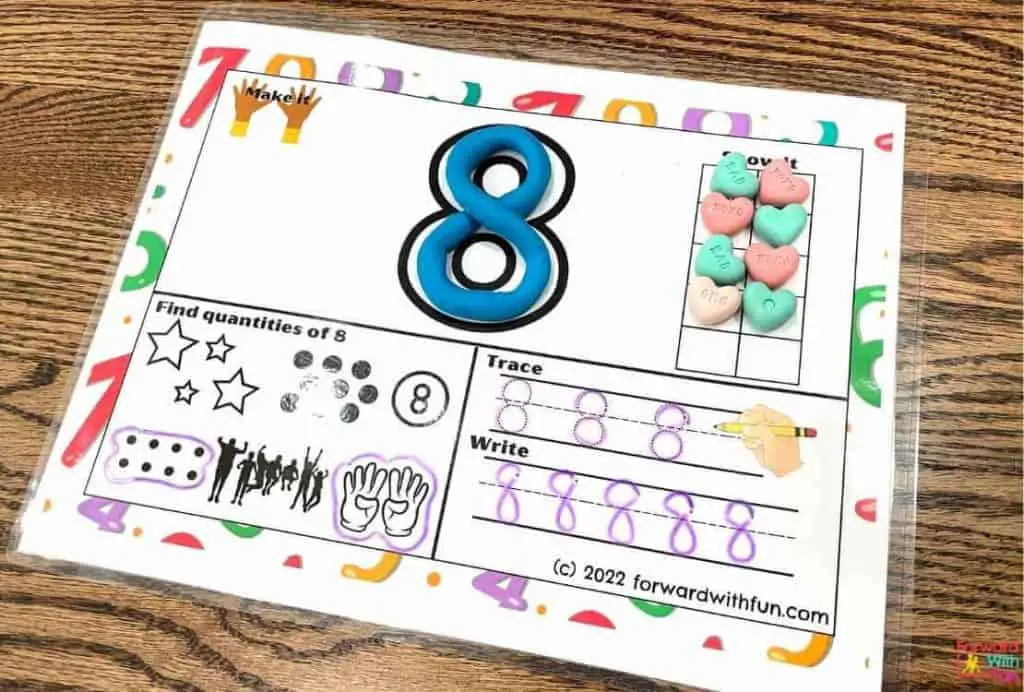 Vehicle Number Tracing Tips
Kids love the idea of tracing numbers with planes, trains, or cars. If you're using these mats for a whole class I highly recommend having a plethora of cars.
These are our favorite -and you get 36 in a pack. You can also write numbers on them with wet erase markers to make this activity a little more challenging. Kids can match the car to the correct tracing numbers mat.
And while you have those super duper cars, hop on over to grab your beginning and ending sound parking lots- my students' personal favorite phonics activity where they park these little cars in the spot that matches their sound. Hands-on and multiple uses? Heck yes!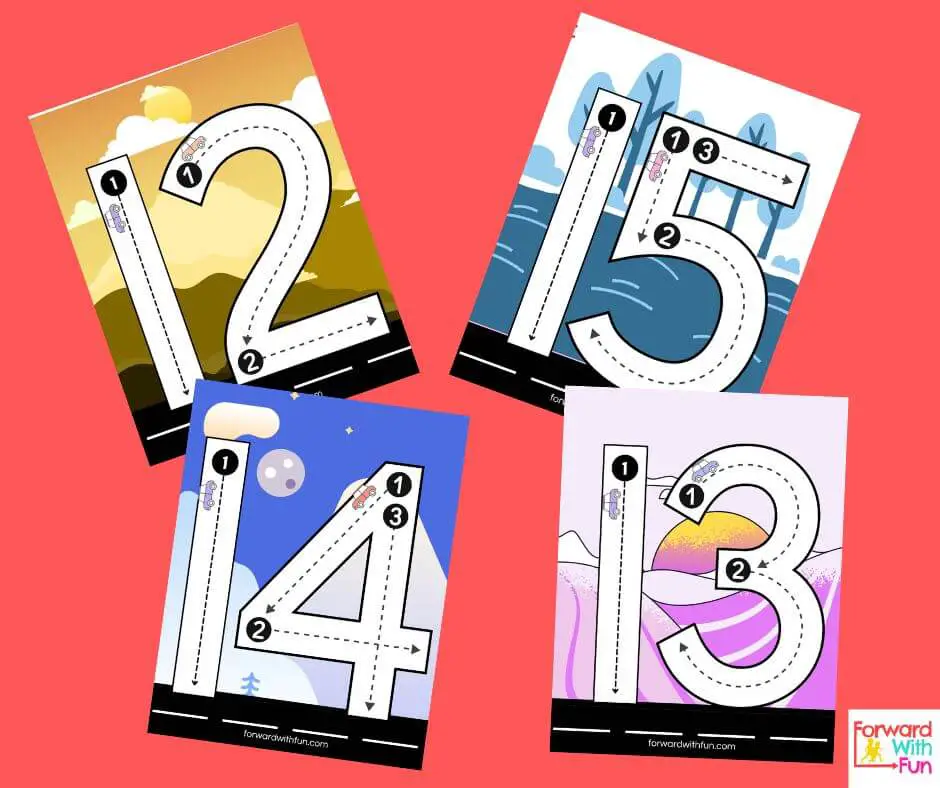 Numbers to 20 Printable Poster
Lots of kids get stuck at those tricky teen numbers, so having a numbers poster that they can easily access can help them a lot. This poster can be used as a reference, hung on the wall or can easily be pasted in their math notebooks.
Or kids can use this 1-20 printable pdf in a homeschool environment, when tracing numbers to 20 with nontraditional materials (like in the list above). Click for the pdf.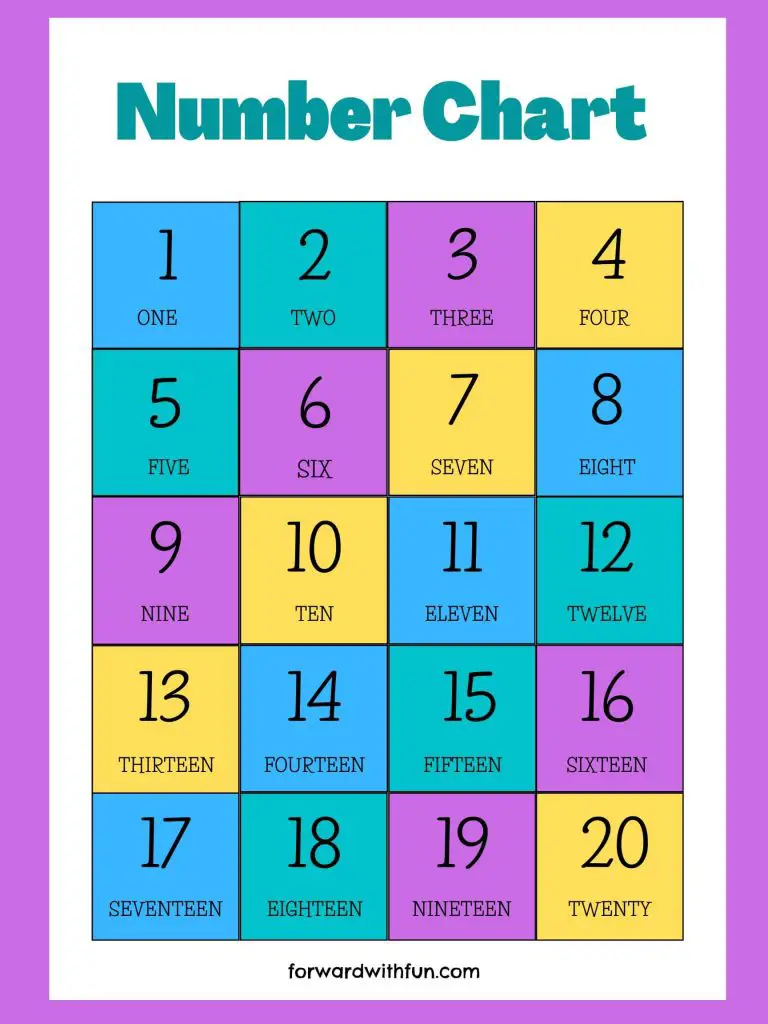 Number formation rhymes
When kids first begin to write numbers independently, they may have some trouble remembering proper number formation. I made a video, showing one of the hands-on ways kids can trace numbers to 20, to share the rhymes that have helped my students the most.
These rhymes are extra helpful to say to each child as they trace their numbers to 10.
Watch them on Pinterest to easily save them for later.
Download your free tracing mats for numbers 0-20
Make sure you print these in color and either laminate them or place them in sheet protectors so maximize their lives. If you love them, please give us a shout out on social media and tag @forwardwithfun.
It's a no brainer to use this adorable WANTED poster for your kindergarten winter writing project.
Gingerbread decorating is a common winter theme, along with the exploration of Gingerbread related stories, so let's keep with the theme and create our own WANTED poster.
*As an Amazon affiliate, I may get a small commission for purchases made through links in this post.
Literature based learning with gingerbread:
The Runaway Gingerbread man is a famous story, but did you know there are many stories that have runaway gingerbread characters?
My kindergartners and I love the following stories to compare and contrast the following gingerbread stories (all perfect to inspire winter writing!):
Kindergarten Winter Writing Project: My runaway gingerbread!
Before writing, students will need to create their very own gingerbread people to decorate. You can use the template from the second page of the Kindergarten Winter Writing PDF to trace the gingerbread shape onto a piece of construction paper. If you have brown printer paper, you can also print it on that.
Items you'll need to decorate gingerbread people:
googly eyes
buttons (can be stickers, real buttons, or candy -our fave)
strips of paper to add color
bows/hats cut out of paper
marker to draw details
glue
optional: glitter glue
Part 1 of Our Project: Decorate
Kids added the following to their gingerbread:
eyes
hat or a bow
stripes of one color to the hands and feet
buttons (candy)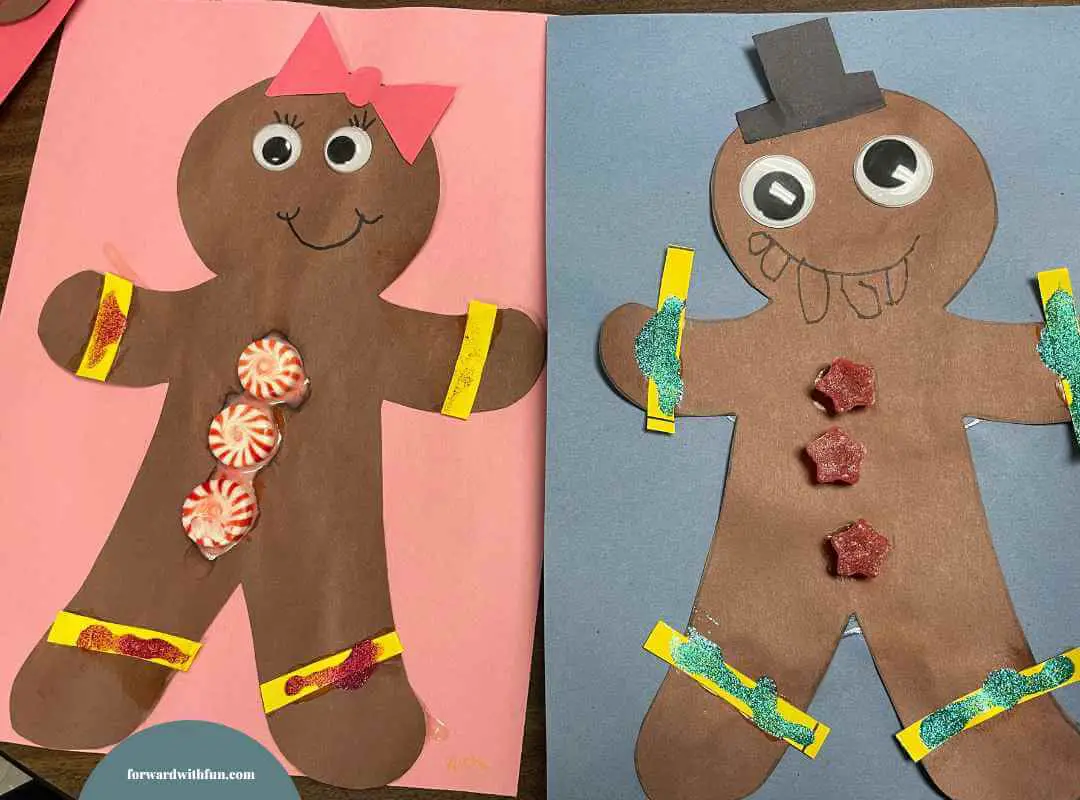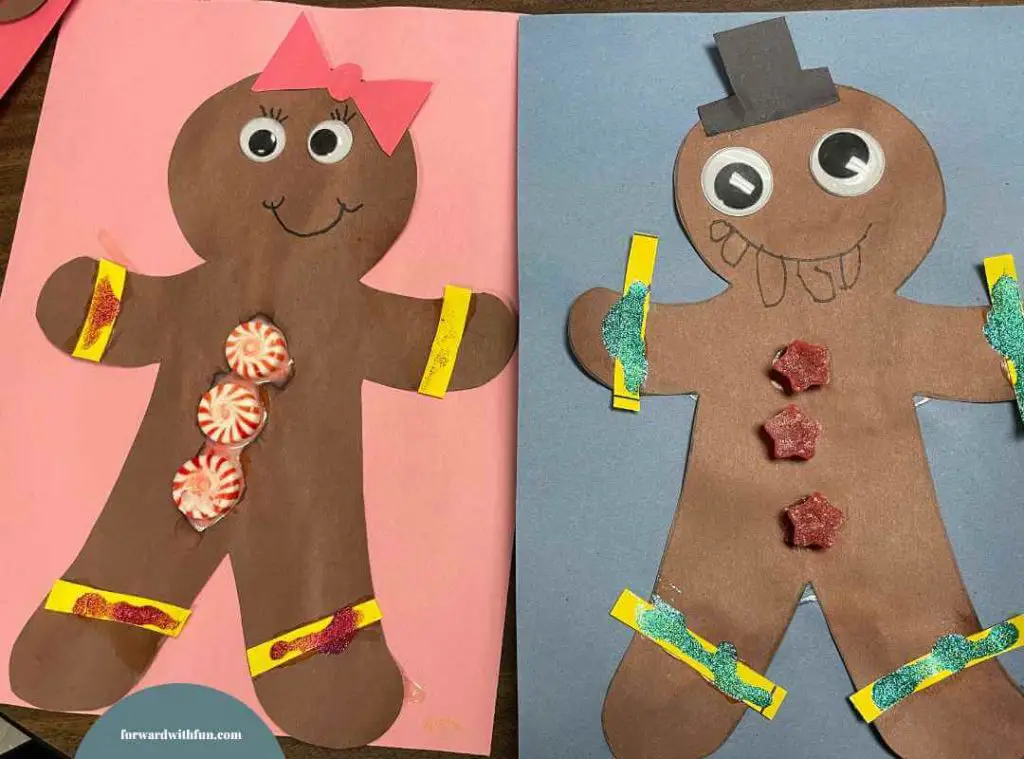 Part 2 of Kindergarten Winter Writing: Label
Once our gingerbread people were dry, we chose our favorite color as a background for them. Then we discussed the most important parts of the gingerbread person. (This is a great opportunity to build vocabulary especially if teaching students who are still learning English.)
A great kindergarten writing prompt is labeling. (It also lends itself nicely to learning about diagrams, an important text feature in kindergarten.)
Labeling is very accessible to kindergartners because usually it requires the writing of only one word at a time, and children can usually name parts of different pictures on their own.
I use these labeling stickers from Target because they're super cheap ($1.99), and who doesn't love stickers?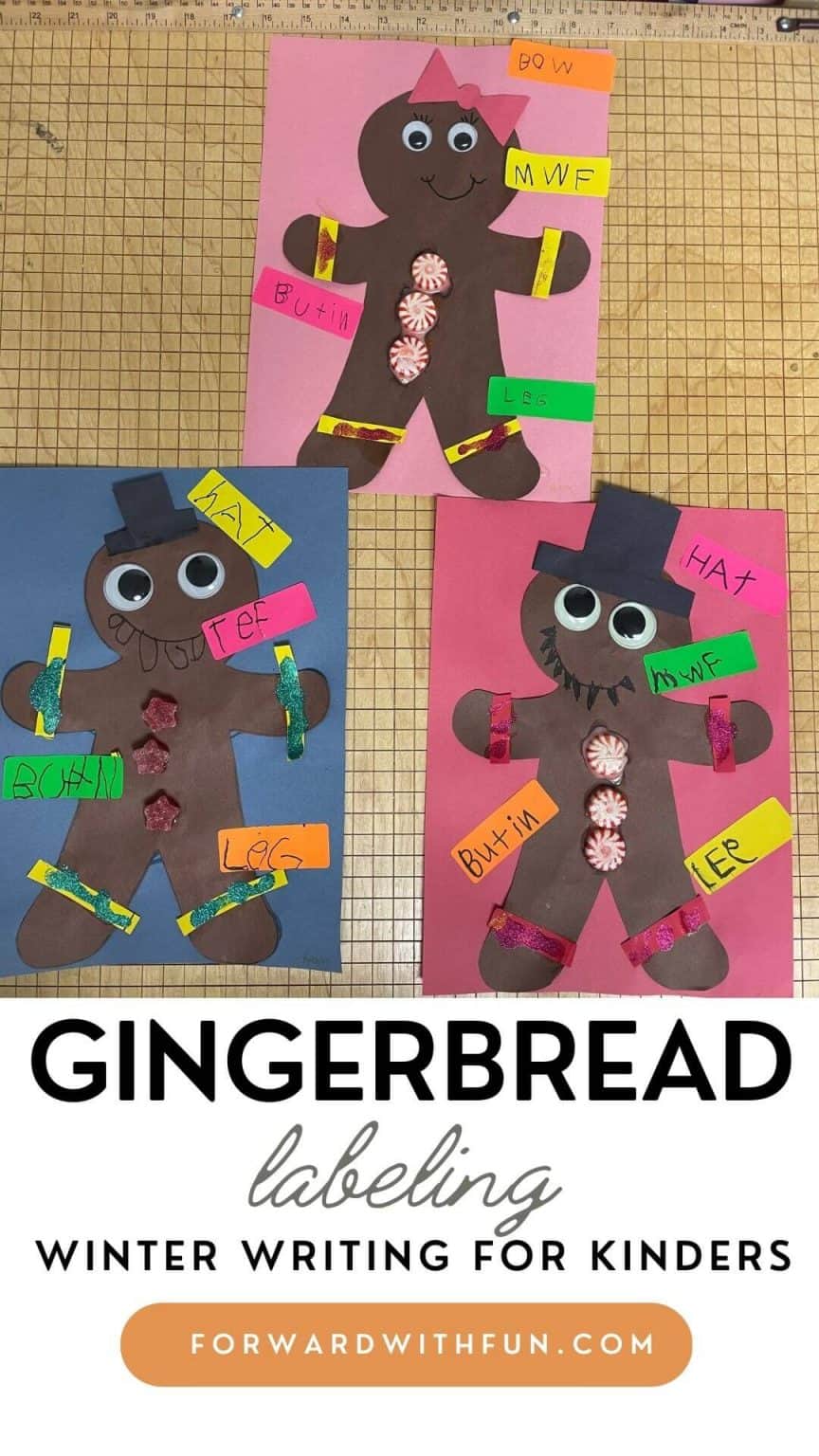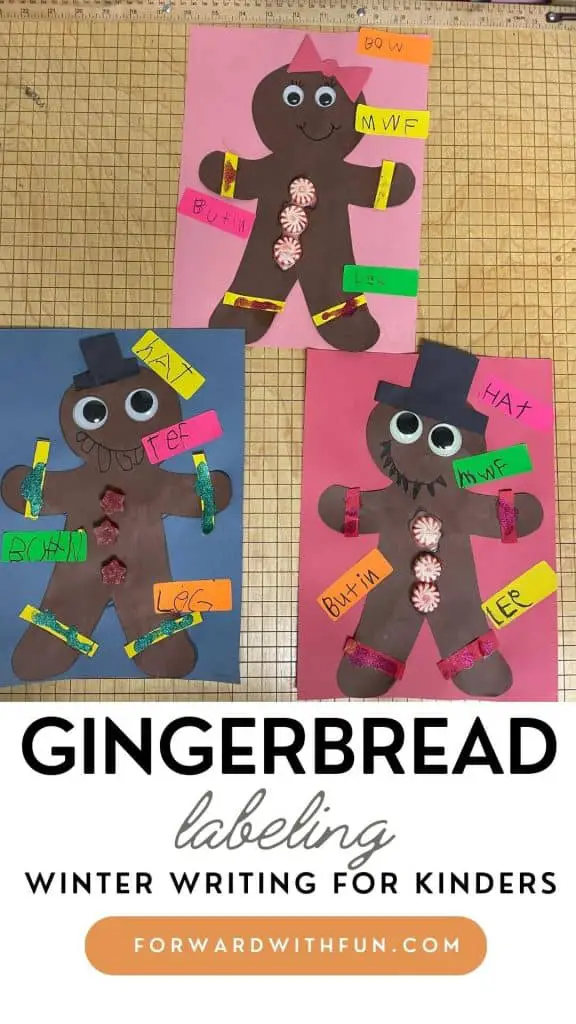 Part 3 of Kindergarten Winter Writing: WANTED Poster
I got the idea of doing a gingerbread wanted poster after reading these stories with my class in 2013. When making connections from the story to our own lives, a student retold the story of their dog running away and how their family made signs describing the dog to put up around the town.
This project was a spin on that idea. And it really makes a great "on the wall" kind of display to put up in the classroom or home.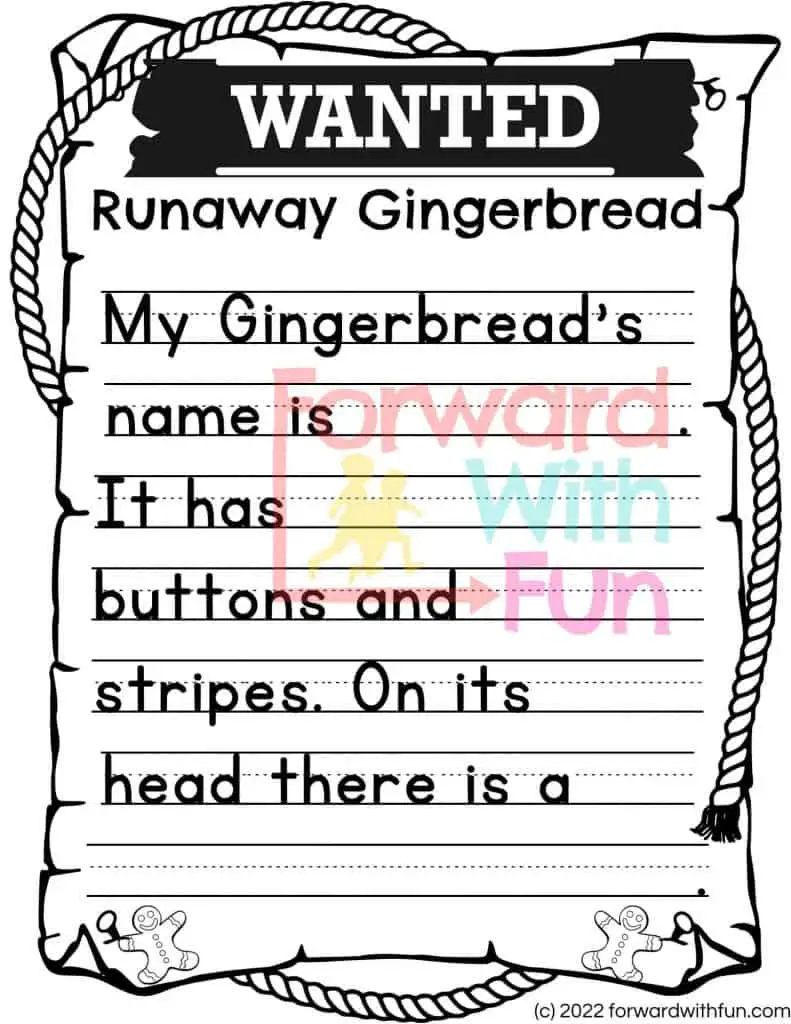 Parents, if you're reading this, you might notice that when students are writing in my class, their words are not spelled correctly. They're spelled as they sound -phonetically.
The best kind of spelling to use at this age is phonetic spelling, and if you're curious about why I don't have kids spell things the "grown up way," I would highly suggest reading this post.
Before You Download:
I do share lots of free activities because teaching is hard enough as it is. In return please consider following me on Pinterest or Instagram to see more cute activities for you to use with your kiddos.
Try these 10 Free Number Mats to teach the numbers 1-10 in five hands-on, super fun ways.
When teaching my kindergartners numbers 1 through 10, I wanted them make the connection between the number and the quantity AND help teach them how to recognize and write the number.
Bonus points for making it fun... So I made these number mats for them and thought you could use them too!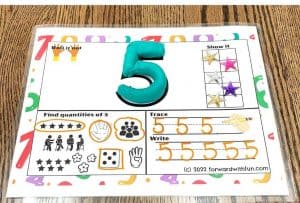 These hands-on number mats teach each number through:
Shaping the number
Counting the quantity
Identifying quantities that equal the number
Tracing to practice number writing
Independent number writing
What skills are being taught with number mats?
So much learning is happening just by playing to learn with just one number mat.
fine motor development
pencil grip
comparing same vs different
number sense
counting
subitizing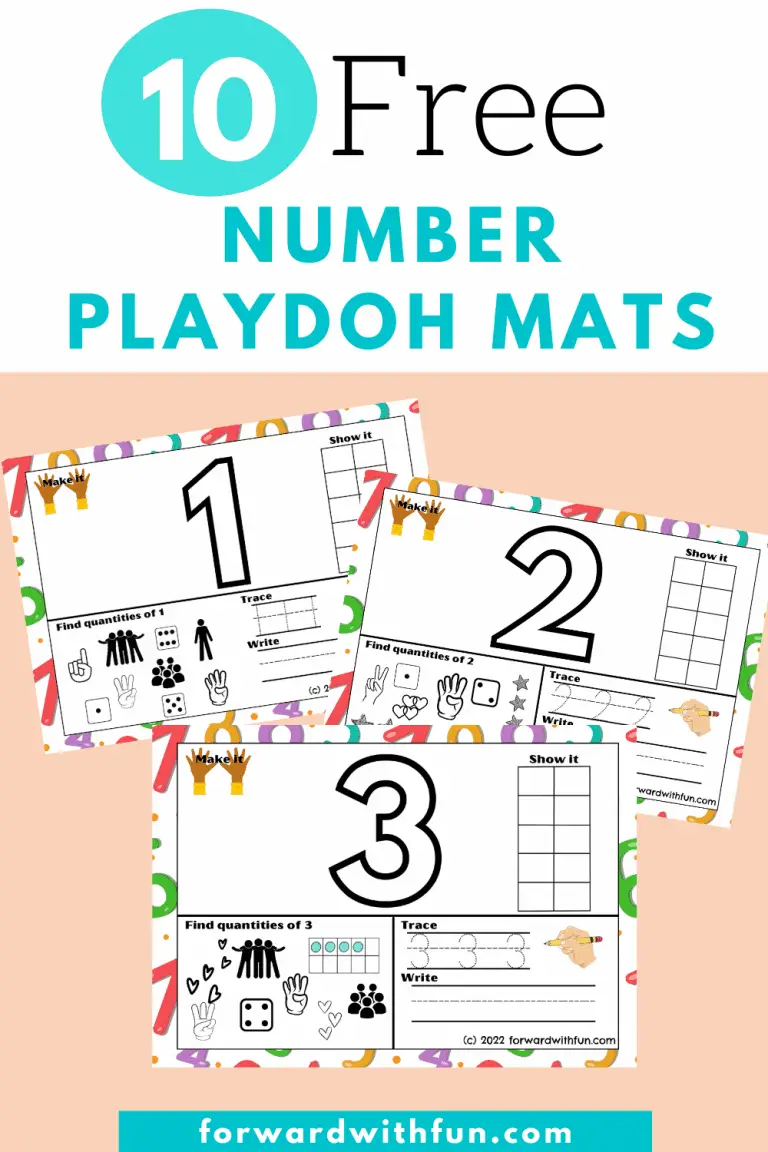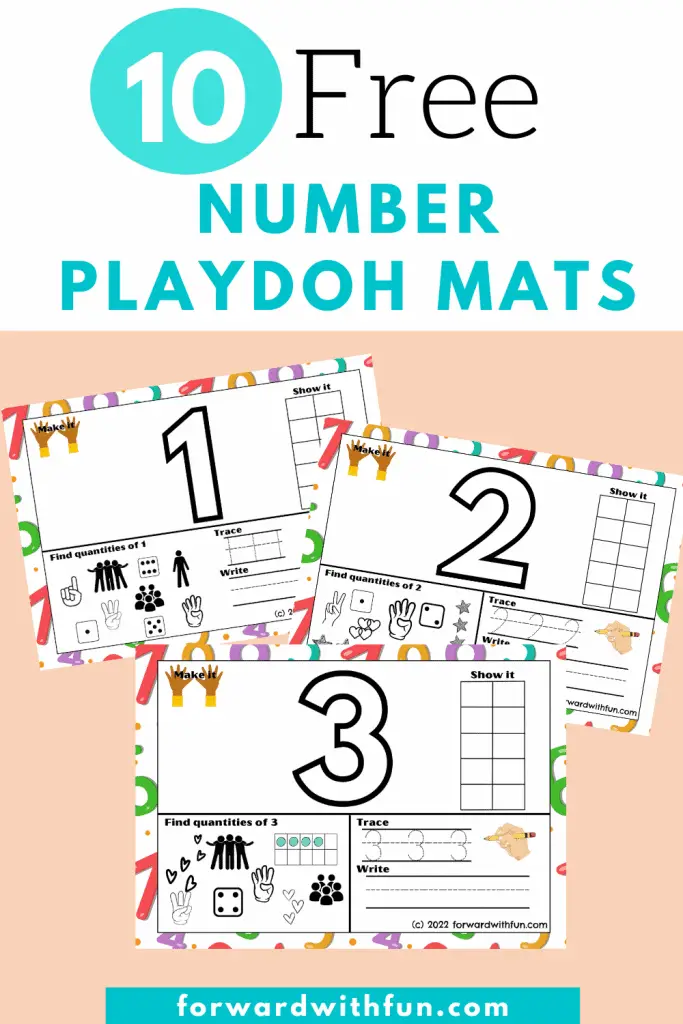 The common core math standards we hit are:
Write numbers from 0 to 20. Represent a number of objects with a written numeral 0–20.
Understand the relationship between numbers and quantities; connect counting to cardinality.
Count to answer "how many?" questions about as many as 10 things in a scattered configuration.
Count to 100 by ones. (You have to start somewhere!)
How to best use your counting mats:
After printing your number mats, I highly recommend laminating them. My secret weapon is an AmazonBasics laminator that creates a thick, durable lamination for teaching resources I plan to use a lot!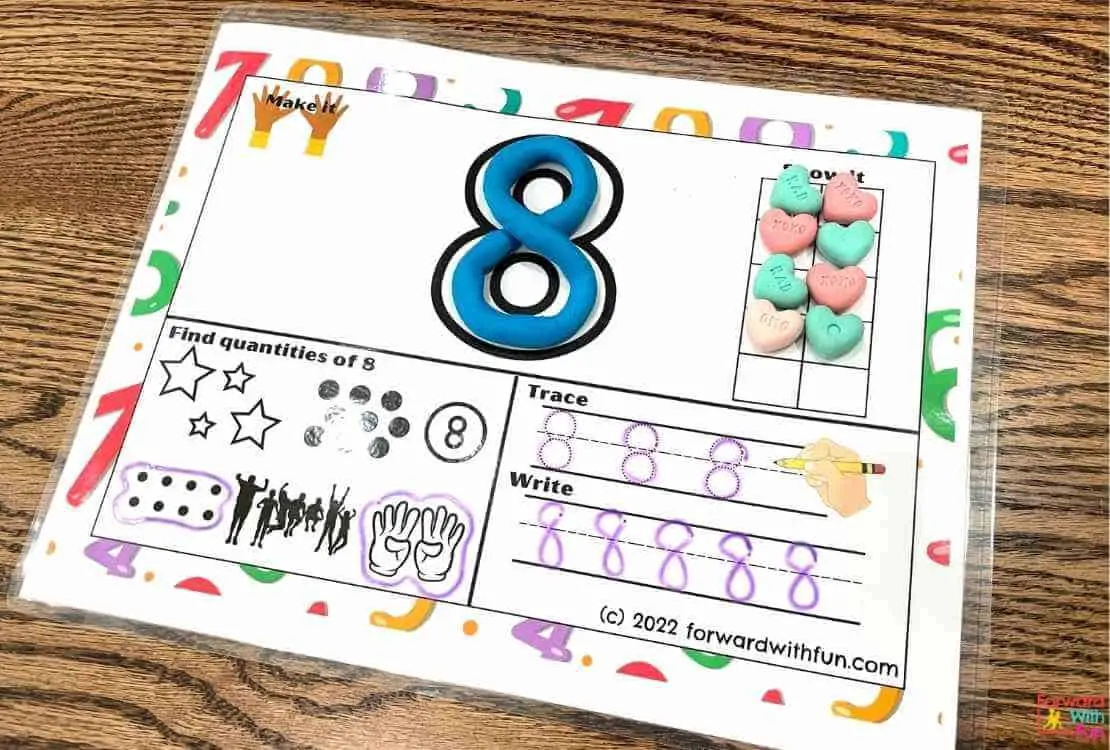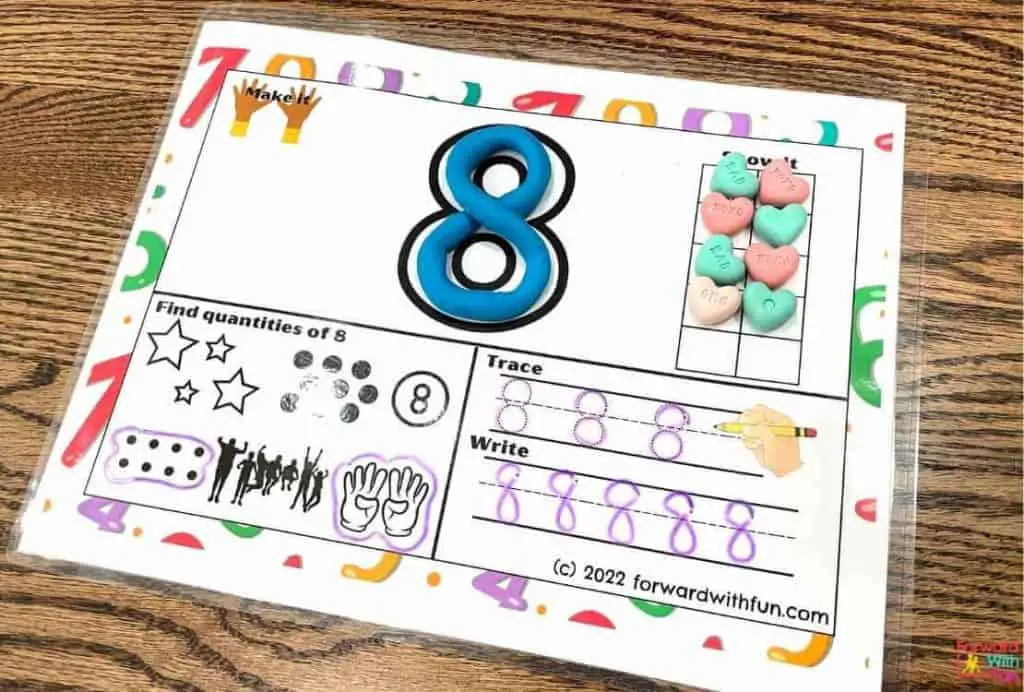 Another option is to use a simple plastic page protector, but those are harder to erase. You can also print them out as single-use printables if you're in a rush.
These number mats are hands-on, so instead of just writing on them, kids are invited to use objects to really engage with each number. We use Play-doh to shape the number, so I love the laminated mats because the dough comes off easily.
Some supplies you might want to have are:
small counting objects such as gems, erasers, beads, cheerios
dry erase markers
Play-doh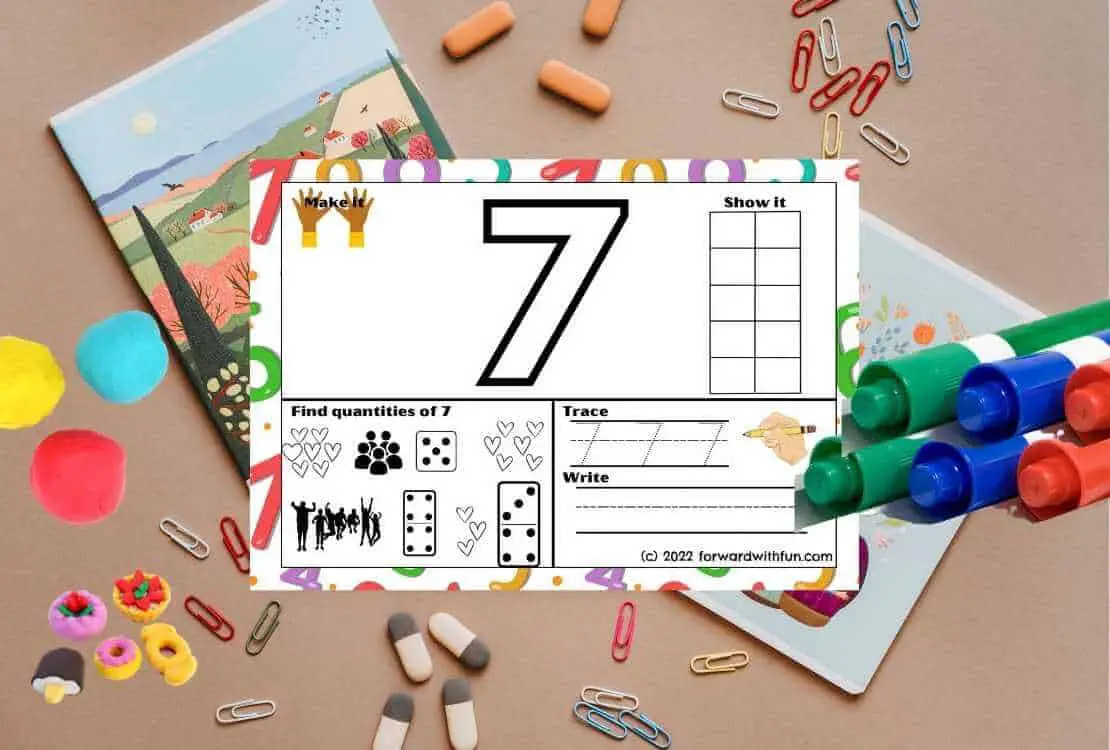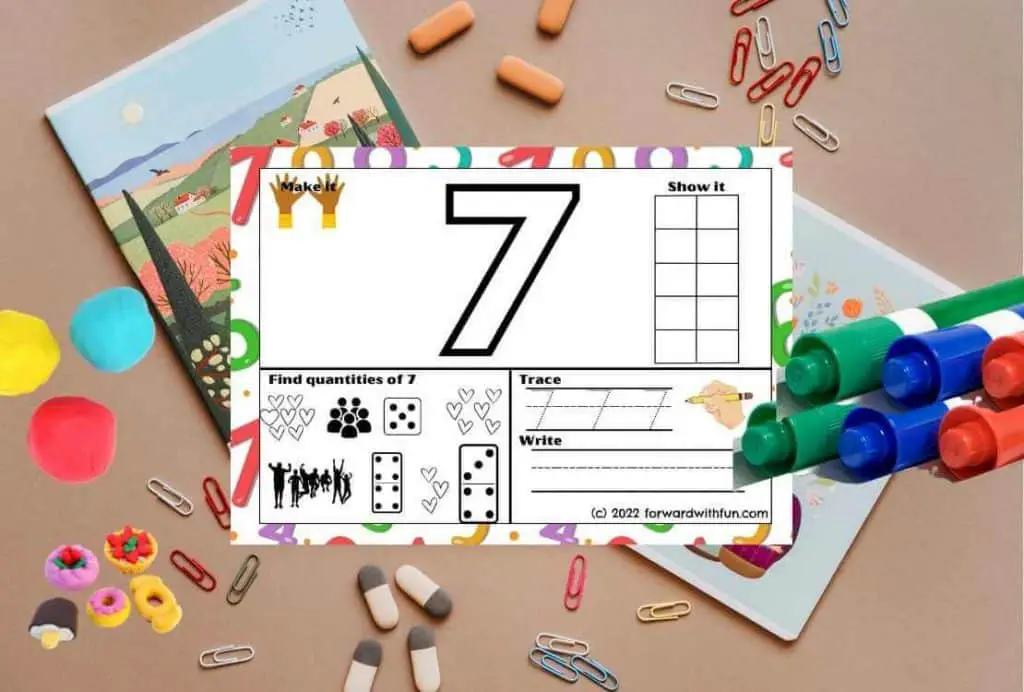 Why do these number mats work so well for kids?
When learning numbers for the first time, kids are already receiving a lot of new input. At the very young age of 3-6 we expect them to memorize all these squiggles and lines, 26 letters- capital and lowercase plus numbers 1-20 in kindergarten. It's a lot!
Repetition is one part of the puzzle. In order to memorize a new number, kids need a ton of exposures to that specific digit. These exposures must be memorable! So a worksheet won't cut it.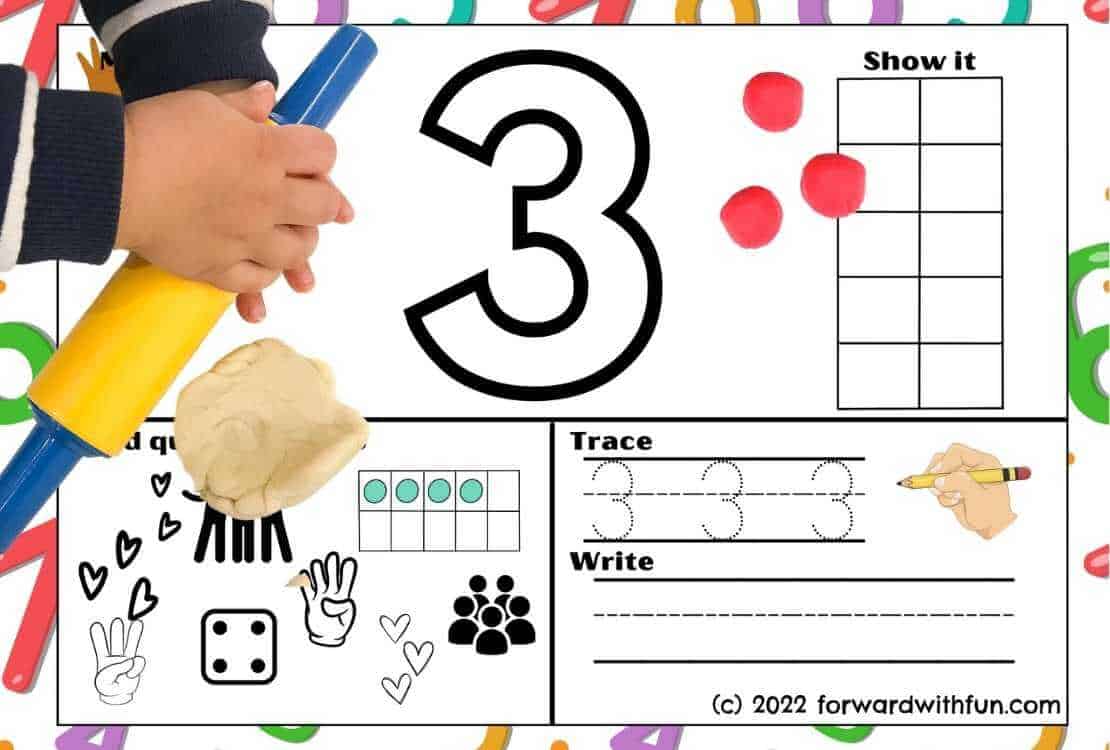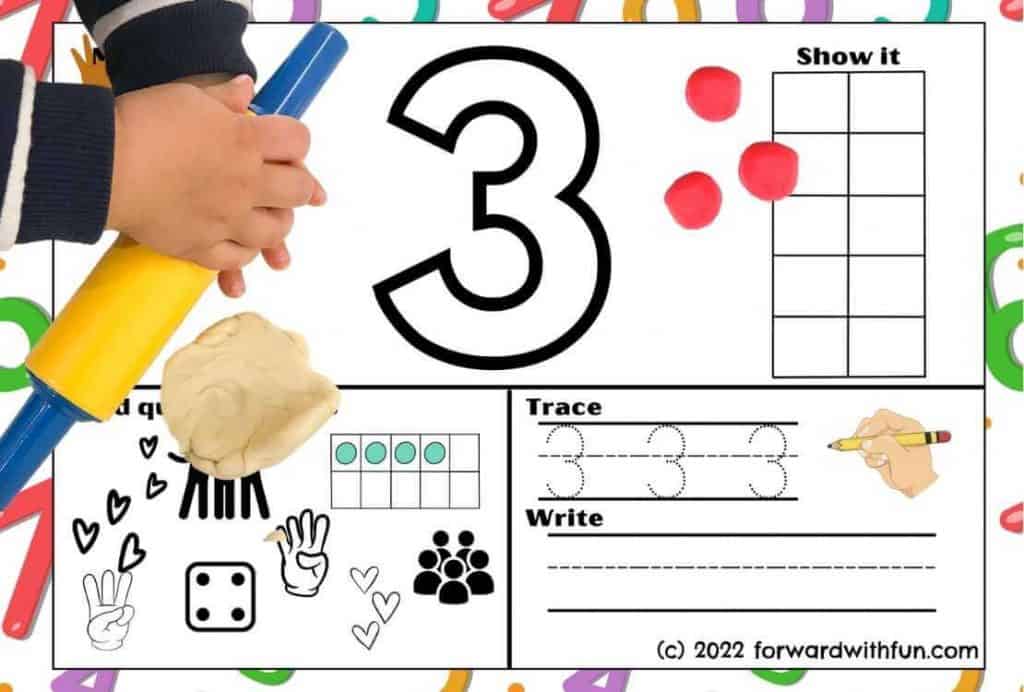 The number mats I'm sharing with you are exciting for my students because they get to work with preferred objects, manipulatives, and use their minds in multiple ways while they work!
They're interacting with each number many times making it easier to remember:
counting using objects
counting objects in pictures
connecting a numeral to a quantity
shaping the number
tracing and writing each number
I've said it once and I'll say it again, hands-on experiences are worth 1000 times more than a worksheet a child will do and forget by snack time.
My students LOVE these number mats, and they even ask to do them over and over again solidifying their knowledge and practicing their number sense as well as number identification skills.
Why stop at number mats? Check out these other fabulously free resources.
I'm sure you're working on letters as well. You don't want to miss these alphabet mats the kids go gaga for!
Teach coding in kindergarten with this free to print candy corn stem challenge. It's so simple, you can do this with your whole class- all you need is a bag of candy corn! Let's go.
Before you print, you'll need to understand how to teach coding in kindergarten and why on earth we're going to use candy corn to do it. So read on.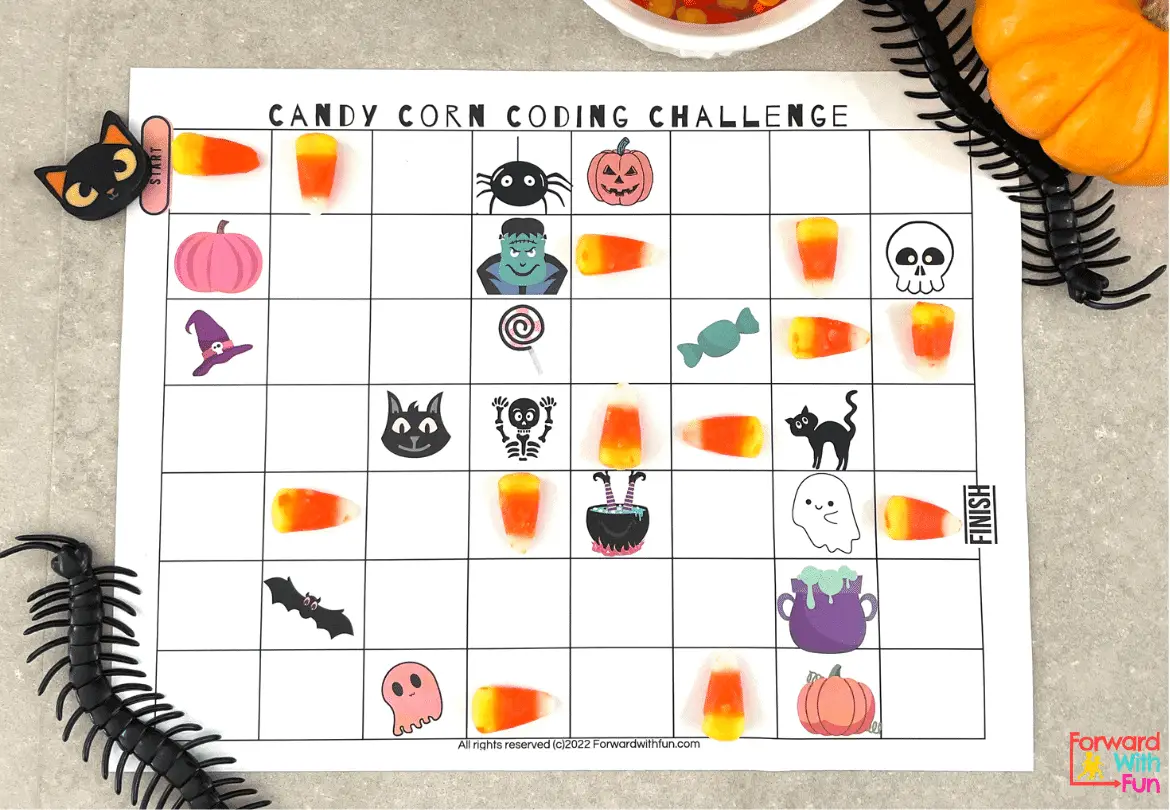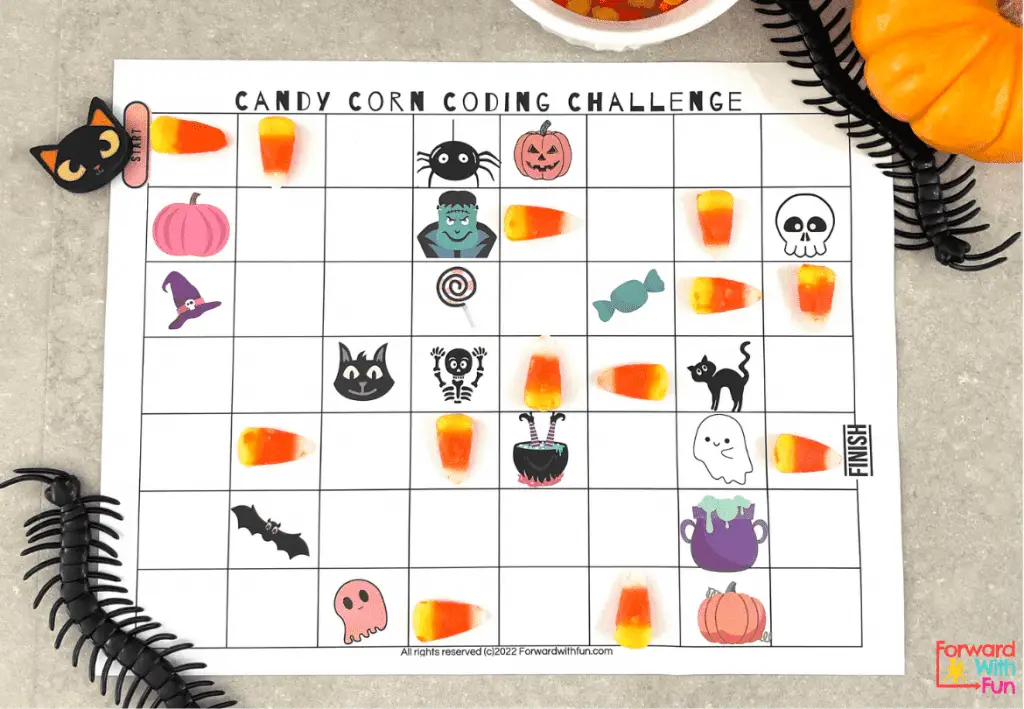 What is coding in kindergarten?
Can a 5 year old learn coding? Of course they can! Most of the coding we teach in kindergarten is called directional coding as opposed to block coding.
Directional coding is coding that is giving directions very simply, usually through a series of arrows. This can be done on the computer or in an unplugged coding activity, such as this one. 
In this hands-on candy corn STEM challenge, kids will be using the candy corn as arrows as they practice directional coding to get from start to finish. Then they'll test out their code, to see if it works!
Why is coding important in kindergarten?
Coding may not be part of the learning standards now, but I know it will be! The world is shifting to be more and more technologically centered, and many future jobs or even hobbies may rely on the ability to code. 
When we start coding in kindergarten, we build these future skills that children will need. It's like learning a language; the earlier you begin, the more fluent you will be.
Some benefits of coding in kindergarten:
problem solving skills
computational thinking
higher engagement when learning is hands-on
combines creativity with math
builds essential future skills
Unplugged coding activities are done without a computer, so many kids can participate at once, building skills they'll need on computers.
Avoid this common mistake kindergartners make while coding:
The most typical mistake I see when I am teaching directional coding to kindergartners is the addition of redundant codes. When you are coding, if your arrow points down, you will not need another arrow until you want to change directions.
You should never have two arrows in a row that are pointing the same way.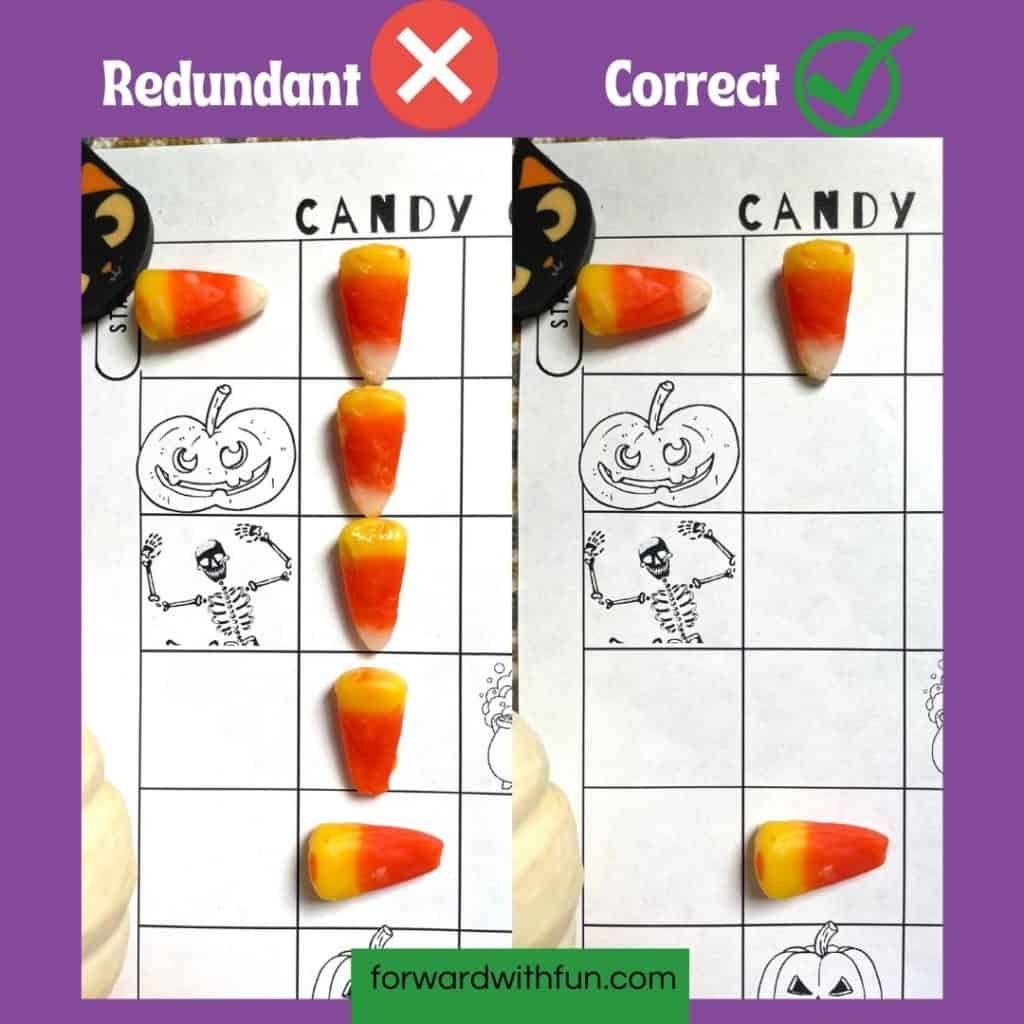 Candy Corn STEM Challenge Guide
Supplies needed for the Candy Corn STEM challenge:
Free printable coding worksheets pdf -either color or black and white version
Between 13-17 candy corn per child
A token item, like a board game piece, that will be used to follow the code
Basics of coding to teach your kindergartners:
Directional coding is about using basic arrows to direct your token item where to go. Only use an arrow when you are changing directions.
The only directions for our candy corn to point are:
Remember: there is no diagonal pointing here!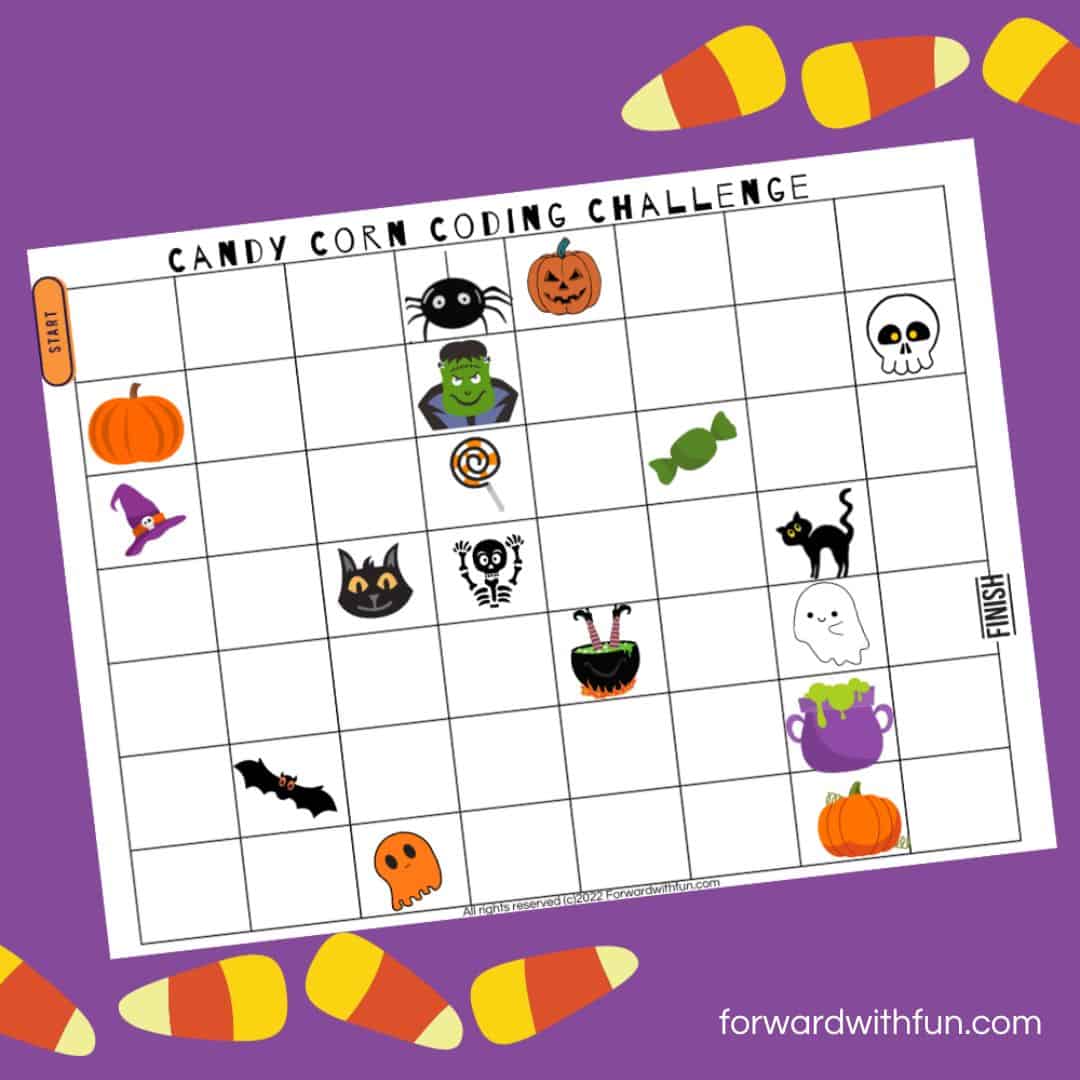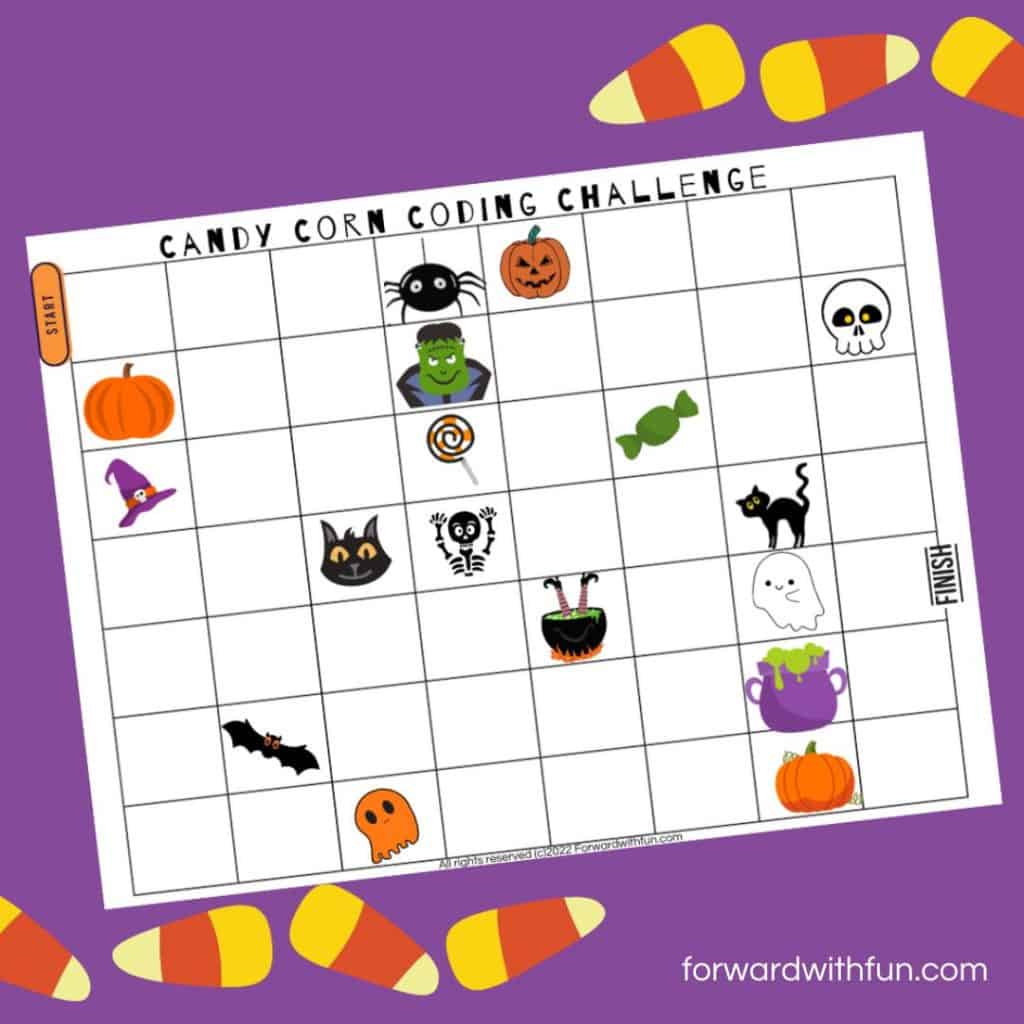 Lesson Plan: Candy Corn Coding in Kindergarten
Objective:
Code a path from start to finish, using candy corn. Test out the candy corn code by following it with a token of choice.
Directions:
Use your candy corn to make a path through the grid to get to the end. Candy corn can only point up, down, left, or right. Only use a candy corn to change directions.
Place a candy corn in the first square to direct your token in the right direction. (This should be pointing right.)
When you come to a block in the grid, you'll need to add a candy corn to code a new direction that avoids the block.
Continue using candy corn arrows to avoid all objects and direct your token out of the path to the finish line.
Once your code is complete, use your token and follow the code to see if it indeed, leads you out of the grid. This can be done with a partner as well.
Answer key/code:
There is more than one way to complete the coding challenge. Here are the photos of the possible correct answers. Remember to pin or bookmark this page so you can check the answers against your kiddos' or simply follow their path.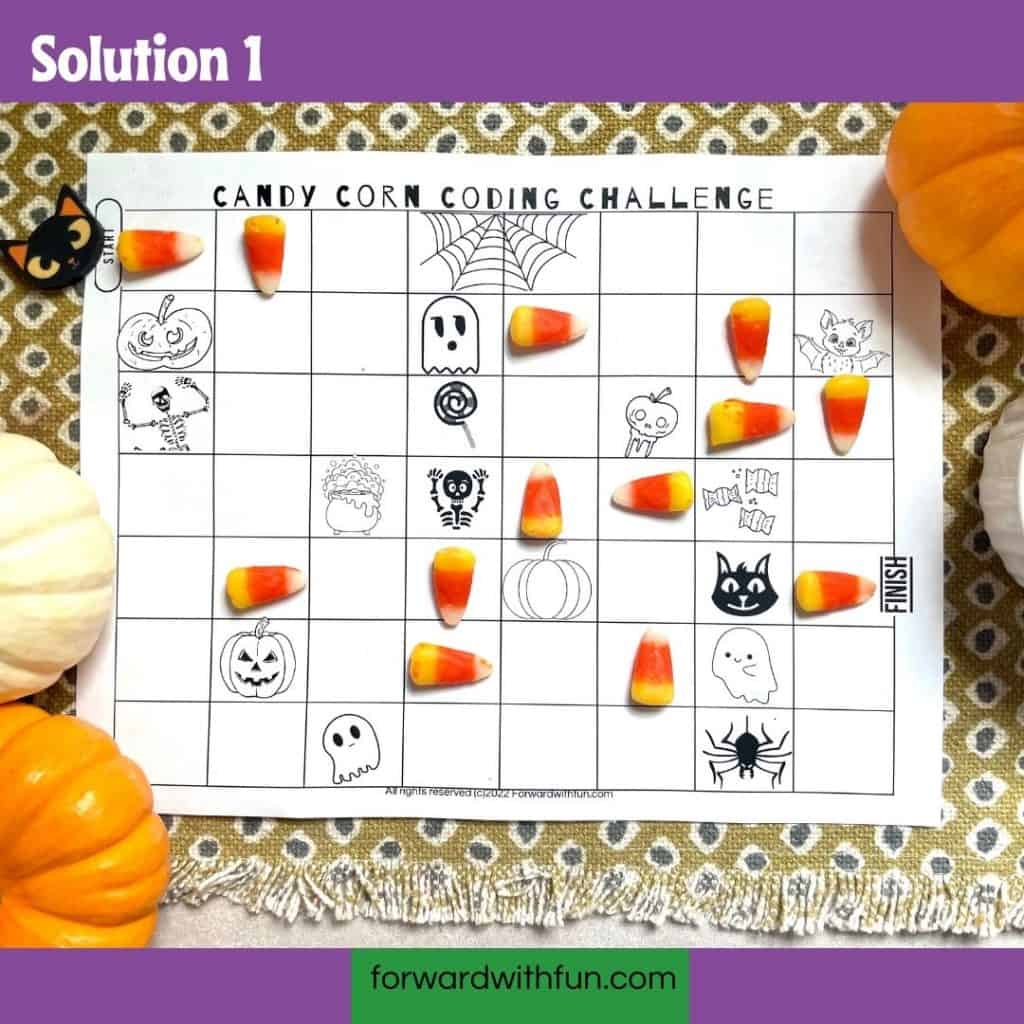 Want the bundle of 6 additional Candy Corn STEM Challenges?
If you feel especially passionate about kids coding, or even just want to make an independent center out of this activity, I've made a bundle of 6 black and white coding printables for you.
Each printable has 2 or more solutions so you'll have 12 additional directional coding activities to do with your kindergartners, along with your freebie.
Grab the bundle of 6 kindergarten printable coding worksheets for only $1.50. If you're looking for just the FREEBIE, just keep scrolling! : )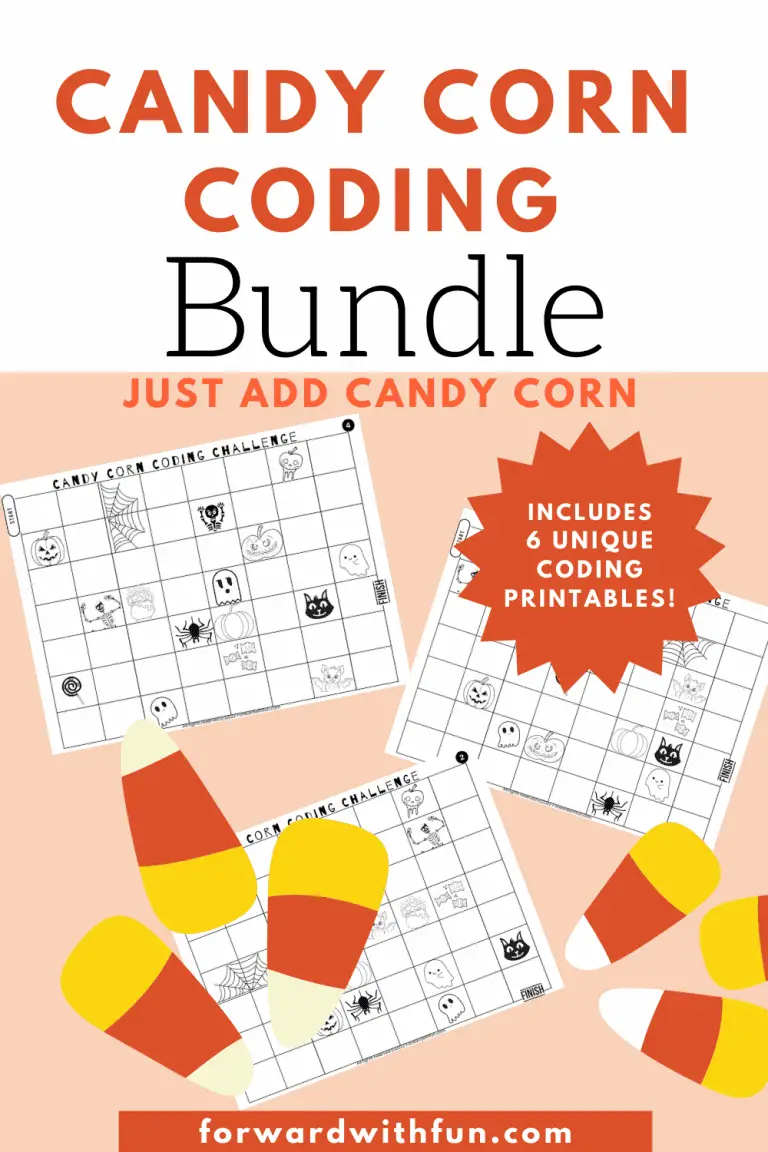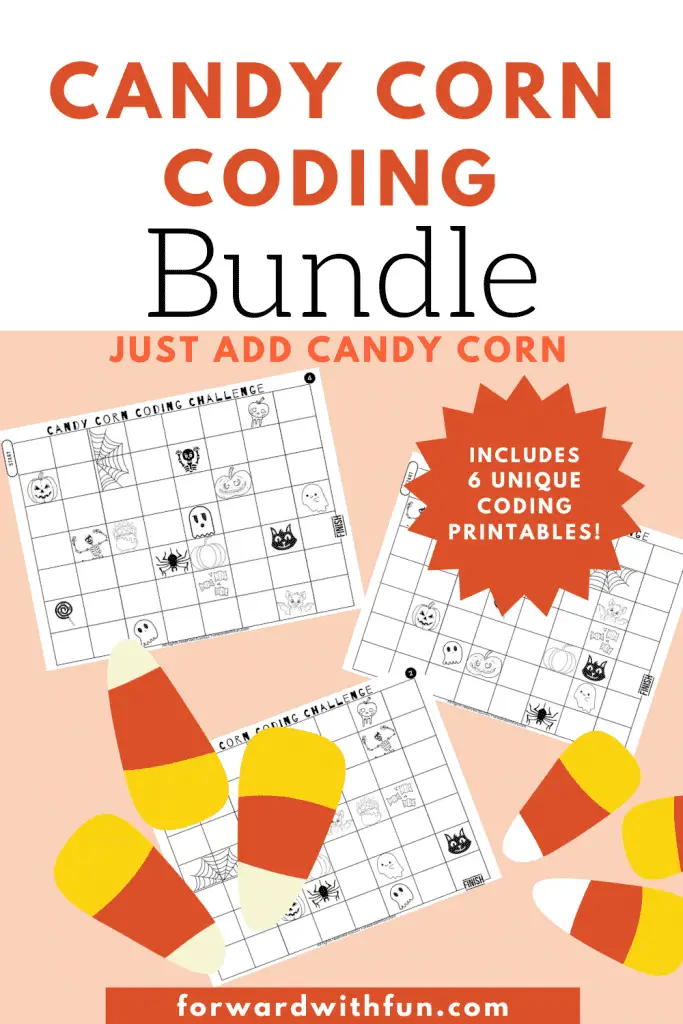 Just want the FREE Candy Corn STEM Challenge to teach coding in kindergarten? Here you go!
Looking for more candy corn and Halloween activities to do with your 4-6 year olds?
Check out our post of simply delightful Halloween activities for your leftover candy corn. Please follow and tag @forwardwithfun on social media if you share this activity!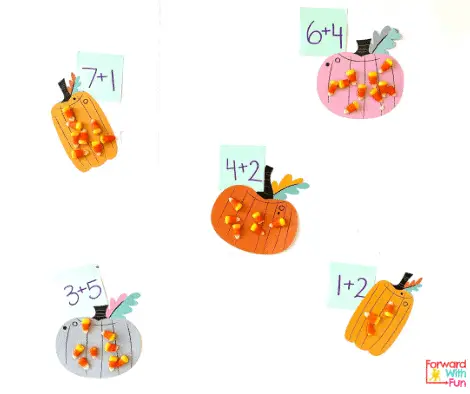 Phonetic spelling is an essential developmental milestone for any child learning the English language. Often adults overcorrect children's "misspellings" without understanding the role that phonetic spelling plays.
This post includes a parent letter freebie for you to share with families, in order for them to understand how vital it is for children to use phonetic spelling when they're first learning to write. See if you can easily read it, since in true teacher fashion, I wrote it all phonetically.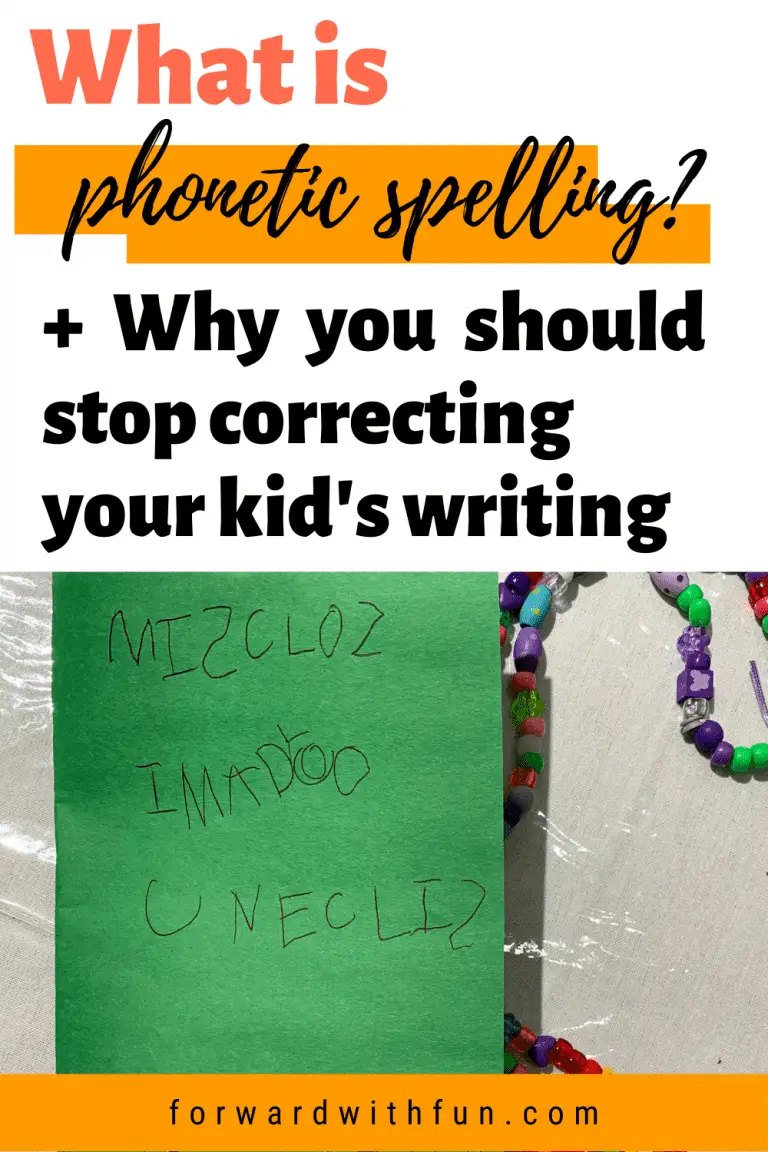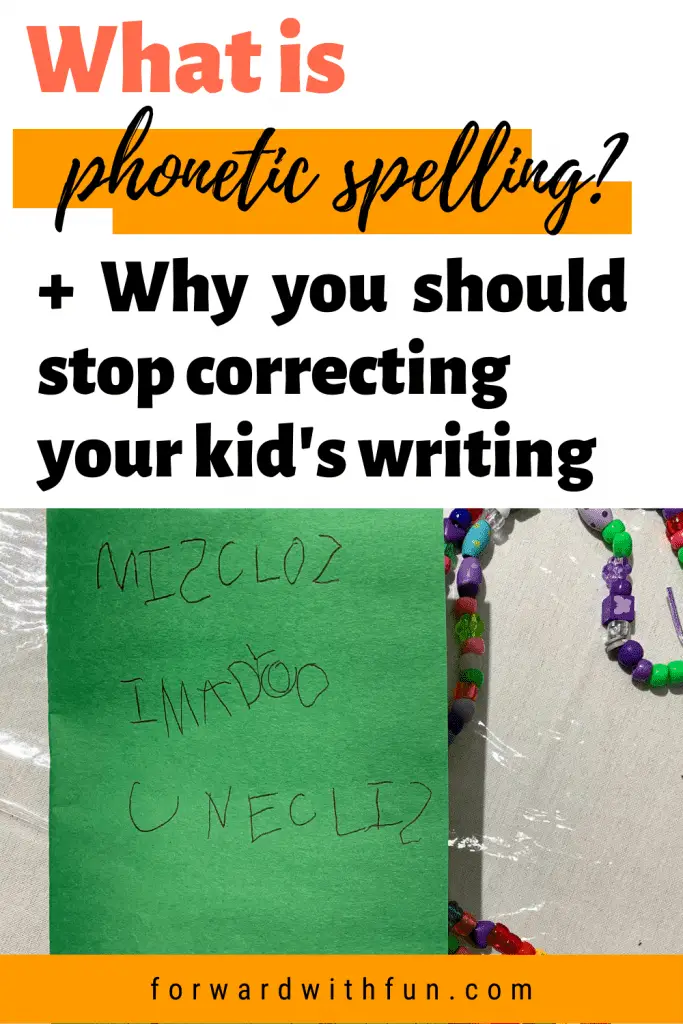 What is Phonetic Spelling?
I've commonly called phonetic spelling, "kid spelling" in the classroom. Put in terms children understand, phonetic spelling is spelling words by sounding them out. 
Sometimes phonetic spelling is referred to as inventive spelling, because children are creating spellings as they go - instead of spelling by memory. 
When children are in pre-k and kindergarten, our focus is to teach them the letters and sounds of the alphabet. Each letter has a sound (or two). Children must master these sounds as the first step on their journey to becoming independent readers and writers. 
Instead of classifying phonetic spelling as incorrect, I explain there are two kinds of spelling. One is adult spelling, and the other is kindergarten or kid spelling. 
Guess what? Both are right. I've ruffled a few feathers on the internet by saying that, but if you keep reading, you'll understand why. 
Is English a phonetic language?
When you see the following sentence written by a kindergartener, you'll notice the words are all spelled incorrectly. Yet, if you read the phonetically spelled "words" out loud, you'll be able to make sense of what was written.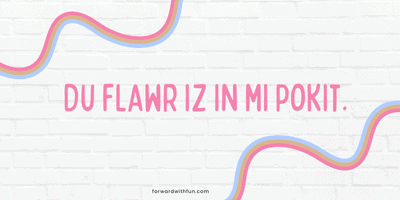 "The flower is in my pocket." Well written, for a child or someone learning English for the first time! So you may have concluded by now that nope, English is not a phonetic language, unlike Spanish, German, and Polish. 
The English language has many words that don't sound as they are spelled: though, knife, far, raspberry, eight, to name a few. 
Additionally, English contains many digraphs (ie. sh, ph, wh, ch). That combined with totally silent letters makes it a challenging language to learn. 
Don't even get me started about sight words like do, is, you. And then come the vowels with many different rules, like i before e, vowel teams, silent e, etc.
There are so many rules, that even I, someone who teaches phonics all day, don't know them all! 
Why shouldn't adults correct phonetic spelling?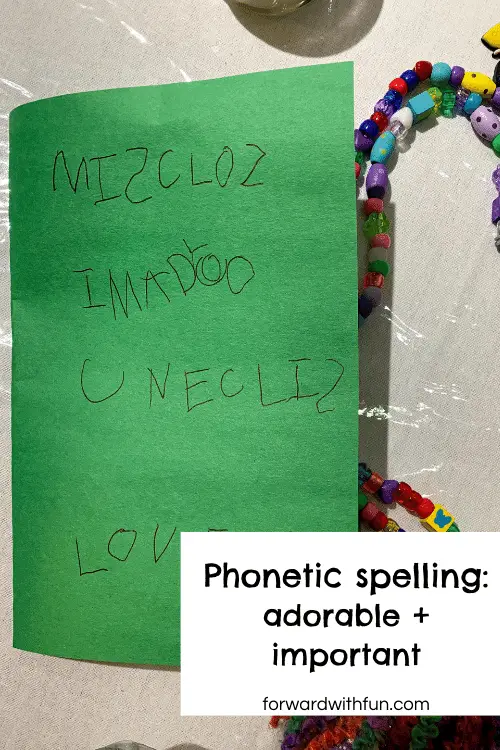 As a parent you might be thinking, "If I don't correct this spelling, my child will learn how to spell everything incorrectly." 
I understand why people think that! But imagine this: you're a young child who has no concept of reading and has just learned your alphabet. 
After using the alphabet sounds you have been mastering over the last year (20% of your life!) you manage to sound out the word BOT (boat) only to be corrected and told it is in fact, BOAT. 
What? This doesn't make sense! 
When we correct children's spelling of words they have never been taught to spell, they may become discouraged and feel as if they're not good at writing. After all, they learned their letters, and now the letters are not all they need!  
When we encourage them to use phonetic spelling, we are reinforcing all that letter/sound knowledge. Additionally we are opening the doors for them to write without the help of an adult. This is going to create many opportunities for practice and feelings of ownership over their own writing. 
I'd much rather that students spell things incorrectly and feel good about the task of writing than shut down and fear writing because they want to make sure everything is spelled like an adult.
So should you always let kids spell things wrong? A popular question!
Well, no. That doesn't make sense either. 
The spelling you should correct:
Sight words, words children should know on sight/memorization
Names - their own or ones they'll be writing often, like a sibling 
Words that have a spelling rule they have been already taught (ie. if they have learned about silent e, you can remind them that "mak" needs a silent "e" to be correct.)
If your kid doesn't know that a silent e makes the vowel "say it's name," then you wouldn't need to tell them that they need an "e" at the end of "make."
If your child has learned "is" and "of" as their sight words-which are memorized, then they should be spelling them correctly.
So when they learn a new spelling pattern or rule, those are now words that we can encourage them to spell with adult/standardized spelling.
For the rest of the words, encourage and praise phonetic spelling! 
This way, we are reinforcing the alphabetic principle, that letters represent spoken sounds. This is also why in kindergarten, focus on teaching phonetically spelled CVC words: cup, kit, mat, bug, etc. These words make sense to children, and they'll have more success when spelling them.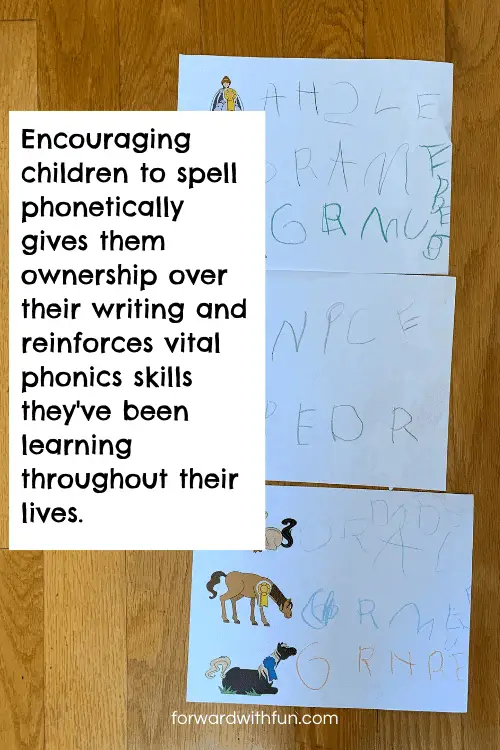 What should I do if my kid asks me how to spell something?
Children often ask how to spell words they want to write.
Instead of telling them what letters to write, try asking the following questions:
What sound do you hear at the beginning of the word? 
What letter makes that sound?
Now what do you hear next? (You can help by stretching out the word auditorily for them.)
Do you hear anything else? 
What sound do you hear at the end of the word?
By encouraging children to listen for the sounds in the words, we as teachers, are building their phonemic awareness- a major reading and writing set of skills, kids will need to succeed in school. 
When they ask you if their spelling is right, you can say yes. Remember, adult spelling is different from kid/kindergarten spelling. Both can be right. 
At the end of kindergarten, teachers expect children to be able to write short words with at least a beginning, middle, and ending sound, but longer words take time and practice to learn the adult spelling. 
How do we explain to parents and other adults not to correct spelling?
Here is a letter for you to pass out to parents. You may notice, I wrote the letter using phonetic spelling. 
Challenge yourself or if you're a teacher, the parents in your class, to read this letter. The letter explains what phonetic spelling is and why it's such a developmentally important step in becoming a reader and writer. 
Click the picture to download your own copy or pin it, to save for later!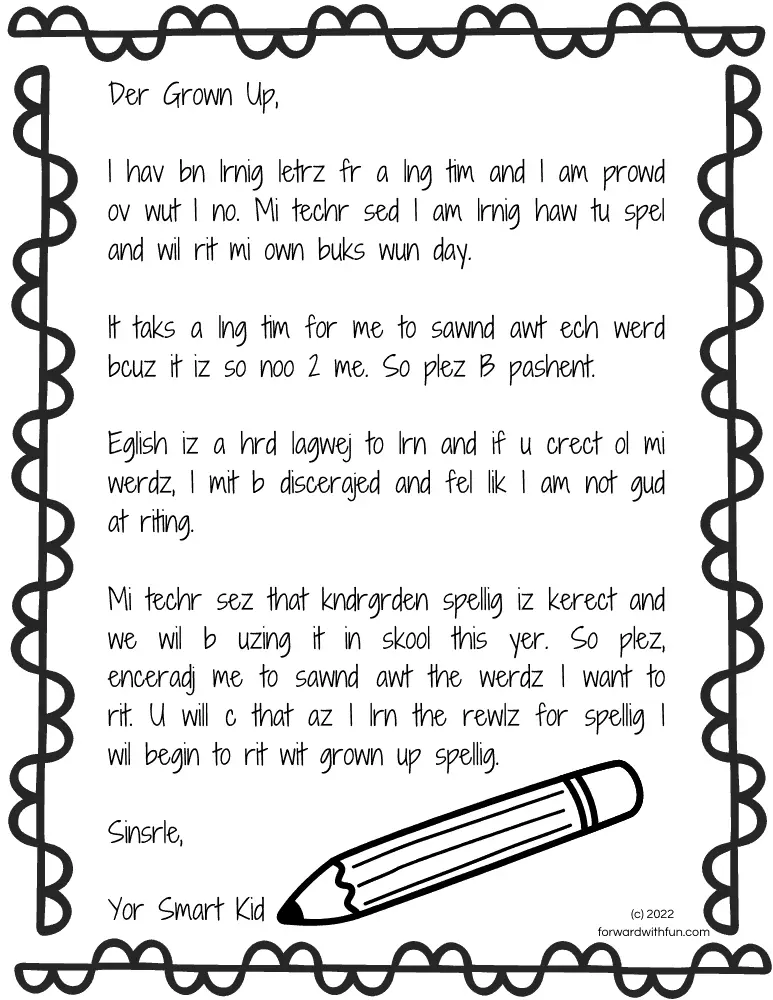 Do you encourage phonetic spelling with your students?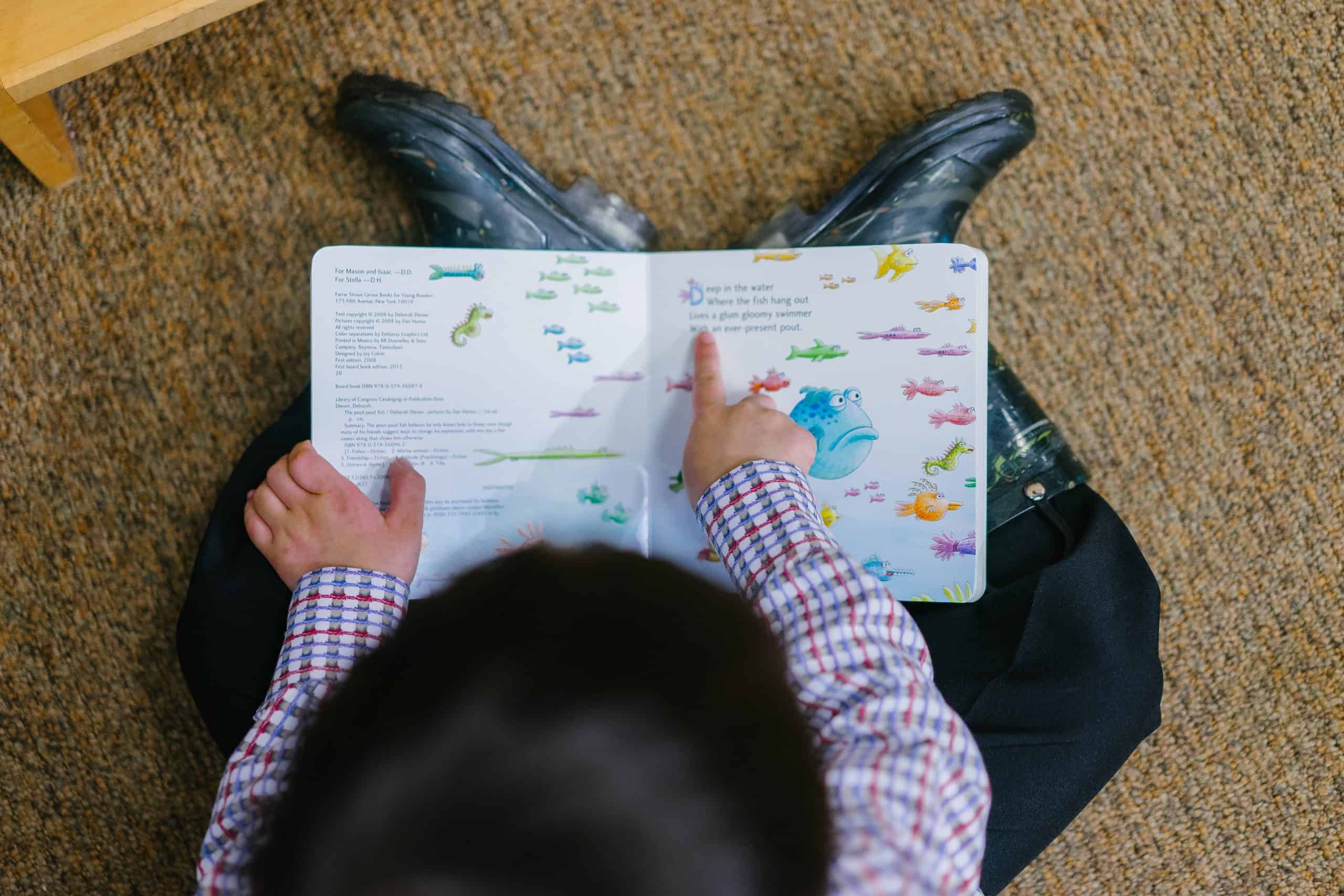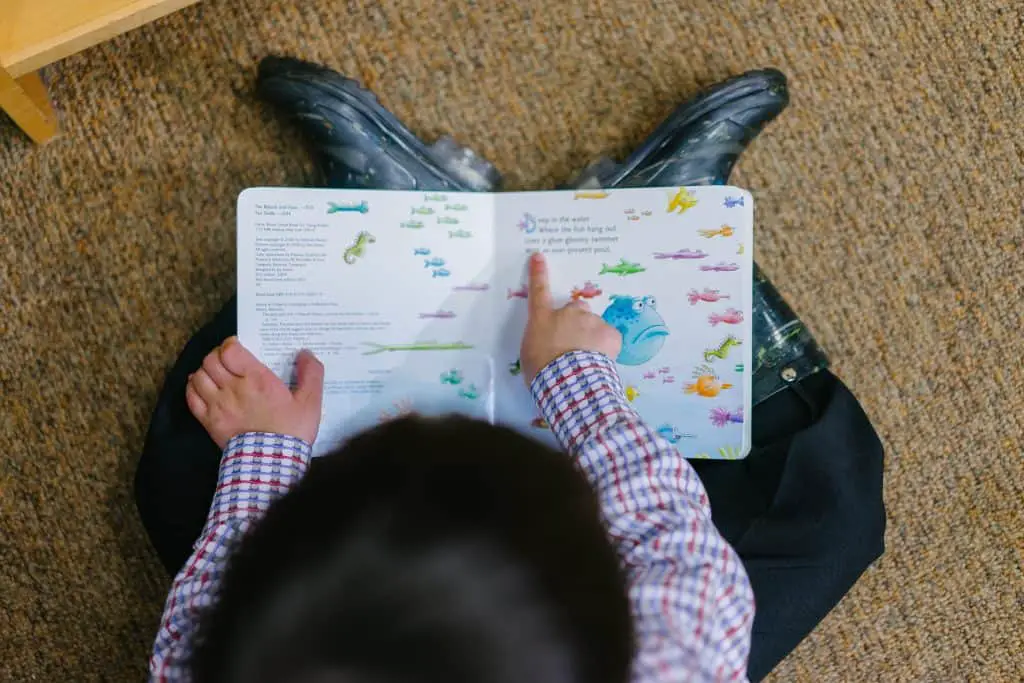 For kindergarteners, books offer excellent opportunities for learning about the world. Besides nourishing their imaginations, books help kids develop critical thinking skills, expand their vocabulary, and expose them to other cultures and practices.
Above anything else, reading aloud to your children is the number one thing we teachers recommend for kids ages 0-5. Children get many opportunities to see letters and words in action as they listen to a story, benefiting them greatly when it comes to learning phonics!

Literacy expert Carol Anne St. George wants children to develop a love for reading as early as possible. This suggestion is especially applicable for kindergarten students, the majority of whom are still in the early stages of their reading journey.

Parents and teachers play an essential role in choosing good books for children picking up this skill. They should provide children with impactful and strategic learning materials because these early stages, particularly ages 4 through 5, are crucial in cementing a love for reading.

Here are three characteristics you should look out for in books for kindergarteners:
Simple language

A good children's book uses simple but interactive language. Because kindergarteners are still developing more complex vocabularies and sentence structures, it is necessary that the books they read convey their messages in straightforward and easy-to-understand terms. Nonetheless, compelling storytellers utilize techniques such as rhymes and rhythms to keep their narratives engaging. A good book also tries to evoke a wide array of emotions and sparks the reader's curiosity through certain words and phrases.

One notable example of this characteristic is Our Little Kitchen which uses descriptive words such as chopping, slicing, whisking, and whipping. These words are not just simple, but they also evoke imaginative thinking. The book's simple yet fascinating plot effectively harnesses words that children can incorporate into their growing vocabulary.
A balanced pace


One of the most critical elements of a children's book is pacing. A good book for kindergarteners is neither too fast nor too slow as these children are still developing language, vocabulary, and independence. This type of balanced pacing is evident in Everything for Early Learning with its focus on foundational skills. As a workbook designed to approach mathematics and language arts creatively, it makes use of short yet increasingly complex activities. This effective strategy keeps children engaged as they turn the pages encountering wins as they progress through the workbook.

A balanced and easy-to-follow pace will keep the young readers busy and help them lengthen and strengthen their attention span. A gradual increase in difficulty level can also prepare them for longer books and independent reading as they progress in their learning journey.
An engaging visual design


Early readers tend to be visual learners, hence the popularity of colorful picture books. These reading materials provide children with visual stimulation and keep their eyes absorbed. Indeed, illustrated stories guide kindergarteners and maintain their interest as they go along the narratives.

However, illustrations aren't the only ways children's books utilize visual design. Another example is typography; book writers and designers often use font styles and sizes to convey a particular meaning or highlight a specific section. My blog post on Concepts of Print explained how print awareness works and how parents and educators can easily teach children this skill.
Typography can help in this aspect by directing the child's eyes towards the different parts of a book. Clifford The Big Red Dog effectively uses typography in this manner. As a recognizable classic, the series uses repetitive visual elements in its books, making it easier for children to develop print awareness as a reading skill.
Children can benefit greatly from reading books that exhibit these three characteristics. These reading materials can impart significant value to kindergarteners and develop their love of reading and learning teach for the many educational years to come.
Have you found any great books for kindergarteners we should check out?
Concepts of print, sometimes called print awareness, is a person's understanding of how writing works. Without understanding these very basic concepts, one would not be able to read.
Imagine a child walking into a classroom who has never seen a book before. They might have no idea how to hold a book, where to start reading, or even that the jumble of confusing scribbles on the inside (yes, words) have meaning.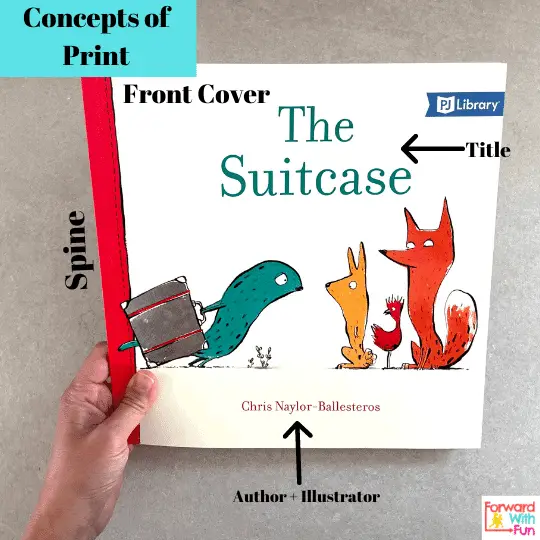 What are the concepts of print?
Directionality of text-
Text goes from left to right (in English) and top to bottom,
Books are read from front cover onwards
Mechanics-
knowing the difference between a letter and word
understanding that sentences are made up of words
recognizing that there are spaces between words in sentences
words are spelled the same each time
basic grasp of punctuation
Parts of a book -
knowing the location of the cover, back cover, spine, and title page are
understanding the role of an author and illustrator, and where we would find their names
recognizing text features such as titles, headlines, and table of contents
Alphabetic principle-
knowing that words are made up of letters, and that each letter has sound(s)
recognizing capital and lowercase letters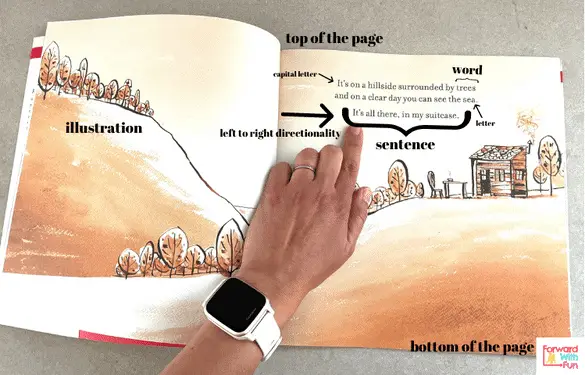 What's the best way to teach concepts of print?
Reading, reading, and more reading! The more you read, the more exposure your child has to the concepts of print.
If you're already reading aloud to your child, they have probably picked up a lot of concepts of print by now.
Questions that will build concepts of print while reading books:
Notice where the front and back covers are before you read.
Discuss where the names of the author and illustrators are and what their jobs are.
Point to each word as you read, or for books with more words, follow under the words with your finger, sweeping from left to right and from top to bottom. (This motion reinforces directionality and is called a return sweep).
Take a few moments to point out the text features of the book like the table of contents, illustrations, titles, and page numbers.
Show them the difference between words and letters. One way is to count how many words are on a line? How do we know that?
Make a point to show that the text holds the meaning. We aren't just making up words each time we read a book; we are saying the words on the page, and they share the author's message or story.
Ways to develop concepts of print without books:
Reading doesn't just happen when we open a book.
As adults we are reading constantly and automatically, everywhere we go: in the car, on our phones, reading mail, writing a note, food labels, advertisements, billboards etc.
There are many wonderful ways of noticing environmental print with your child such as:
counting the number of words on a billboard
noticing the first and last letters of items in the grocery store
pointing at words as your read them on a movie poster or on instructions for a new game
holding a birthday card correctly and showing them the cover, reading from left to right
counting the number of letters on their Spiderman toy
reading words on anything and talking about what the writer was trying to tell us (text has meaning)
Build Concepts of Print along with Reading Comprehension:
In my read aloud remastered checklist, I help you maximize that bedtime story. You're already reading it...why not make it even more valuable by asking the right questions?
Download the READ ALOUD CHECKLIST and pick one category of questions to focus on each night to skyrocket reading comprehension.
One mom said, "I know reading is important, but I didn't really know which questions to ask. What are kids even supposed to know?"
The checklist focuses on all the questions you should be asking your 4-6 year old during reading and includes concepts of print! So don't wait to grab it. Right now, I'm including a bonus cheat sheet at the end of the 2 pages of questions.
Once your child has mastered a set of questions, check them right off and focus on something else! I LOVE CHECKLISTS.
Welcome to the all-inclusive list of social emotional activities for preschoolers. These twenty super helpful activities help young children develop their sense of self as well as interpersonal skills.
What is social emotional learning and why is it important in preschool?
Social emotional learning is nonacademic learning that focuses on a person's understanding of themselves and their feelings as well as their relationships with other people.
Studies have shown that kids who have strong social emotional skills in kindergarten have better lifelong outcomes in education, employment, and mental health.
Besides better outcomes in later life, teaching social emotional skills to 3 and 4 year old's is much easier due to the higher adult to children ratios in preschool. And teaching them skills like kindness, mindfulness, and understanding feelings will help them get their needs met and grow positive relationships with others in school and other settings!
*As an amazon associate I may get a small commission from any purchases you make using links in this post. Thanks!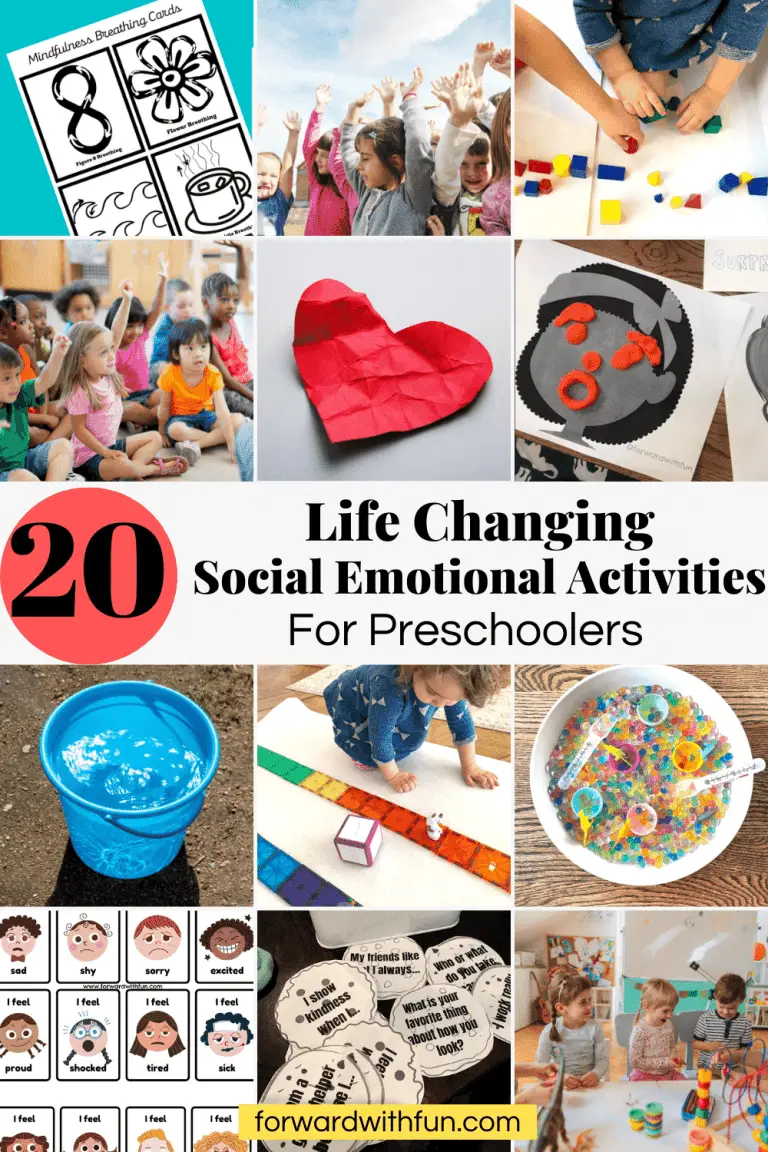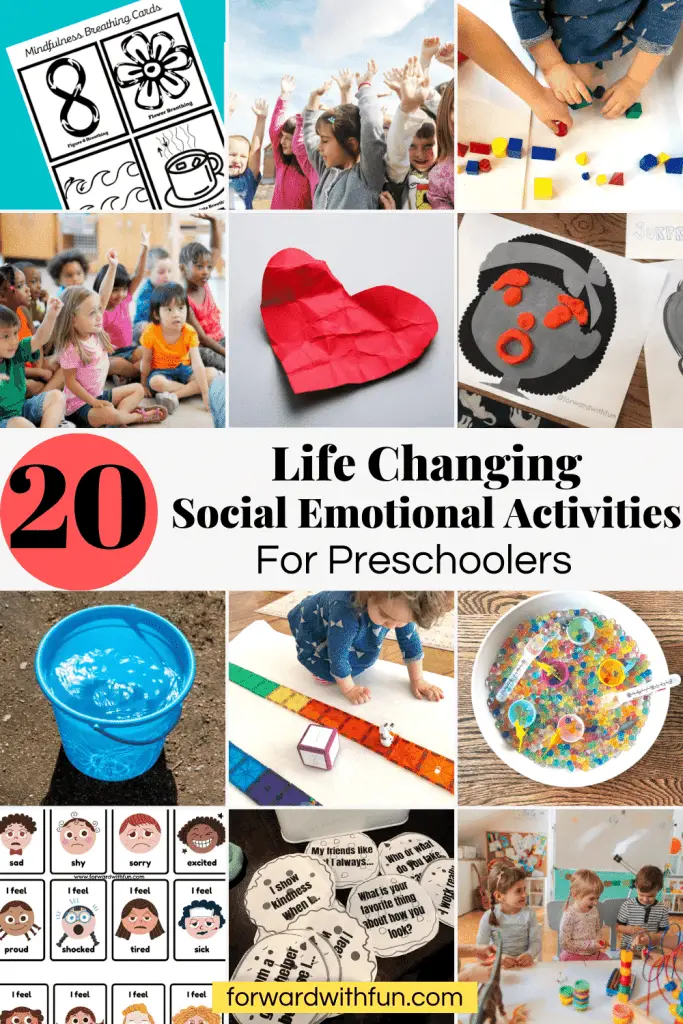 20 Life-Changing Social Emotional Activities For Preschoolers
To help make sense of this all-inclusive list, I'm separating these activities into ones that develop sense of self and ones that develop interpersonal skills.
The sense of self activities help develop preschoolers' abilities to
label and understand emotions
practice mindfulness and self reflection
use positive self talk
explore calming strategies
The interpersonal skill building activities will focus on kids' abilities to
find commonalities with others
work as a team
share and take turns
practice kindness
Sense of Self - Social Emotional Activities for Preschoolers
Feelings/Emotions Activities
Studies from Yale have found that Kids who understand their own feelings in turn build stronger relationships with others. By teaching kids to recognize, label, and understand feelings kids can better express their needs without frustration.
Click the picture to grab your free playdough mats and begin learning about feelings right now!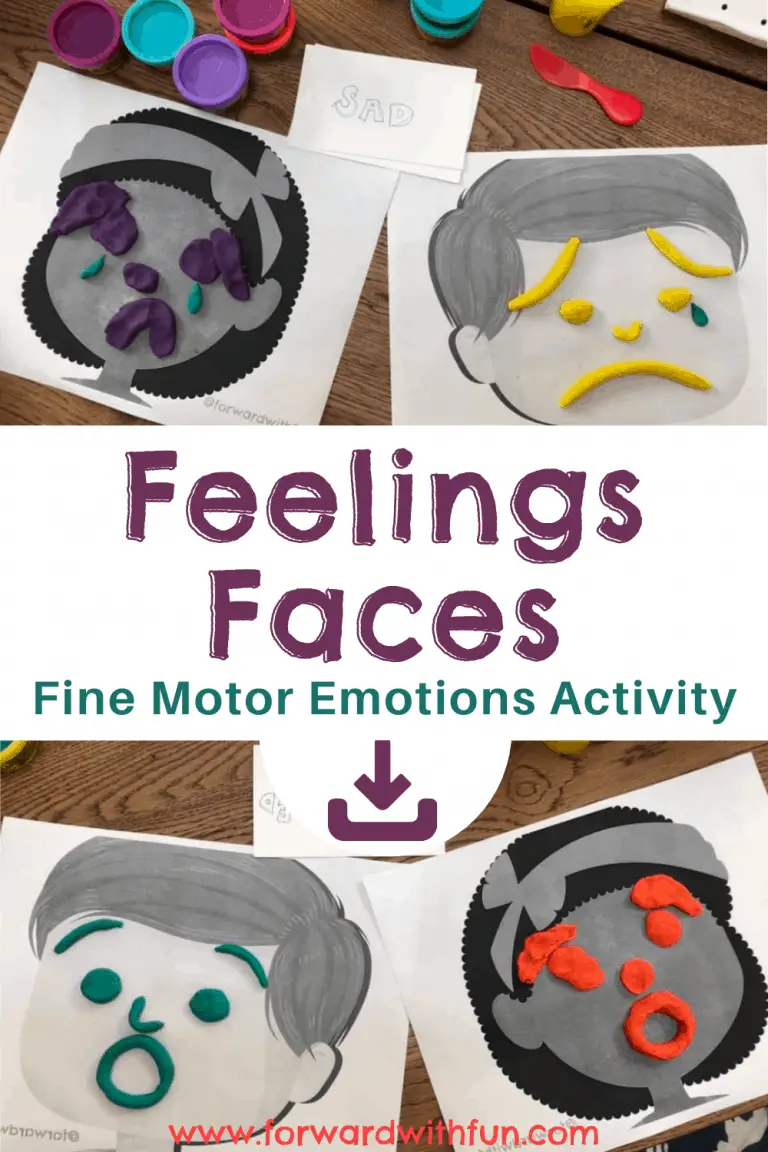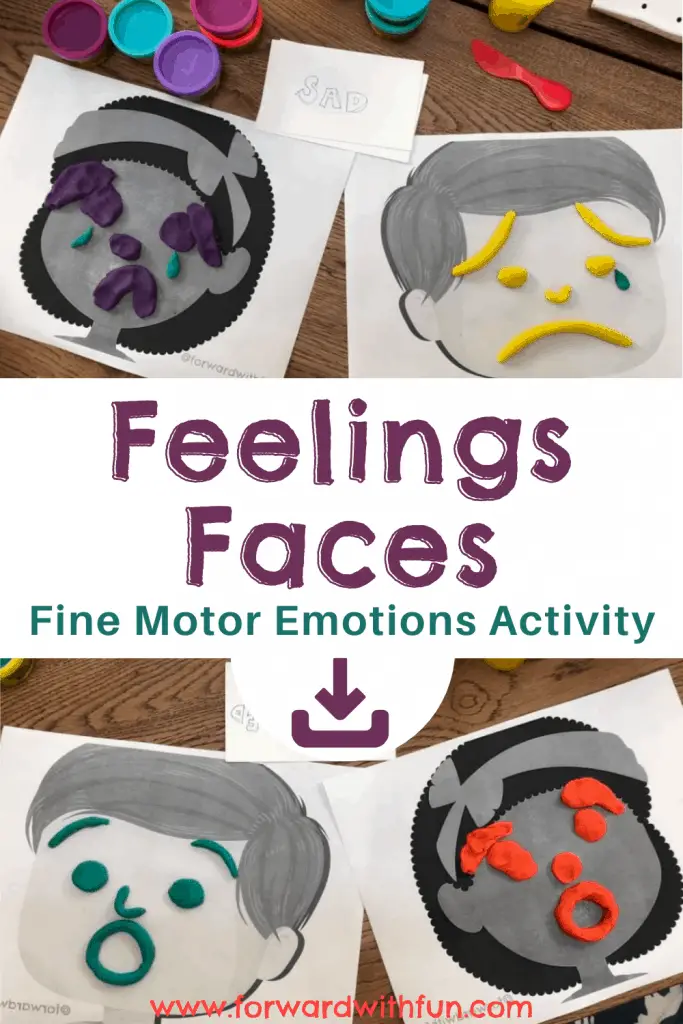 2. Guess The Feelings- Charades
Think Pixar's Inside Out but with more feelings. Build kids' vocabulary of emotion words by writing a bunch and putting them into a hat. Have children take turns picking a feeling word, have an adult read it to them, and then act it out for the other people to guess! Click the picture to snag these cards for free!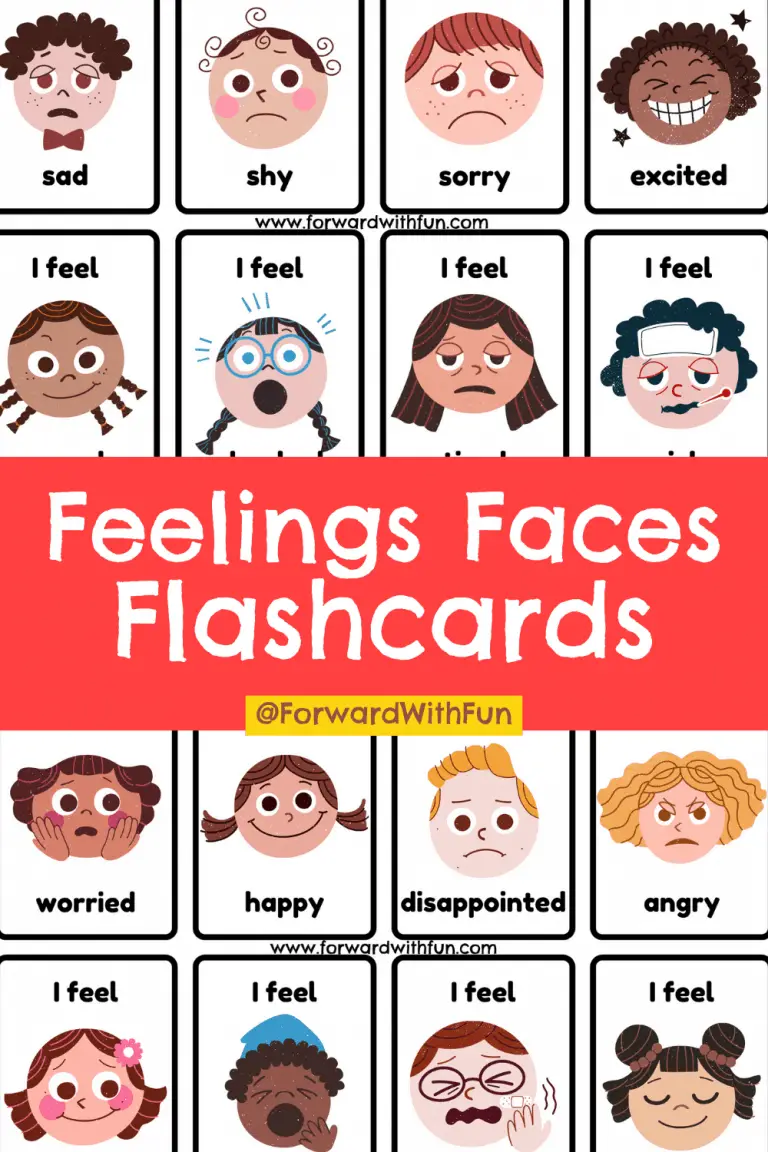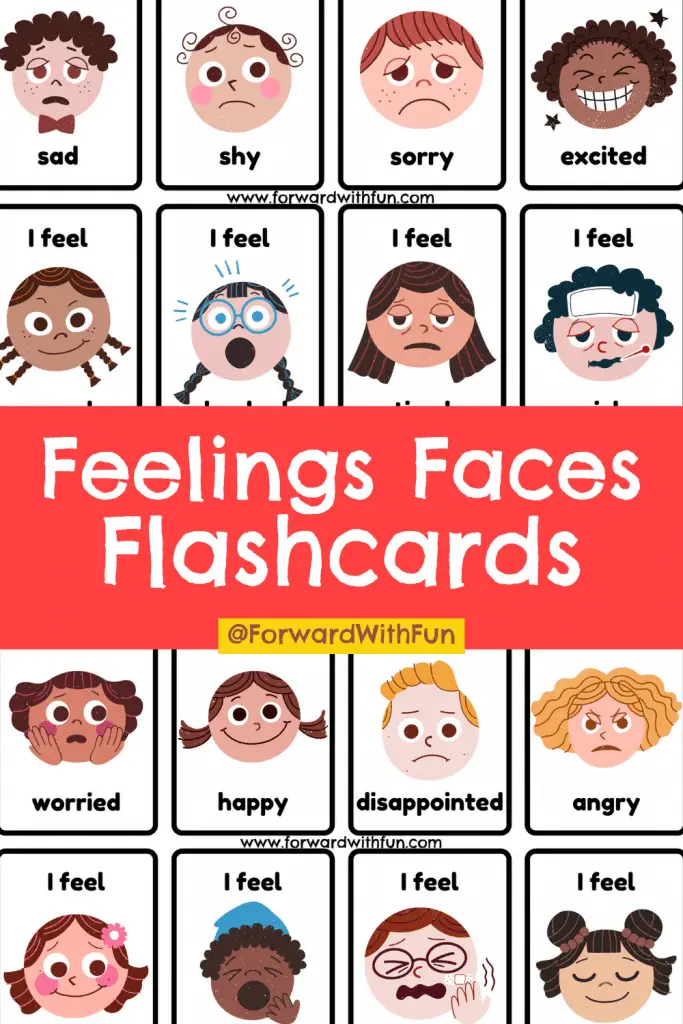 3. Reading Stories About Emotions
Sometimes it is difficult for preschoolers to figure out how to deal with their emotions, but it becomes easier when their situation relates to a story they know.
Some of my favorite feelings books that build self understanding are:
The last one in that list is called a social story, where children read about a scenario that is relatable to them and find out how the character deals with it. Social stories are helpful social emotional teaching tools that help make the big abstract ideas of emotions a lot more understandable for young children.
Mindfulness Social Emotional Activities for Preschoolers
Kids who practice mindfulness breathing have a great tool in their toolbox when they feel overwhelmed or frustrated. Mindfulness is all about being aware of yourself in your environment.
These fun breathing cards make deep breaths fun by turning them into hot cocoa or flowers! Print them out and laminate them to pull out for your kids or students to use during the day. Don't forget to follow the arrows with your fingers as you breathe in and out. Visit the shop to purchase.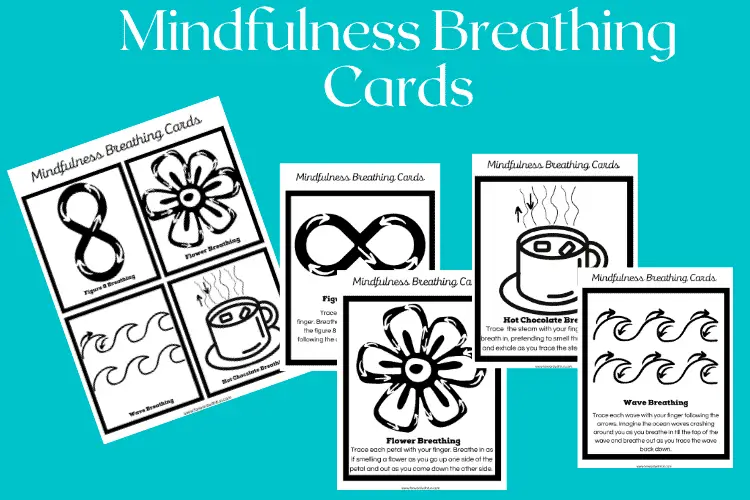 5. Mindfulness 5,4,3,2,1
Mindfulness is all about being present and really feeling the world around you without distraction. One of the best ways to do this is to use our 5 senses. Have your child lie down and then ask them to name:
  5 things that you can SEE in the room or outside
     4 things that you can FEEL/TOUCH right now
     3 things that you can HEAR
     2 things that you can SMELL now (can't think of any? Name smells you like.)
     1 thing that you can TASTE (cant think of any? Name something you'd want to taste!)
Try this grounding technique to help center yourself and your child. It's a great way to help busy minds rest or get ready for bed.
Self Reflection Activities for Preschoolers
6. Confidence Cookies- Self Affirmations Activity
I created confidence cookies as part of The Fun Club, where kids aged 4-5 get sent 5 weekly activities that teach them reading, math, and social skills.
Kids and adults practice positive self talk, building their confidence and self-esteem.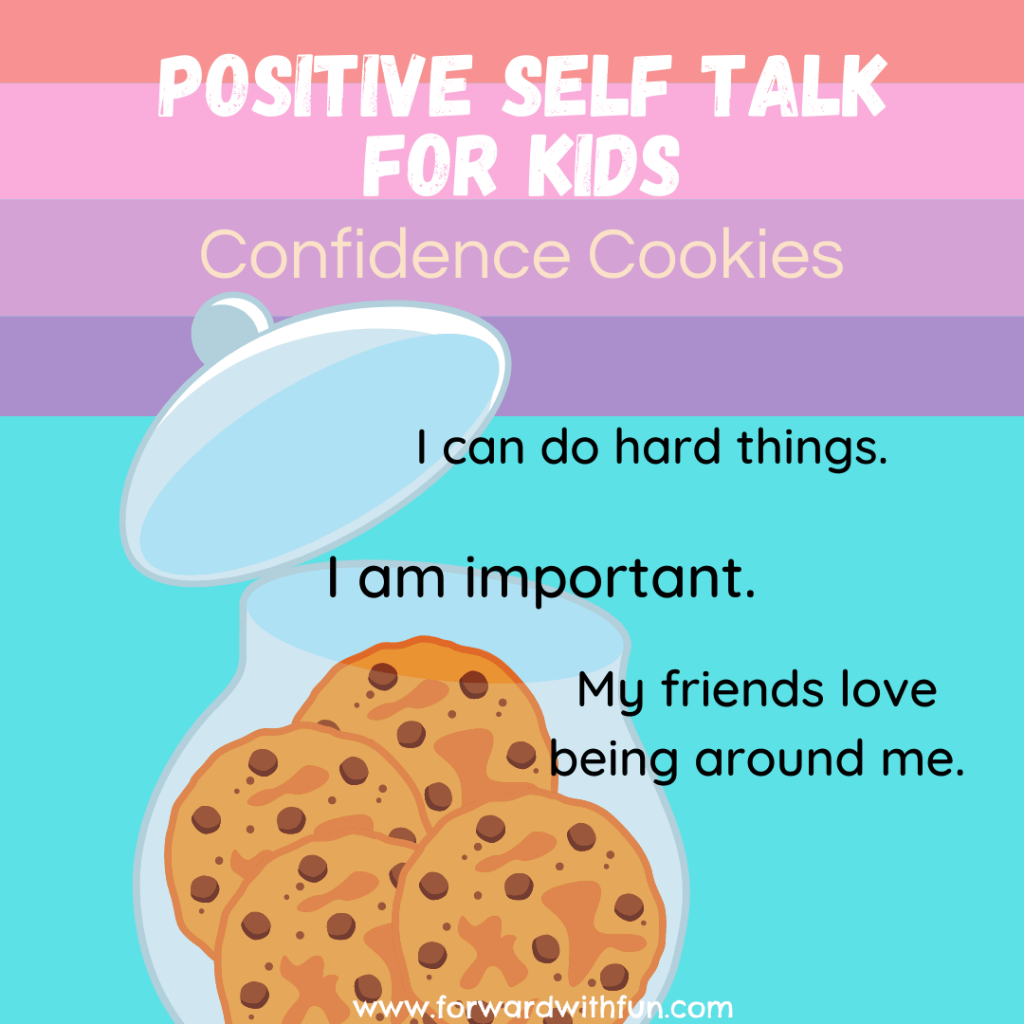 7. Rose and Thorn
Each day during dinner, I play "Rose and Thorn" with my kids. This is a time to reflect upon our day where we share our favorite and least favorite part of the day.
During this time, kids are able to share about their day in a way that normalizes the "bad" and the "good." Not everything is always going to be positive, and by creating this time together, children know they'll always have a designated time to sort through the important things going on in their lives.
Calming Activities for Preschoolers
8. Create a Calm Map
My daughter has had this up in her room for 2 years and whenever she gets upset, she goes to look at her calm map for something that brings her comfort. Having a calm map has been immeasurably helpful.
Since my daughter came up with the list for each category, she has a long list of items that she has self declared to help her feel calm. Such a relief to me! Click the photo to download yours for FREE!
9. Sensory Bins
The trend on Instagram lately has been sensory play, and you know why? Because it is soothing, calming, and helps preschoolers regulate their needs better. In fact, sensory bins are the perfect social emotional activity for preschoolers. They can be a go-to as a calm down activity when you need one!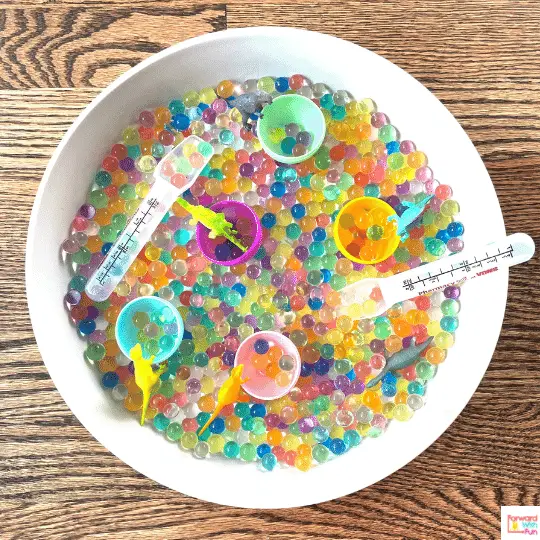 If you're looking for some inspiration, check out this post on 50+ sensory bin fillers to use with preschoolers.
Interpersonal Social Emotional Activities for Preschoolers
Interpersonal skills are also known as social skills and help develop relationships with others.
Turn Taking/Sharing Activities
10. Board Games
This one might be a no brainer, but did you know playing board games with preschoolers is a great way to build social skills. Here are the skills playing board games build:
turn taking
dealing will not getting what you want
how to be a gracious winner
how not to be a sore loser
My favorite board game to play with my preschooler is Candyland, but you can also quickly make your own like THIS!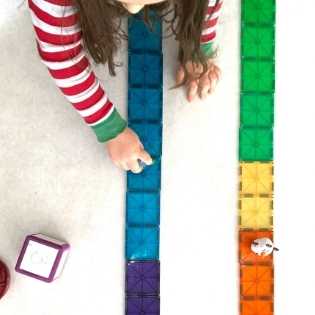 11. Build It This High- Teamwork Activity
Preschoolers love building, so bust out whatever blocks or building items you have for this social emotional activity that takes no time to prep and builds teamwork, turn taking, and cooperation.
Pair off children in teams of 2 or more and challenge them to work together to build a tower that is X blocks high. Watch them work together, take turns, and feel the pride and success of reaching their goals!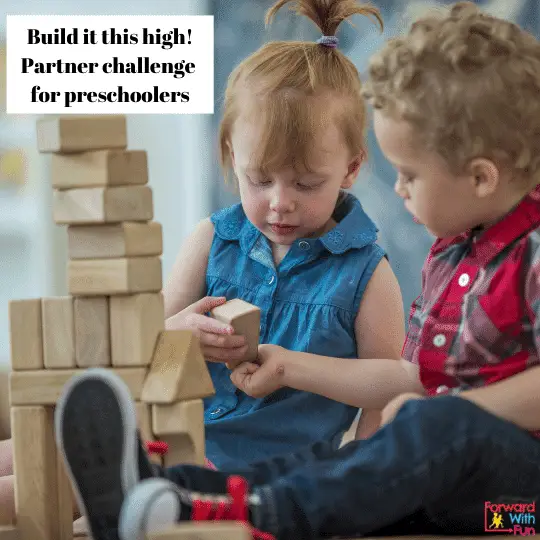 12. Can we share it? -Social Emotional Math Activity
Let's practice one of the hardest preschool skills...sharing! All you'll need is a 10 of one kind of item. It could be marshmallows, blocks, squishy toys, anything. Talk about why sharing is important: it's fair, makes people feel good, it's kind.
Practice dividing up the small number of items, by repeating "one for you, one for me, one for you, one for me" and placing one item at a time in front of each person. If there is an odd number, problem solve. What can we do? Should we cut it in half? Should we place it back in the box? Preschoolers can come up with some really creative solutions and take pride in being "fair."
Making New Friends Activities
13. "Switch If" Game for Social Emotional Learning in Preschool
Hooray for a gross-motor social emotional activity! If you've got wiggly preschoolers, this one is going to be a hit. Have everyone stand in a circle or on a specific spot on the rug, if you're in a classroom. If you're at home, make a few designated "spots" for everyone playing.
Have one person be the leader for the first round and have that person call out, "Switch if you like _________," or "Switch if you have _______." Model this for the kids, and then they can take turns being the leader.
When kids learn about their similarities, they learn that we all have more in common than we do different. Kids will often build a friendship over something the other child has in common with them, so this can be a great jumping board. "Hey you also love PJ Masks!?"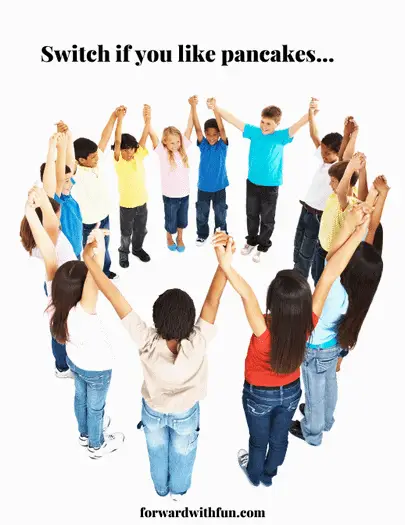 14. Hello Songs, Practicing Saying Hello
Preschoolers often really connect with music! I love to start the day with a Hello Song, where kids go around greeting one another practicing their chosen way to say "Hello!"
Some suggestions I give to students are to try saying hello in multiple ways: a wave, high five, handshake, saying hello to the kids in the room.
Some of my favorite hello songs are "Hello, How Are You?" by Dr. Jean Feldman and "Hello Song" by The Kiboomers.
There are SO many Hello songs out there, if you just search that phrase!
15. Find your partner game!
Sometimes, kids need a little nudge to talk to new people in their class. That's where "Find your partner" comes in. For this game, give kids a specific colored item and have them find someone with that same color then freeze, raising their item up in the air.
I've seen this game done with Magna-tiles, where kids first look for someone with the same color and then someone with the same shape. The game is complete when everyone finds their partner, so make sure you have a partner for each kid!
Kindness Building Social Emotional Activities for Preschoolers
16. Kindness Ripples
Brainstorm ideas of kindnesses. We came up with saying thank you, sharing with a sibling, and cleaning up a big mess. 
Compare those 3 kind actions to the small, medium, and large objects. 
Name the kindness that goes with the object and then let your child drop the kindness item into the bowl with water. 
Observe what happens- the ripples and movement in the water is like kindness moving out into the world and touching the lives of others who are more likely to make kind choices. We will call these kindness ripples.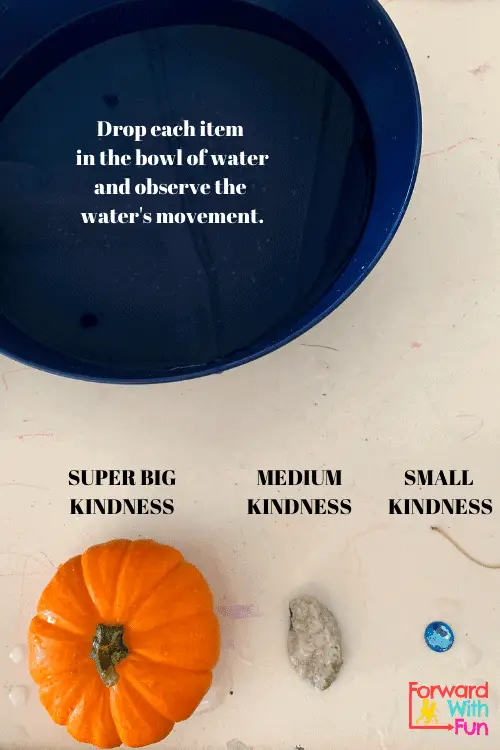 17. Compliment Circle
So this activity might be my favorite, because I wrote my Masters Degree thesis on it! In my classroom from 2010-2011 I did research on compliment giving as a way to build confidence in children but also as a way to build friendships between children.
Here's what you do:
Go around in a circle taking turns saying something nice about others in the circle. At first preschoolers might give compliments like "I like her," or "I like his pants."
Over time, their compliments often evolve to be more based on actions and feelings like "I like to play with James because she is good at sharing," or "Tamra is very good at writing her name." It is important for the adult to model compliment giving as well.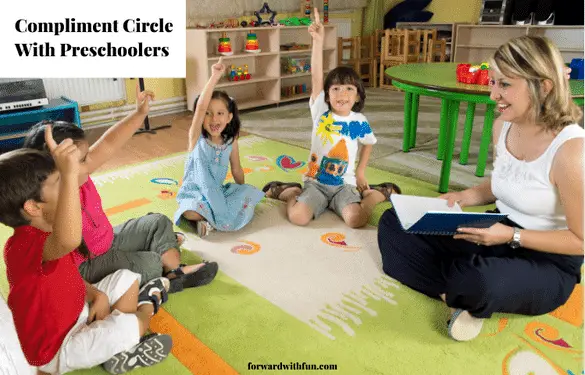 18. Kindness Calendar
Make a kindness calendar for the week with random acts of kindness for Monday-Sunday. Each day read the act of kindness for that day and try to complete it by nighttime. The next day, discuss, how did that feel for you? For the other person?
I read this to my own children and students every single year. I cannot recommend this book enough, because it helps children very concretely understand how their words effect others in both positive and negative ways. The language used in this story is something that we come back to over and over again with my now 3 and 6 year old.
20. Hard to fix a broken heart activity for preschoolers
"That hurt my feelings!" What a very abstract concept for young children. In this activity, children can see how their words can wrinkle a heart and how even when we apologize, hurtful words can stick.
Cut out a heart shape from a piece of paper. Take turns saying "mean things" to the heart. Each time something mean is said, make a crease or fold onto the heart until it's covered with folds and creases. Then try to smooth out the heart to be back to what it was before.
Can it be done? Even when we say sorry for harsh things said, they can still hurt out hearts, so be careful with your words!